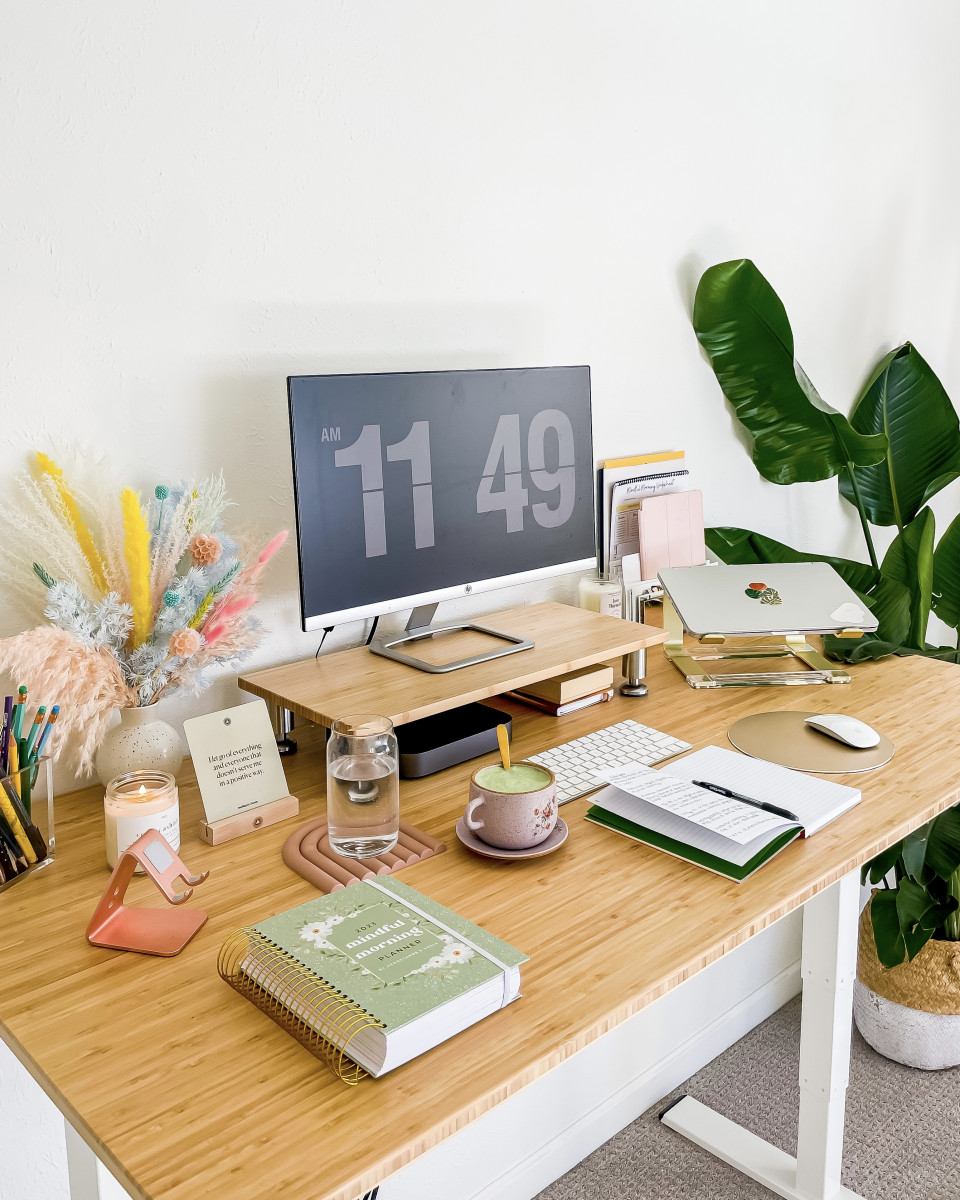 With so many people having made the switch to working from home over the past few years, it's probably no surprise that one of my most frequently asked questions typically centers around how to stay motivated, inspired and/or productive without the energy of the office. There are obvious perks to the WFH life: the flexibility, lack of commute and personal space are just a few of my favorites, but it can also present challenges that you may find difficulty adjusting to when you make the switch. I personally can struggle with creative slumps from being in the same place all day or feeling intense loneliness from working on my own.
If you're also struggling with motivation and productivity, my advice is to give yourself grace and don't be afraid to shake things up until you find the habits that work best for you! The following are several habits that I've been implementing over the years to help me stay motivated and take care of my mental health while working from home. I'm so excited to share them with you and hope you find them helpful!
Make the most of your mornings
You all know how much I value my morning routine and part of it is that waking up early enough allows me to take time for myself before jumping straight into work. Giving myself space to savor my coffee, go for a short walk with the pups, and relax ends up increasing my productivity when I do jump into my home office and I always feel more energized and happy while doing so! People who rise early enough to allow time for themselves before starting their morning work routine report that they not only are more productive but they feel more energetic and happier. 
I'm also someone who feels the most creative in the morning (when it comes to work I'm basically useless after 5pm) so when I write out tasks in my Mindful Morning Planner, I try to tackle the most challenging ones first so I can get them out of the way.
Create a workspace that inspires you
If you're like me, your environment plays a huge role in how you feel. When it comes to work, it's important for me to have a clutter-free space but still have elements that show my personality and spark creativity. By creating a home office that I love, I actually really look forward to spending most of my time there each day. You don't need to have an entire room, either. Find a corner of your home that you can make your own. You'd be amazed what a fresh coat of paint or some house plants and small decorative items can do!
Give yourself proper breaks
I know how tempting it is to skip breaks, especially when you're in the zone, but I've learned that I feel so much more refreshed and alert throughout the day when I honor my break time. At the very least, make sure you take a solid half hour or hour for lunch but I also recommend taking short 10-15 minute breaks for every couple of hours of work. I personally love time blocking and using the Pomodoro technique, where you work for twenty-five minutes and then take a five-minute break. It's a great way to stay super focused when you need to and allow your mind to reset before contact switching.
The most important thing is that your breaks truly feel like breaks, so put your phone in a drawer and resist the urge to check your emails. Use it as an opportunity to get up, stretch, get a glass of water or go for a walk, which takes us to tip #4.
Get moving
Getting up and moving your body is definitely my number one tip for staying energized. I love to start my day with a workout or sneak one in during a break, and it's truly the best way to wake up my body and my brain. I actually just got myself an under desk treadmill and have been loving it. For more ideas on how to add movement to your day, you can head to this blog post!
Prepare nourishing meals and snacks.
Food is fuel, and eating healthy meals and snacks can go a long way in preventing that midday slump. The key is to make it as easy as possible, so I love to prep my meals at the beginning of the week to make sure I have healthy choices that are easy to grab throughout the work day. If you need some breakfast inspiration, you can check out my go-to weekday breakfast ideas or my top 5 favorite protein smoothie recipes!
Get out of the house
There is only so much time I can spend at home and not start to go a little stir crazy. I try to find ways to get out of the house by signing up for in-studio fitness classes or spending a few hours working in a cute coffee shop. Even bringing my laptop to a table in your backyard can help boost inspiration and creativity! If you're in need of an accountability group to help motivate you to get out of the house, I kicked off my Summer Steps Challenge over on FB as a way to encourage us all to get outside for a walk every day this summer.
Schedule in-person meetings and co-working dates
As an extrovert, I love being around people, so working from home can often feel a bit lonely. I've learned that it's really important to schedule some face-to-face time by setting up in-person meetings when I can or planning co-working dates with friends. In addition to being great for my mental health, I find that these meetups can really give me a productivity boost as well.
Create rituals to start and end your workday
While I definitely don't miss commuting, it was a good way to switch my brain into work mode. When your home is also your office, the boundaries between your work life and your personal life can easily blur. It can be helpful to create little routines to start and end your workday in order to signal your brain that it's either time for work or time to wind down. It could be as simple as preparing a cup of matcha or coffee in a special mug that you only use on workdays or having a 10-minute clean up routine that you do after you sign off each evening.
This is also why it's super helpful to establish "space boundaries" for where you work and where you do other activities, ie: as tempting as it may be, try not to work from your bed or couch every day!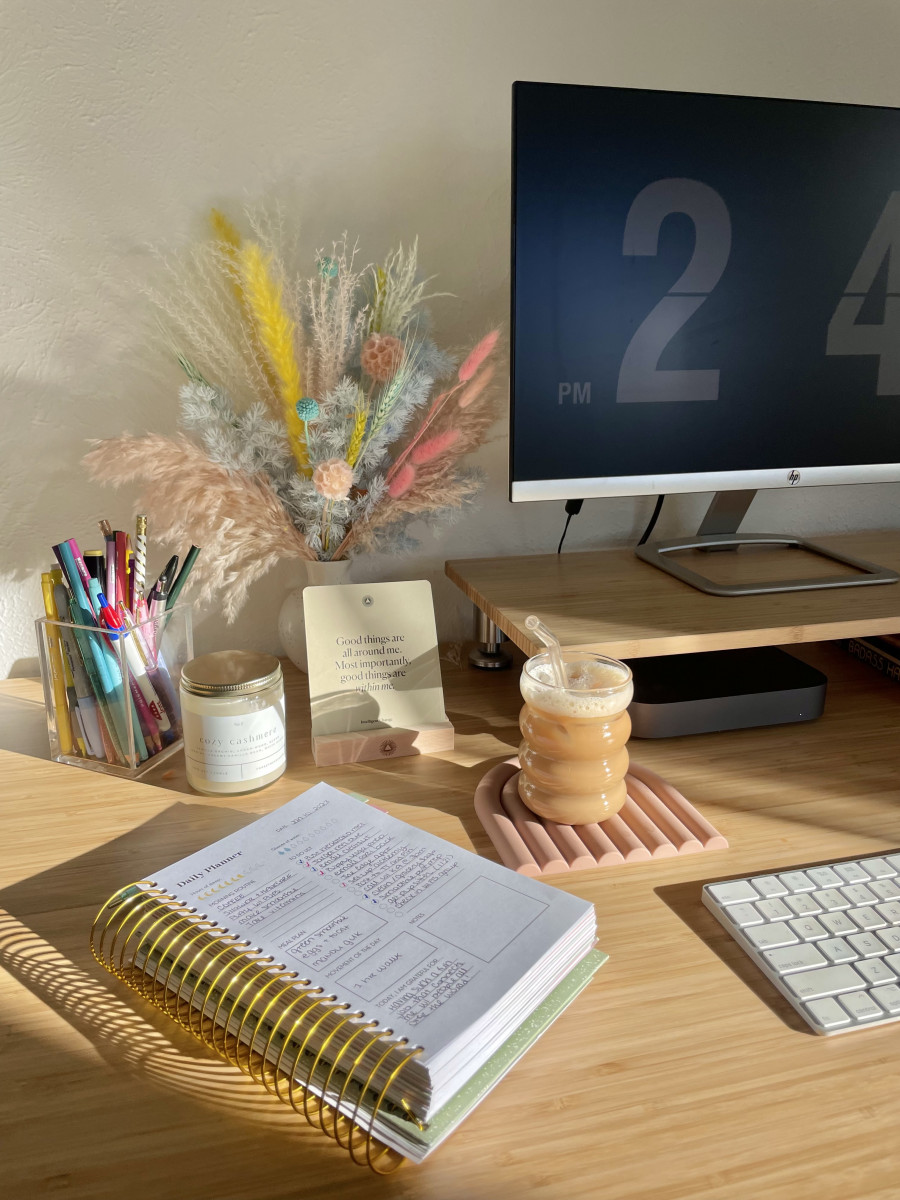 And there you have it! These are the habits that really help me make the most of working from home and I hope you found a couple that you find helpful as well.