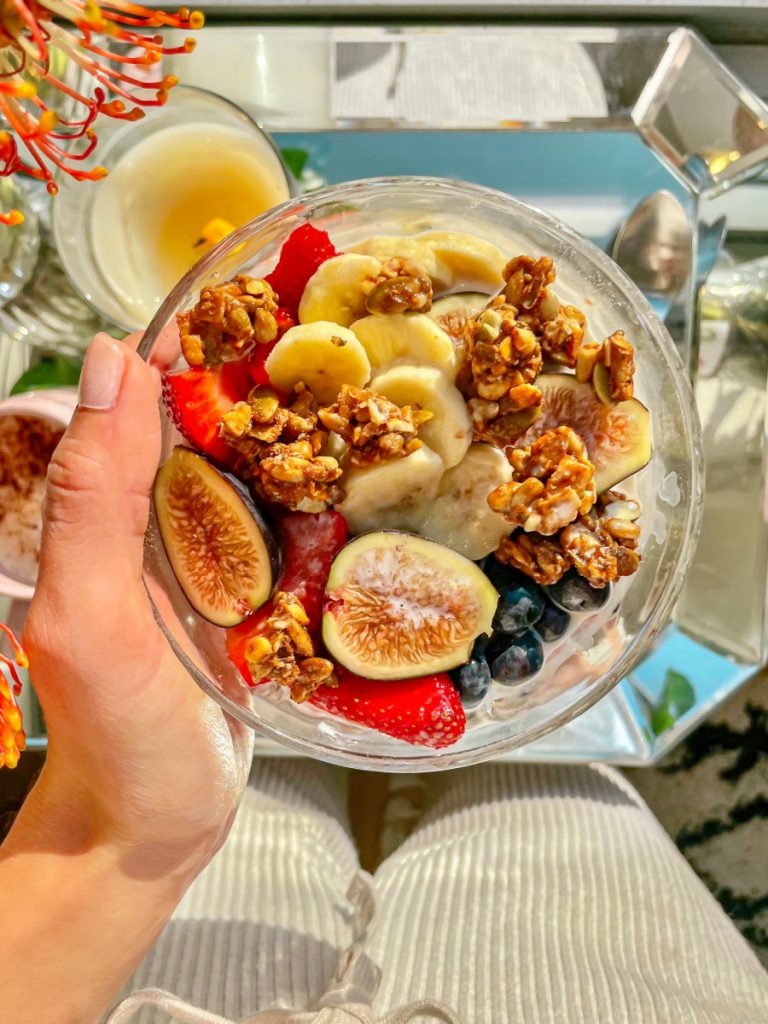 We all know breakfast is the most important meal of the day. Yet so many of my friends opt out simply because they find it too time consuming to fit into their mornings!
As much as I love to venture out and try new things, I tend to be a creature of habit when it comes to weekday breakfasts. I love me a solid morning routine but I agree that no one wants to spend too much time on cooking. So to make sure that I still start my day off with something nutritious but also make it speedy, I usually stick with variations of four different breakfast options.
The following are some ideas of how you can add a little variety to your meals while also sticking to the basics. I promise if you carve out 15 min in the morning, you'll find that adding these to your daily eats will be a breeze.
Yogurt Bowl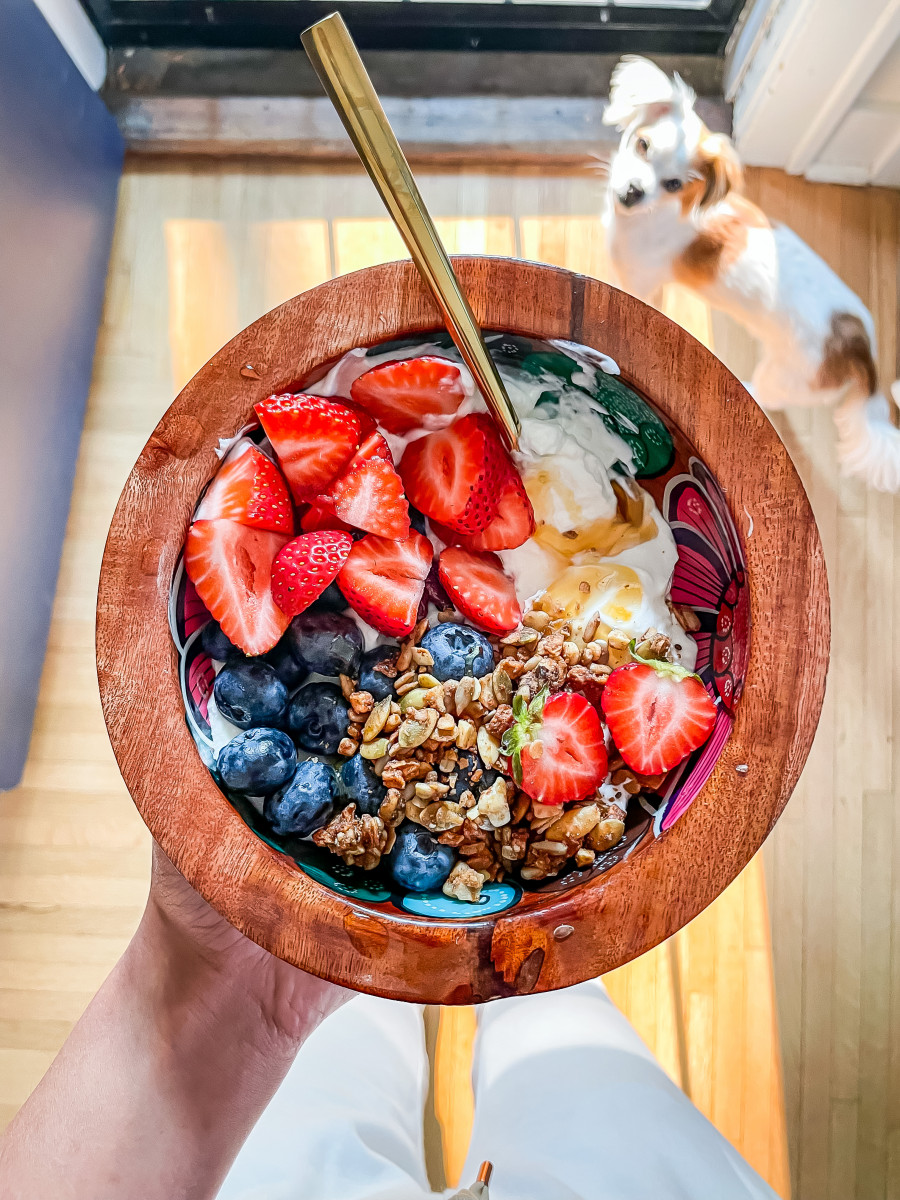 If I'm feeling like going the sweet route, I'll reach for greek yogurt and load it up with my favorite toppings. I tend to stick with FAGE 2% because it serves as a low fat and creamy base. I've definitely made my own granola before but most of the time I reach for Purely Elizabeth.
As for other toppings, it's fun to get a little extra with it. Berries, kiwi, mango, chia jam, peanut butter, nuts, and chia seeds are all great options to work with! The best part is you can mix it up every time.
Toast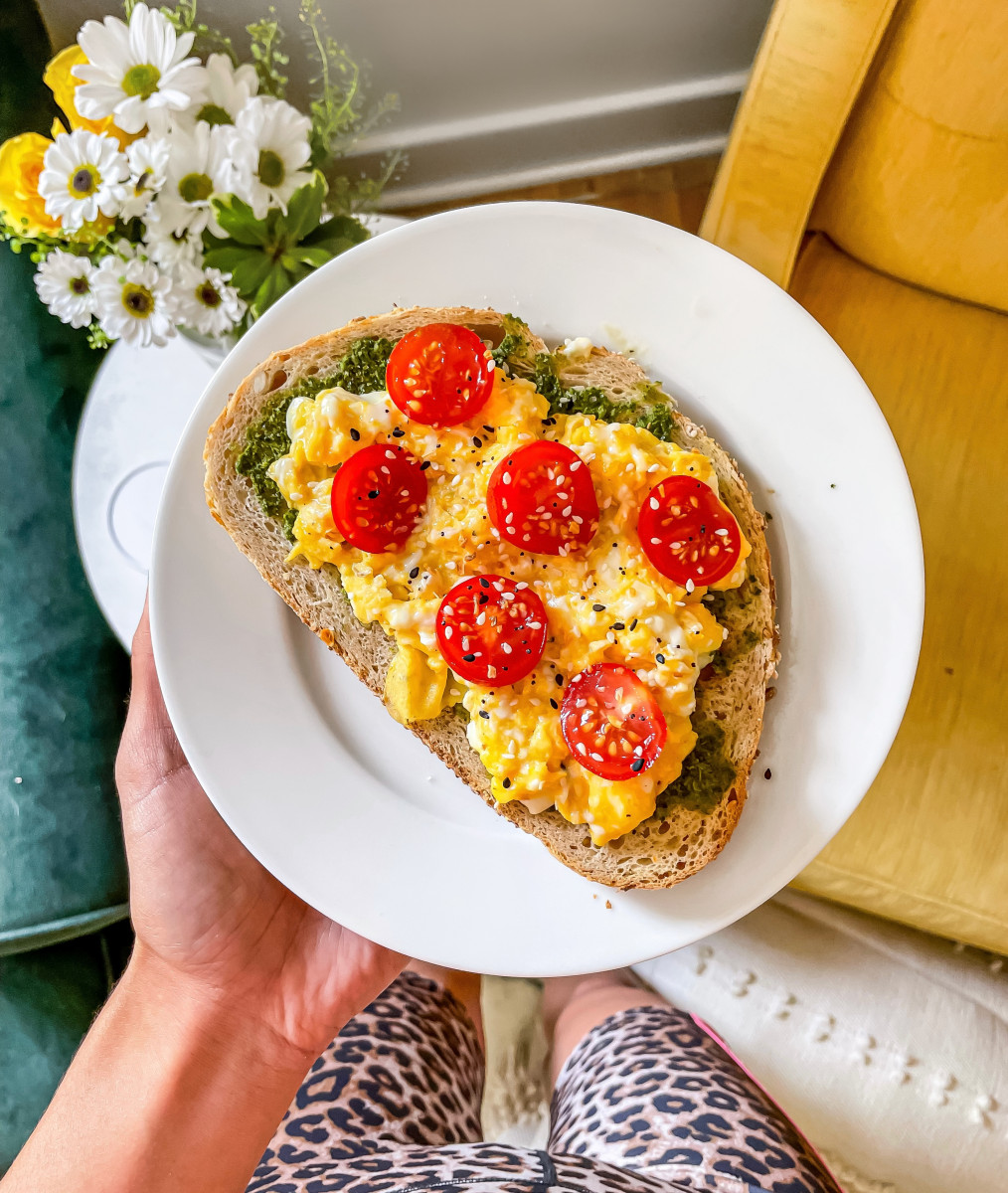 Ah, a classic. The best thing about toast is that it's super versatile! You can go sweet or savory depending on your mood. For the base, I love Dave's Killer Bread (usually go for the 21 whole grain) or Ezekiel bread if Bay isn't making the homemade variety. Here's the recipe he follows btw in case you're feeling ambitious.
A few combos I love:
Nut butter, banana, cinnamon, honey
Avocado, egg, tomatoes, "Everything but the bagel" seasoning, olive oil
Peanut butter and chia jam
pesto, creamy scrambled eggs, cherry tomatoes
Oats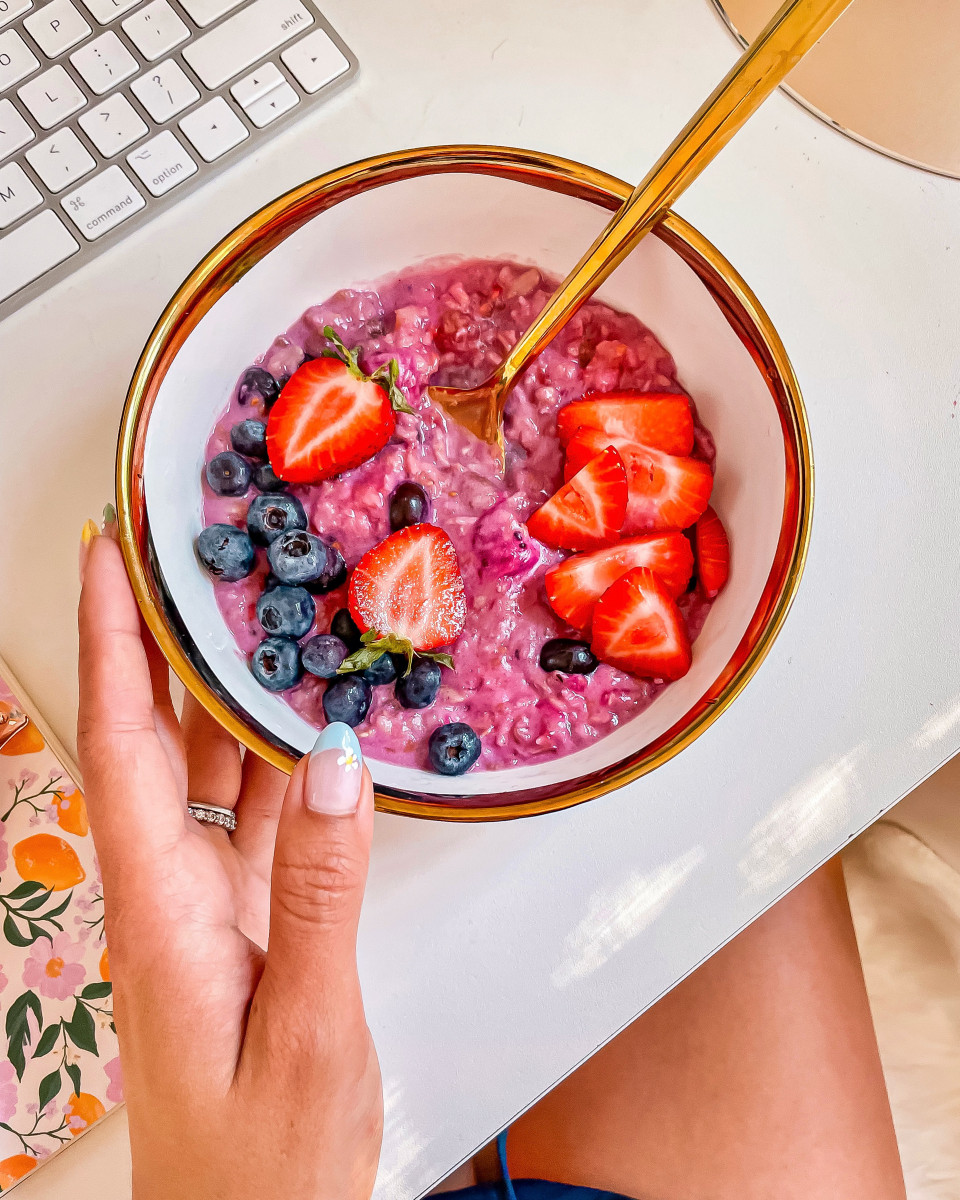 When I'm really in a pinch I reach for Daily Harvest oat bowls because they're ready in a snap and come in fun flavors. (Save $40 off your first DH box with code: headstandsandheels)
I'm also a big fan of MUSH overnight oats! The peanut butter swirl with crunch is delicious and surprisingly satiating. You of course can opt to make your own overnight oats ahead of time. They're super simple to meal prep and yet I've truthfully only done it a handful of times. I feel like I'm convincing myself to try it again.
Most of the time I just go for quick cook steel cut oats from Trader Joe's and add a bunch of toppings to it. Caramelized bananas really take it to the next level, especially combined with some nut butter.
Smoothies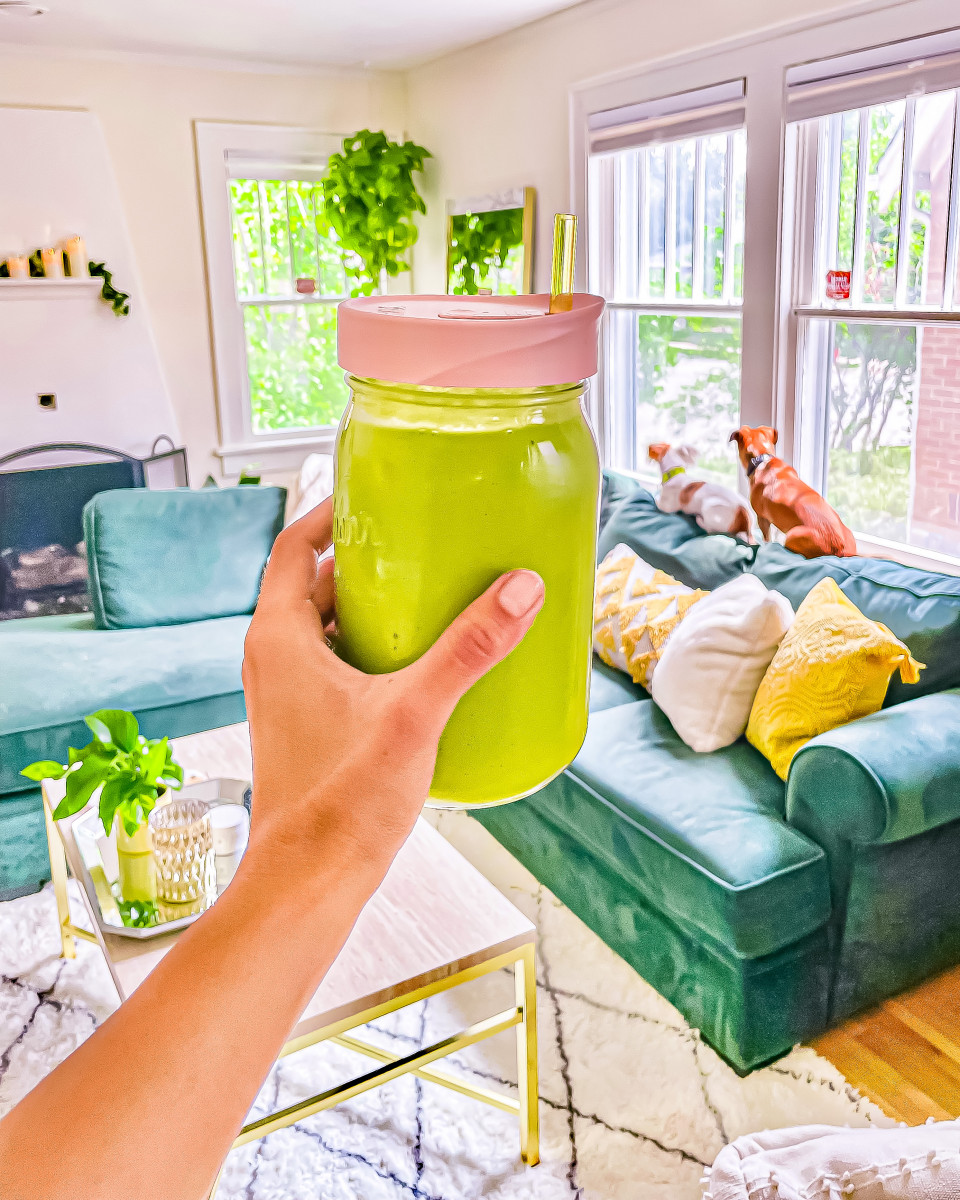 You all know how much I like my smoothies, no matter the season. There are a few go to combos that I love for breakfast that are filling enough to be a real meal.
PB Banana Smoothie:
Frozen banana
1 cup plant based milk
1/4 cup natural peanut butter
Vanilla protein powder (I like THIS one)
1 TBSP flax seeds
Dash of cinnamon
2 TBSP honey
Ice
Chocolate Covered Strawberry Smoothie:
Frozen banana
1 cup plant based milk
Chocolate protein powder (I like THIS one because it has supergreens in it too)
1 cup ripe strawberries
1 TBSP greek yogurt
Ice
Mango Greens Smoothie
Frozen banana
1/2 cup frozen mango
1 cup baby spinach
1 cup coconut milk
Ice
I hope you all enjoyed this breakfast meal inspiration roundup!