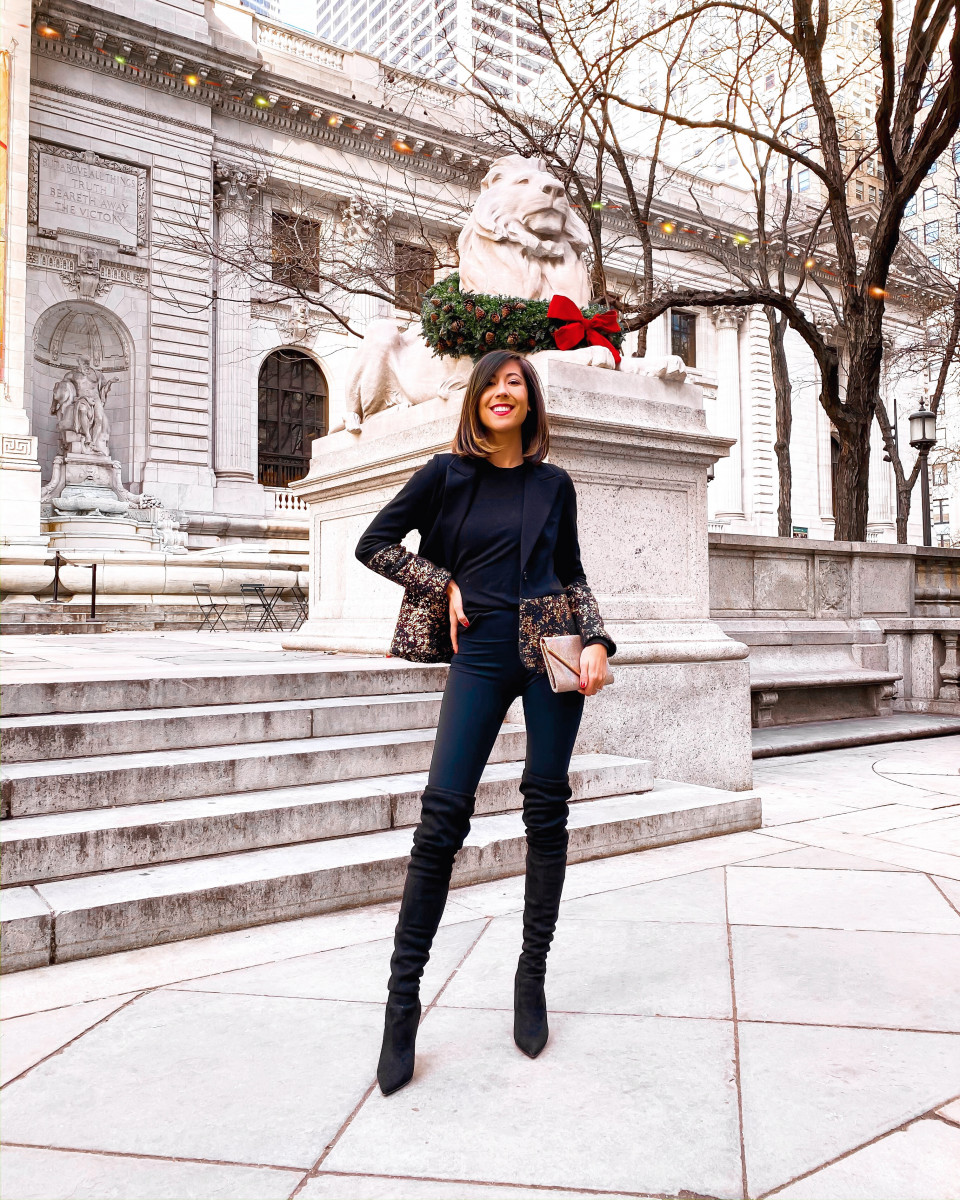 There's no denying it, NYC is absolutely magical during the month of December. Between all the Christmas decor, classic holiday shows, and plethora of activities, it's no wonder the city is flooded with tourists right now! Honestly, I don't blame them at all. I was one of those tourists 6 years ago when my friend and I booked a trip here to take in all the Christmas sights. Now that I've called this city home for several years, I feel obligated to share some of the absolute best photo spots in NYC at Christmas time.
Some are obvious, others you may not have heard of or visited yet. But all offer up something unique and plenty of yuletide spirit! I hope you all enjoy this round up and have a chance to see these sites in person! Trust me, they're the perfect way to get you into the Christmas spirit.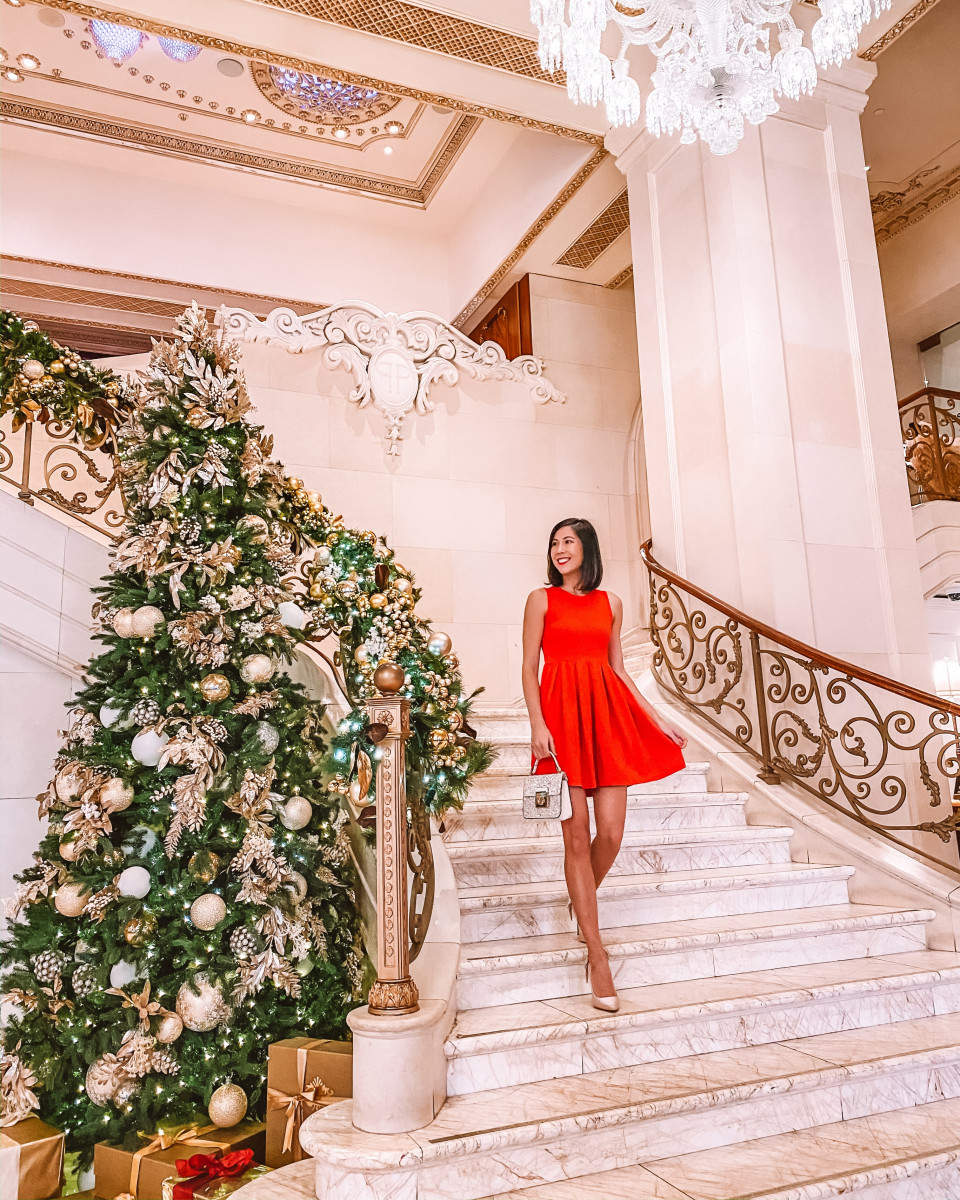 The Plaza
A classic NYC landmark (and featured in Home Alone 2), this gorgeous hotel gets extra festive this time of year! To be honest, my experience taking photos at The Plaza was very unpleasant due to some extremely rude employees. However, I think the photos and ambiance were worth the trouble.
Union Square Holiday Market
Union Square swaps out their Farmer's Market for a super festive Holiday market during the month of December! Grab yourself a cup of hot cocoa or a hot apple cider and peruse the various vendors and artisans that set up shop.
SERRA by Birreria in Eataly
This seasonal rooftop changes up their decor every quarter and winter is my fav! During the month of December the enclosed rooftop is transformed into a winter wonderland reminiscent of the Italian Alps. Grab a small plate and a festive cocktail and enjoy the cozy, snowy scene.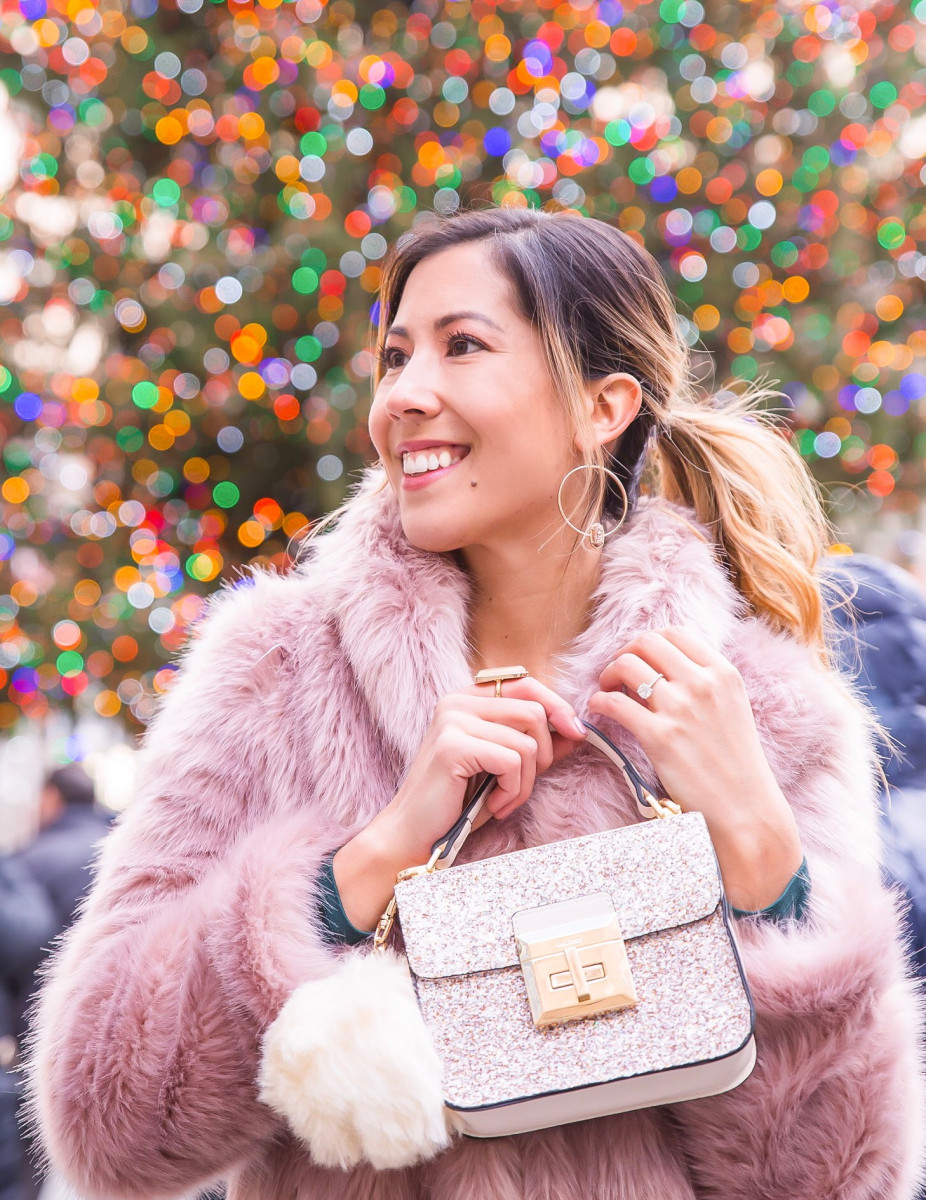 Rockefeller Center
What kind of NYC at Christmas roundup would this be without Rockefeller Center? Between the 125 ft tall Christmas Tree and the luminous angels that line the garden leading up to the ice rink, it's the most iconic Christmas photo spot you can find.
Rolf's Restaurant
If you don't mind braving the crowds,waiting in line, and paying a premium for cocktails this German restaurant is definitely for you! Thousands of ornaments, garlands and twinkly lights literally cover the entire ceiling.
South Street Seaport
With Pier 17 being a relatively new attraction, South Street Seaport is definitely worth paying a visit! There's a beautiful Christmas tree in the main courtyard but the real draw is the ice skating rink on the pier rooftop! There's also a super fun "winter arch" made up of twinkly lights with a perfect view of the Brooklyn bridge.
Bryant Park Winter Village
No holiday rendezvous in NYC is complete without a visit to Bryant Park. In December it transforms into a beautiful winter village, complete with a free ice skating rink, tons of holiday shops, and a bar inside their lodge.

Lotte New York Palace
Calling all Gossip Girl fans, I'm sure you'll be the first to recognize this famous hotel. No other accommodation in NYC does Christmas quite like The Palace. For starters, the courtyard Christmas tree is one of the most spectacular trees in the city!
Macy's Santaland
If you're a fan of Elf you'll love Santaland. Located inside of Macy's Herald Square, you'll wander through a 13,000 sq. ft wonderland featuring an enchanted forest, rainbow bridge, elves, reindeer, Christmas trees and more.
Wollman Rink
Probably the most iconic ice skating rink of all time, Wollman Rink is located in Central Park and features a backdrop of the NYC skyline. It doesn't get more beautiful or romantic than that!
230 5th Ave. Igloo Bar
If you're looking for a decked out rooftop bar, look no further! This bar features multiple heated igloos that offer up delicious hot cocoa, festive cocktails, and a beautiful view of Manhattan. Igloos are first come, first serve and can fit up to 12 people inside.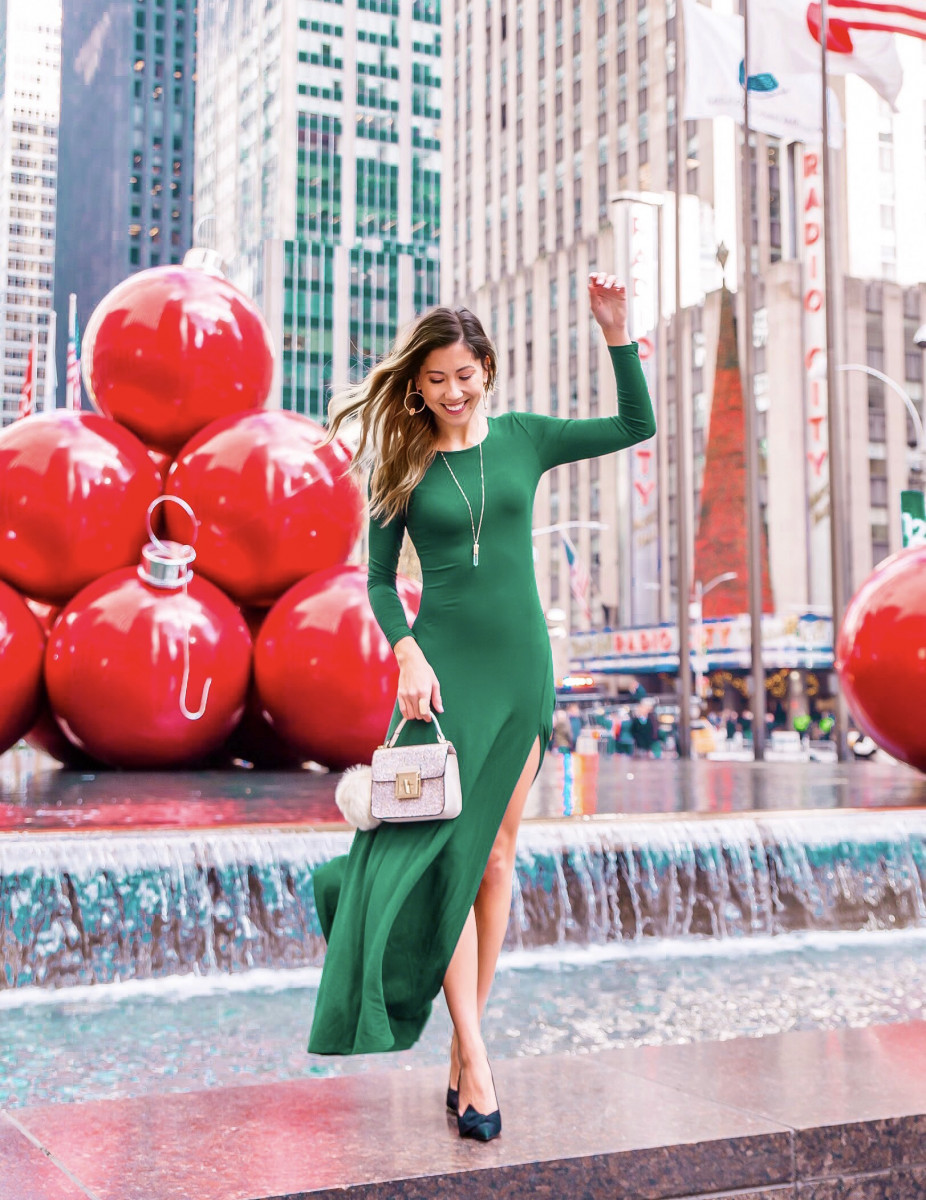 Radio City Music Hall
Even if you're not in the mood to see the Rockettes perform, it's worth paying a visit to Radio City Music Hall. One of my favorite festive photos was taken in front of the oversized ornament display with the music hall in the background!
Serendipity
If you're a sucker for the film (like me) then you'll want to pay a visit to this iconic establishment for some frozen hot chocolate! Fair warning, the wait is long so I recommend putting your name down and heading to the pizza joint across the street to wait.
Grand Central Terminal
Grand Central is iconic at all times of the year but it's especially jolly in December. Wreaths and garlands adorn the walls while a holiday fair features 40 different vendors (and is the only indoor holiday market in the city).
Saks
Many of the buildings get a little Christmas makeover during the holidays but none are as impressive as the Saks Fifth Avenue holiday light show. Located right next to Rockefeller Center, the Saks Winter Palace features more than 300,000 light and 225,000 crystals to create a 10-story magical light show across the entire front side of their flagship store.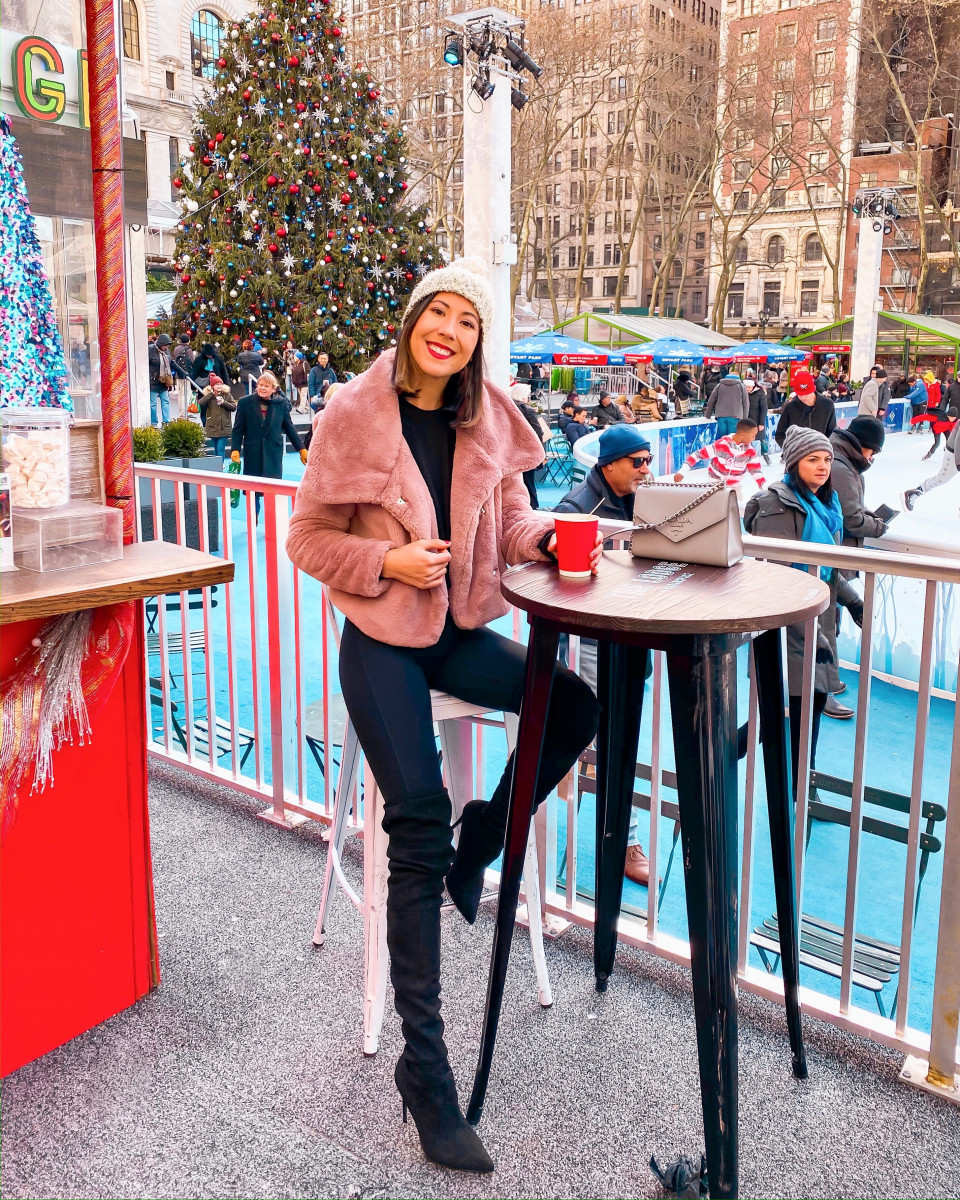 I hope you all enjoy seeing NYC at Christmas time! Speaking of the holidays, don't forget to check out my other holiday blog posts: How To Set Up a Festive Bar Cart and my Healthy Holiday Gift Guide.