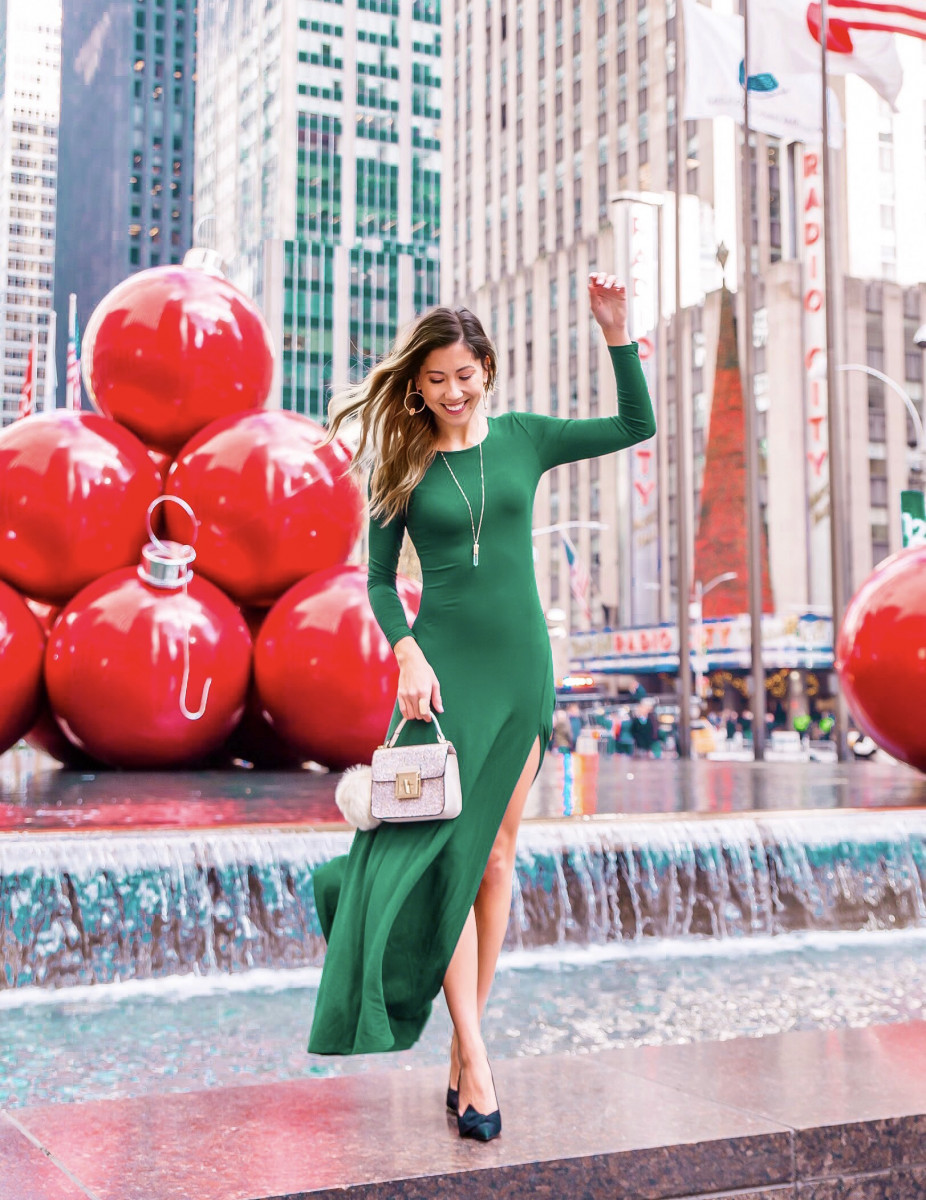 Hey hi and ho ho ho! Okay, not my best opening line but my mind is currently filled with holiday jingles so bear with me. Despite what you see in the above photo, I'm currently writing this from my dad's dining table in sunny Florida. I've been here visiting for the past two weeks and not gonna lie, it's been a struggle finding the right balance between work and play. I wasn't even sure if I'd have the willpower to get this healthy holiday gift guide out before Black Friday but 5 hours of research, editing, and typing (plus lots of coffee) later and here we are!
I know, I know, the last thing anyone needs is another gift guide but I had so much fun with the one I did last year that I figured I'd keep the tradition going. My Healthy Holiday Gift Guide features 5 different categories filled with some of my absolute favorite products and a few that I have on my own wish list!
I'm hoping you find it helpful as you shop for friends, family or even yourself this holiday season. Let's get to it!
The Fitness Fanatic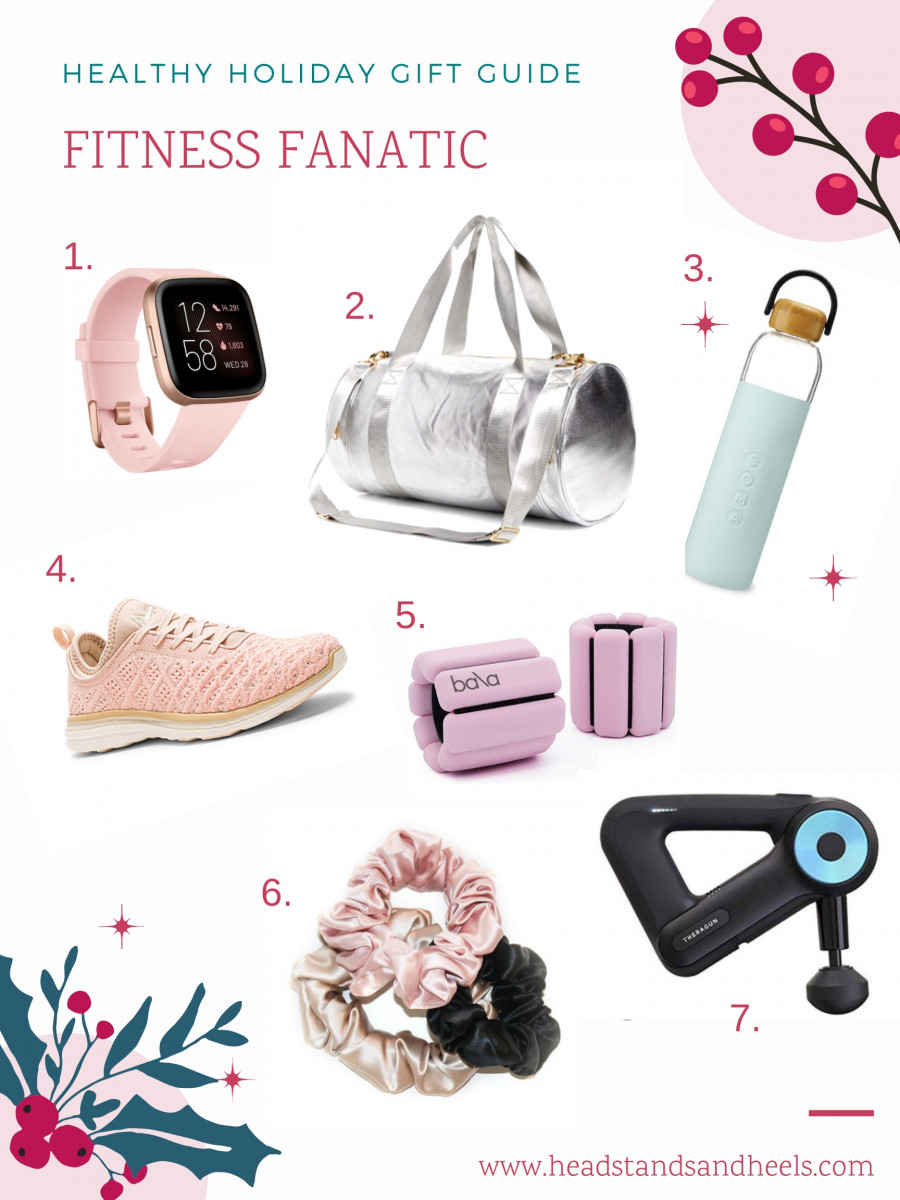 Fitbit Versa 2: Not only does it have 15+ workout modes, but it also tracks sleep, monitors heart rate, and even has a built in Alexa.
State Felix Duffle Bag: It's small, chic, has the perfect amount of pockets and is currently on sale!
Soma 25oz Water Bottle: This is my favorite water bottle ever! It features shatter-proof glass, easy grip, and a bamboo cap with handle.
APL Techloom Phantom: It's one of the most beautiful (and functional) running shoes out there and is one of APL's best sellers!
Bala Bangle Ankle Weights: These adjustable 1 pound weights are perfect to add extra intensity to any workout.
SlipSilk Scrunchies: Super cute, gentle on hair and the best part – it doesn't leave that annoying line in your hair after your sweat session.
Theragun: Okay, this one is quite pricey but it's one of the best recovery tools out there and I'm sure is on the top of every fittie's wish list.
For The Friend Who Needs To Treat Herself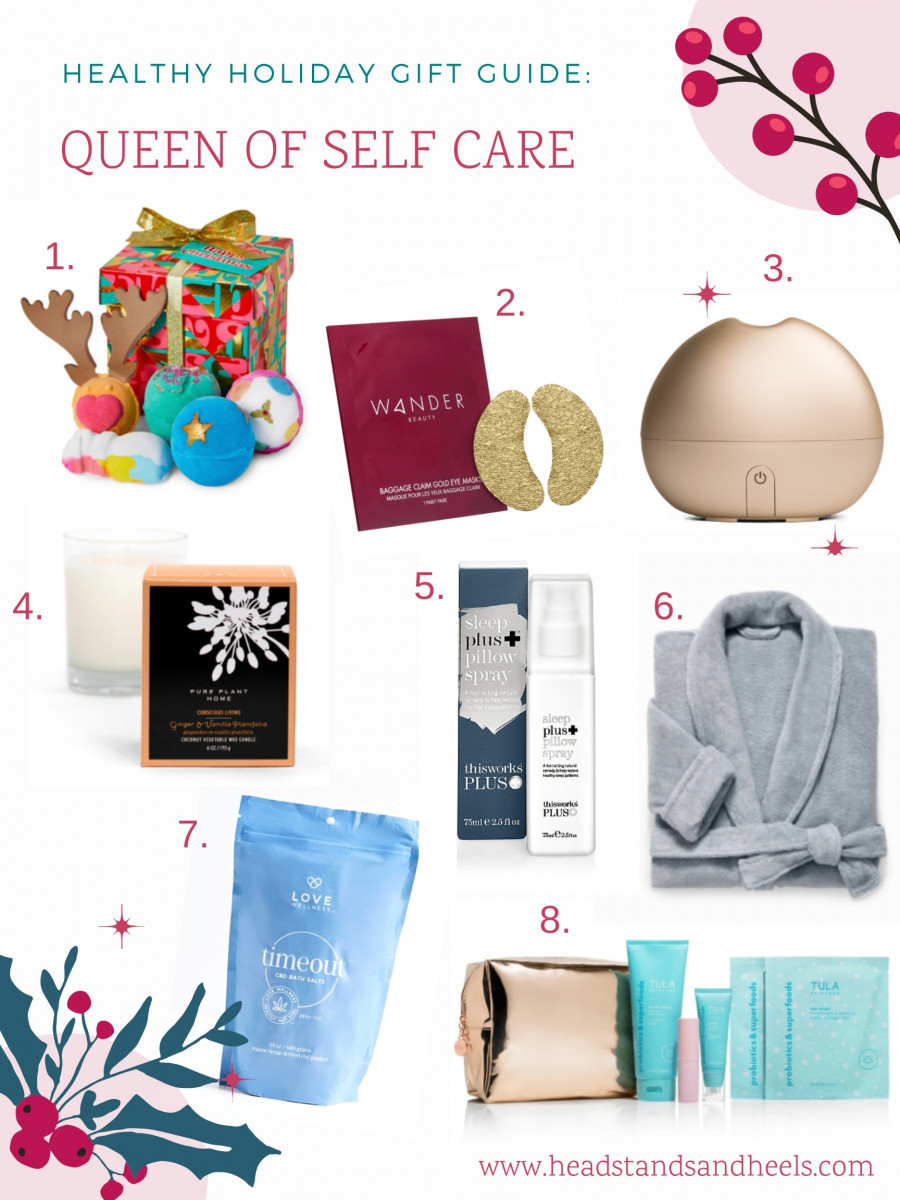 LUSH Bath Bomb Set: Vegan, Cruelty-free, Non-toxic and some of the highest quality (and colorful) bath bombs on the market.
Wander Beauty Baggage Claim Eye Masks: My absolute favorite vegan/cruelty free and non-toxic eye masks that hydrate, soothe and brighten.
Saje Wellness Aroma Breeze Diffuser: I have 3 diffusers by Saje and am obsessed with them. They're great quality and look so pretty!
Pure Plant Home Ginger and Vanilla Candle: Admittedly, I don't own this candle. But my friend loves it and now it's high on my own wish list.
ThisWorks Sleep Plus Pillow Spray: This spray seriously works like a charm. The chamomile essential oil blend smells amazing and I love misting it on my sheets at night.
Brooklinen Plush Bath Robe: This super plush robe from Brooklinen is the stuff dreams are made of. So soft, comfy, and high quality.
Love Wellness Timeout CBD Bath Salts: One of my favorite healing bath soaks for when I'm feeling extra sore or achy.
TULA Glowgetters 6 Piece Set: This set features some of my fav TULA products (the eye balm is amazing) and the rose gold cosmetic case is so cute. You can use code: HEADSTANDS for 20% off!
For The Proud Dog Parents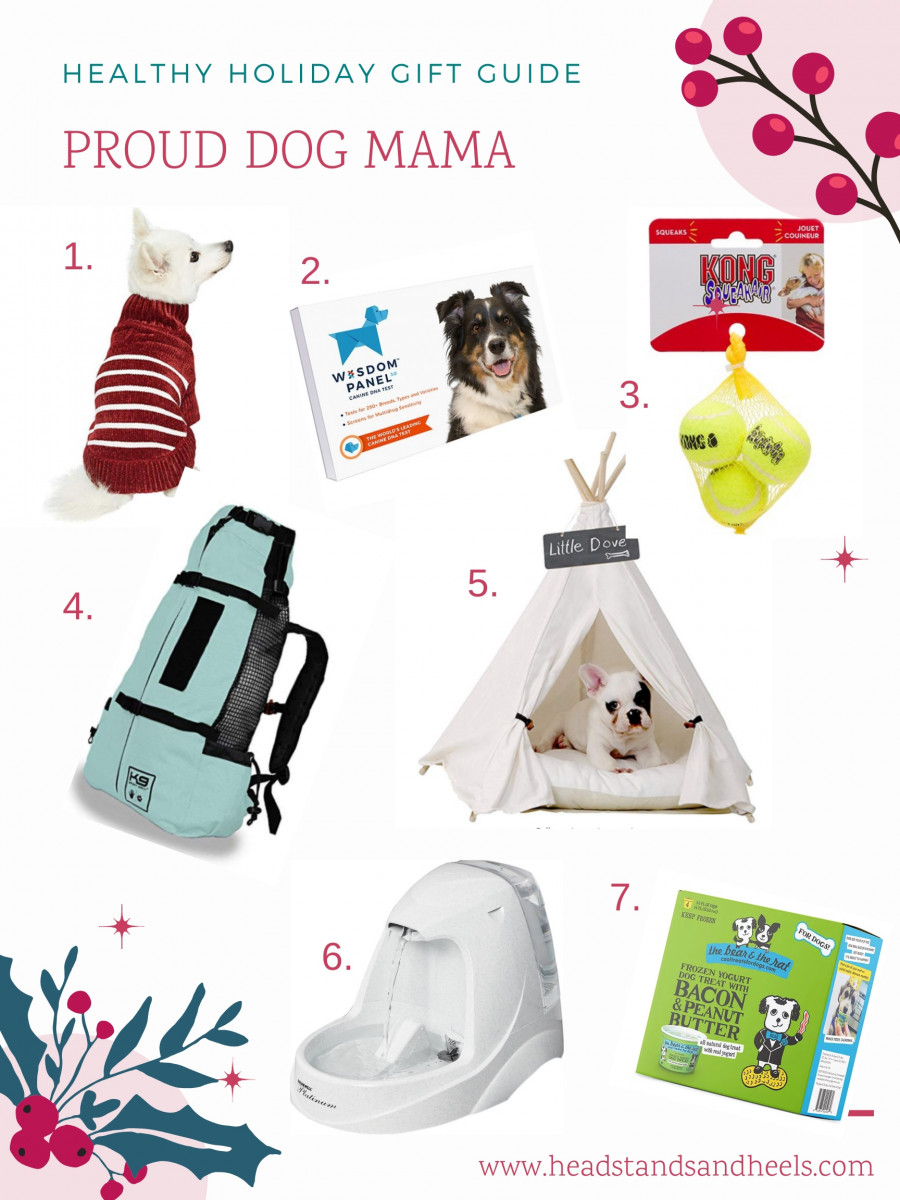 For The Girl On The Go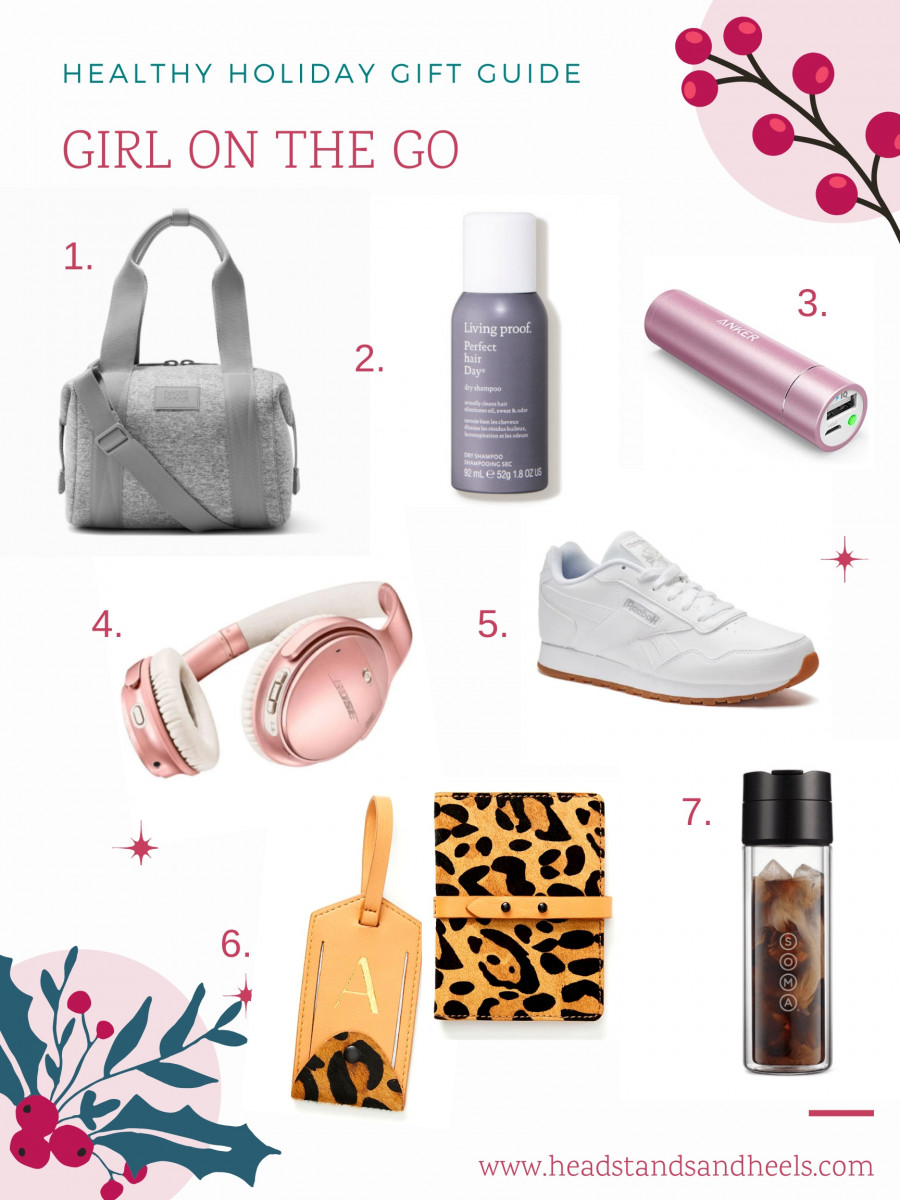 For The Yoga Lover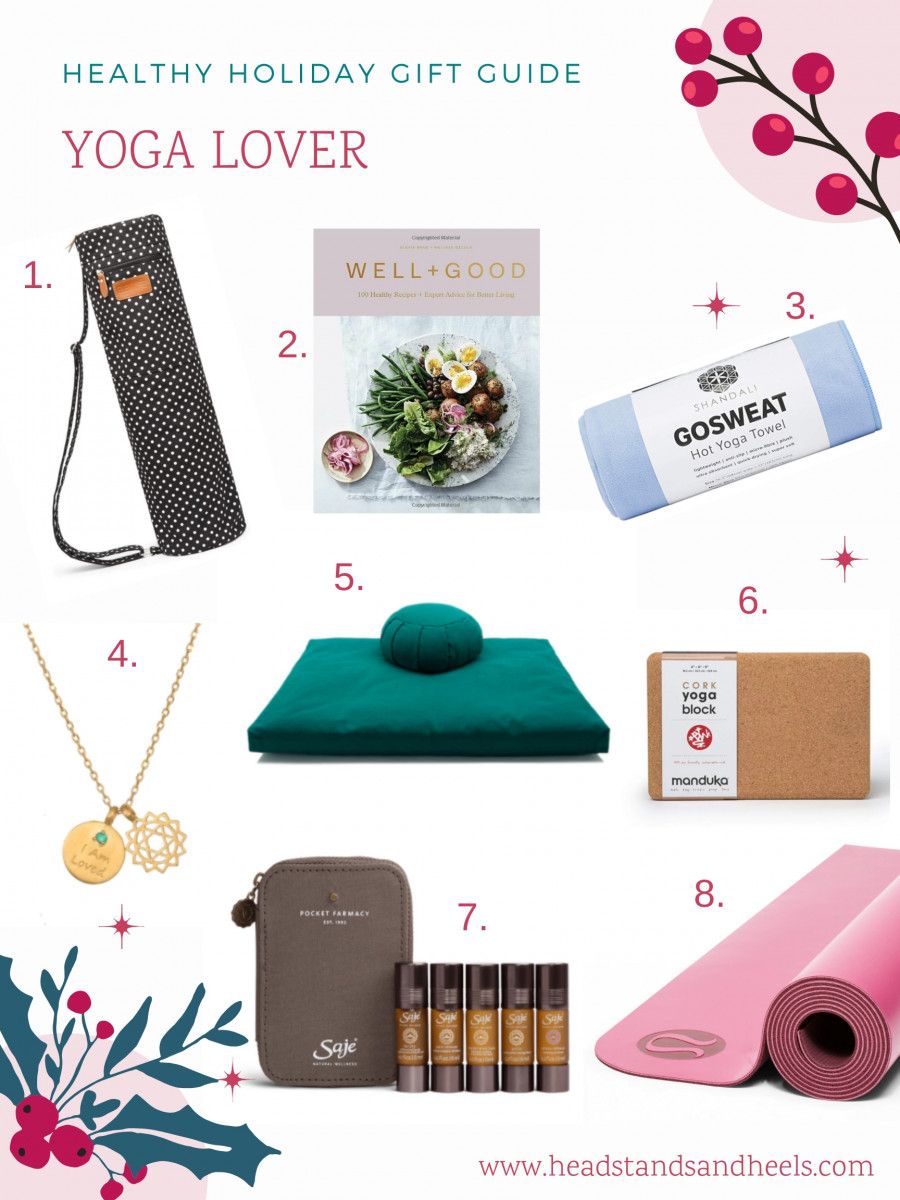 For a Man In Your Life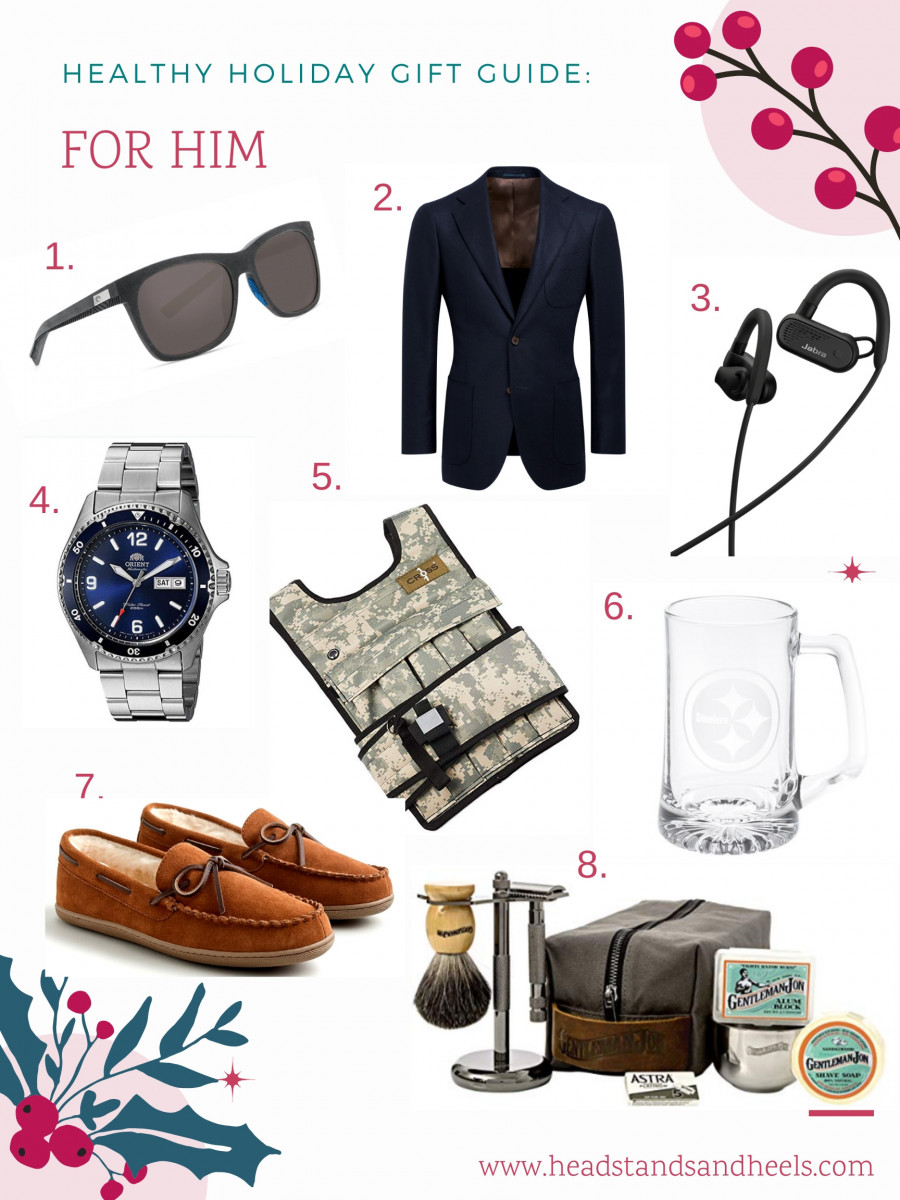 Bureo Caldera Sunglasses: Made from 100% recycled fishing nets! These offer UV protection, polarization and rubber grips for comfort.
SuitSupply Navy Havana Jacket: My husband loves this quality sport coat that you can wear on date nights, to the office, or any semi-formal occasion.
Jabra Elite Active 45E Headphones: Waterproof, comfortable, and a super long lasting battery. These are perfect for running, answering calls, or playing music on the go.
Orient Mako II Diver Watch: High quality, sophisticated and waterproof watch that looks good for every day use.
Cross101 Weighted Vest: Perfect for adding intensity to gym sessions or while running. The weights are removable and go up to 80lbs.
NFL Beer Glasses: These 25oz glass steins can be monogrammed with his favorite NFL team logo as well his name. Bonus: they're dishwasher safe!
JCrew Classic Suede Moccasins: I bought these for my husband last year and he loves how cozy and comfortable they are!
Gentleman Jon Deluxe Wet Shave Kit: Everything needed for the perfect shave. My husband has been using this for years (apparently the badger hair brush is a game changer)
I hope you all enjoyed this year's Healthy Holiday Gift Guide round up! I'm super excited to share that I'll also be bringing back my Healthy Holiday Giveaway this December. You won't want to miss this one — between Dec 16-20th I'll be highlighting 5 different brands with tons of great prizes and 15 winners! Not to give it away but I'm talking beauty products, activewear, wellness tools, and more. Mark your calendar and stay tuned for more festive content coming your way.