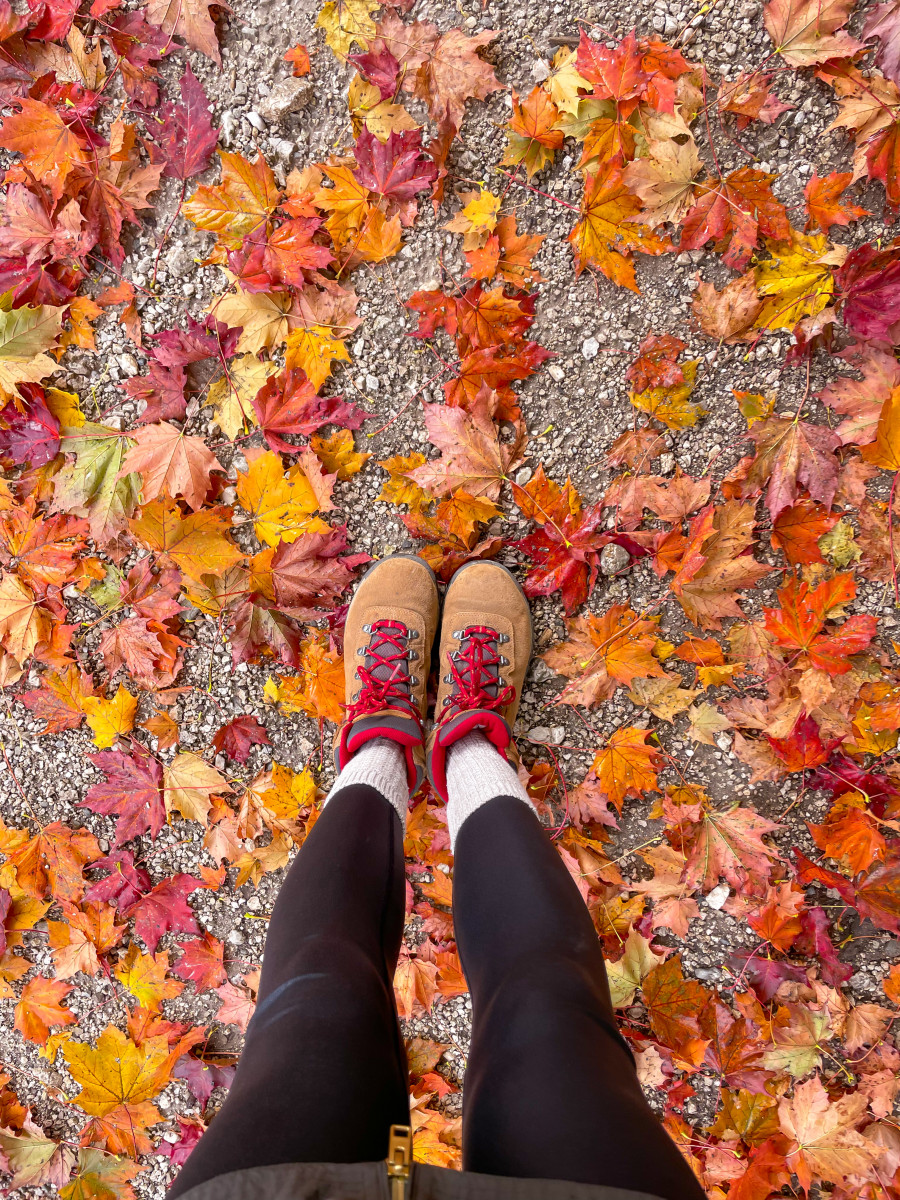 My favorite season is here and as we all start to embrace all things Autumn, I wanted to share a little cozy Fall Bucket List with you! Time tends to move quickly as an adult so think of this bingo card as a fun challenge to reconnect with your inner child, give yourself some much needed self-care and practice the art of hygge (a Danish word for a quality of coziness and comfort).
I'll be sharing some very cozy routines over on my Instagram later this month but in the meantime, be sure to save this bingo card to your phone and post on Stories, tagging me, if you're going to play along.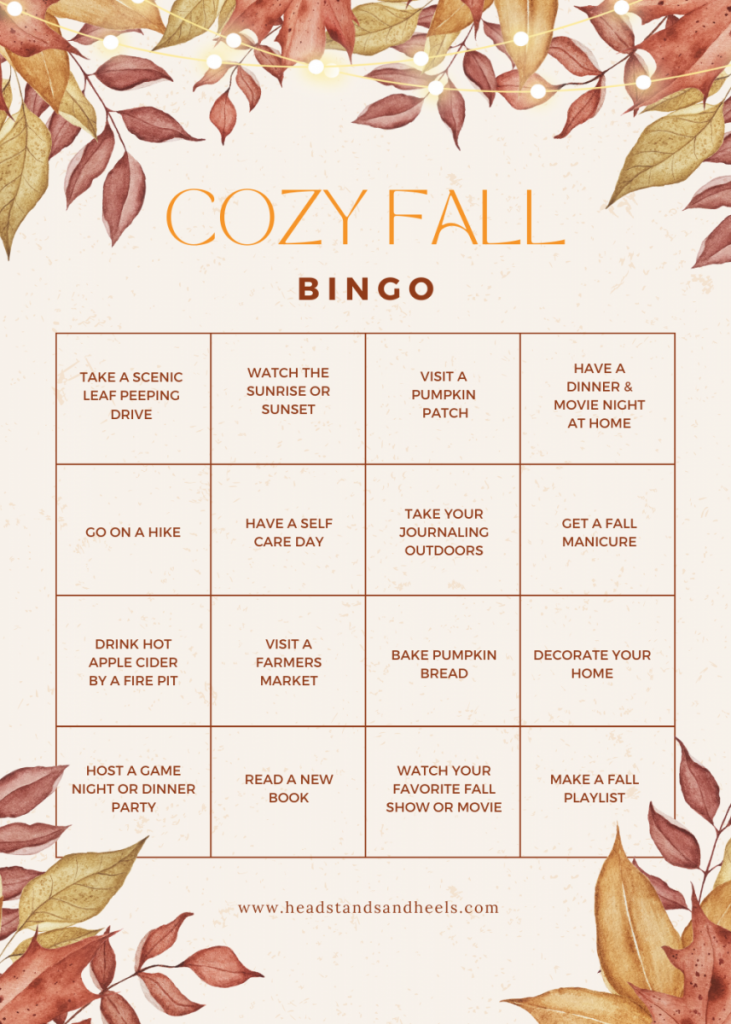 Take a scenic leaf peeping drive
If you happen to live in a state with seasons like me, this is the perfect excuse to take a leisurely leaf peeping drive with a loved one. For those of you in Colorado, here is a roundup of 9 of the best drives to take throughout the state to see the golden colors before they disappear.
Watch the sunrise or sunset
You all know how much I love watching the sunrise. See mental health benefits HERE. There's something that feels so special about wrapping yourself in layers and bringing a thermos of hot coffee while enjoying the sky light up in beautiful colors to start your day. And now with the daylight hours growing shorter, it isn't as difficult to get yourself out of bed in time to catch it! Of course if you're absolutely not a morning person then watching the sunset will do the trick too.
Visit a pumpkin patch
A classic Fall activity that I couldn't leave off the list! If you're wondering what to do with those pumpkins once you bring them home check out this fun pressed flower pumpkin DIY that's been going around TikTok. I love a creative craft and this is a cute alternative to a classic carved jack-o-lantern.
Have a dinner & movie night at home
Spice things up with a themed dinner and movie night at home! All you have to do is pick a movie and use your imagination (or a little help from Pinterest) to craft a menu that is inspired by the movie itself. It's a fun way to surprise your partner or kids and jazz up a weekend evening. If you need some ideas, here's a list of movie-themed dinner menus to peruse.
Go on a hike 
When the weather is sunny with a slight chill in the air it's the perfect excuse to get outside and go for a walk. You don't have to have access to the mountains to go on a hike. You can take a long stroll at your local park or drive somewhere with a bit more space to roam. Either way, the idea is to get your booty outdoors and take advantage of the fresh air and cooler weather.
Have a self-care day
Self care is important during every season but the coziness of Autumn makes it feel particularly welcoming. Whether you decide to treat yourself to a spa day, a cup of coffee on your porch, a luxurious bubble bath or a slower morning, I hope you find ways to let yourself relax and reconnect.
Get a fall colored manicure
Now's the time to switch to your wardrobe to darker tones and neutrals and your manicure doesn't have to be any different. I've been a big fan of press ons lately and if you're curious about them Glamnetic has quite a fun selection to choose from. Otherwise here's a great roundup of Fall inspired manicures to show your nail tech during your next visit to the salon.
Take your journaling outdoors
Instead of journaling in bed or at your kitchen table, why not take your journaling habit outdoors? I particularly love to make myself a hot cup of coffee and bring my journal to my back patio table where I can relax and write my thoughts. It's a very cozy way to switch up your typical morning routine!
Drink hot apple cider by a fire pit
Nothing says autumn quite like a hot cup of apple cider! If you want to jazz up that store bought jug of apple cider, here's a super easy recipe to try. You can always spike it with a little rum if you're looking to make a fall cocktail instead!
Visit a farmer's market
Farmer's markets aren't just for summer time! I find that they're way more enjoyable once the weather is cooler and they're stocked with all the fall produce like apples, squash, and sweet potatoes. If your local farmer's market happens to close by the end of September (like here in Denver), I recommend finding a farm like Ya Ya Farm & Orchard to pick up your apples!
Bake pumpkin bread
Tis the season to bust out that apron and get baking! There are so many delicious Fall recipes to try but a classic one that is always on my list is pumpkin bread. This is the one I've made in the past and loved in case you're looking for a healthy version.
Decorate your home 
One of the simplest ways to embrace more coziness in your life is to add cozy elements to your home! So whether or not you're decorating for Fall or Halloween (or both?) making little changes like candles, simmer pots, plush blankets and twinkle lights can make a huge difference in how your home feels throughout the new season.
Host a game night or dinner party 
What better way to celebrate all things cozy than by hosting friends? You don't have to wait until Friendsgiving to host an autumnal themed dinner party. If you need some help planning the menu, this roundup of 71 Fall Recipes can do the trick. Or if you're looking to do something more low key how about a game night or book club?
Read a new book
Rather than scroll on your phone in the evenings, try dimming the lights, cozying up with a comfy blanket and reading a new book. If you need some inspiration here is a list of the perfect Autumn Vibe books that may catch your eye.
Watch your favorite Fall show or movie
Everyone knows Gilmore Girls is THE re-run to be streaming this season but if that isn't your vibe, here is a list of Netflix movies and shows that bring all the Autumn feels.
Make a Fall playlist 
Last on our cozy Fall bucket list is to create a playlist that you can pop on that will give you all the feelings of comfort and relaxation. Luckily Spotify already has quite a few that have been created for you to enjoy but if you want to make one for yourself, here's a roundup of 25 songs about Autumn.