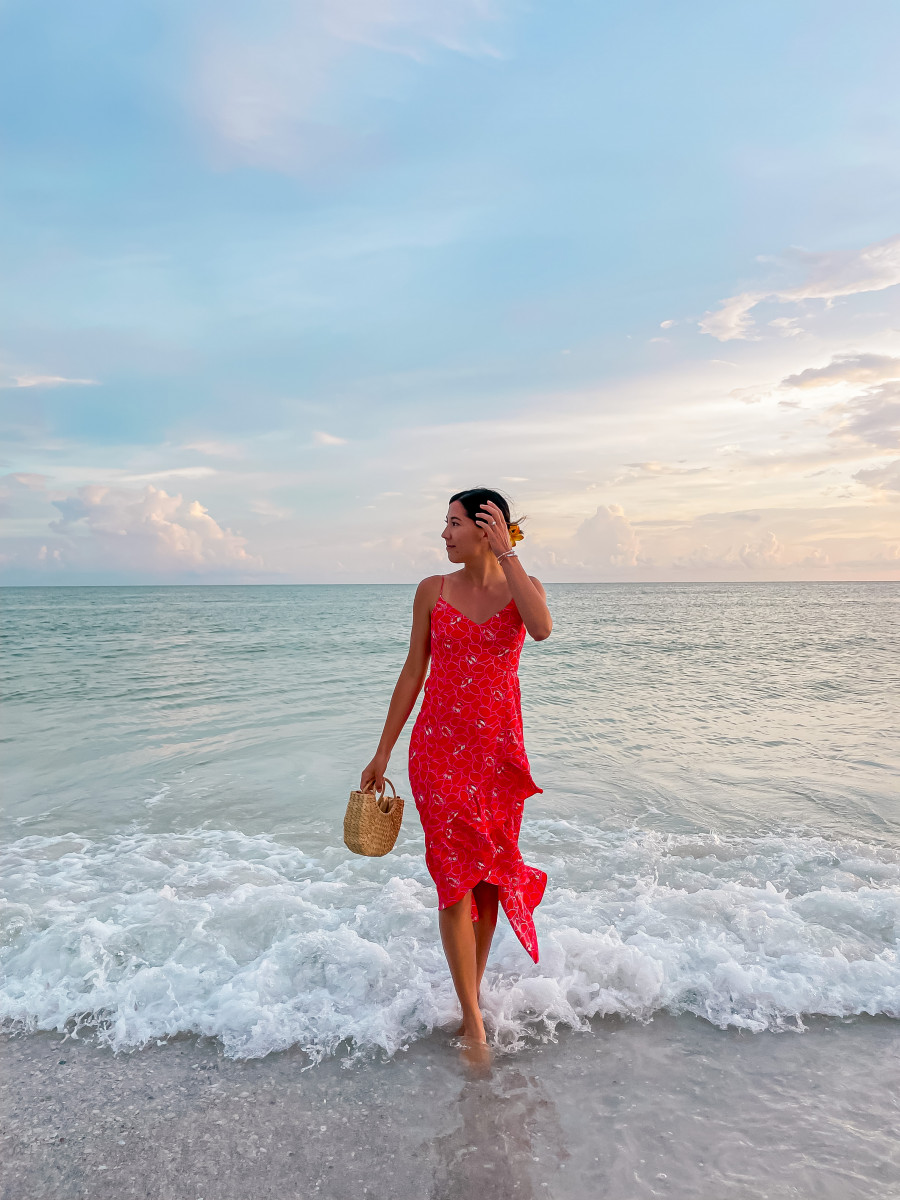 Hi dear friends! It's been a long time since I've done this sort of round up. In fact, I'm pretty sure it's been several YEARS since I've shared a list of favorites and that got me thinking that I owe you all an update. Seeing as we're in the middle of summer, I figure this is a good time to share some of the things that have been bringing a little joy to my life along with products that have been summertime favorites that I think you'll enjoy as well.
Let's dive in! (PS: all pink text are clickable links)
ACTIVEWEAR
FPMovement Back It Up Onsie: Hands down my favorite piece from FPMovement (I have it in two colors!) It's so cute, comfy and stays put during any workout.
Alo Yoga Suns Out Onsie: The fabric on this is like butter and it has such a flattering fit. I have it in black and love to pair it with a white button down shirt for a cute, athleisure look
Vuori One Shot Tennis Dress: I have a lot of exercise dresses but this one is my favorite. The white fabric is thick and fully lined for extra coverage. One caveat, I do wear these nippy covers with this dress since it doesn't have removable cups so if you do want a dress with a built in bra this probably isn't for you.
Alala Barre Seamless Short & Bra: I've been a fan of this small NYC based luxury activewear company for years but their seamless sets have become one of my all time favorites. The Barre Seamless Shorts come in lots of different colors and are so comfy! You can use my code HEADSTANDS20 for a discount
Offline By AERIE Crossover Flowy Shorts: These exercise shorts are so cute with their thick crossover band and slightly flared look that resembles a tennis skirt.
New Balance Fresh Foam Running Shoes: I have quite a few running shoe brands I love (Hoka and Brooks have always been high on my list) but these New Balance sneaks really impressed me! They come in several pretty colorways and are super supportive. I wore these during my first 10K race and loved them.
BOOKS
The Nightingale by Kristin Hannah: I'm currently reading this one and it's already fixing to become one of my favorite books of the year. It's historical fiction, set in France during WWII and tells the story of two sisters and their path toward survival and freedom. Looks like there's a movie set for release in 2024 with Dakota and Elle Fanning playing the lead roles!
Love and Other Words by Christina Lauren: This romance is written in two timelines and shares the story of a couple who are offered a second chance at love. It's so beautifully written with elements of heartbreak, loss, friendship and forgiveness. Definitely one that had me both smiling and crying all the way through.
One True Loves by Taylor Jenkins Reid: I'm a big TJR fan and have loved several of her other novels so it's no surprise that this one was one of my favorite reads this summer. It's a story of a young woman whose husband goes missing and how, years later, he's found alive but returns home to find that his wife has moved on and is engaged to another man. Ultimately it'll have you questioning, is there such thing as "one true love"?
TV SHOWS
So to be fair, there have been a lot of good shows that I've enjoyed this year. I'm looking at you: The Last of Us, House of Dragons, Yellowjackets, Ted Lasso and Survivor (duh). But the 3 that I have watched specifically this summer are:
Firefly Lane: It's been a long time since a TV show has impacted me the way Firefly Lane has. It's a story of two best friends and is told in 3 timelines: when they are teenagers, in their 20s and later in their 40s. It was funny, heartwarming, and ultimately… deeply devastating. Fair warning I don't think I've ever cried during a show as much as I did during the second season of this one.
The Summer I Turned Pretty: I'm sure you've heard all the hype around this show by now but I'm here to tell you that yes, it's VERY cute. There's something about watching people 15 years younger than you navigate their first loves that I find really nostalgic and endearing. Plus the casting was brilliant and the characters are so fun to watch.
Modern Love: I've been slowly making my way through the first season of this anthology series that brings to life various love stories submitted by real people to the New York Times. There are lots of amazing actors throughout the series and each episode is only 30 min long. The first one about a doorman and his tenant almost wrecked me but the 3rd one about a bi-polar woman played by Anne Hathaway is one that has left the biggest impression.
SKINCARE
Cay Skin Nourishing Body Mist SPF 50: Literally the best spray on sunscreen I've ever used. No greasy, white residue, it's super hydrating, and works so well! You can use my code: MELANIE25 for a discount
Glow Beauty Guava Vitamin C Dark Spot Serum: I've always suffered from hyperpigmentation and the more sun exposure I've had (even with sunscreen), the more dark spots appear all over my face. This is something I've incorporated into my night routine and I've noticed a big difference with dark spots fading after several weeks of use.
TULA Rose Glow & Get It Eye Balm: I've been a fan of Tula since the beginning, literally when they first launched in NYC in 2014 with their Purifying Cleanser and Day/Night Hydrating Cream. It's been so cool to see this clean, probiotic beauty skincare line grow and their products, like this eye balm, are still some of my all time favorites! You can use my code: headstands for a 15% off discount.
Tata Harper Hydrating Floral Essence: Everything Tata Harper makes is so luxurious and I haven't found a single other hydrating mist that even compares to their Hydrating Floral Essence. It leaves your skin feeling so glowy, hydrated and soft — it's definitely a splurge but one that I say is VERY worth it.
Drunk Elephant Jelly Cleanser: This is one of my fav Drunk Elephant products, especially for anyone who has sensitive skin like mine. It's super lightweight and has a jelly consistency that lathers beautifully. It removes all makeup without stripping your skin, which is a must for me in Denver's dry climate.
FITNESS PROGRAMS
Obe Fitness: Always a favorite, Obe just has so many different teachers, workout formats, class lengths and styles to choose from. I love their sculpt and HIIT classes the most but they have everything from strength training to pilates, barre, yoga, dance cardio, and more. Click HERE for your free trial.
The Sculpt Society: Megan Roup is one of my favorite fitness instructors and her Sculpt Society app has tons of full length and quickie sculpt + dance cardio classes to choose from. Click HERE for your free trial.
Classpass: I've been using CP for YEARS and it's the best way to find and try studios in your city or wherever you're traveling at a discounted rate. If you're looking for something outside of fitness there are also plenty of wellness offerings (think massages, cryotherapy, acupuncture, etc) and beauty services (blow outs, nail salons, etc) on the app as well! Click HERE for your free trial.
FOOD AND DRINK
Ippodo Tea Sayaka Matcha: the Nodoka matcha from Ippodo was what got me hooked but unfortunately it's only a limited spring time release. Sooo if you're looking for a go to ceremonial grade matcha that is super high quality, smooth and has a really lovely non-bitter taste, I recommend their Sayaka matcha!
PS: I literally can't stand culinary grade matcha powder because they're usually so bitter (you can always tell the difference by the color and how they blend into milk btw). So if you're not a matcha fan because all you've had is the Starbucks version, which is also loaded with extra sugar to counter the bitterness, I def recommend trying this one out.
Simple Mills Cocoa Cashew Cookies: I feel like everything by Simple Mills is so good but these cookies are my current obsession! They're like a healthy oreo but with a salty, nut butter filling instead of frosting.
MUSH Peanut Butter Chocolate Overnight Oats: One of my favorite grab and go snacks, these overnight oats come in so many different flavors but the PB Chocolate and Dark Chocolate are def the top of my list. For breakfast sometimes I'll pour into a bowl and add a banana with cinnamon too!
KOS Plant Based Protein Powder: Hands down my favorite plant-based protein powder of choice for all of my smoothies. One serving (2 scoops) gives you 20 grams of protein from peas, flax seed, quinoa, pumpkin seed and chia seeds. More importantly, it blends so well and doesn't leave a sandy texture like so many other protein brands do. You can use my code: MELANIE15 for a discount
Olipop Strawberry Vanilla Sparkling Tonic: I've never been a fan of soda but these prebiotic sodas from Olipop are just too good, especially when you're in the mood for a mocktail! The strawberry vanilla flavor has been a repeat in my house.
FUN ACCESSORIES
Flower Hair Clips: This has definitely been my hair accessory of choice and I pretty much wear one every day! I have the regular daisy flower set but these hibiscus ones are SO perfect for summer, I'm obsessed!
Mini Straw Purse: Unfortunately the exact one I have from Abercrombie is no longer available but I did find a very good dupe on Amazon that's super affordable.
Cute Pilates/Barre Socks: For all your pilates and barre classes, grip socks are a must and these daisy ones are my absolute favorite!
FPMovement Runner Sling: This is my all time favorite running bag! It hugs across your hips super tight and has just enough room for the essentials: cards, key, phone
Pressed Flower Necklace: There's a local artist in Denver who makes beautiful pressed flower jewelry, fleurs et temps. Her recent collection sold out so I linked another Etsy vendor who creates custom pieces that I think are so dainty and beautiful!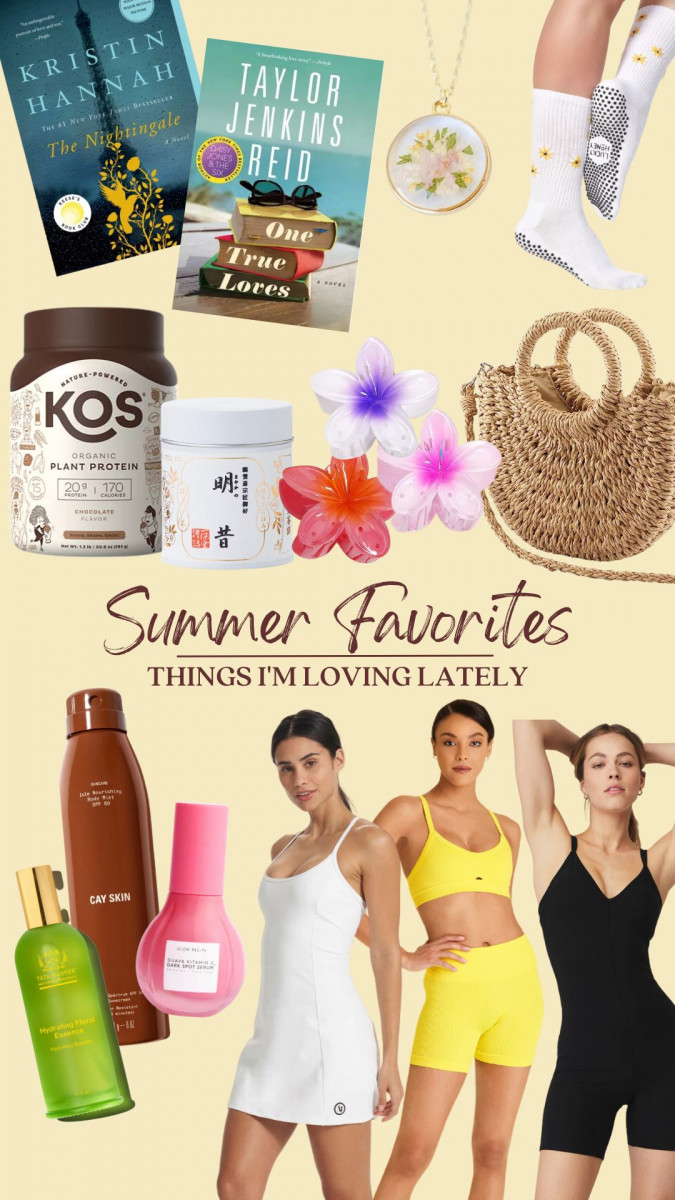 If you're into this round up, I'd love to hear from you! Leave a comment here on the blog or send me a note on IG. If all goes well then I'll come back with an updated list of things I'm loving lately in the Fall!