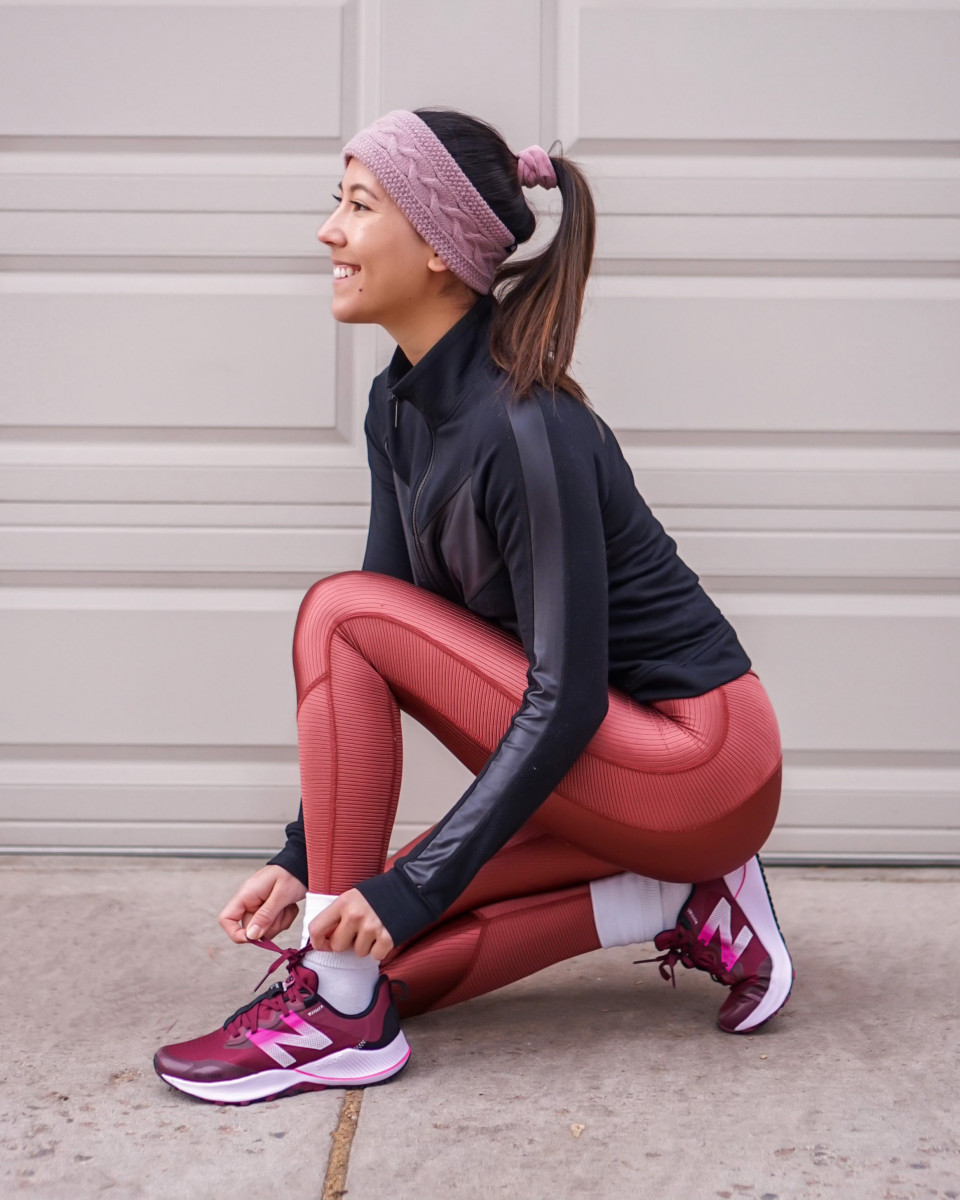 I've been struggling a bit with creativity lately so decided to spice things up on Instagram with a fun new outfit series. I partnered with some of my favorite athletic wear brands that I know you'll LOVE to create five cozy, winter athleisure looks that you can wear all season long. The emphasis was on neutral pieces that are easy to mix and match, along with accessories that can take a simple pair of leggings from the studio to a holiday party in a snap.
I hope you all enjoyed watching the series and maybe got a few ideas from it! Below you'll find the key activewear and layering pieces from each featured brand along with some fun accessories that I think would pair well with them. I chose to feature brands that span a wide price range. CRZ Yoga (on Amazon) and Aerie offer super cute affordable pieces while Terez, Beyond Yoga and Alala bring you higher end, luxury options.
Hopefully this layout makes it easy for you to scroll, swipe and shop your favorite pieces! Enjoy!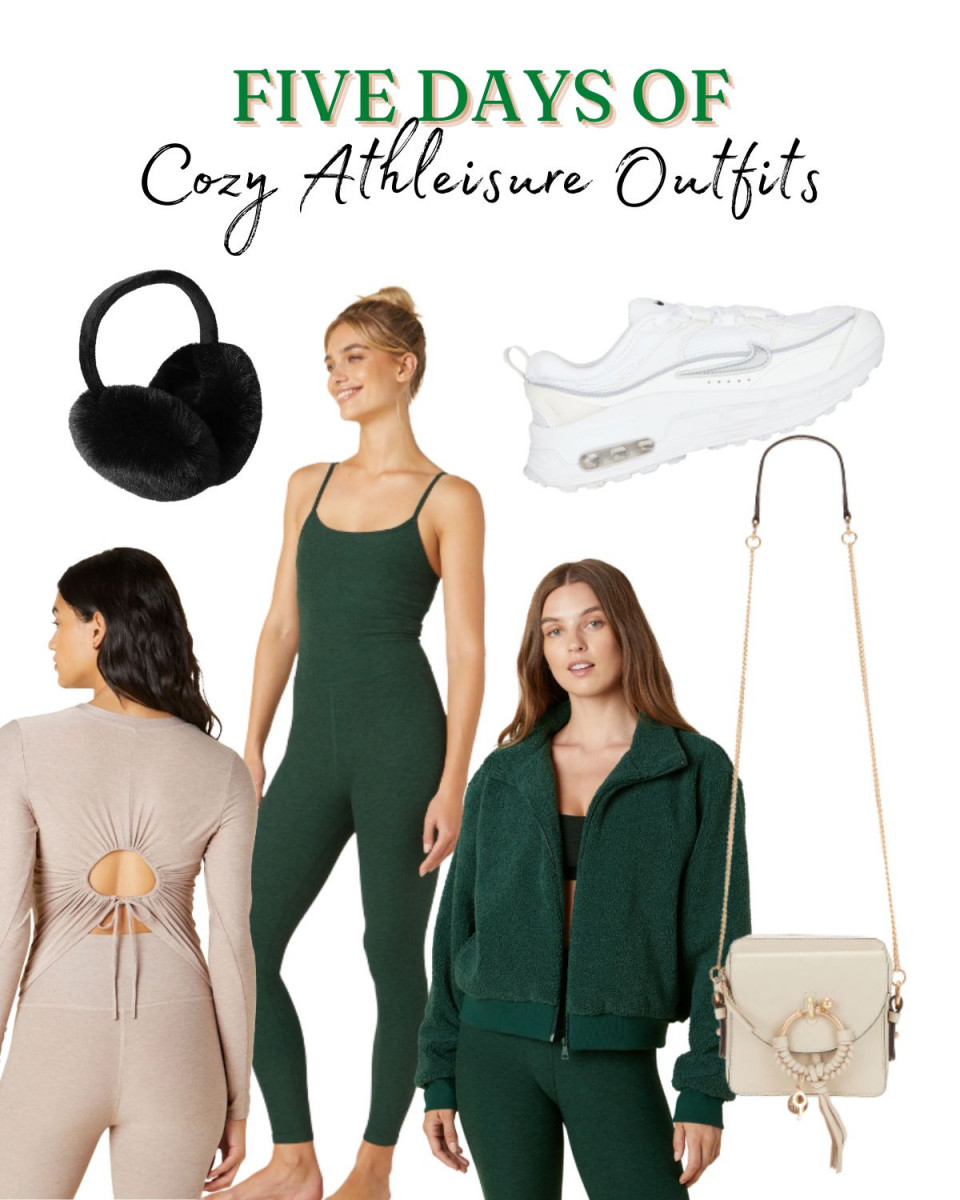 DAY 1: BEYOND YOGA
Beyond Yoga has been a favorite of mine for years. Between their cozy spacedye fabrics and their flattering silhouette, I've never been disappointed by anything I've tried from their collections. The forest green color is so perfect for winter and I love the jumpsuit and matching sherpa combo. If a full matching look isn't your thing, they also have a teddy color sherpa that would pair nicely with this look.
click any of the pieces below to shop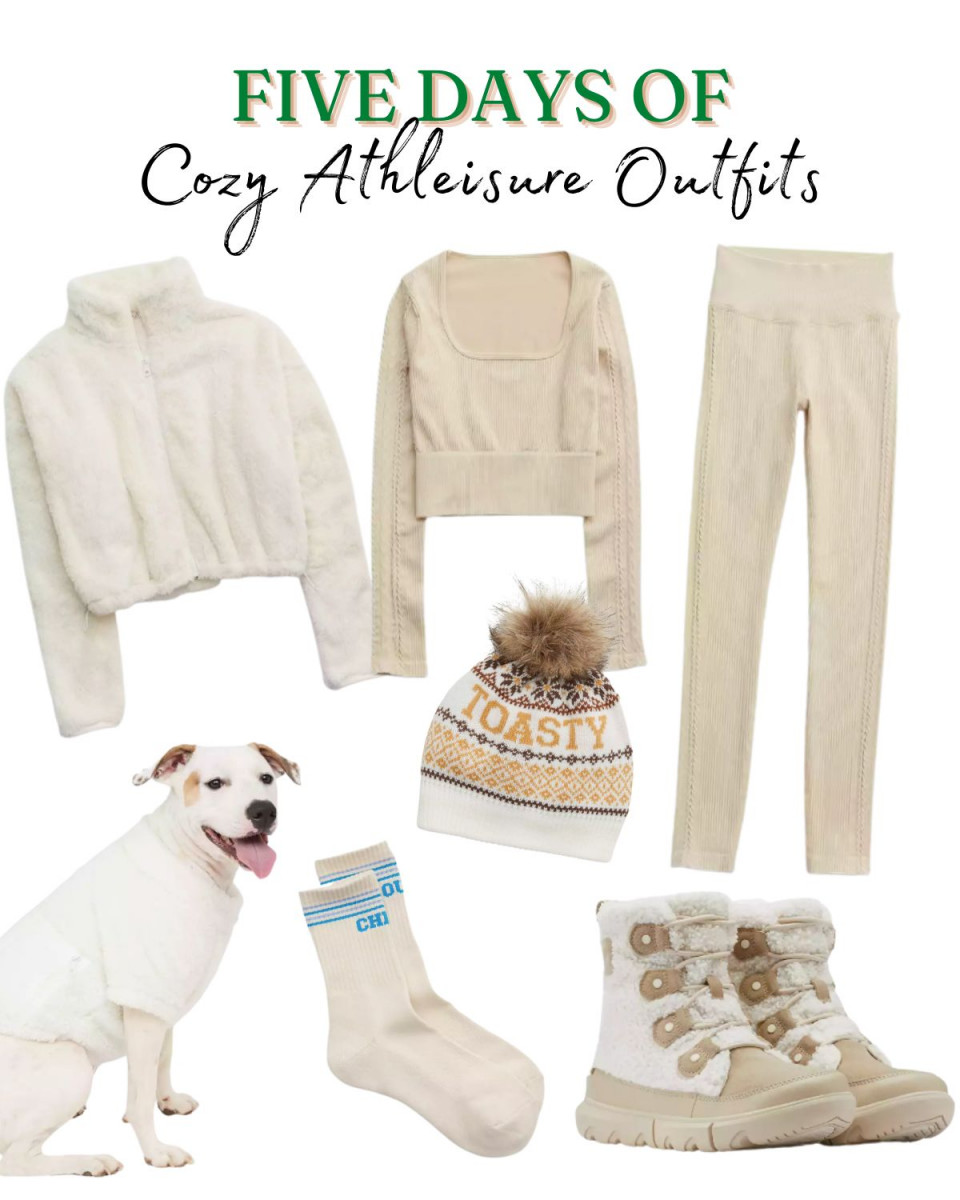 DAY 2: AERIE
If you're looking for cute, trendy and affordable activewear, Aerie is one of the best brands out there! The best part is they're a one stop shop for a full head to toe look — meaning this entire ensemble including the Sorel boots and faux fur dog coat is from their site. I thing the winter whites play nicely together to create a "snow bunny" look. And if a full neutral look isn't your thing, the pieces are super easy to mix and match with whatever's in your wardrobe.
click any of the pieces below to shop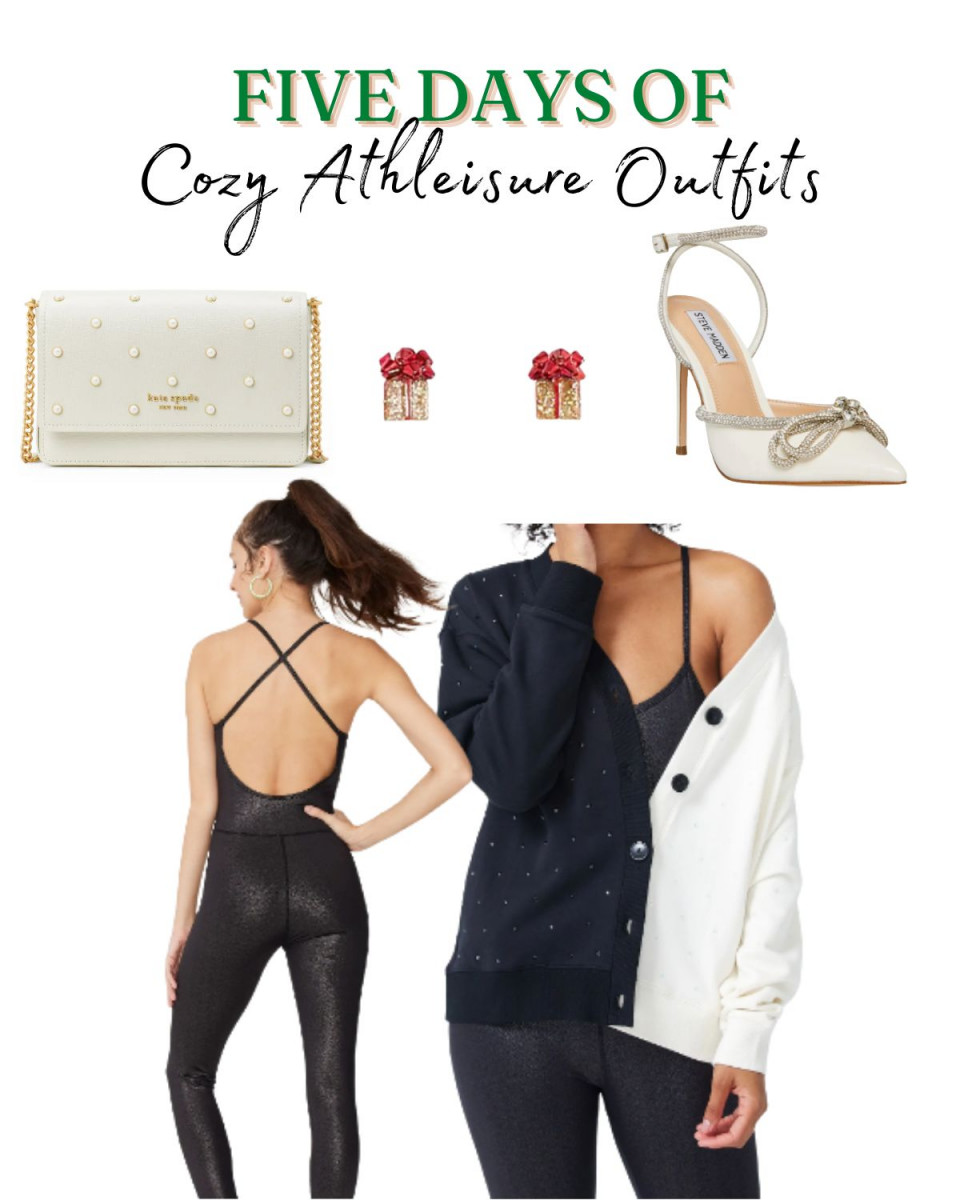 DAY 3: TEREZ
Terez is best known for their assortment of fun and funky activewear prints and I've featured them countless times on my Instagram. What I loved about this particular combo is that it's a bit more elegant and understated than their usual collections but the sparkle makes both pieces perfect for the holidays. The jumpsuit is super easy to dress up or down depending on your mood and I love the look of the color block cardigan.
click any of the pieces below to shop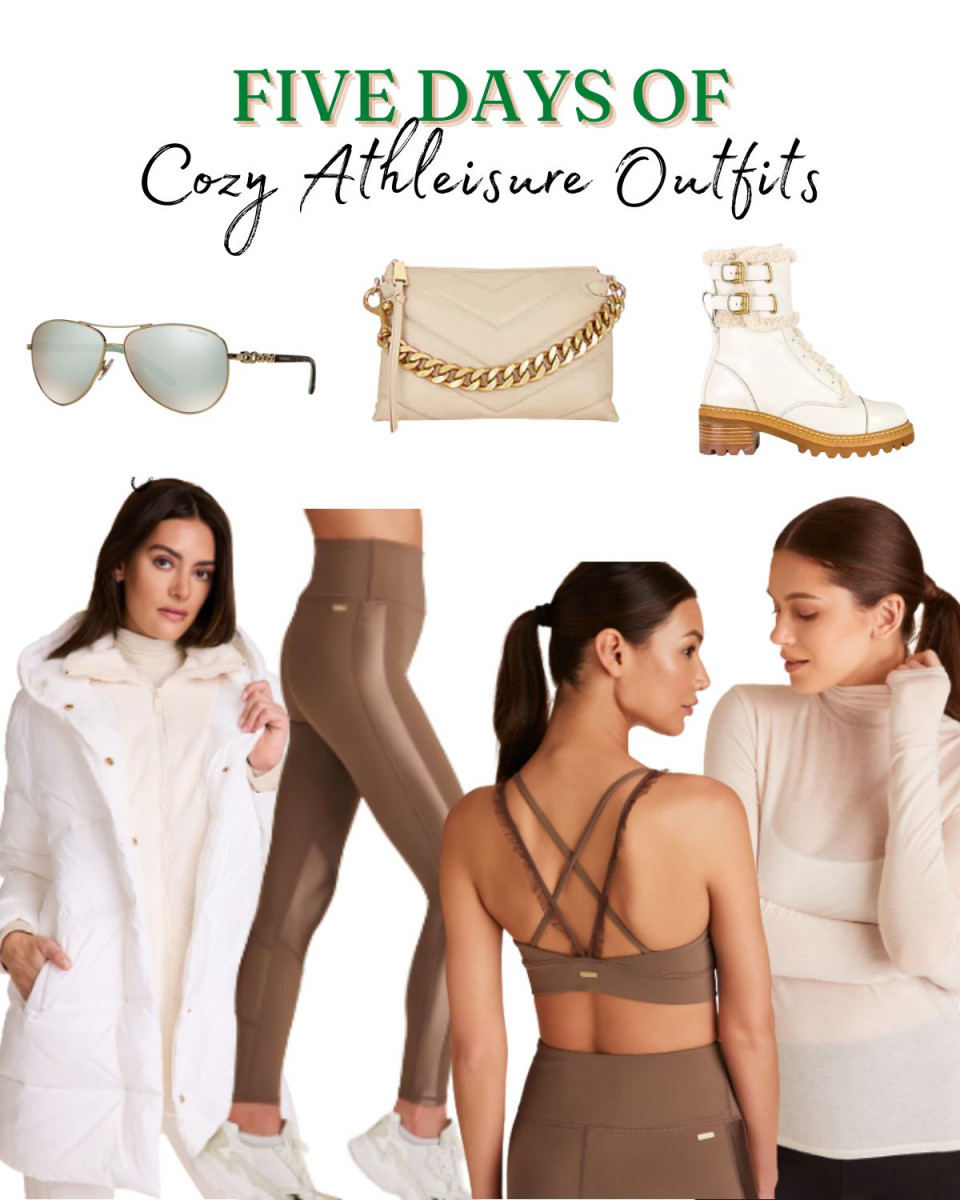 DAY 4: ALALA
I am truly obsessed with the amount of feminine and luxe details Alala includes in all of their activewear apparel. From the delicate ribbon on the sports bra to the faux leather panels on the leggings, they're a brand I guarantee will make you stand out in the best way during any workout class! Pair the brown matching set with their washable cashmere turtleneck and then top with the COZIEST puffer jacket ever. I love that it has a sherpa interior for extra warmth and a belt to cinch you in at the waist.
click any of the pieces below to shop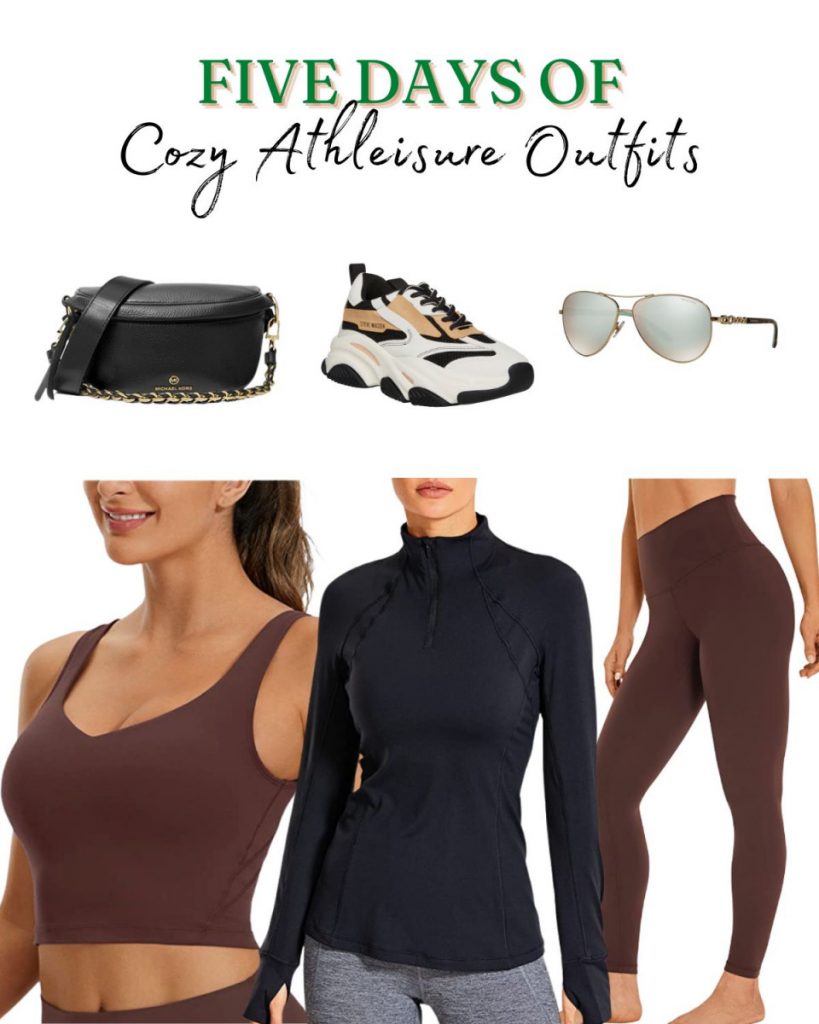 Day 5: CRZ Yoga
Admittedly this is a new brand that I've been wanting to try as I've seen so many girls linking it in their Amazon storefronts. CRZ Yoga is the perfect shop if you're looking to stock up on the essentials. Their butterluxe collection is super soft and the fits are incredibly flattering! I love that they come in a wide range of colors and are super easy to mix and match pending which silhouette/style you like the most. I opted for their fleece lined leggings for winter and they are so cozy! 10/10 would recommend them, especially in this lovely taupe color.
click any of the pieces below to shop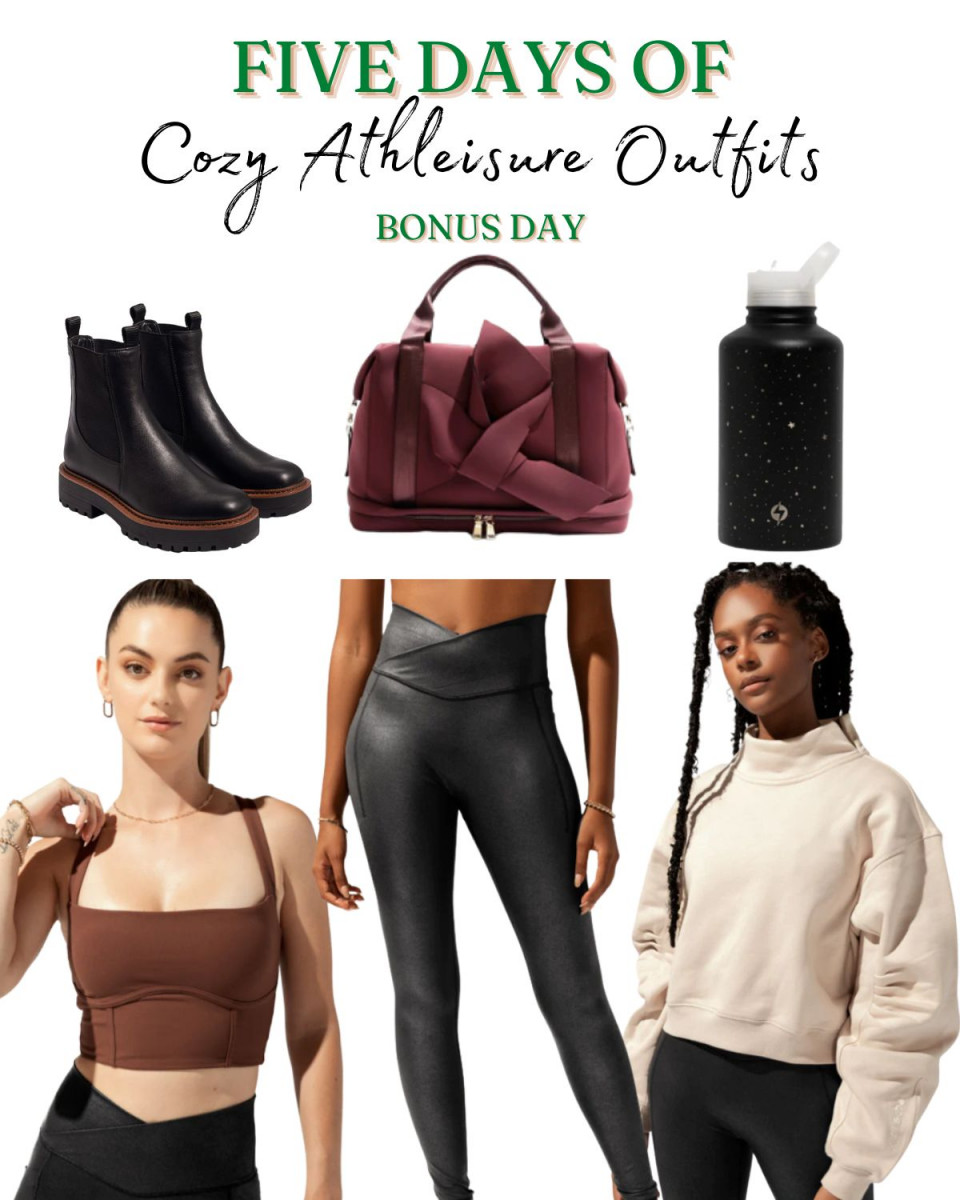 BONUS DAY: Popflex
I thought it'd be fun to put together one more bonus cozy athleisure outfit for you all from one of my favorite brands, Popflex. They're one of the only activewear brands I know that truly designs for their audience and addresses feedback directly to make all of their designs trendy yet very functional. I love their newest collab with OG fashion blogger, Wendy's Lookbook! The brown crop top is sooo cute and faux leather leggings are a winter staple in my opinion.
click any of the pieces below to shop

I hope you all enjoyed this roundup and outfit series on the gram! Let me know if you'd like to see more of these types of blog posts in the future. If you liked this one be sure to check out my 21 Fall Athleisure Outfits to Mix and Match.