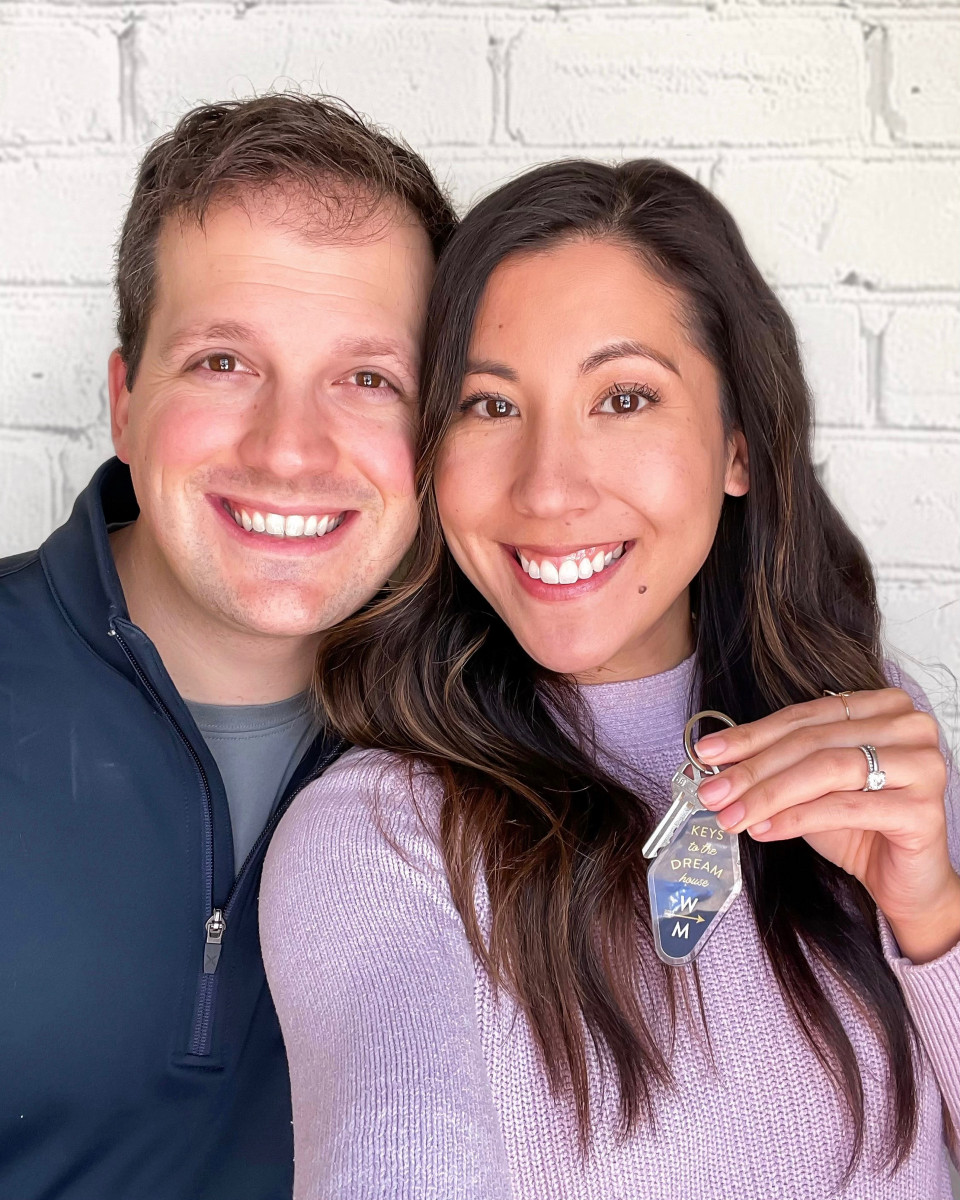 Well fam, if you missed the announcement on my Instagram, Bay and I bought a house here in Denver! You can see a sneak peek of the interior HERE. After six years of renting in NYC and another year of renting here in Colorado, it feels absolutely amazing to own our own home! We have a little time before we actually move in, so before I start inundating you with way too much home content, I thought I'd get the ball rolling by answering some of the questions you all submitted in my IG story poll last week!
I've been having so many great conversations after the announcement with other people who are about to make a big move to Denver and it makes me so happy to know that this city is continuing to grow in popularity. I have a big Denver Guide that I'll be releasing within the next week, so keep an eye out for that!
If you're considering buying a home here in Denver or are just curious about the home buying process in general, I hope you find the following answers insightful! I did my best to consolidate the questions that were the most similar but I do tend to be long-winded so feel free to skip ahead if this is all just way too much info. haha
Without further adieu, here are your home buying questions, answered:
What are the best Denver neighborhoods for young couples?
Thankfully the city of Denver and the metro area have lots of great neighborhoods for young couples and families to choose from! If you want a true city vibe with walkability and lots of fun places to eat, drink, etc then LoDo (lower downtown) is awesome. Since it is the most "city" part of Denver, there are probably more condos than single family homes available but it's a great option for renting!
If you want a neighborhood that's super close to downtown, then Highlands is probably your best bet. LoHi is a little too young in my opinion (college feel) but West Highlands, Sloans Lake, and even Berkeley have some nice houses in walking distance of lots of cafes, bars and restaurants. Arvada is just north of Berkeley and is considered a suburb of Denver, but from what I hear it's a great option for young couples who want accessibility to the mountains while also being within a 10 min drive to downtown Denver.
RiNo is fun and more of an up and coming neighborhood in Denver. We personally didn't consider it because there are areas of RiNo that aren't as safe as some other areas of the city. However, it's definitely a place we like to visit often just for the amount of breweries and restaurants that are there.
I'm a HUGE fan of Wash Park and wish we could have found a home here. But unfortunately inventory is low and the homes that did pop up were out of our price range. This was also the case with Cherry Creek and Congress Park, but I definitely think if you can find something that fits your budget within those areas they are beautiful, safe neighborhoods.
South Denver and Centennial have a lot of great options and even though the latter is technically a suburb, it still has a lot of walkable areas with coffee shops, fitness studios and restaurants. The appealing thing about Centennial is that the houses are newer and the neighborhood borders two highways, making the drive to the highlands and to the mountains about equidistance to living in Wash Park.
How far over asking did you have to go? Does it need to be all cash?
Unfortunately with the way this market is, we knew we were going to have to go over asking price in order to have an enticing enough offer to even be considered. This played a huge role in the base price of houses we were even including in our search and it was super helpful that the one we found was listed at about 25% less than the max cost we were willing to pay.
Right as we were thinking of putting in an offer, someone came in with a very aggressive bid and day of deadline. We worked with our realtor to turn around a counteroffer within a matter of hours and ended up going about 20% over the original asking (which essentially put us super close to our max budget).
As part two of this question, there's no way we would have put everything down in cash and thankfully that's not expected in this market. The amount of cash you need to save for earnest money and your downpayment will all depend on the type of mortgage you choose and the price of the house you buy.
Did you find any banks or mortgage companies helpful?
Yes, we worked with Dan from Strive Mortgage Team and they were super helpful through the entire process! Getting the correct paperwork together can be a hassle but once it was in their hands we were pleased with how quickly things came together. We made sure to get pre-approved prior to beginning our search and from there it was a lot of discussions around conventional vs. jumbo loans, interest rates, and what mortgage option would be the best for us given both of our credit scores and income level. They were kind enough to send us some Crumbl cookies after we closed on the house as a congratulatory gift, so that was a nice added touch.
How did you pick the area/neighborhood while navigating crazy prices?
As I mentioned earlier, we would have loved to stay in Wash Park but the inventory and pricing just didn't work out for us. Our realtor warned us ahead of time that sacrifices would have to be made either based on the type of house we buy or the neighborhood we chose. After viewing many open houses all in different neighborhoods within Denver, we ultimately decided that the quality of the house mattered more to us than the neighborhood. This mindset allowed us to open up our search area to include more neighborhoods in the Denver Metro Area that we were originally closed off to and with it came a fresh crop of houses that were a much better fit for what we both wanted.
Thankfully, we didn't end up having to sacrifice safety, park & highway access, and walkability so I'm VERY grateful. I know that if we had stayed in Wash Park we would have ended up with a house that's over 100 years old and in need of major renovations. After weighing out the pros and cons of that, we couldn't stomach paying as much as we would have to just to turn around and dump more money into modernizing the house.
The home we bought is move in ready and aside from some minor aesthetic changes to the bathrooms and painting walls, it's exactly what we were looking for. At the end of the day, that was the right call for us and we're okay with saying goodbye to Wash Park to opt for a neighborhood just a few min south. At the end of the day, in this kind of market some sacrifices will have to be made. It's up to you to decide what is more of a priority for you. If neighborhood is number one, then you'll just have to know that renovating will be something you will most likely need to budget for.
How long did it take you to find a house in Denver?
In the grand scheme of things, not too long at all! We started the official search in November and bought our house in February. So just 3 months? I know a lot of that was luck because in December the inventory was so bad and the houses we looked at in January were starting to make us feel pretty disappointed in general. It's easy to get your hopes up and I'm a terribly emotional person, which made the process of looking mentally exhausting.
I know it sounds cliche but I do believe that you'll know pretty immediately when you find the right one. There were a few that we were originally excited about and we even had put an offer on a different one and lost. But aside from the other one we put an offer on, none of the others felt like "the one" to both of us. After walking through this last one, we both had a moment of looking at each other during the walk through and there was almost an unspoken agreement. It felt like home and that's why the next evening when we got the frantic call that someone had put an aggressive offer on it, we knew we were willing to try and outbid them immediately.
Houses pop up and literally close within 24-48 hours here, so my suggestion to anyone who is looking to buy is BE LOCAL and BE FLEXIBLE. Even if it means you have to rent or stay at an extended stay airbnb for a month or so. Being local means you can drop what you're doing in the middle of the day to go see a house the minute it's available for showing. We saw our house the first day it was available and our offer deadline ended up being the next evening, even though they had over 70 showings booked through the weekend! Buyers are not afraid to be aggressive, so timeliness is everything.
How much should you allot for closing costs? How long did closing take?
Thankfully, once the offer was accepted we were able to close in a matter of weeks with the help of our realtor, Kate Kazell and Strive Mortgage Team. From what we've learned, it's best practice to save up at least 6% of the loan balance for closing costs but the more you can save the better. We ended up allotting about 20% to our downpayment to get our monthly mortgage to a place we felt would be more manageable. I know that's not something everyone can or wants to do, which is why it's also so important to make sure you're working with a good mortgage company that can walk you through the best type of loan and downpayment plan that fits your budget.
I hope you all found this helpful as you begin your own house buying adventure! If you have any additional questions don't be afraid to ask. Send me a DM or leave a question in the comments here. And stay tuned for lots of home content coming this summer once we move in!