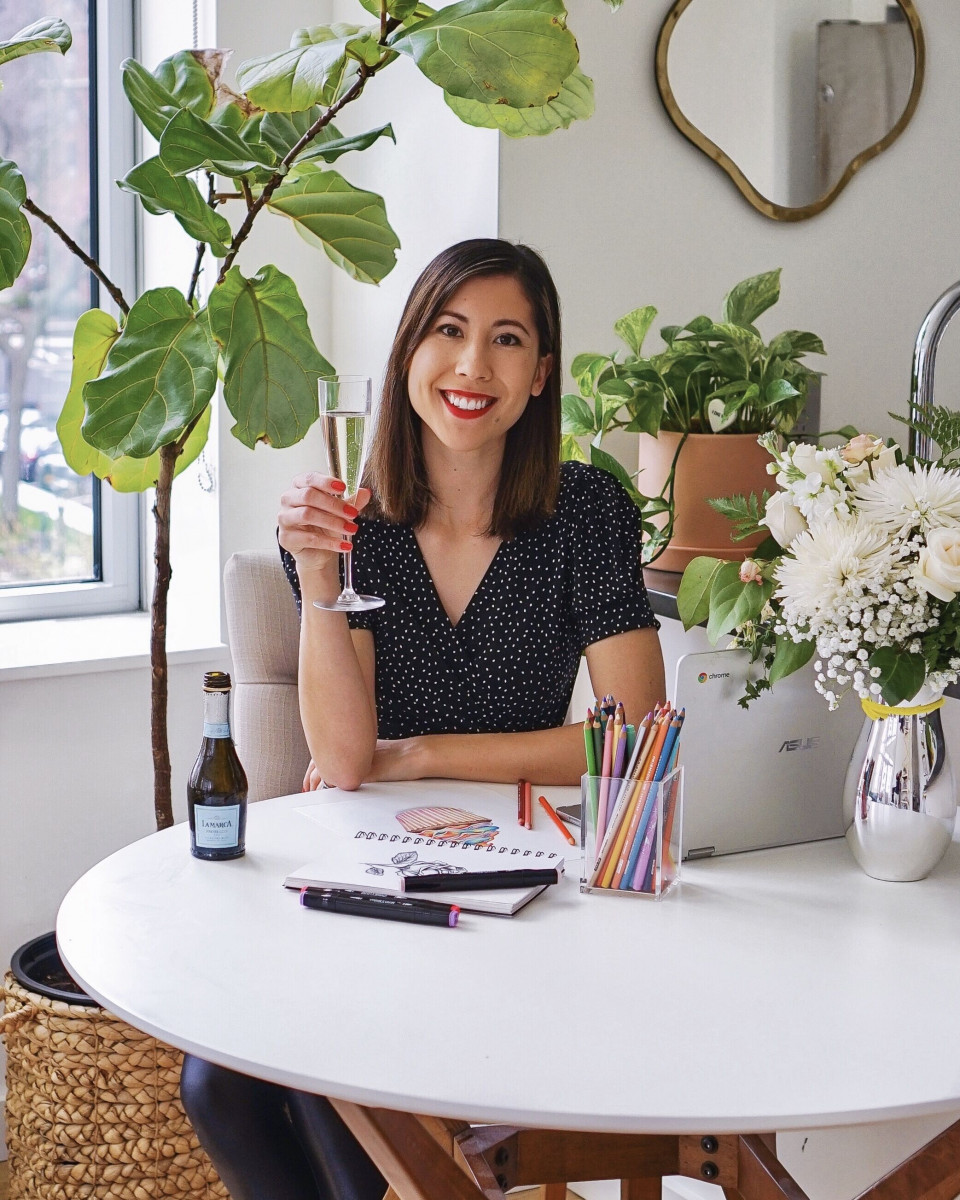 Hi friends! I hope you're all staying safe and sane while staying at home. I know this is a tumultuous time for many and my hope is that this little roundup of fun virtual activities will help bring a little more joy into your time indoors. Whether you are an introvert or extrovert, feeling socially connected is essential for our mental health. Not only does it make us feel happier but according to some studies, it can even help strengthen our immune system!
With Covid-19 still sweeping through the nation, I know it can be difficult to have conversations with friends that feel "normal." I've experienced this myself! Some days all we can talk about is the state of the world and the virus. But many other times we choose to do an activity to help keep us distracted and focused on the present. On days when my virtual dates are centered around the latter, I end up feeling like a weight has been lifted off my shoulders.
I've been doing my best to get as creative as possible during these virtual dates. If you follow me on the 'gram you may have seen me getting dressed up for happy hours, recreating a "beach day/ cruise" with Bay, having virtual art nights with a girlfriend, and doing weekly virtual workouts with friends over Zoom. If you're in need of some inspiration, here are a few other fun virtual activities that will help you get through this tough time and maybe even strengthen the friendships you have.
Get Sweaty
As Elle Woods said it, "Exercise gives you endorphins and endorphins make you happy." I think we can all use a little more of that right now, don't you? Even with gyms and studios shut down, you can still get quite an amazing workout in your own living room with absolutely no equipment. Seriously, I've used a wine bottle as a weight once and I was surprisingly sore the next day. lol If you need some ideas I definitely recommend checking my roundup of my favorite at-home workouts.
Some of my girlfriends and I have also been doing 30 min workouts over Zoom followed by a quick "coffee/smoothie chat." This is so nice because it's very reminiscent of how we would typically grab a matcha or smoothie after a workout in real life.
Happy Hour
Last week I invited several of my girlfriends to a Virtual Happy Hour. The rules were to dress up and each make a fun cocktail to be able to "share" with the group. You guys, this was so fun! I created a little lounge in my dining room with candles and flowers, before making myself an Espresso Martini. I think I'm going to have to try this Elderflower Gin Fizz Cocktail or Rosemary Grapefruit Refresher next time! And if cocktails aren't your thing you can always stick with a classic like La Marca Prosecco or a wine of your choice.
Art Nights
Every Tuesday evening, my friend Chloe and I get together over Zoom to create some art. Even if you don't consider yourself an "artist," giving yourself these moments of creative freedom with a friend can be so fun and inspiring! Try watching a quick drawing tutorial on YouTube or join an art challenge like THIS one from The Brooklyn Library!
If you're in NYC you should check out Paint 'N Pour's HouseParty virtual studio! They'll even send you all the art supplies you'll need.
Cooking Challenge
Break out your Chopped kitchen skills and give your friends a quick 30 min meal cooking (or baking) challenge using the same ingredients! Set up your Laptop on your counter as you each cook up a unique dish. If competitions aren't your thing, you can also pick a simple recipe to make together while video chatting. Pasta, like this homemade gnocchi, recipe would be a fun one to try!
Spa Day
It's time to put on a comfy robe, make yourself some fruit-infused water and get out your mani kit. Try out new face masks over a video call or paint your nails together while chatting! My favorite non-toxic nail salon in NYC, Sundays, have released multiple home manicure kits AND are coming out with virtual mani classes soon! You can save 15% off their polish and kits with code: HEADSTANDSANDHEELS15
Start a Book Club
Remember that book you've been meaning to read? Well now's the perfect time to get to it and maybe include a friend in the process! Host a virtual book club with a few of your besties so you have an excuse to get together over a video call every week, drink some coffee (or wine) and chat about the story. Many of you know I've made a point to re-read the Harry Potter books and I've made it a social thing with my husband by having us watch the movie after I finish each corresponding book!
Pajama Party
When's the last time you had a slumber party? Put on a 90's throwback playlist and your comfiest (and cutest) pajamas. Try a fun makeup look or hair tutorial together and watch your favorite high school movie like Clueless or 10 Things I Hate About You. Don't forget the popcorn!
Game Night
This classic friend hangout can still be just as fun digitally! There are tons of online versions of classic games like Uno, Clue, and Monopoloy. But if you're looking for something different I recommend Jackbox Games! My favorites on that platform are Quiplash and Drawful. You can also check out Codenames, which as a very straightforward and fun online version. If you and your friends have a Nintendo Switch you can share your "switch codes" to play together in games like Super Smash Bros and Mario Kart.
Learn Something New
Now is the perfect time to expand your knowledge and learn a new skill! Whether that's diving into photoshop, learning the ins and outs of social media marketing, or learning how to code, there are plenty of free online courses to choose from! There are plenty of free ones and if you do it with a friend, it becomes much more enjoyable. One that has been really popular online is The Science of Wellbeing taught by Yale professor, Laurie Santos, through Coursera. And if you really want a challenge, here's a list of 450 Ivy League classes available for free!
I hope these ideas help you have fun with your friends while we count down the days until we get to give our bestie a hug. I would love to hear about the creative ways that you are staying connected! One silver lining to all this time indoors is that we'll hopefully walk away with stronger friendships, especially with our long-distance pals.
Stay safe, loves!