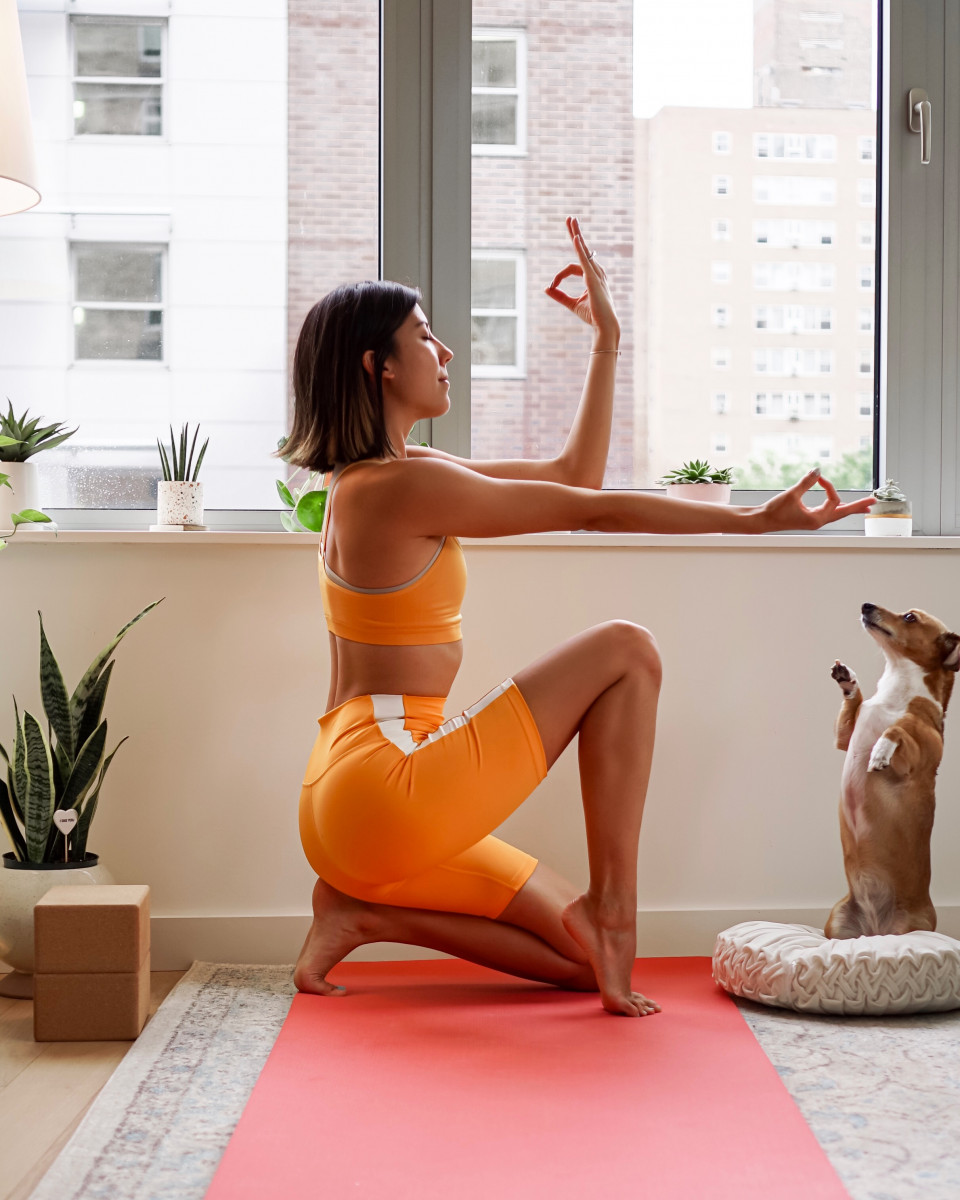 This post is made in collaboration with Chase Freedom Unlimited. All thoughts and opinions are strictly my own.
Creating a dedicated space to practice yoga in the comfort of your own home can be one of the most fulfilling ways to practice self-care. As many of you know, one of my 2019 goals has been to set up my office as a dual place to do work and practice yoga. However, my husband and I are still in the process of rearranging some furniture and figuring out the best way to maximize the space for the two of us. Thankfully, the living room is large enough to allow me to bring my mat out there and flow to my heart's content. 🙂
If you're currently looking for ways to establish or enhance a home yoga practice for yourself, here are a few tips that have really helped me in the process:
Create Space
Creating a dedicated place to practice yoga is probably the most crucial way to entice yourself to get on your yoga mat. No one wants to constantly shift around furniture or squeeze into a claustrophobic corner to do some Sun Salutations. The space you set for yourself doesn't have to be large, it's more about it feeling open and airy, preferably with natural light. It can be in your living room, bedroom, office, porch, etc. Anywhere that speaks to you!
If you're currently shaking your head in dismay because you happen to live in a small place, trust me, I feel you. My first NYC apartment didn't really allow for a "dedicated" space to do yoga at home. Instead, I had to move furniture and although it was pretty painful, it was still doable. Work with what you have and try and prioritize a space for you to flow. As I mentioned, I'm currently doing yoga in my living room and even though it's not necessarily a "dedicated" space, it works just as well!
Schedule Time
Time management is key to doing practically anything and this is especially true when it comes to your home yoga practice. Without the pressure of having to attend a particular class at a particular time, it can be all too easy to postpone your practice or cut it short. Try and add recurring time blocks on your calendar for days/times of the week when you know you'll be home. Additionally, you may find it to be helpful to set a timer for your actual practice too. This way you won't be as tempted to cut your practice short and you can set tangible goals to gradually increase the length of time on your mat.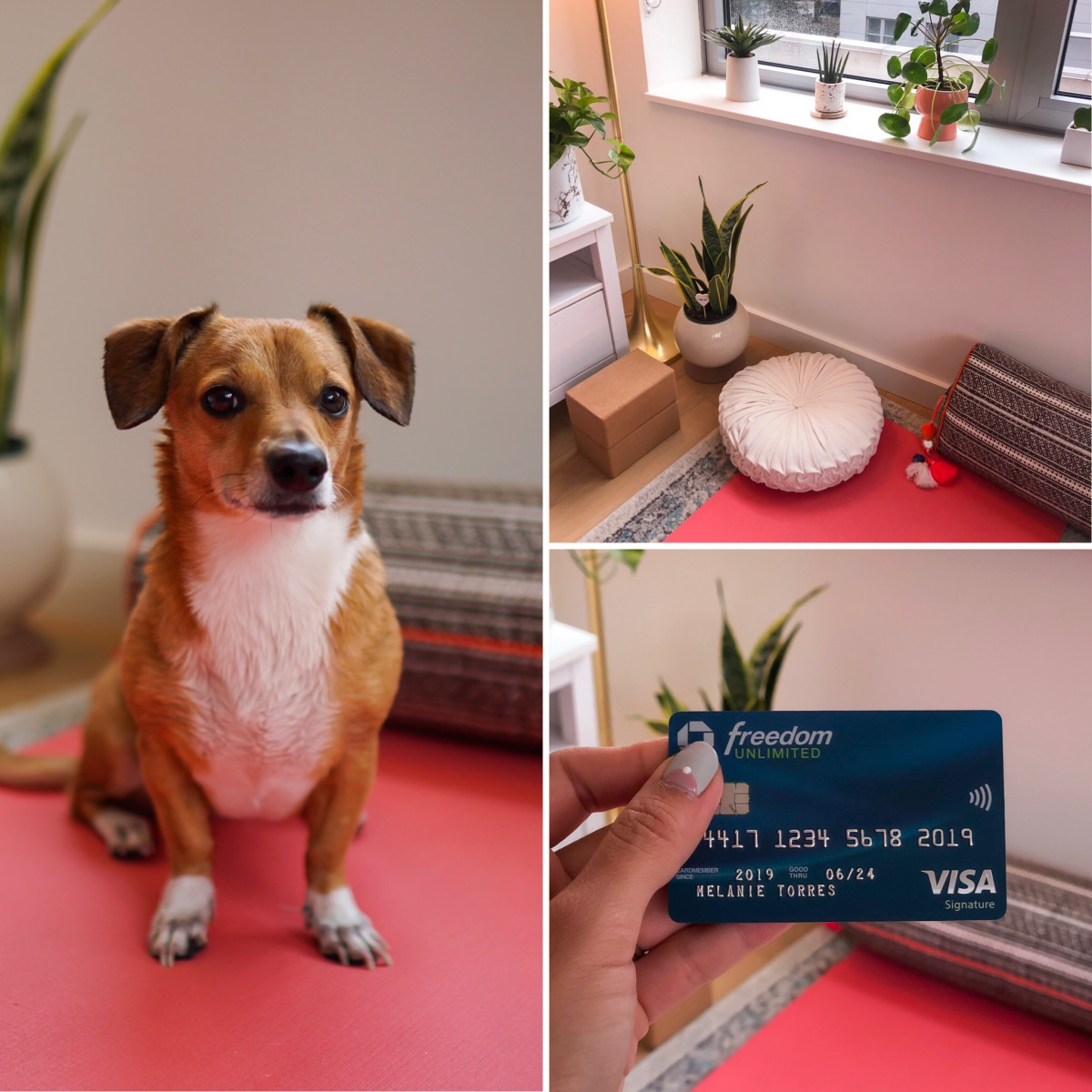 Subscribe to Online Yoga Classes
If you're uncomfortable creating flows on your own, don't have access to great studios or are just looking for a little more guidance, subscribing to online yoga classes can be a great option! There are a plethora to choose from and all offer something slightly different. I've found this list of 8 of the top-rated ones helpful! You'll soon be able to find my own yoga classes on THIS Christian Yoga subscription platform. Since many of them run on monthly subscriptions it may be a good idea to use a cash back credit card so you can earn money back each month. I prefer the Chase Freedom Unlimited card because I get 1.5% cash back on all purchases. It's a great incentive to do yoga at home and you can use the cash back you earn to reward yourself after completing several months of regular practice!
Add Air Purifying Plants
Adding some greenery not only mimics the feeling of being out in nature but it also can help with your breath work! As you know, so much of yoga has to do with a connection to the breath. After all, Vinyasa literally translates to "one breath, one movement." Adding air purifying plants like aloe and snake plants to your space can help to add more oxygen in the air and weed out toxins. Not to mention, they're pretty beautiful to look at too.
Invest in Quality Equipment
I'm not suggesting that you break the bank on all of your home yoga equipment. However, investing in quality pieces that will last over time can greatly enhance your practice. There are a few standard items like yoga blocks, straps and a meditation pillow or bolster that you can find online. When it comes to choosing your mat, select one that you find works best for you! Some are super grippy, others offer more support, some have fun prints or patterns. I prefer THIS mat for my home yoga practice and THIS one for in studio. Just like online yoga classes, I'd recommend using a cash back credit card, so as you earn cash back you can use it to continue to upgrade your space and fill with equipment that enhances your practice. You can also shop many of my yoga essentials on my SHOP page.
Well loves, I hope you find this helpful as you continue to practice yoga at home. If you have any questions be sure to reach out! I love to hear from you all.
Until next time.
With love and light,