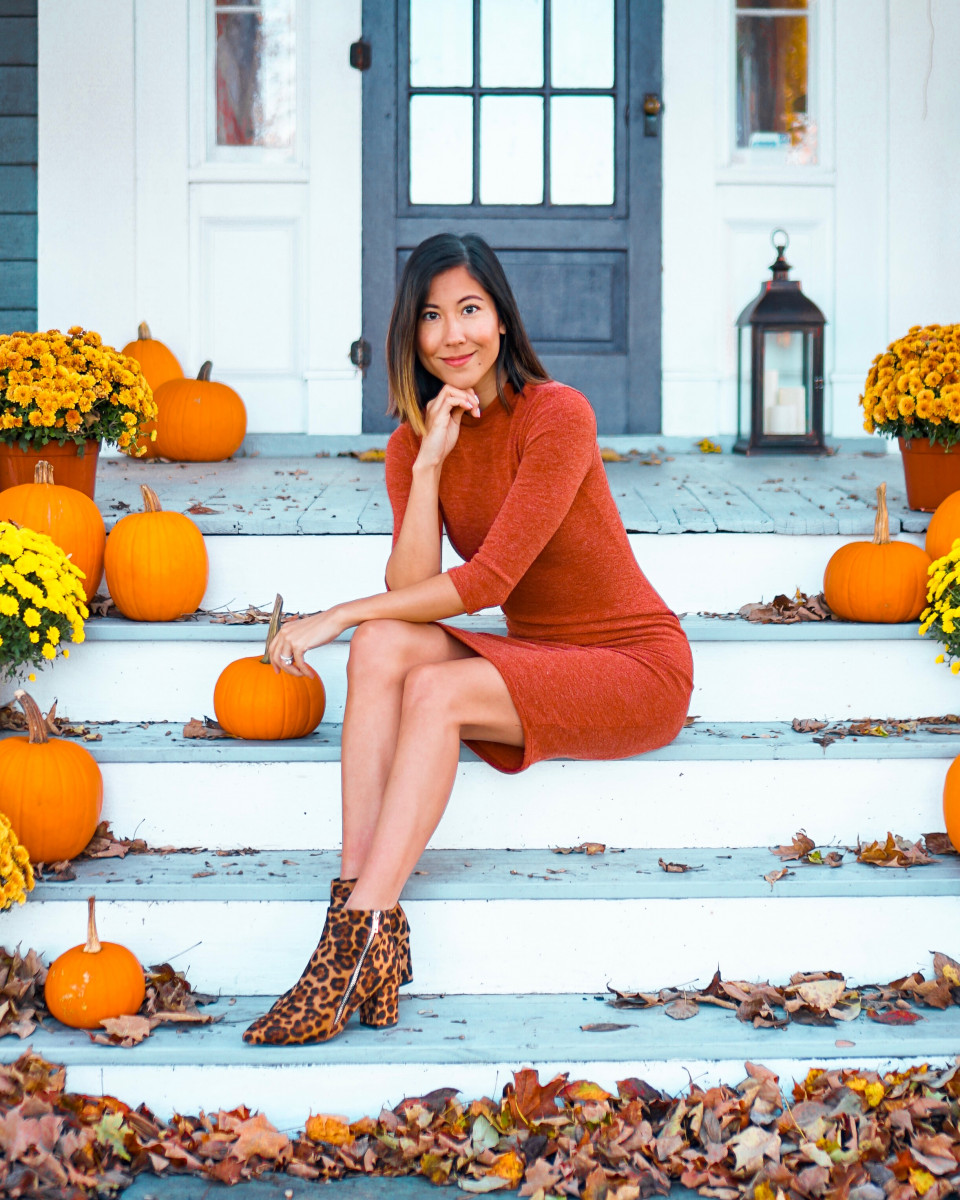 Happy Fall ya'll! Tis the season for changing leaves, sweaters, apple picking, and of course… lots and lots of pumpkin. It's nearly impossible to walk into a coffee shop, grocery store or even scroll through Instagram without being bombarded by pumpkin spice. This rings especially true at places like Trader Joe's. During late September through November, TJ's stocks their shelves with an absurd amount of pumpkin products. There are pumpkin spice bagels, oatmeal, cereal, cheesecake, yogurt, etc. If you can name it, there's most likely a pumpkin spin on it.
Now here's the catch. As much as I LOVE Trader Joe's for being budget friendly and having tons of cult favorite products (I see you cauliflower gnocchi), I also am no fool. Just because there's an endless array of pumpkin products does not mean that they all taste good.
So in order to satisfy my Autumn loving inner basic bish, I decided to try (nearly) all the pumpkin products at Trader Joe's this month. Some were delicious, some were okay, and some should just never have been invented in the first place. If you're wondering which pumpkin things are worth it, I've narrowed down my 10 favorites below. Be sure to save it for your next grocery trip!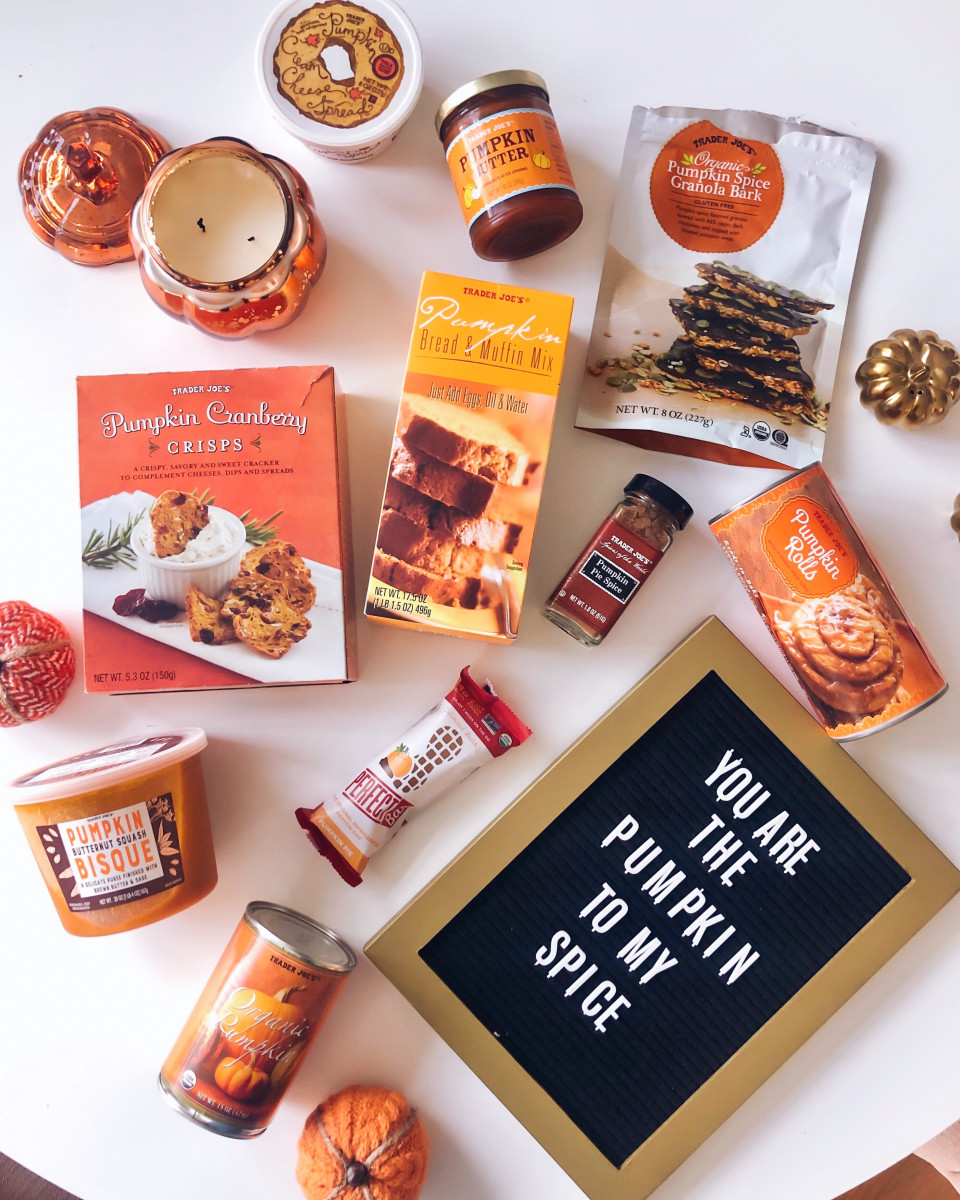 These little crackers are the perfect festive treat. They're slightly sweet with a hint of nutmeg and cinnamon, which makes them pair well with milder cheeses like brie.
This is a must have for all your Fall foodie needs! It's a really tasty mix of cinnamon, ginger, lemon peel, nutmeg, cloves and cardamom. You can sprinkle it on your popcorn, add to your apple crisp, froth it in your latte, etc.
Okay, this refrigerated protein bar has me shook. It literally tastes like pumpkin pie but somehow is packed with superfood ingredients like kale and flax seed. It also has 14g of protein from eggs, peanut butter and rice protein. I'm obsessed.
If you're not a great baker or just want to whip up something quick, festive and delicious, this is for you. Feel free to jazz it up with chocolate chips, cranberries or walnuts!
This sweet concoction tastes SO decadent and I love swirling a spoonful in my oatmeal or smearing on top of a bagel. It's not the healthiest thing in the world but a little bit goes a long way.
I was pretty skeptical about this but turns out the slightly sweet and spiced combo does super well in this cream cheese spread! If you're not a huge fan of pumpkin spice this is mild enough not to offend your taste buds but still make you feel like you're celebrating Fall with the rest of us.
Made with ingredients like gf oats, pumpkin puree, dark chocolate and pepitas, this is a super satisfying chocolate treat. The squares are on the larger side so you can eat as is or chop up to add to your yogurt or oats.
I love most of TJs prepared meals and this soup is no exception. Could you make a better one from scratch? Probably. But this has been one of my go-to's for quick and easy work lunches. Pro tip: sprinkle pepitas on top for added crunch and pair with the Pumpkin Cranberry Crisps!
Weekends are for sleeping in and treating yourself to cinnamon rolls (right?). To be honest, these pumpkin rolls are pretty awesome because they offer up just a hint of pumpkin spice while still delivering on the cinnamon roll goodness you're actually craving.
This pasta is the perfect combo of sweet and savory! It's stuffed with pumpkin puree, mozzarella and ricotta cheeses, along with all sorts of pumpkin pie spices. I find that it pairs well with a simple brown butter sauce but I also quite enjoyed it with TJ's Autumnal Harvest sauce on top.
I hope you all enjoyed this roundup! As a bonus item but one that should probably go without saying, you should probably pick up a few cans of their canned organic pumpkin. It's incredibly versatile and is quite the super-food (it's loaded with antioxidants, fiber, iron and more). If you're looking for recipe inspo THIS list of 40 things you can make with canned pumpkin should do the trick.
Alright friends, I hope this (pumpkin) spiced up your day! I'll be back with more Fall content very soon.