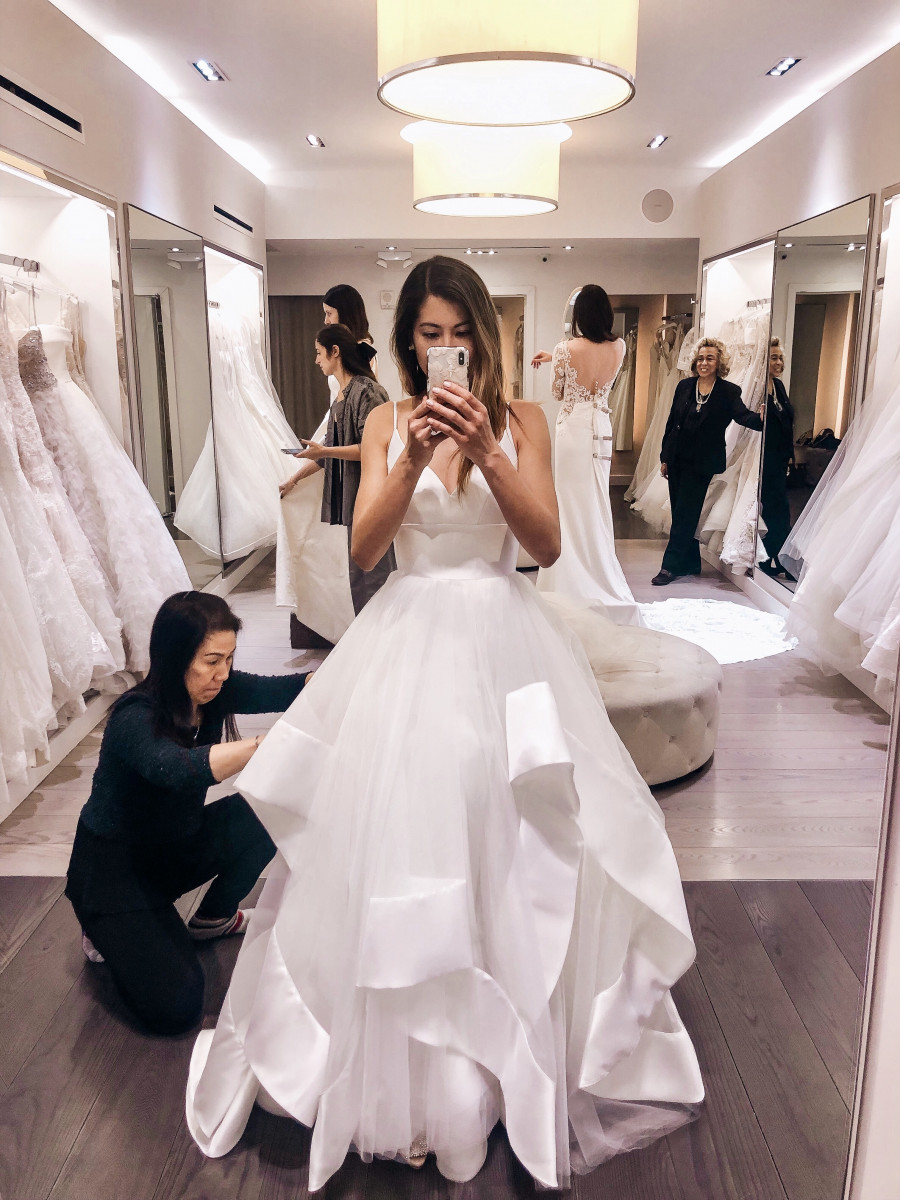 Hello lovely bride-to-be and congratulations! Or at least I'm assuming if you've clicked open this blog post you're about to tie the knot soon! If not, you're of course welcome here too and I hope you find this BTS look at how I got wedding ready to be entertaining.
To be honest, this post has been on my to-do list for quite some time, mostly because when I was getting married I had plenty of messages asking lots of questions about the wedding prep process. I did my best to gather together a thorough guide of everything that I did to get wedding day ready. Below you'll find everything from the beauty treatments I invested in before the big day, to where I shopped for my wedding dress, which platform I used for save the dates, and where I bought all my major accessories.
If you're in the middle of planning my biggest piece of advice is to relax and take things in strides. You're planning the HAPPIEST most wonderful moment of your life and it should be all about you and your partner. Unfortunately drama is inevitable and sadly some relationships may be strained. Just know that it's all going to work out and at the end of the day, this is a cause for celebration, not stress.
With that said I think it's time we take a deep breath and dive right in.
Planning Tools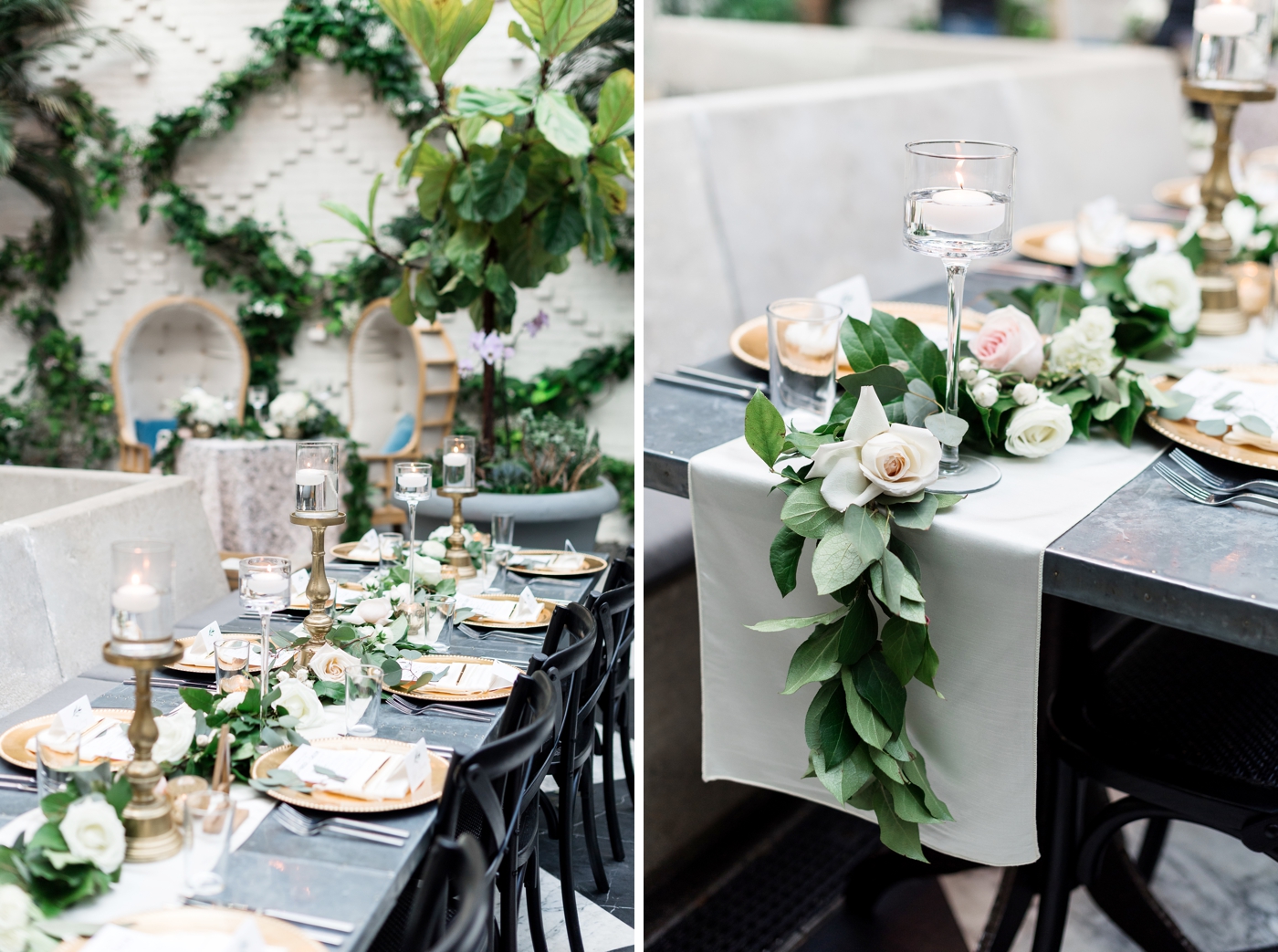 Zola
Not going to lie, when it came to registering for gifts, managing our guest list and tracking RSVPs, Zola was a life saver. Although I did find their collection of Save the Dates and invitations to be no where near as robust as Minted, I do think they made up for this with many other features. Even now, 2 months after the wedding, I'm still using it to order thank you notes and to send all the gifts to Bay and my new apartment.
Minted
When it comes to beautiful Save-the-dates and invitations, Minted has it all. All the designs are so beautiful and easily customizable. The only downside is that I definitely experienced some sticker shock when it came to purchasing stationary. They charge a premium for foil, two sides, pretty envelopes, thicker paper, etc. There are still plenty that won't break the bank but be prepared to set aside some major $$ for this expense. I was honestly so tempted to send an e-vite instead but thought that may come off just a wee bit tacky.
Wedding Wire
There were a few vendors that were on our venues preferred list, which made selection easy. For everything else I used Wedding Wire. As useful as I found it to be, I will say nothing beats a genuine referral and I wish I had done a little more due diligence with certain vendors like our DJ and officiant. Although they were nice enough and had great reviews, I wasn't as happy with them on the day of. When it comes to DJs especially, pay close attention to the name listed in the reviews. For example, the owner of the company we selected received very high praise but there was very little mention of the member of his team who was available for our wedding day. I trusted that he would be just as good as the owner but despite his professionalism, his DJ abilities fell very short.
Etsy
I'm pretty sure this is every bride's go-to site when it comes to finding unique decor and accessories. I love supporting local designers and was so happy to find my earrings, bridesmaid robes, and the majority of my signage via multiple Etsy artists. My only tip would be to order your items far in advance. Since the majority of things are made to order it can take several months for your shipment to arrive.
Pinterest
I mean, this is an obvious one but it would be a disservice to create a wedding planning guide without including Pinterest. When it came to creating a mood board, gathering inspiration for hair and makeup, and figuring out all the little details, Pinterest was my social network of choice. When Bay first proposed I had a different idea in my head for the wedding but once I started pinning things I realized that I kept coming back to the same aesthetic. White and black, lots of greenery, hints of blush and gold, and an overall modern fairytale aesthetic. I didn't want bursts of color. I didn't want shabby chic. I didn't want it to feel DIY but I also didn't need it to look grand. I just wanted something that felt fresh but classic, with a vibe that emulated NYC but in Florida… thankfully, our venue the Oxford Exchange checked all those boxes.
Dress and Accessory Shopping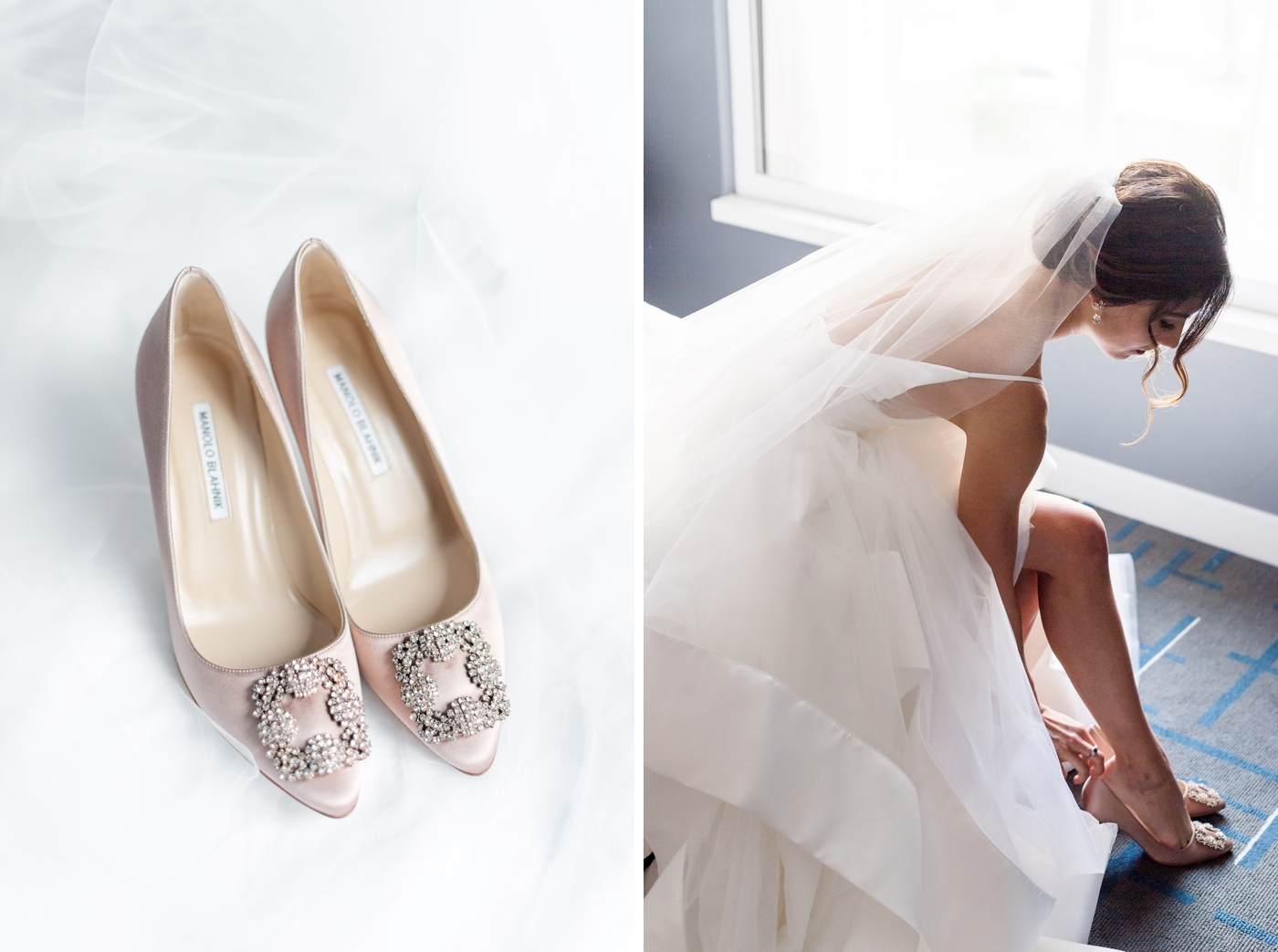 I did a fair amount of research on wedding dresses ahead of time and knew I wanted to go with something that would make me feel like a princess. I didn't want anything with too much lace (in fear of looking like a doily) but when it came to a ballgown I didn't want something that would overwhelm my small frame. At the end of the day, it was important for me to wear the dress, not for the dress to wear me… if you know what I mean.
Wedding Atelier was the first place I looked and I'm so happy I did. Their studio is very beautiful and I was able to get a private section to try on dresses in front of my mother-in-law and bridesmaid, Brittany. You have to take your shoes off when you enter, which keeps the wedding gowns from getting trampled on and dirty. After trying on about 6 dresses, I decided to try on the Hayley Paige Andi gown that I originally had bookmarked on Pinterest. It was a bit out of my price range so I was reluctant to try it on but of course, as soon as I did, the three of us started crying. It was THE one.
Thankfully, Wedding Atelier was about to have a Hayley Paige trunk show the following weekend and were willing to give me the discounted price for the dress. It was a done deal and I'm so happy with the way it looked! I ended up getting an affordable veil to complete the look and went shopping for my shoes at Saks. I knew I wanted shoes that I could wear again so opted to spend a little more money and treat myself to some blush pink Manolo Blahniks.
I did venture to Lovely Bride in the same day since I had already set an appointment and I have to admit, I was a little disappointed in the experience. The gowns were all very lacy or heavily beaded, not my taste at all. All the employees were super kind and the space was very pretty. However, I think it's better suited for those who are looking for a more bohemian style.
Bridesmaid Attire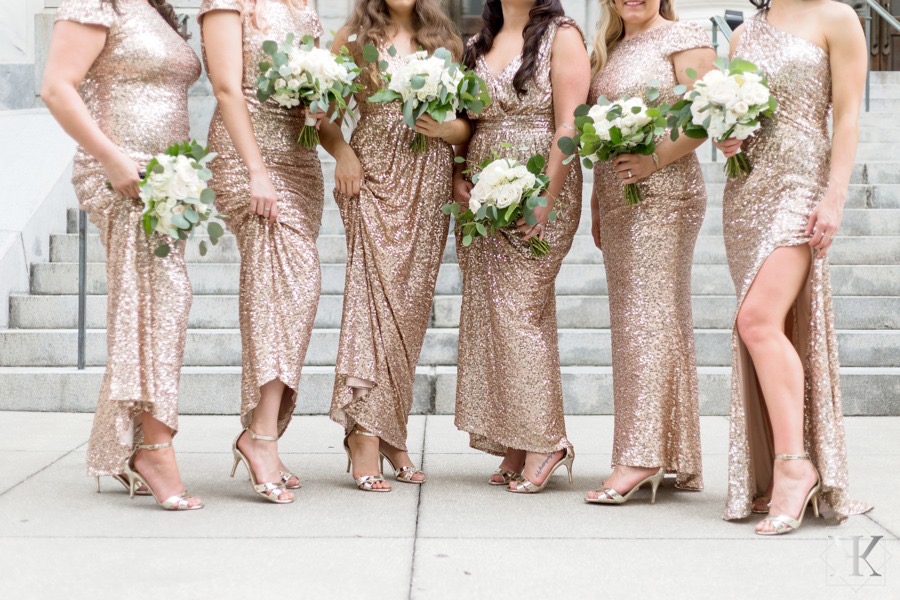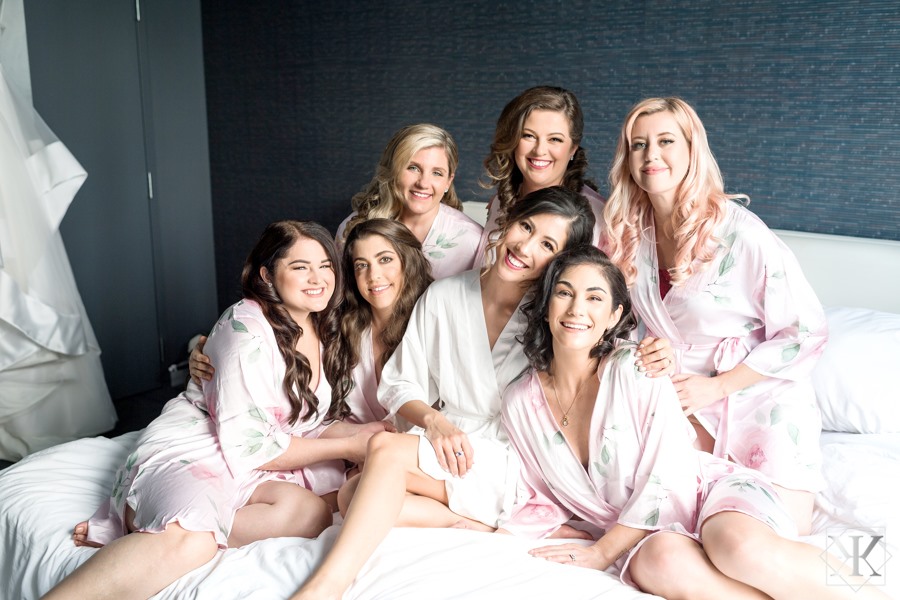 In an effort to keep costs lower while also having my bridesmaids wear super lux evening gowns, I knew I needed to turn to Rent the Runway. I'm SO happy I did! I selected three different rose gold Badgley Mishka evening gowns and thought the girls looked absolutely stunning on the big day. The best part was that an otherwise $600+ dress ended up being less than $150 on RTR and they will never have to wear them again.
For accessories, I turned to Etsy to find matching personalized earrings as well as blush pink robes from Sincerely Sofi Designs that they could wear while getting ready. Kate Whitcomb Shoes generously gifted all 6 girls personalized gold heels that had their names written on one shoe and "bride tribe" written on the other.
I think the girls looked SO classy and elegant!! I took inspiration from old Hollywood glam for their hair and makeup. I definitely recommend printing out some inspiration photos to give to your hair and makeup artist. The more specific you can be the better!
Dance Lessons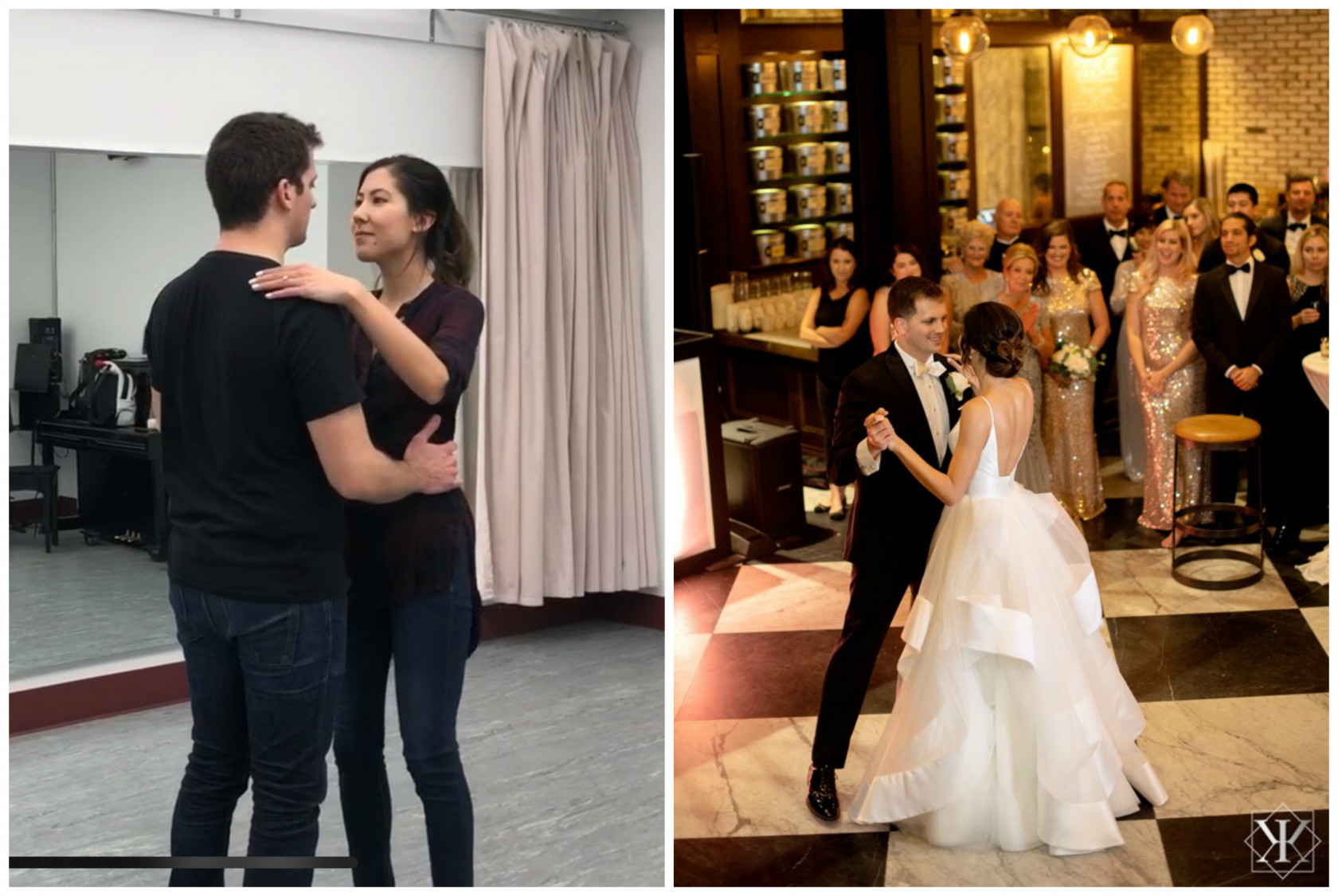 Bay and I decided to sign up for a private dance lesson with a local dance instructor. Maya choreographed a simple but beautiful dance to our song of choice, "I Get To Love You" by Ruelle. Honestly, this was one of my absolute favorite things that we did before the wedding day. We had 3 sessions and it was such a fun bonding experience. On the day of it made for a very lasting memory and I can't wait to get the final video back from our videographer.
If you have the opportunity to sign up for private dance lessons I highly recommend it. Even the simplest of choreography really adds a special element to your first dance as a married couple.
My Pre-Wedding Beauty Routine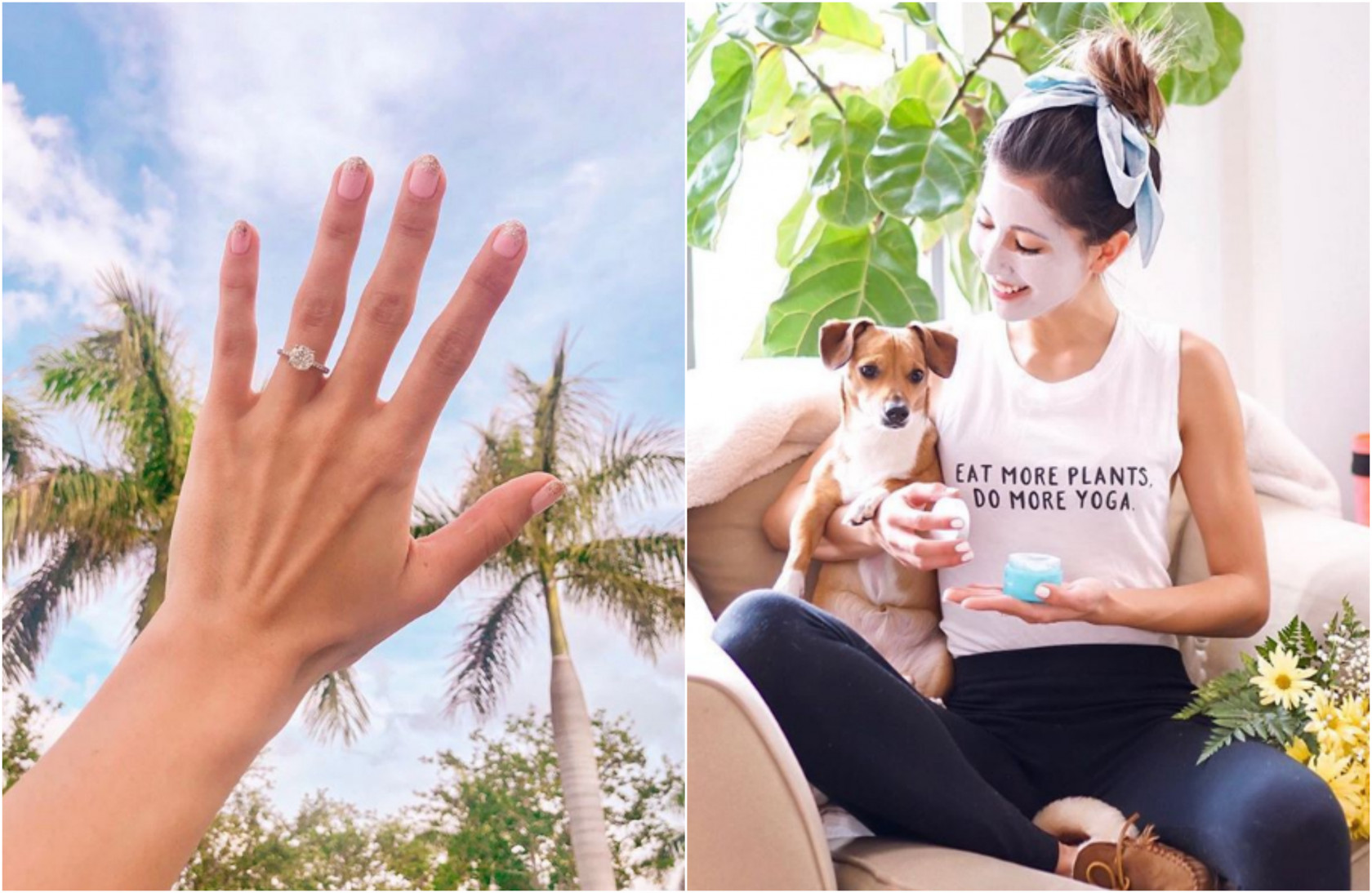 With the inevitable stress and busy schedules that go along with wedding planning, the quality of your skin and hair can take a toll. Regular exercise, lots of water, and eating a diet rich in fruits and veggies will obviously help tremendously — but sometimes you can use an extra boost. I started a really strict skincare routine at home about 5 months out and then a month before the wedding indulged in a few spa beauty treatments. Here's the rundown of what I used and loved!
Skincare
At Home:
There are quite an array of products that I use and most can be found in THIS blog post (along with some discount codes for ya!). I also added Trilogy's rose hip oil to my nightly routine as well as Eminence Marine Flower Peptide Serum. I also love Farmacy Beauty's Honeymoon Glow resurfacing serum and Green Clean Makeup remover.
Spa Treatments:
One month out, I received a hydra facial at Organic Elements Spa here in NYC. It was such a great way to get all the gunk out of my pores without damaging my skin (the tool allows for painless extractions). I want to get these on a more regular basis because I noticed an instant change in my complexion. You can save 30% off your treatment if you mention my name at booking!
About a week before the wedding I had the pleasure of receiving a gua sha facial in my hometown of Bradenton, Florida. Elizabeth, the owner of Pure Skin by Elizabeth, has the cutest little spa and the gua sha facial helped drain lymphatic fluids while also boosting blood circulation, allowing for an overall glow. Not to mention it was incredibly relaxing!
Haircare
At Home:
If you follow me on Instagram you may remember that after a double process gone wrong, my hair was breaking off mid-shaft only 2 months from my wedding day! I was sooo sad but thankfully found a few things that really helped turn my hair health around.
First, I really stepped away from heat tools for a good month. No hair dryer. No curling iron. Just good old fashion air drying.
Second, I invested in some quality haircare products like Olaplex no 3 and the Olaplex shampoo (which is amazing btw). I used the Oribe Masque for Beautiful Color once a week and started taking Sugar Bear Hair vitamins along with HUM Red Carpet vitamins daily. Thankfully by the time my wedding came around my hair, was still fragile, but was no longer breaking off. I didn't even need extensions since I opted for an elegant up-do.
In Salon:
I had the pleasure of getting a holistic hair healing treatment at ABL Hair Studio in Williamsburg. The experience was honestly unlike any other hair salon. The products are all cruelty-free and free of harsh chemicals. Not only was the appointment very personalized and relaxing, but it genuinely left my hair feeling 10x softer and more manageable. I was dealing with some extreme breakage so this was one of the best things I could do before the big day.
About two weeks before my wedding I received a nano protein treatment at Fox & Jane Salon. Similar to an Olaplex bond strengthener, the Nano protein helps fill the gaps in individual hair strands and strengthen them from the inside out. There was a noticeable difference in my hair texture afterwards and I decided to start getting these regularly. It's SO helpful for anyone who regularly colors their hair.
Final Beauty Treatments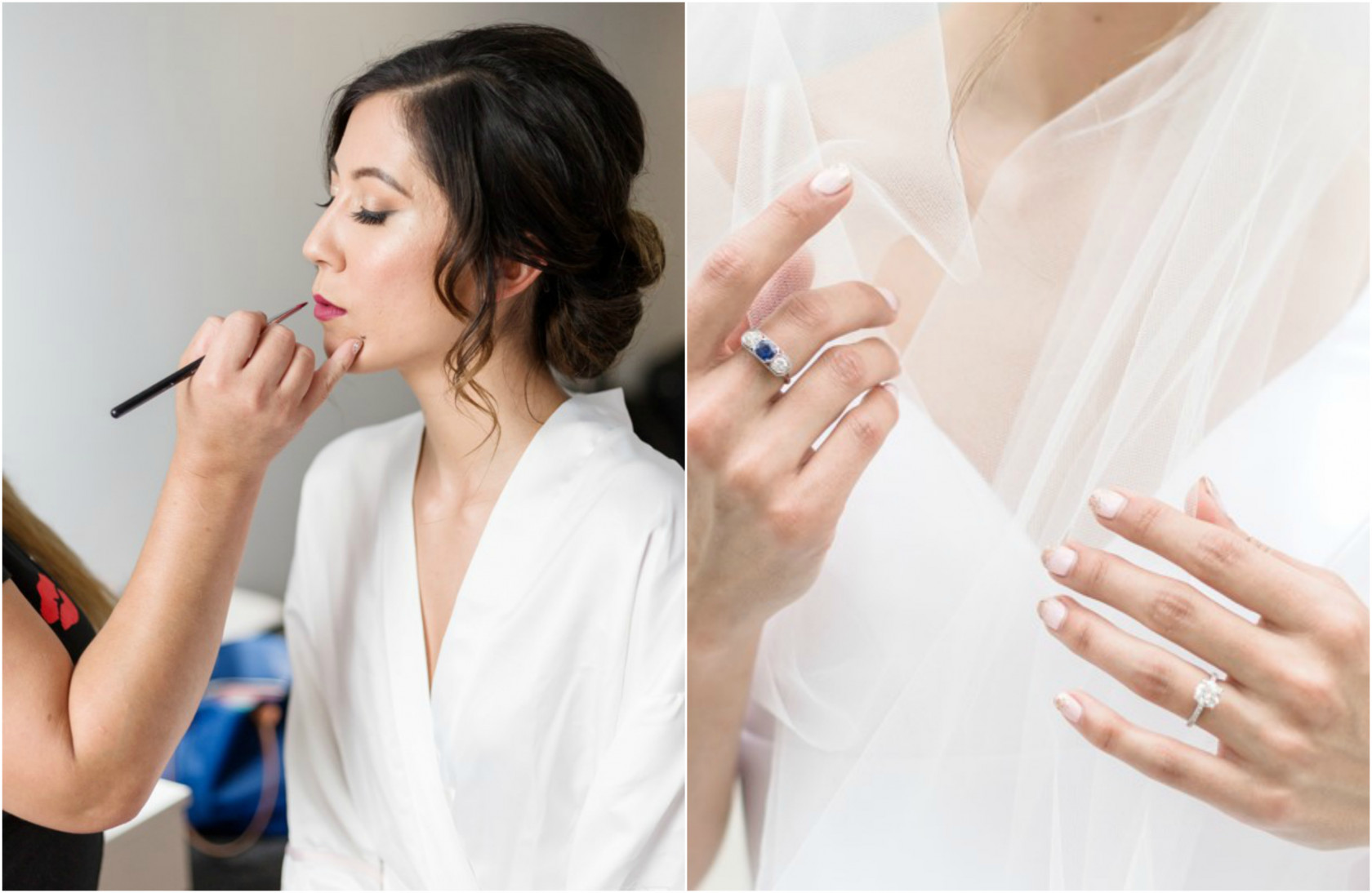 I definitely recommend getting a professional teeth cleaning and whitening at your dentist prior to the big day. I visited Dr. Lauren Becker about a week before I left for Florida and I had the best experience. The whitening process took about 45 minutes and left my teeth looking so pearly white. If you're in Manhattan I highly recommend paying her a visit!
There are plenty of amazing nail salons in NYC but there is only ONE that I trust for big occasions. And that's Paintbox in Soho. They only do manicures and they specialize in intricate designs. They're definitely on the pricey side, which is why I've only been twice: once before I went to Europe (where Bay proposed) and the second time being right before my wedding day. Their gel designs lasted for a full month (both times) without chipping!
The last thing I did was go to Benefit Brow Bar and get my brows and sideburns threaded. If you've never experienced threading before it's not particularly enjoyable… but it allows for super clean lines and it's way better for your skin than waxing. I've been going there every 2 months for the past 2 years and love it!
Alright chicadees, that is all for now! I hope you found this post insightful and maybe gained a few ideas as you plan for your big day! Now that I've received the photos back from our amazing photographer, Kristen Weaver, I'm going to be doing a blog recap of my favorite wedding day moments. Stay tuned!
With love,