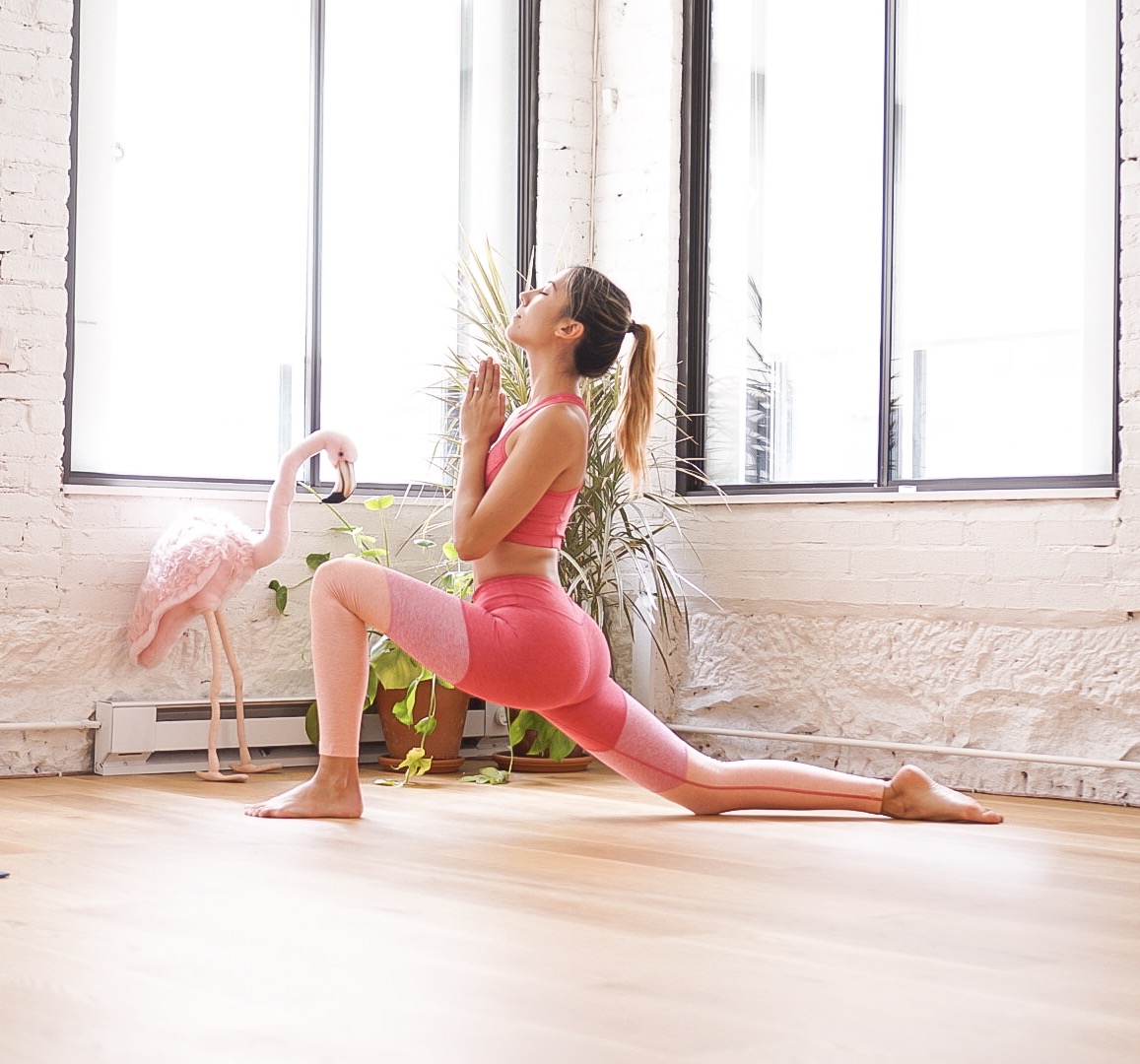 Just in time for #WorkoutWednesday, I've curated a list of my go-to Instagrammable fitness studios that provide an amazing workout in an aesthetically pleasing environment. Because if you don't take a selfie did the workout even happen? 😉
Okay… sorry, I'm cringing at that last line too and I promise that was mostly in jest. Of course the studio you choose to attend does not have to be "instagrammable." This post was really inspired by two different things:
Fitness studios, especially in NYC, have to offer SO much in order to get people in the door. Not only do you have to have the best instructors but more and more people are hoping for some kind of flashy element as well. The ones that gain a cult following usually check all the boxes of practical, challenging and visually interesting. With so much competition I feel for the newer studios that really need something to get people in the door. Usually, Instagram is the first thing to grab people's attention and if you can follow that up with a great workout then you've hit the jackpot.
I've had the opportunity to try so many different workouts in various places and most of the time the ones that look really cool are the ones that I get the most questions about. I wanted to create a fun round-up if you're in NYC and looking to try something new (and maybe document it afterwards).
Either way, I hope you find this fun and will bookmark this post for anytime you're in the Big Apple and looking to dive into the fitness scene.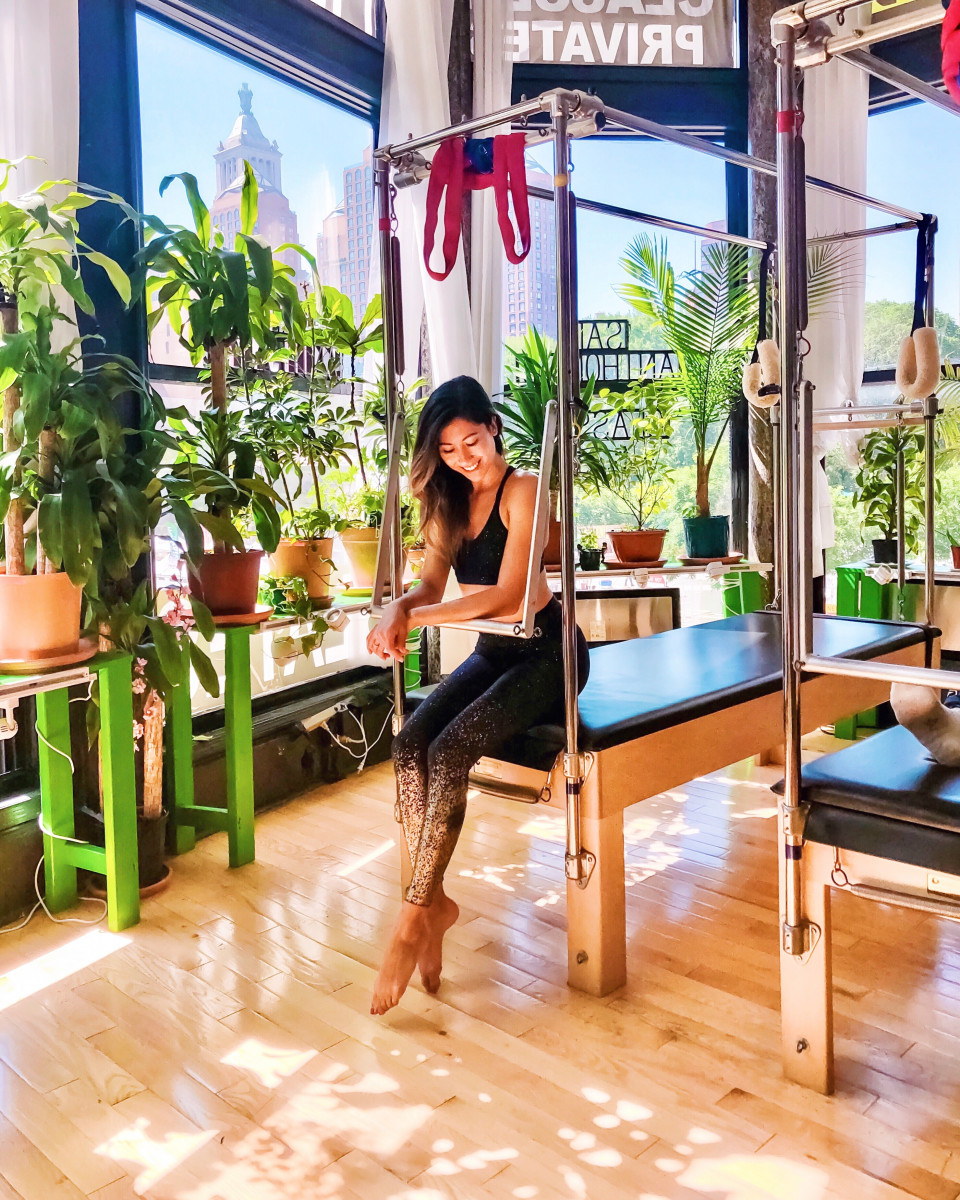 Workout: Classical style Pilates on both the Cadillac and Reformer machines.
Instagrammable Factor: The studio is long and narrow but if you snag a spot in the back you get all the natural light and #junglevibes thanks to their array of plants. It also offers a great view of Union Square.
Address: 857 Broadway, New York, NY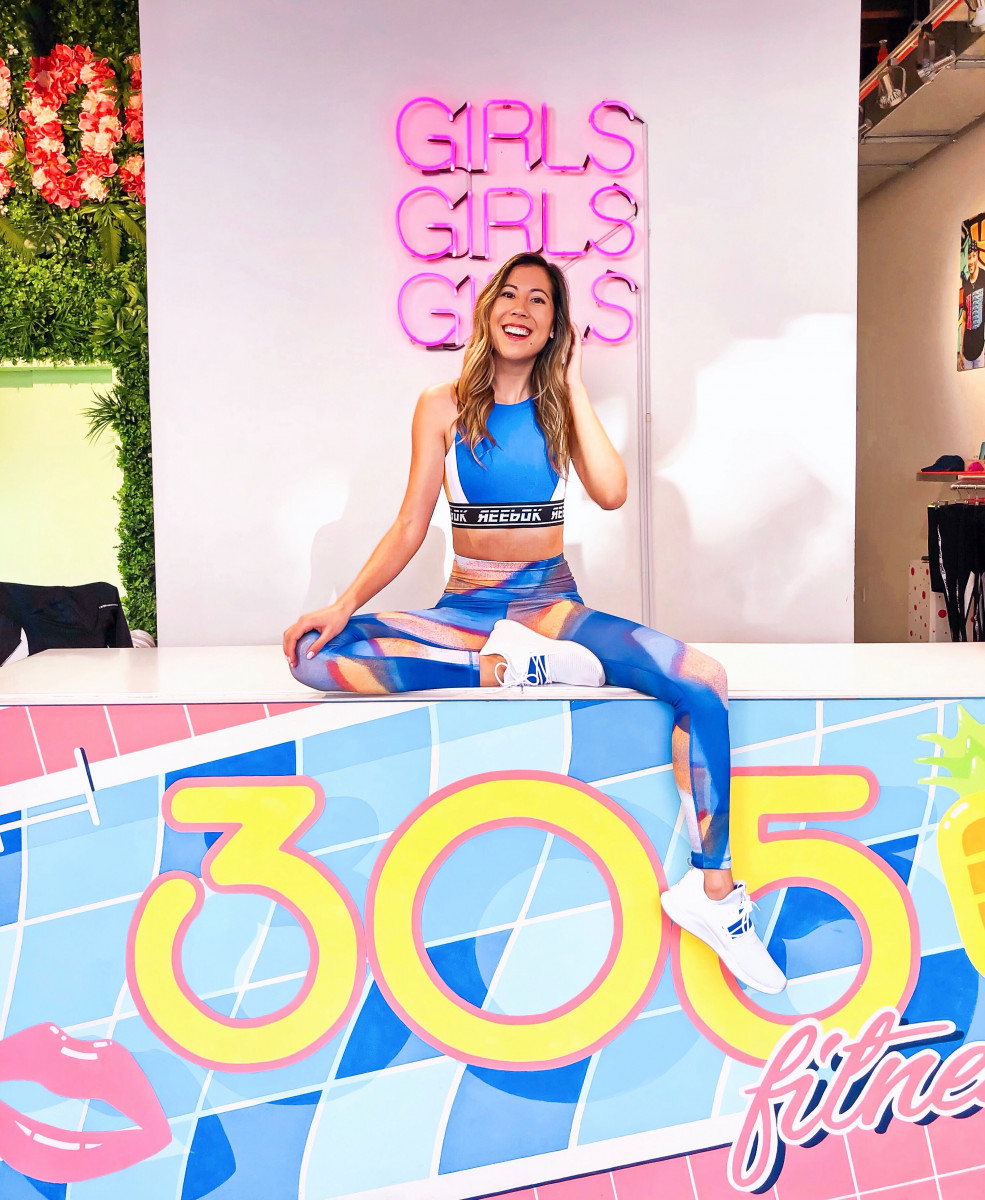 Workout: They offer 3 different types of classes. PWR is a strength and conditioning class, FLX is a flexibility focused class (not yoga), and 305 Cardio is their signature 50 minute follow-along cardio dance class with a live DJ. I highly suggest taking their cardio class, especially with Ivy, Beth T, Hannah, or J Lott for the best experience.
Instagrammable Factor: There isn't much in 305 that isn't Instagrammable. From the neon signs to the lip print wall murals and the colorful headphones on the wall, everything screams #GirlPower.
Address: There are 3 in NYC. Midtown: 33 E 33rd St. Village: 18 W 8th St. UES: 1440 Third Ave.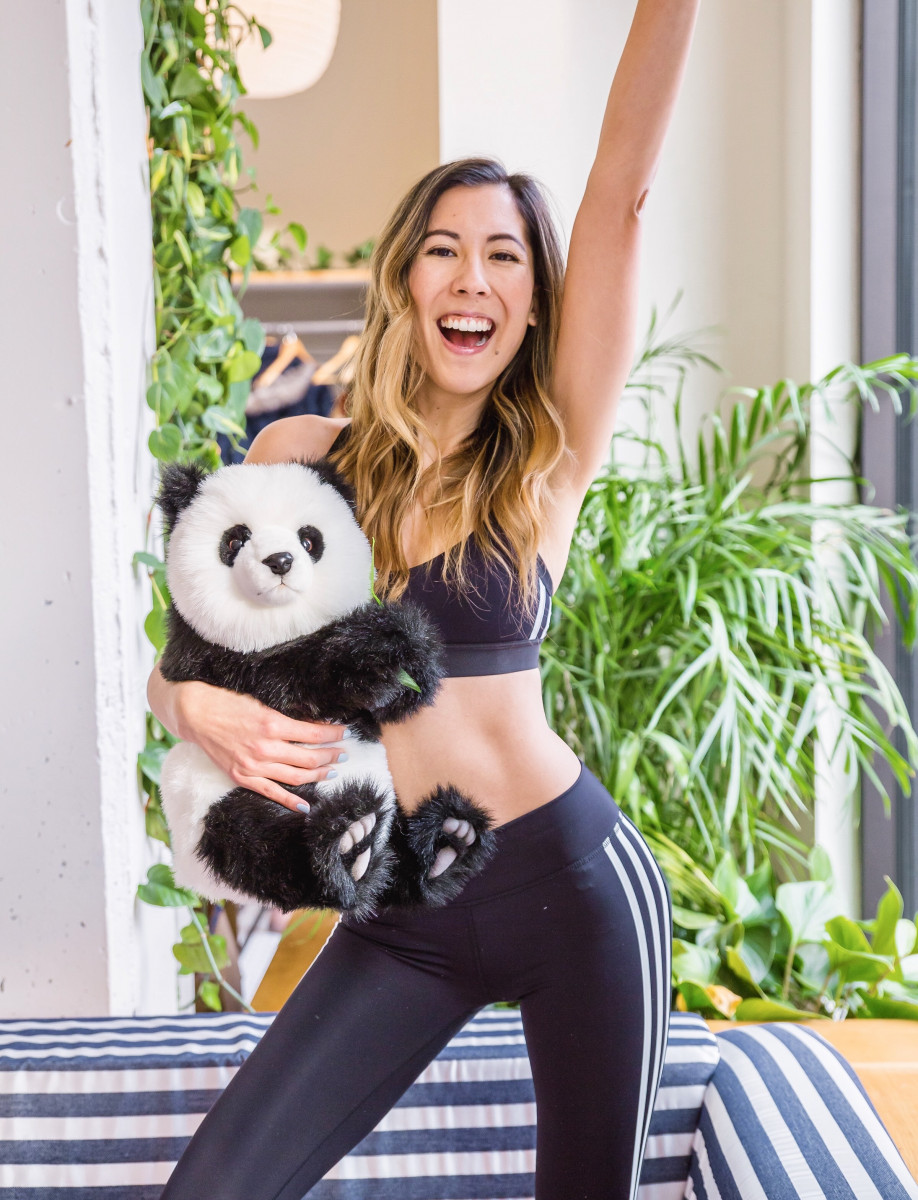 Workout: Depending on the instructor, you'll get a mix of Katonah Yoga, Hatha or Vinyasa.
Instagrammable Factor: Exposed white brick, lots of greenery, a striped relaxation pit, and animals. Yes, stuffed animals! Depending on the location you can either flow next to a giant giraffe (Chinatown), a flock of flamingos (Tribeca) or a cuddly Panda family (Domino).
Address: 3 Locations. Chinatown: 17 ALLEN STREET Tribeca: 381 BROADWAY Domino: 43 SOUTH 4TH STREET BROOKLYN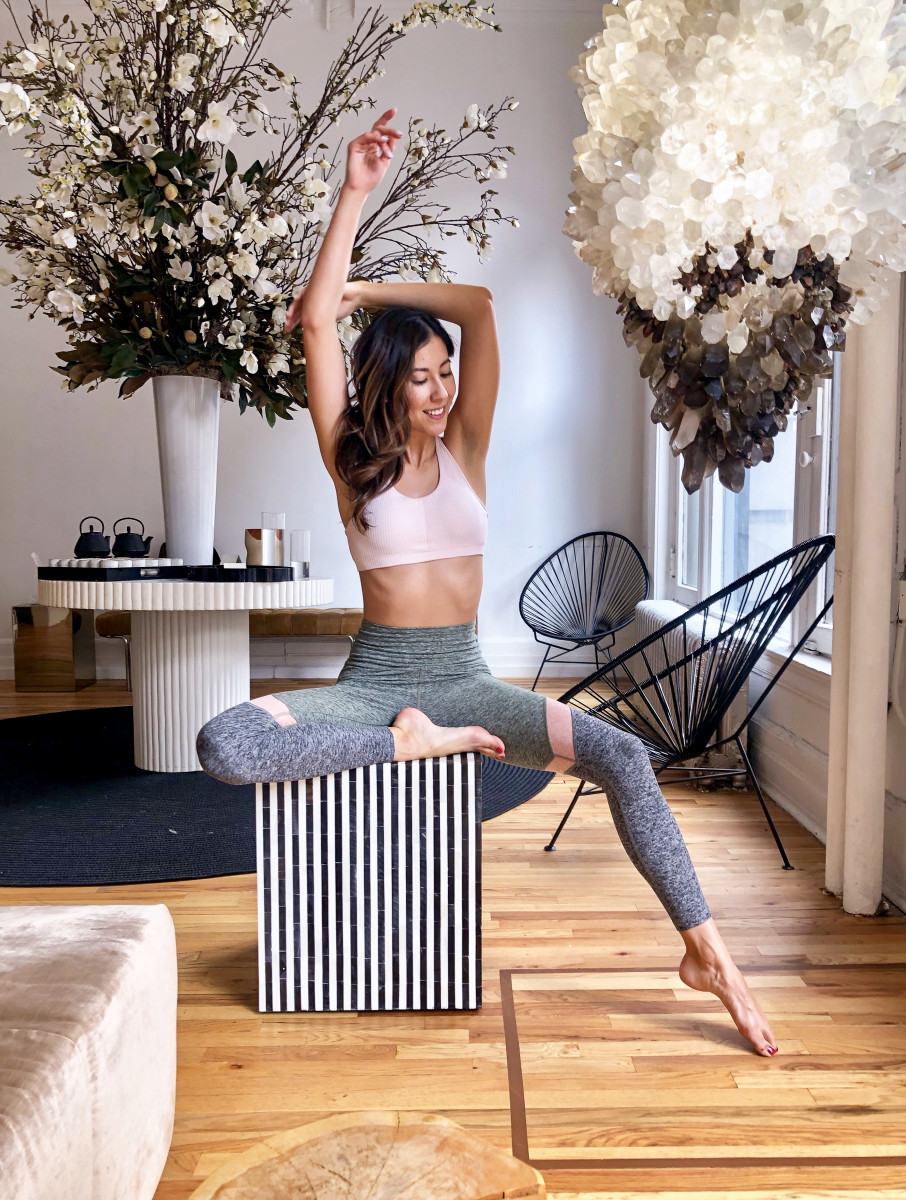 Workout: A mix of yoga classes that range from restorative to power Vinyasa flows. All take place in a dark room and are accompanied by a gentle humming vibration (similar to a sound bath) instead of music.
Instagrammable Factor: Quite possibly the most visually stunning yoga studio in Manhattan. It's brightly lit, lined with mirrors, and stand out pieces include a giant magnolia display and beautiful crystal chandelier. Sip a cup of complimentary tea while you relax (or snap photos) in their warm and inviting lounge area.
Address: 119 West 23rd Street, New York, NY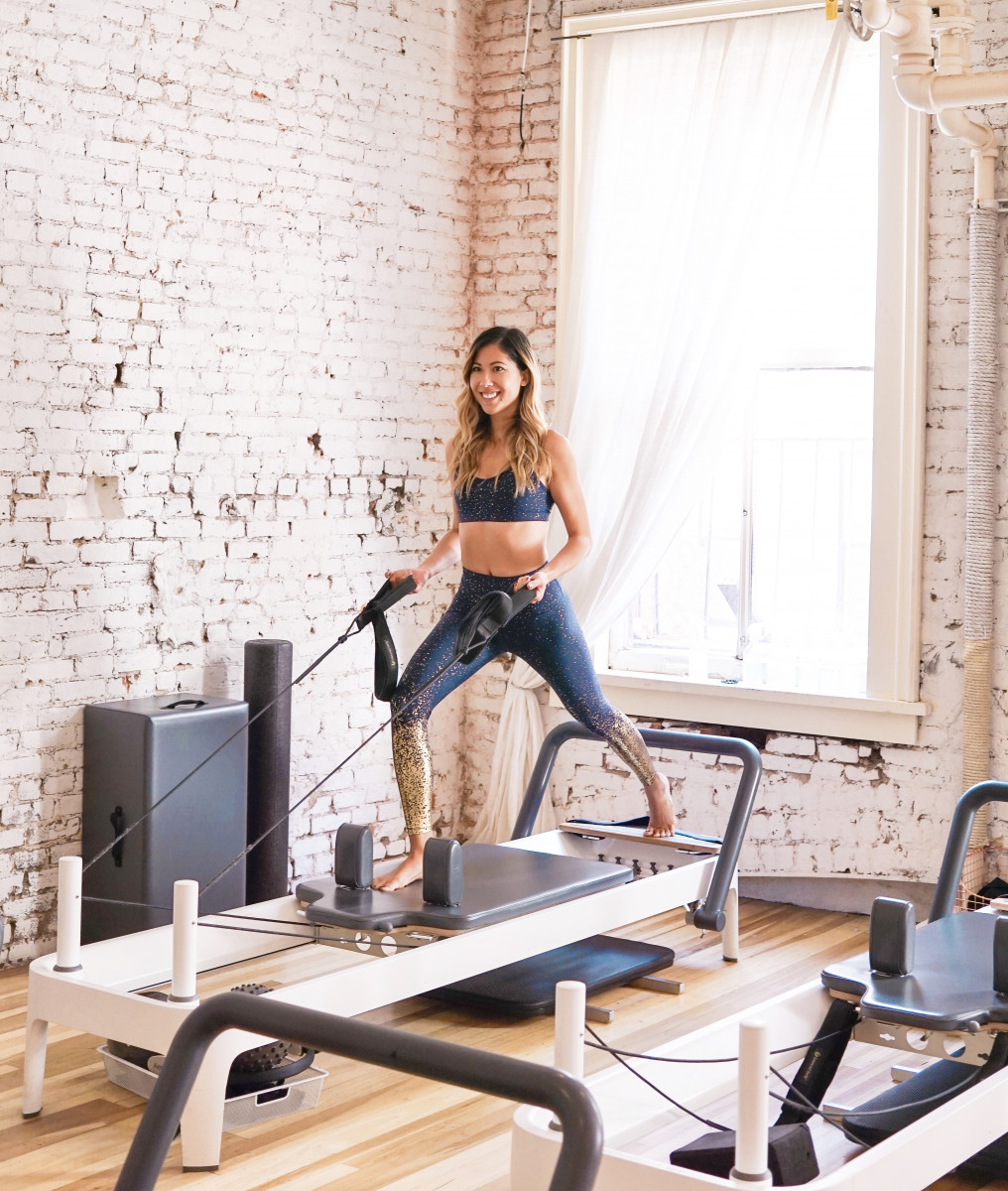 Workout: Pilates classes done on a Reformer machine. Classes range in intensity so you can pick based on your needs. Sculpt + Restore offers more mellow stretching while Burnout is a more high intensity style class.
Instagrammable Factor: Lots and lots of white exposed brick and windows lined with sheer curtains. It's pretty but not too over the top.
Address: 3 locations. Bowery: 262 Bowery SoHo: 25 Howard St West Village: 124 W Houston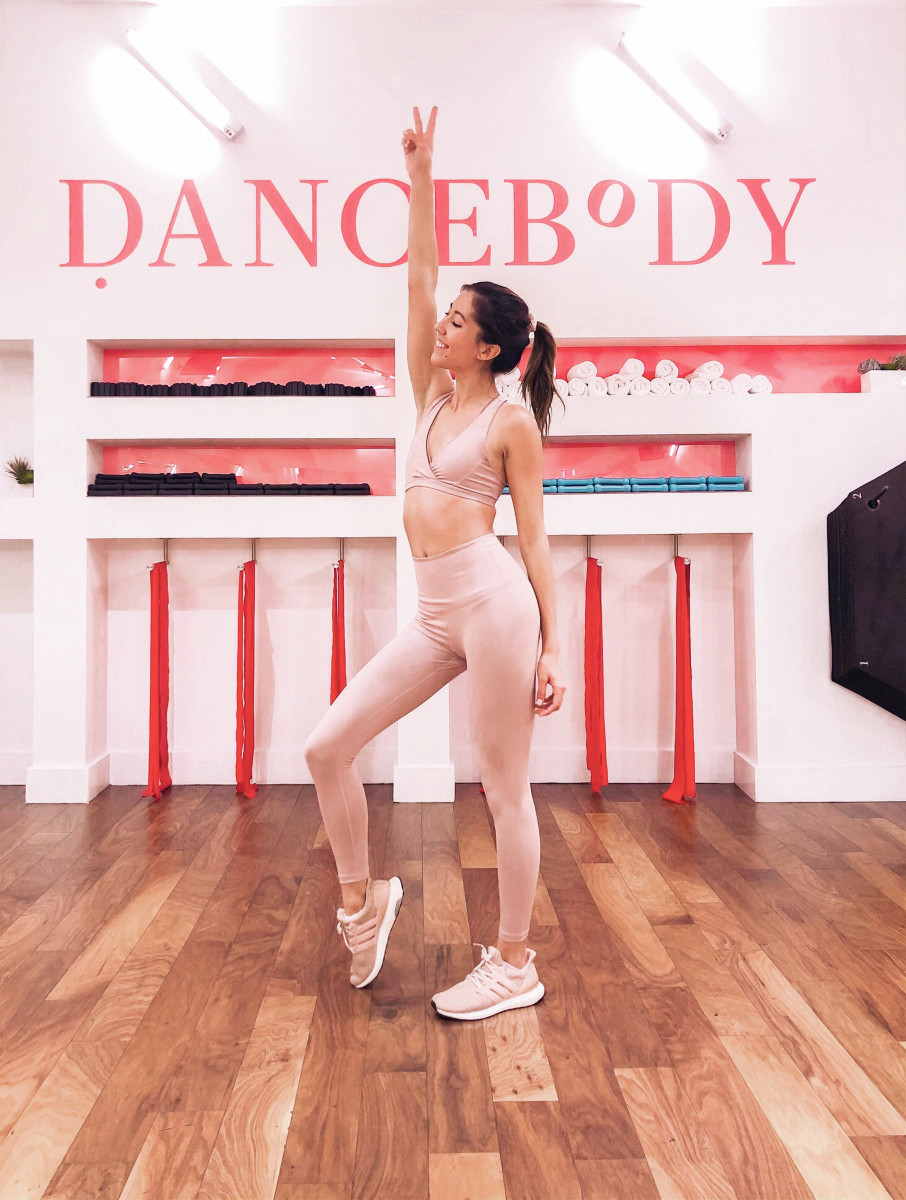 Workout: To be honest I've only ever taken their Sculpt classes but they're really known for their dance inspired workouts. They have 5 different dance classes which range in skill level. I've heard the Follow-Along is probably best for beginners where as more experienced dancers can try their Full Out class.
Instagrammable Factor: Whether it's their brightly lit Nomad location or the super cute pink bathroom in their Tribeca location, this is definitely a good spot for post workout mirror selfies.
Address: 3 Locations. Tribeca: 23 Leonard Street NoMad: 1158 Broadway UWS: Ripley Grier Studios 131 W72nd St. Studio 2R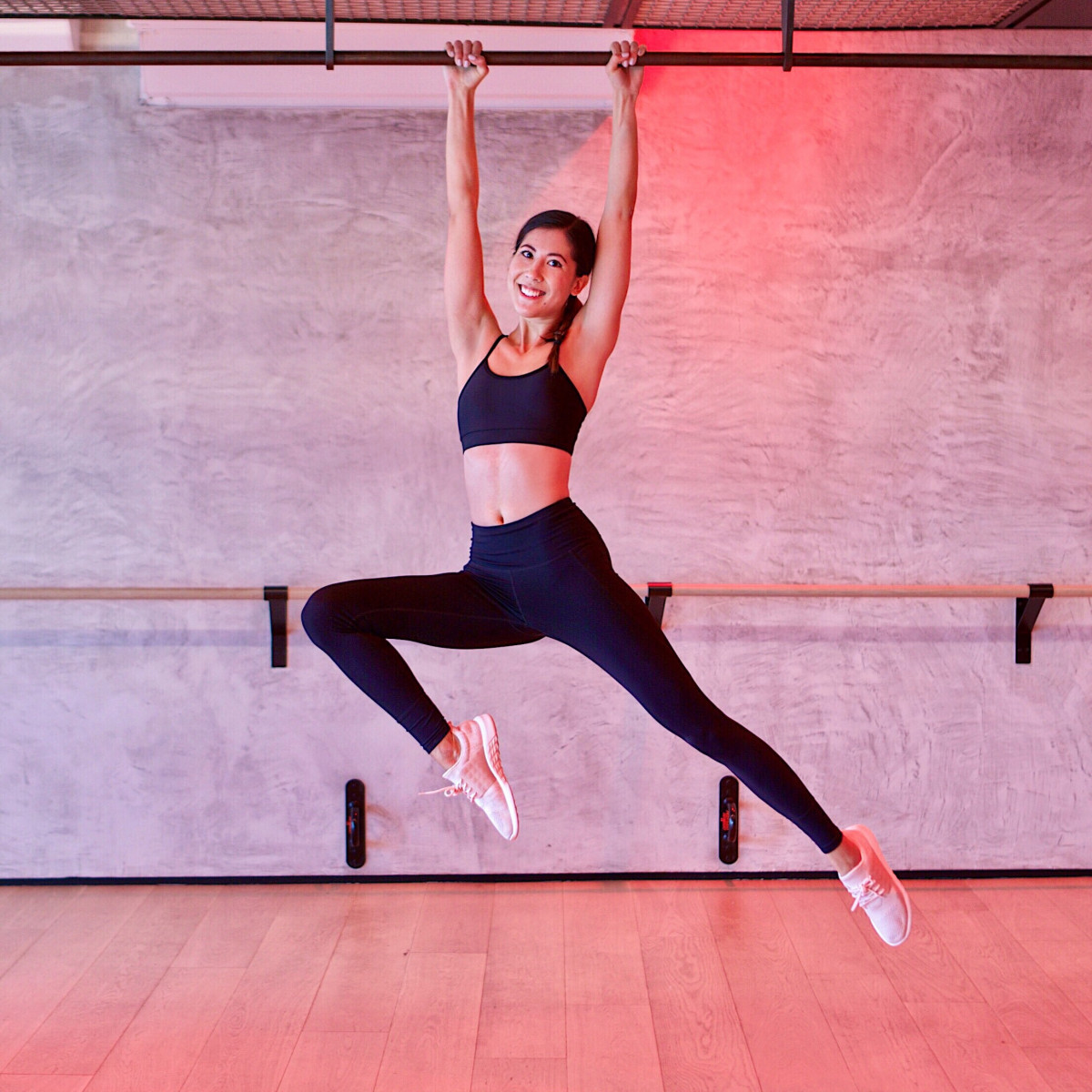 Workout: PROJECT brings together some of NYC's top trainers who are able to test out their own formats in a really cool space. I highly recommend Sculpt Society with Megan, Babes and Bands with Bec, and Pilates Rebels with Helen. I've also heard great things about Jabs with Gina, but I haven't tested that out yet.
Instagrammable Factor: Cool uplighting, a steel bar to hang from, lots of mirrors and fun signage.
Address: 267 Mulberry Street, New York, NY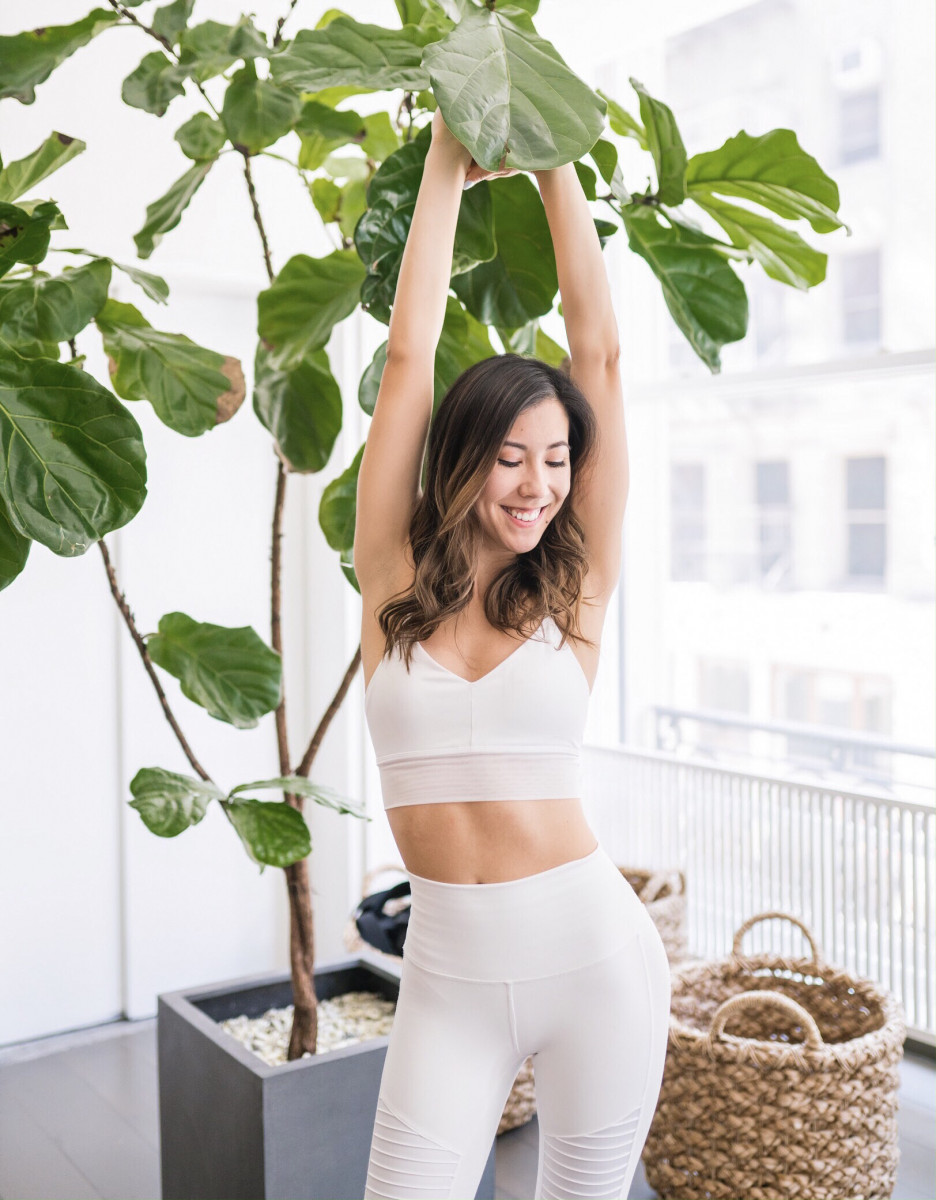 Workout: Alo brings together some of the top yogis in the industry to lead various intermediate to advanced classes. This is one of the only studios that offers classes solely dedicated to handstands, splits, and acro-yoga. They also bring in some other top instructors with cult followings (like Taryn Toomey's The Class and Body by Simone).
Instagrammable Factor: A huge brightly lit space with large wooden panels and plenty of fiddle leaf fig trees. Their cafe downstairs is also super cute!
Address: 96 Spring St, New York, NY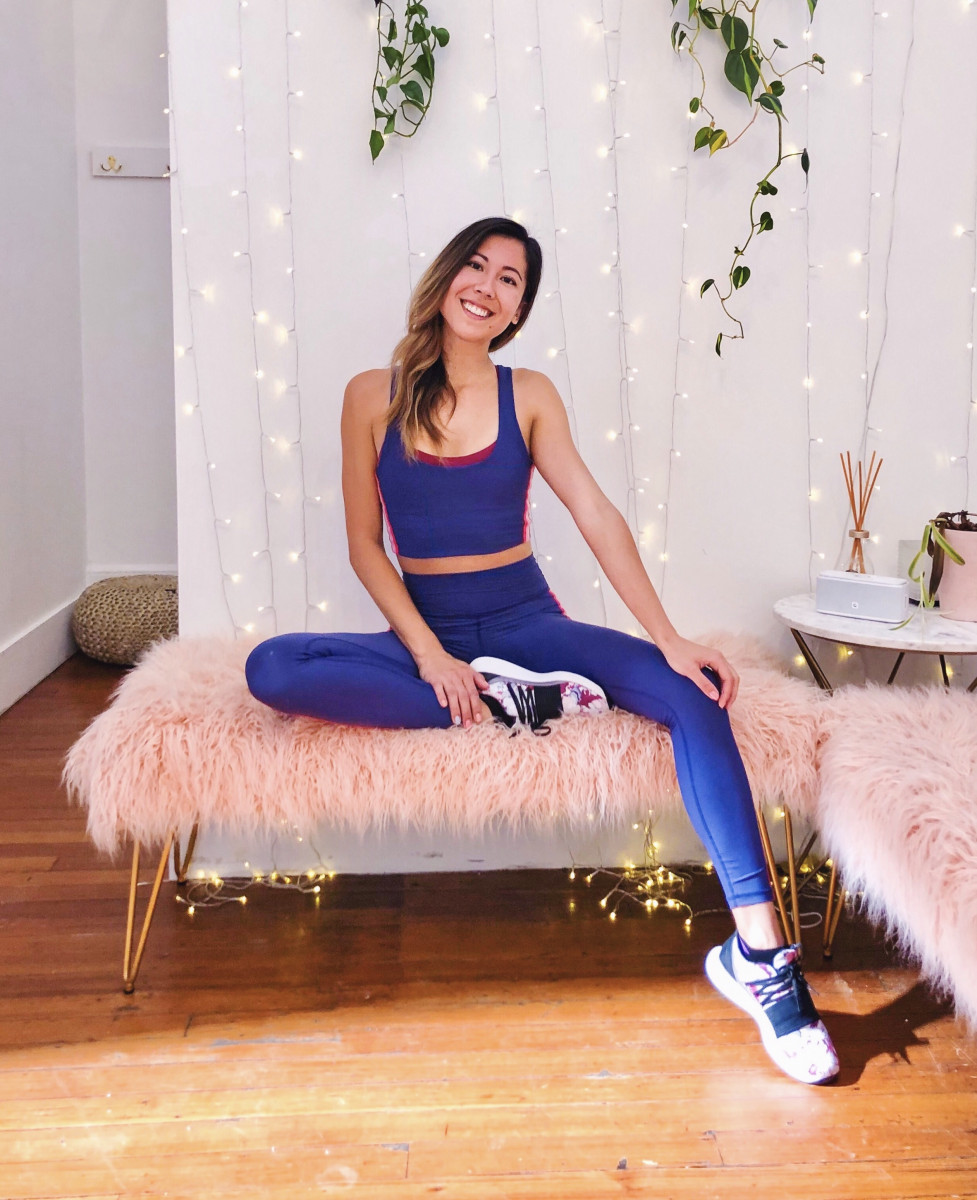 Workout: Energi is the new kid on the block and offers up something many others don't… a studio AND a co-working space. Workouts range from yoga sculpt to signature style classes from some of NYC's top trainers. You'll see some overlap from PROJECT but also a few other faces like Sydney Miller (Housework) and Amanda Kloots (AK! Dance).
Instagrammable Factor: Lots of twinkle lights, a flower wall, and neon lightning bolt signs. They're still new and the rest of the space is in the works but I have a feeling it's going to be pretty epic when it's finished.
Address: 15 Broadway, New York, NY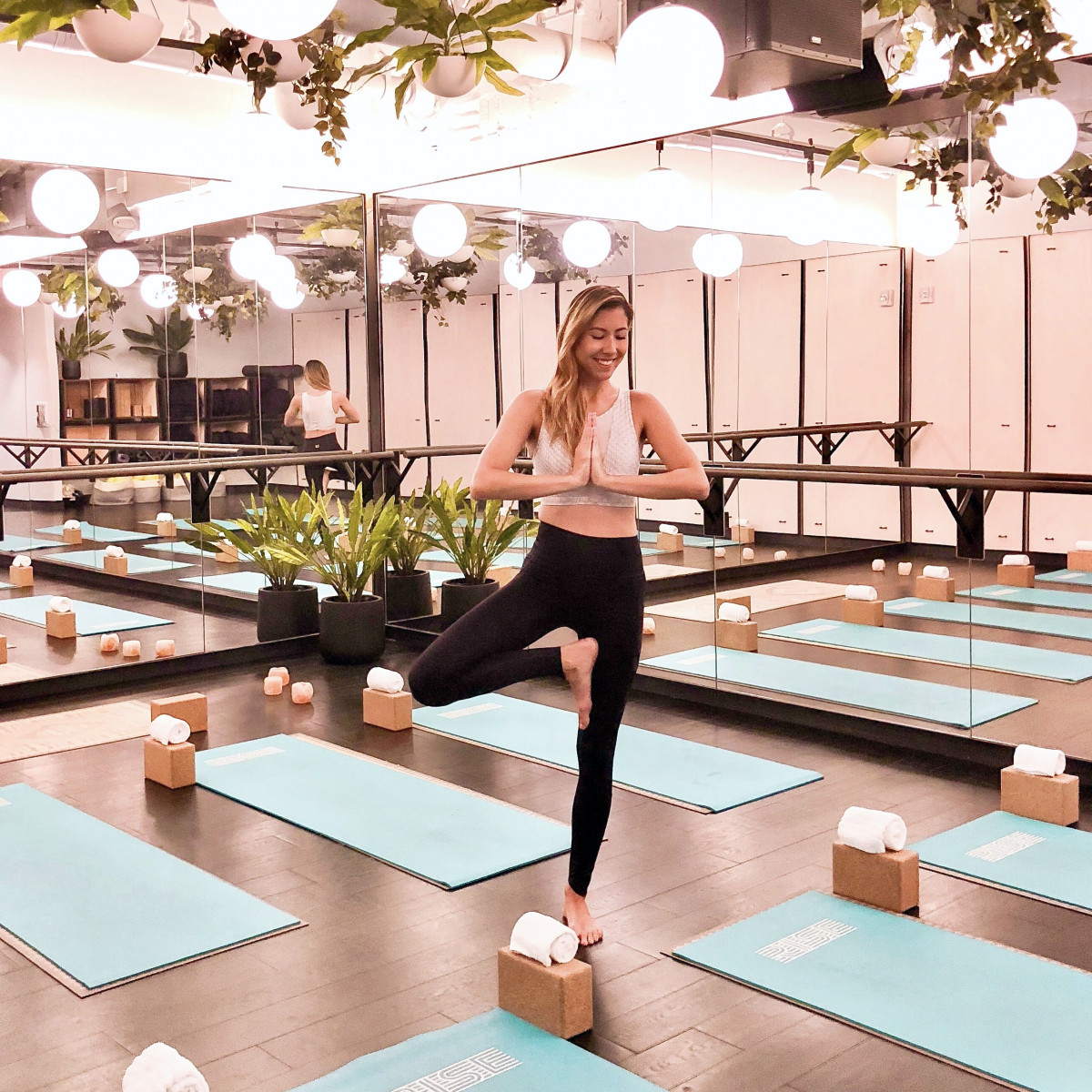 Workout: They offer a mix of everything! Strength training, cardio, sculpt, meditation and yoga. They have two different studio rooms with very different vibes and a beautiful spa with a mineral pool, sauna and steam room.
Instagrammable Factor: Everything here is so beautiful and well crafted. The yoga and meditation room (pictured above) has lots of mirrors and greenery. The other studio room has a green turf and the spa is so tranquil and has a very upscale vibe.
Address: 85 Broad St. New York, NY
Instagrammable Fitness Studio Honorary Mentions: Soul Cycle, WOOM Center, ModelFit, Pop Physique, Y7 Studio and Physique 57.
I hope you all enjoyed this round-up! Are there any that you love that didn't make the list? I'd love to hear about it!
Until next time,