You guys – last night I took a class at 305 Fitness for the 2nd time and it was AMAZING. For those of you who have never heard of it, think Miami club scene with a live DJ, black lights, and lots of pop art plastered all over the walls. Sounds a bit weird but trust me, the class is no joke. Only 10 min in my heart was beating out of my chest and I was starting to break a sweat as I struggled to keep up with the fast choreography. My first experience with the class was with a group of other fittie bloggers for Sweaty Betty's latest activewear launch and I fell in love with the overall vibe of the studio. As I popped, locked and dropped all over the studio I kept thinking about how much fun the class would be for a girl's night out.
I know in NYC going out for drinks is pretty standard. I mean, the bar scene is top notch and the endless array of cocktail options is super enticing! But sometimes it's good to switch it up and opt for the barre instead of the bar, if ya know what I mean. 😉 I'm such a huge fan of group classes and think it can be just as fun, if not more exciting, than drinking on a rooftop.  Although I'm not gonna lie, I love that too.
If you're looking to have a fun night out with your gal pals, I highly recommend checking out one of the following NYC studios (obviously 305Fitness is on the list)! They're super fun and each one has a unique, cool vibe that'll have you and your friends feeling major #girlpower.
New York Pilates
When you want an intense stretch sesh 
Location: There's three in the city! Bowery, SoHo, and West Village but my fav is the Bowery studio at 262 Bowery (2nd floor)
What it is: A super chic, contemporary Pilates studio with white brick walls, lots of plant babies and dozens of reformers.
Why you'll love it: The music is fun, the space is bright and airy, and doing Pilates on a reformer takes your stretching game to the next level. Even if you don't work up too much of a sweat your body is guaranteed to feel sore the next day. Trust me!
ModelFIT
When you want to play Victoria's Secret Angel
Location: 212 Bowery
What it is: A mixture of cardio dance moves and small isometric movements utilizing hand and ankle weights. Don't be fooled by the idea of a "low impact" class. My abs and hip flexors were killing me the day after the workout! Read more about it on one of my older posts. 
Why you'll love it: There's a reason why the VS Angels train here (just look at Karlie Kloss's IG). The mix of cardio and small isometric movements are guaranteed to tone your bod in all the right places. Not to mention it's a great alternative to most bootcamp or HIIT workouts because it's effective without killing your joints.
305 Fitness
When you want to shake shake shake yo booty 
Location: Take your pick between the Village or Midtown. I'm a fan of both but the one on 33 east 33rd st is bigger.
What it is: To recap what I already said in my opening paragraph, it's like a Miami club without any creepy dudes watching you. It's not for professional dancers so don't feel intimidated… I'm a klutz but somehow managed to keep up with the repetitive hip-hop inspired movements.
Why you'll love it: Dancing. With a live DJ. And blacklights. Need I say more?
Anya
When you want to defy gravity
Location: 49 W 24th St (8th Floor)
What it is: Anti-gravity fitness takes your traditional yoga practice into the air. You'll fly, spin, stretch, and flip before ending in a silky cocooned savasana.
Why you'll love it: It's such a gorgeous space and aerial yoga has a way of making you feel like a kid again. If you need further proof on how it's perfect for a group of gals just check out my recap of my first Blogger Meetup at Anya. 
Pop Physique
When you want to feel sweet & sexy at the same time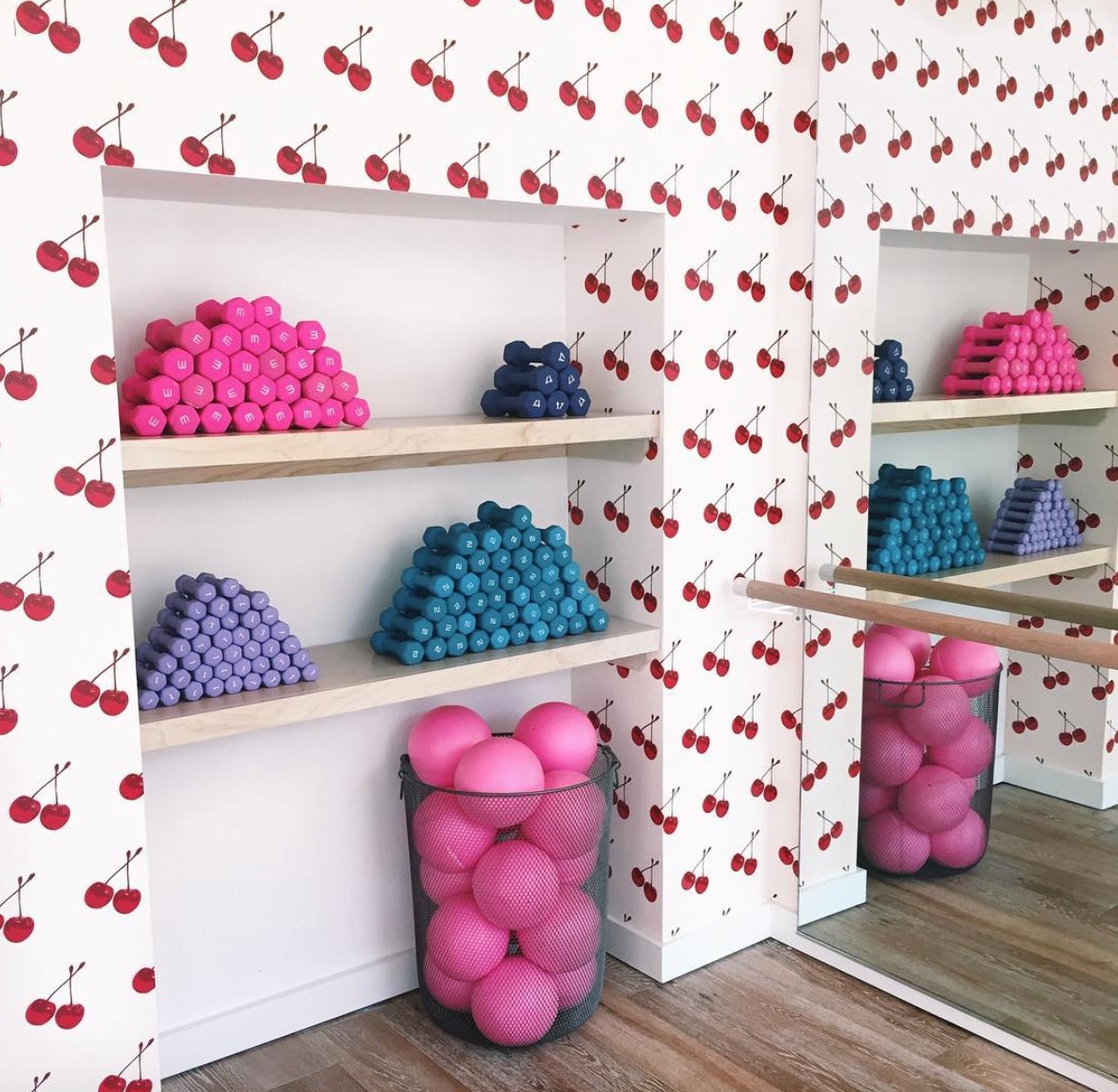 Location: 270 Bowery
What it is: A barre class with upbeat music, in a room covered in cherry or banana wallpaper.
Why you'll love it: It's the perfect place for you and your gals to bond over a continuous series of crazy muscle shakes. No seriously, your muscles will be screaming at you through the majority of the class. The upside is the room is so cute it almost makes you forget how intense the workout is… almost.
What are you waiting for? Call up your friends, book a class and get ready for a fun girl's night out in some of NYC's coolest (and cutest) studios. For those of you who live in NYC and know the fitness scene like the back of your hand, leave a comment if there's a class that you would add to this list! I'm always looking for new ones to try.
Sending lots of love and booty shaking vibes your way!