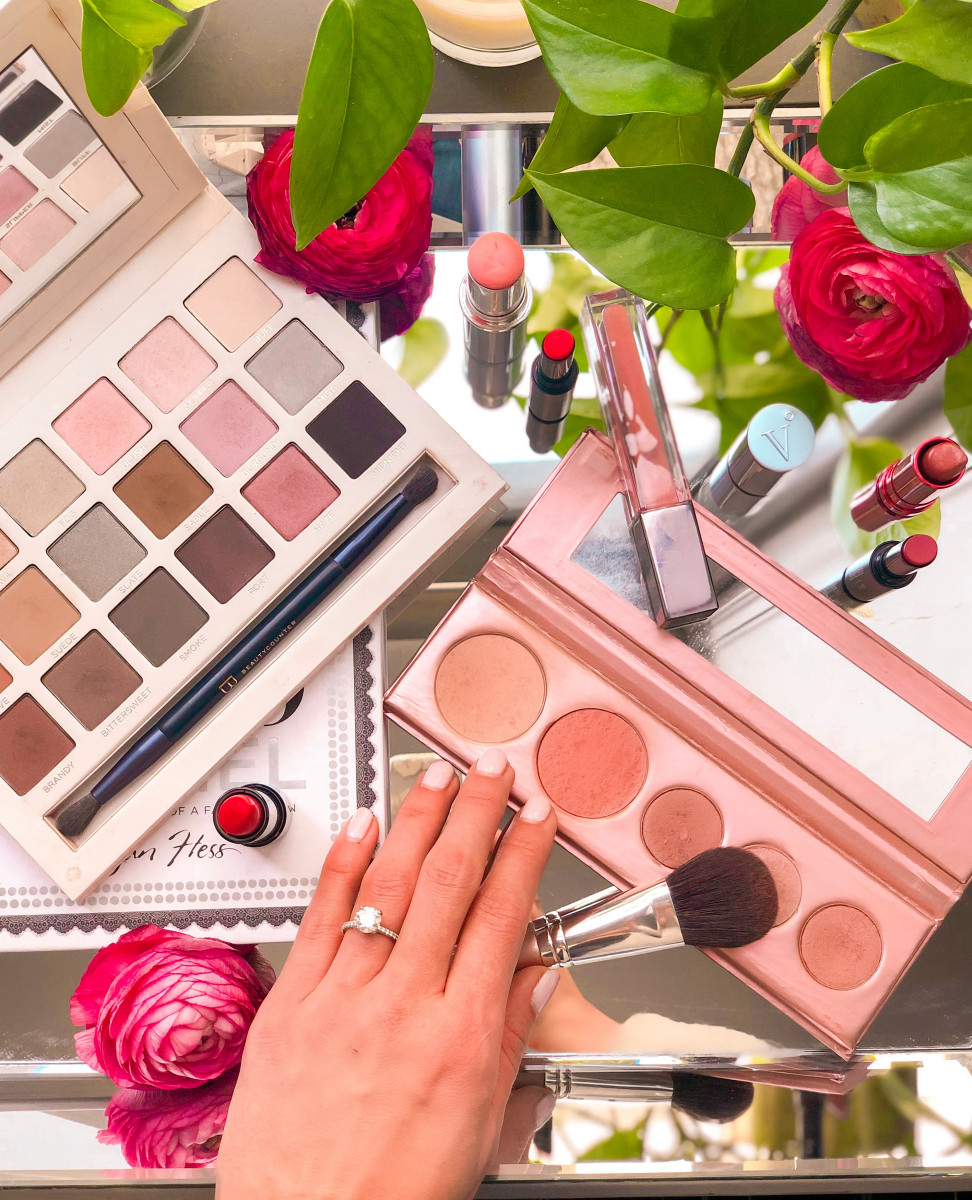 Hello and happy Spring! It's been nearly a month since I've last been on here and for that, I sincerely apologize. I've definitely been keeping busy — what with wedding planning things, bridal showers (two of them!) and my bachelorette party. I kept brand partnerships at a minimum this month and thus found myself with extra time today. Time that I wasn't quite sure what to do with. To be honest, Bay and I are pretty caught up with wedding planning now that we're only 3 weeks out. I met with my accountant, caught up on emails, booked a workout for later this afternoon… and decided that maybe it was time to write something. And this particular topic has been on my mind for a little while now.
As I was putting away the makeup I had packed for my bachelorette weekend, I noted how every single cosmetic product in that bag is considered a "clean" beauty brand. Just a year ago, investing or stocking up on non-toxic makeup just wasn't a priority. My only requirement was that the brand needed to be "cruelty-free," which essentially means that no animal testing was involved. So what changed in this past year? Well, my wellness journey has been evolving and the clean beauty movement has been expanding. So I guess you can say it was a natural progression, especially as I started reading more about the why.
What is Clean Beauty
While there are multiple interpretations, "clean beauty" essentially is comprised of non-toxic skincare and cosmetics that embrace both natural and man-made ingredients. Regardless of popular belief, not all "natural" things are safe and not all man-made ingredients are unsafe. Overall, clean products put an emphasis on consumer safety and avoid the use of ingredients like parabens, sulfates, silicones, phthalates and synthetic fragrances. While our friends in Europe ban thousands of ingredients that are considered "toxic" from their personal care products, the United States only bans a handful and leaves safety up to the discretion of the brands.
Thankfully making the switch to cleaner products has become SO easy. In the past year, the clean beauty movement has become much more accessible and trendy. Walk into any Sephora and you can spot a whole section dedicated to the best of non-toxic skincare and makeup. Even stores like Target and CVS are making room on their shelves for leading clean beauty brands.
With all this accessibility and my dedication to diving deeper into the world of wellness, my outlook on the contents of my makeup bag has changed. Even though I don't necessarily think slathering products from MAC and Maybelline all over your face will kill you, I do think it's probably best to avoid putting chemicals on your body's largest organ. And now that there are so many AMAZING brands that offer the variety we crave with the quality we need, there's literally no excuse not to make the switch.
Ready to spring clean your makeup bag?
Here are a few of my absolute favorite products to start with: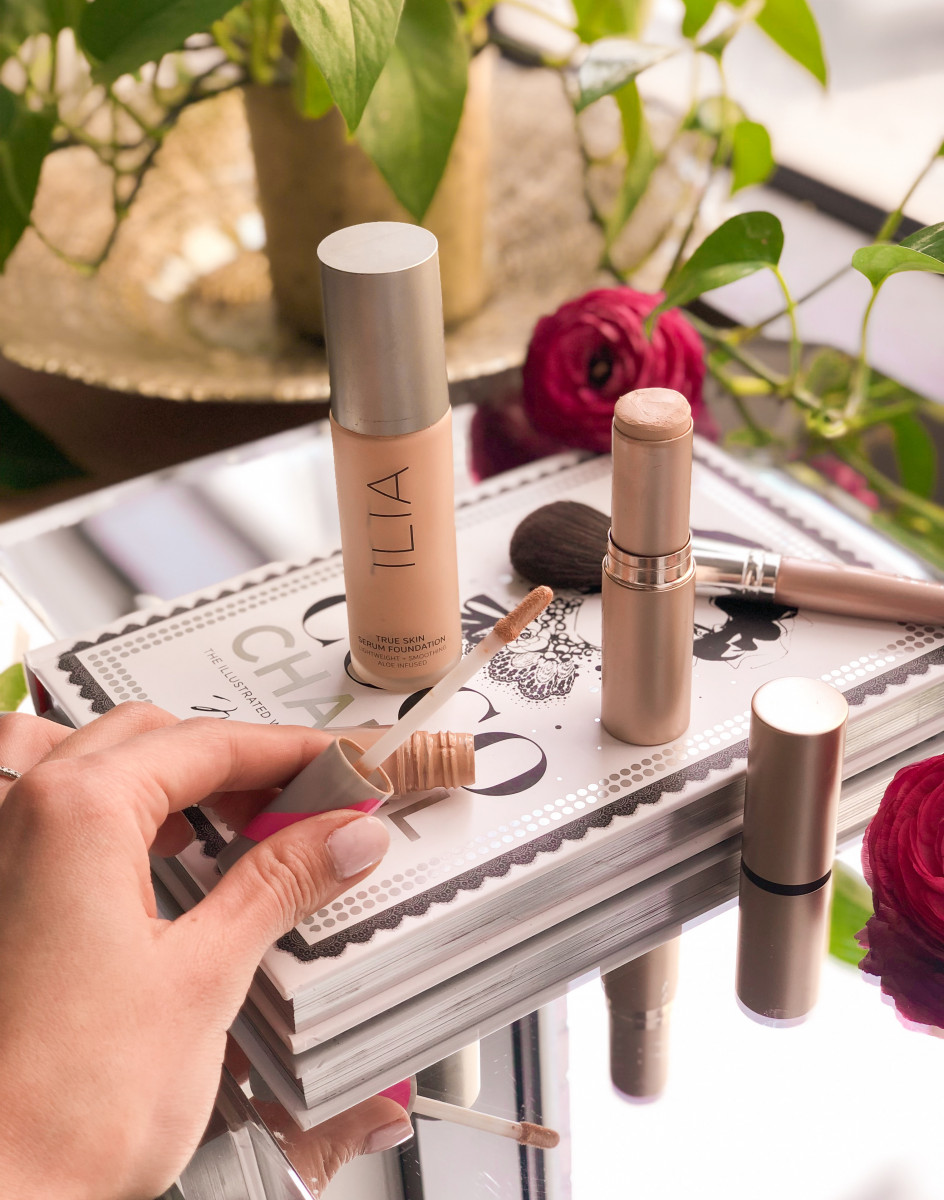 Face:
ILIA True Skin Serum Foundation: ($54) Equal parts skincare and color correction. I love how lightweight it feels and leaves my skin looking dewy and fresh.
BAREMINERALS Complexion Rescue Hydrating Foundation Stick: ($34) This glides on so smooth, has SPF 25, and I love that I can blend it in so easily with my fingers. It's perfect for on the go.
FIRST AID BEAUTY Bendy Avocado Concealer: ($22) Best concealer ever. It's never cakey, moves with your skin, and feels really hydrating. The coverage is natural but effective.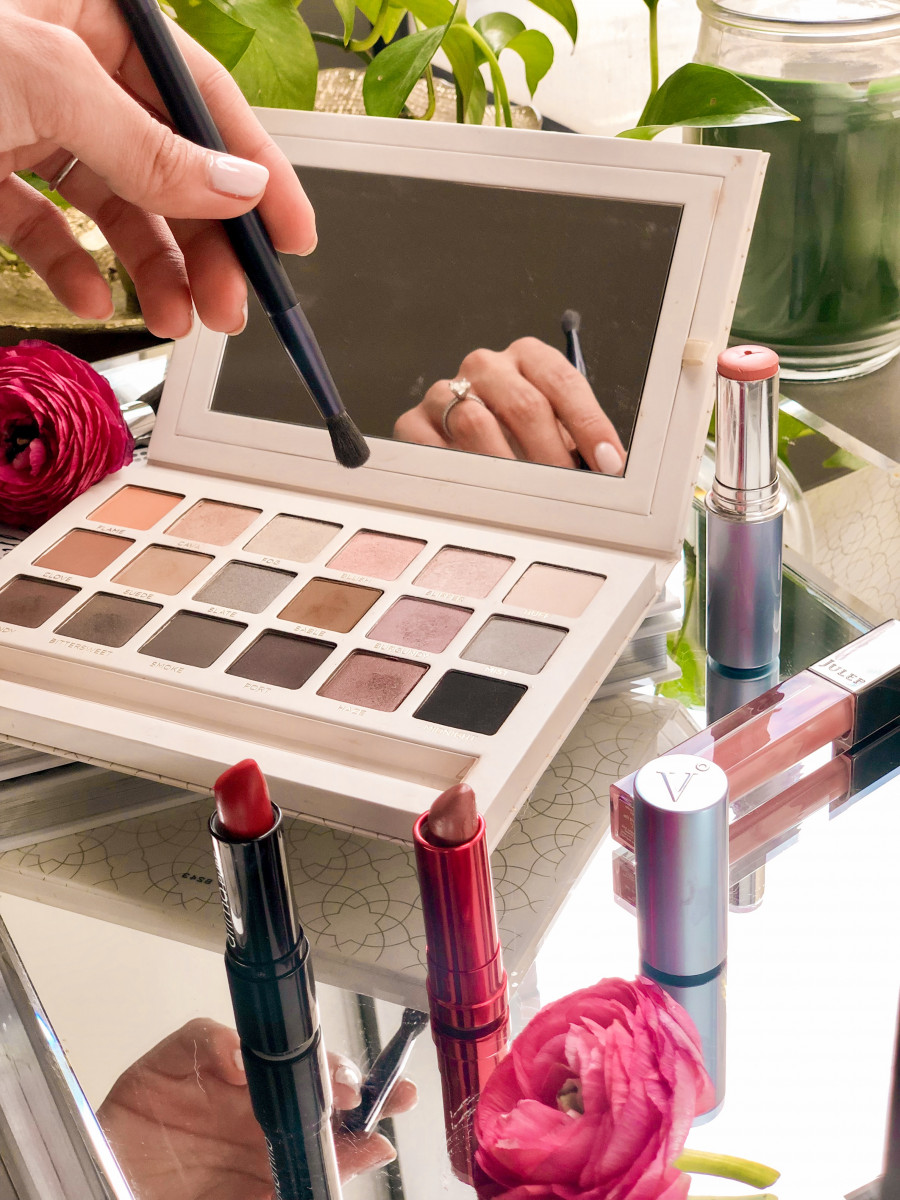 Eyes/Brows:
BEAUTYCOUNTER Necessary Neutrals Eyeshadow Palette: ($89) If you're going to invest in something, this should be it. It's such high quality and features 18 super wearable shades. I'm obsessed.
ILIA Limitless Lash Mascara: ($28) Best volumizing mascara ever. There's a dual sided brush which helps prevent clumps and makes your lashes look super long and full.
ALIMA PURE Natural Eyebrow Pencil: ($18) Super smooth, highly pigmented and lasts all day. I use a spoolie brush to help blend out my brows after applying the pencil.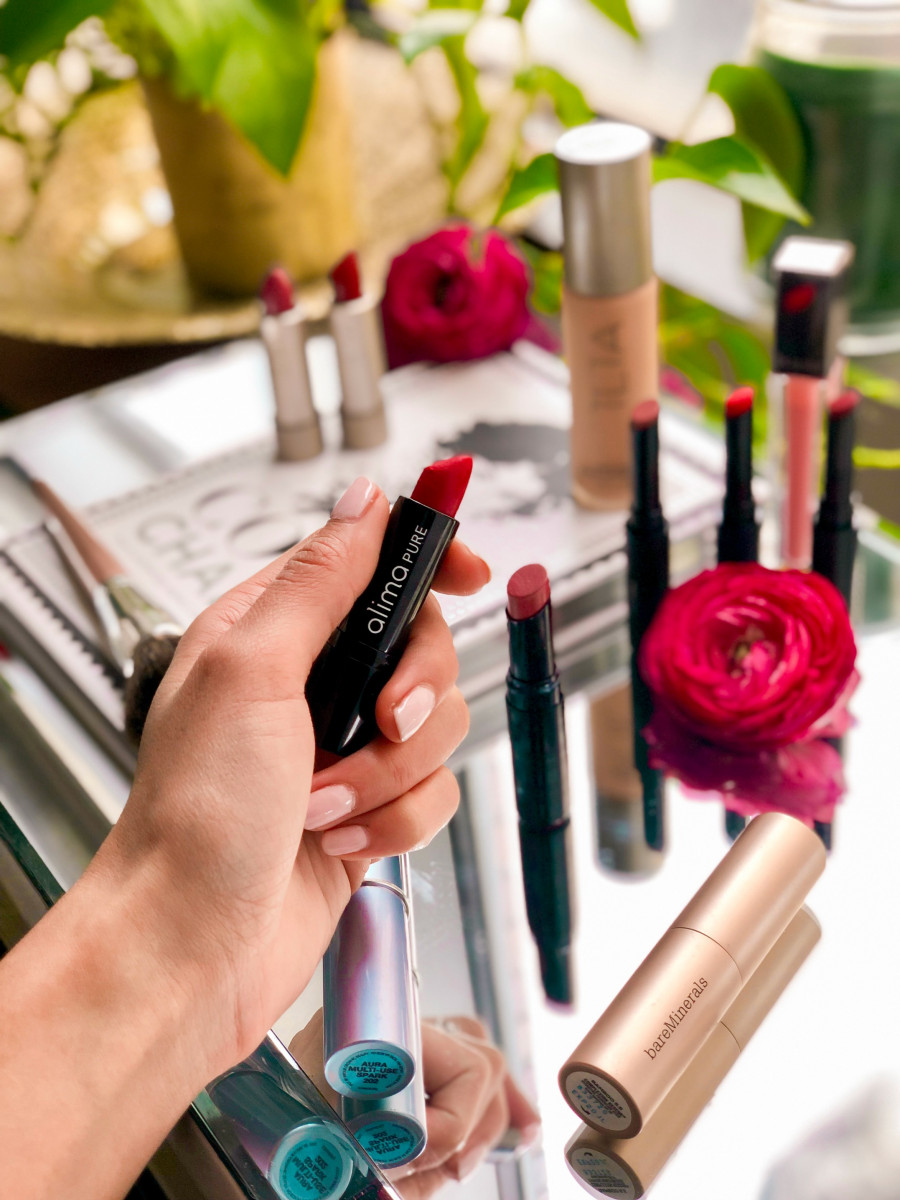 Lips:
JULEP So Plush Ultra-Hydrating Lip Gloss in "Mood": ($19) Gives a subtle flush of color, feels really hydrating and not too sticky. The color is very pretty and layers well over lipstick.
ALIMA PURE Velvet Lipstick: ($26) I love the "Odessa" for a pretty pop of pink and "Olivia" is the perfect shade of red. Both are very matte and long-lasting. They are a bit on the drying side after a few hours of wear but if you properly prep your lips ahead of time it isn't that bad.
BEAUTYCOUNTER Color Intense Lipstick in "9-5": ($34) Glides on super smooth with a satin finish. I absolutely love this color, it's the perfect mauve that goes with everything!
BAREMINERALS Barepro Long Lasting Lipstick in "cherry": ($20) This lipstick is sooo hydrating and I'm obsessed with this shade of red! It doesn't actually last super long unless you apply, pat, and apply. But I love it so much that I think it's worth touching up throughout the day.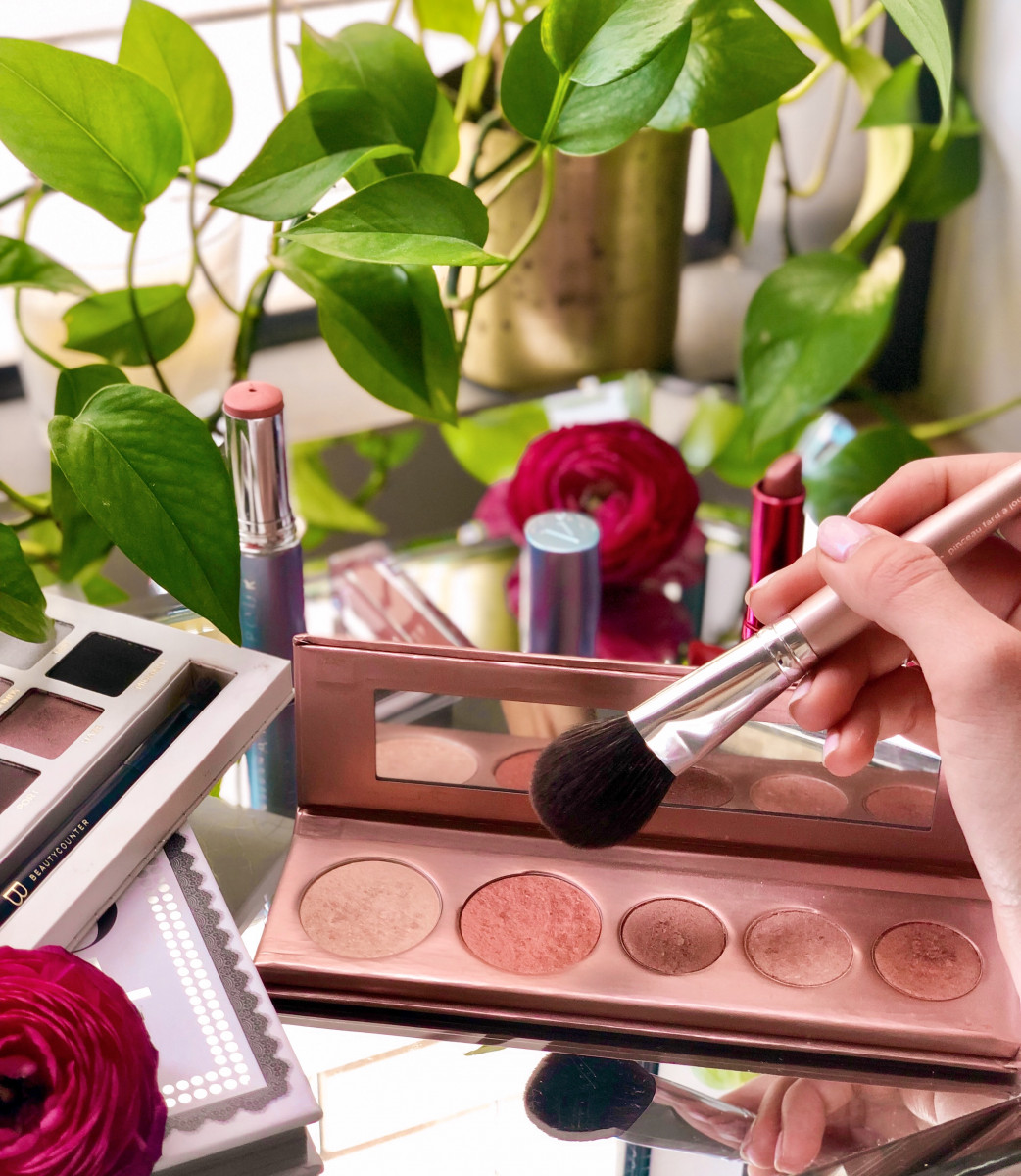 Cheeks:
100% PURE Rose Gold Palette: ($55) Created with fruit-pigments, this palette is SO pretty and features 3 eyeshadows, a really rosy blush and a subtle gold highlight. It really creates such a beautiful glow on your skin and I especially love how buildable all the shades are.
VAPOUR BEAUTY Aura Multi-Use Classic in "Spark": ($36) Not going to lie, cream blushes are wear it's at. It's super easy to blend in and gives your skin the perfect dewy flush that looks very natural.
ILIA Illuminator: ($34) If you want to give yourself a very luminous glow, this is the perfect product for you. It's not too cakey or shimmery like some highlighters. It's very blendable and a found a little bit really does add a nice glow for a fresh day time look
If you'd like to see if your current makeup products are on the more clean or "dirty" side, there's an app for that! Someone recently recommended that I download Think Dirty and I have found it quite interesting. Unfortunately it doesn't cover every product out there but many of the more popular cosmetic brands are listed. What I like about it is that it breaks down what ingredients are toxic and more importantly, it tells you why. Each product ends with a number and color rating, green being good, red being bad. It's free so definitely worth checking out!
Alright loves, I've been typing away and it's now time for me to hit the barre. 😉
Chat soon!