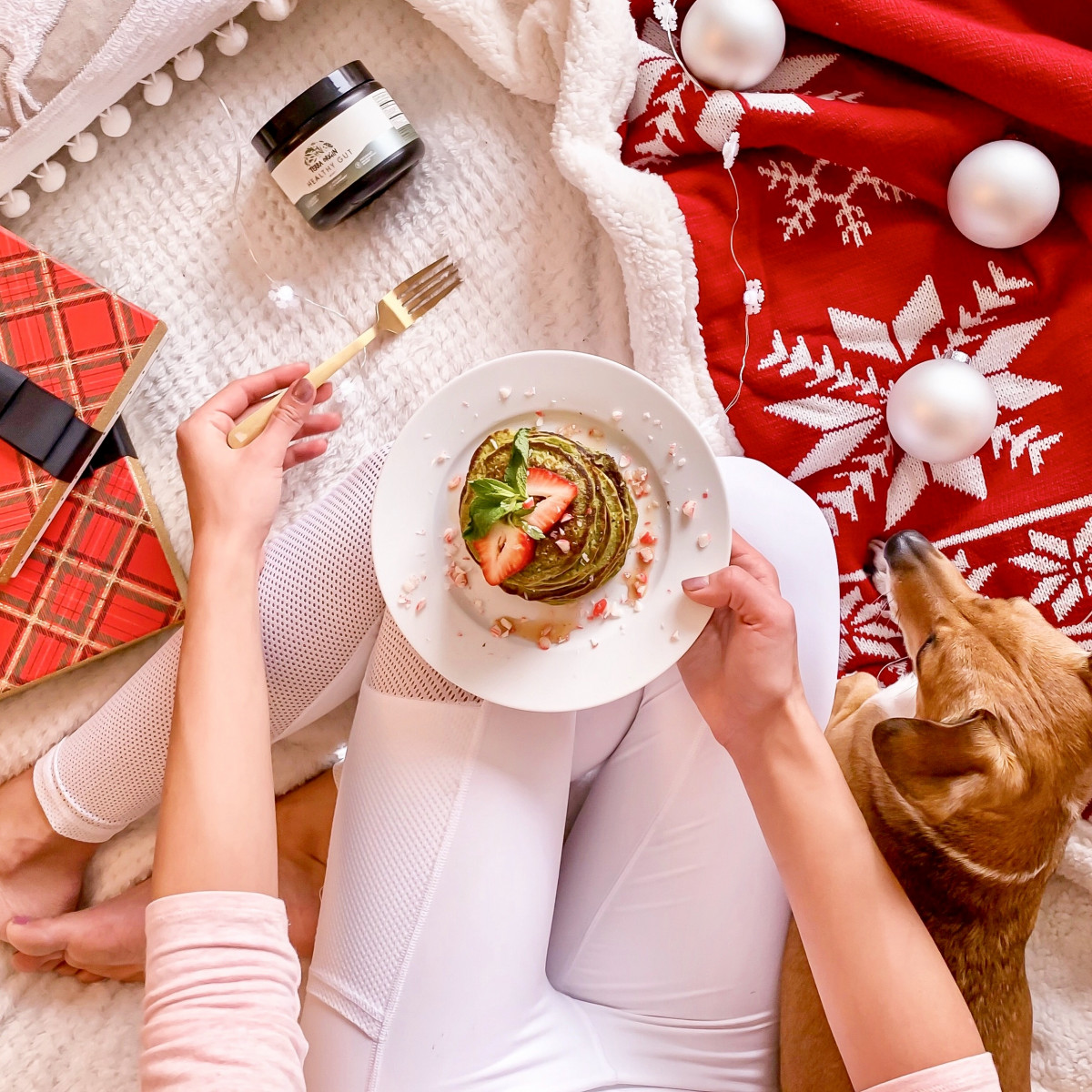 Oh hi there! I'm so glad you're here and if you're a returning visitor, welcome back to my blog. If you've been following along on my IG Stories it's probably no surprise that I've been recipe testing all weekend long and am so excited to share these super simple and healthy mint chocolate chip pancakes with you in partnership with Terra Origin!! Not only are they so festive for the holidays (perfect for kids or getting that perfect photo for the 'gram) but they also pack some really awesome, nutritious ingredients and are gluten-free.
Before we get into the pancakes, let's chat a bit about Terra Origin because I'm SO excited to be partnering with them over the next few months to share more recipes, wellness tips, yoga tutorials, and more. You may actually recognize them from THIS blog post where I chatted through my tips on how I prepare my body naturally for cold and flu season. I shared an awesome green smoothie recipe featuring their Healthy Greens Superfood, which I highly recommend checking out. I've also been a BIG fan of their Healthy Chocolate Plant-Protein. My fiancé , Bay, and I both follow a primarily plant-based diet so the plant-protein powder has been so perfect for us.

Aside from the great products, I really love what Terra Origin stands for as a company. They are backed by science but inspired by Ayurveda, which is like the sister of Yoga. Essentially, Ayurveda is all about providing a holistic approach to balancing your diet. As a registered Yoga teacher and full-time wellness entrepreneur in a super busy city, it's really important to me to find ways to optimize my health both on and off the mat. Including high quality supplements into my diet, along with whole foods, and lots of water, has been a way I can ensure I'm getting the nutrition I need to live my happiest, healthiest life.
Stay tuned for lots more to come with Terra Origin! And in the meantime, it's time to dive into this delicious stack of fluffy pancake goodness. (*drool)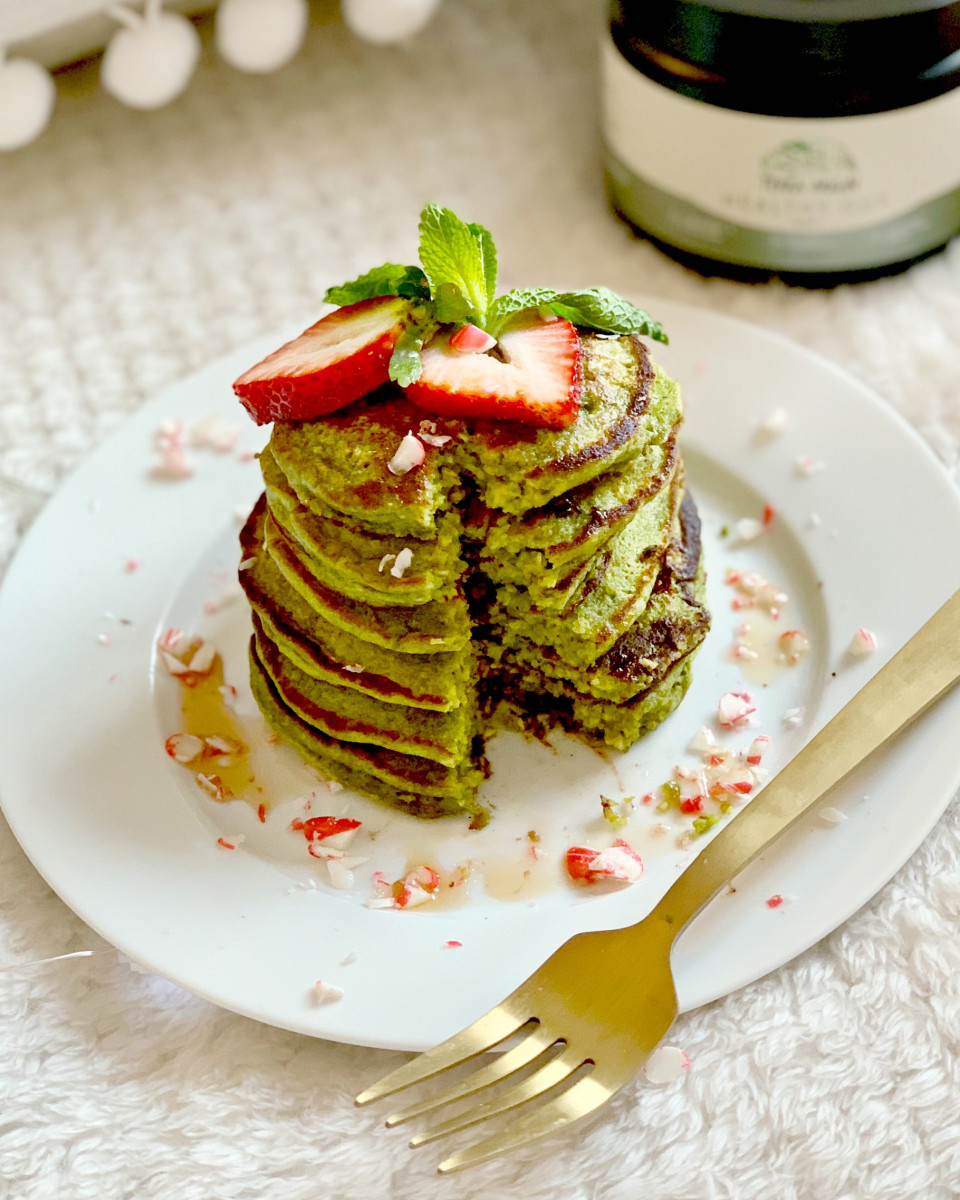 Although many of your first thoughts may be that they're green from matcha or food coloring, they actually get their lovely coloring from a cup of baby spinach! Yep, you read that correct. And don't worry… my fiancé made the same face when I first told him I wanted there to be some hidden greens in the pancakes. Spoiler alert: he came around after he tasted them. 😉
So why spinach? Well, it's an easy way to get a cup of greens that offer up benefits like fiber, Vitamins A and K, iron and potassium. But more importantly, their flavor is so neutral that they're very easily masked in the batter! Also, when combined with the gluten-free rolled oats you're getting nearly your full daily value of fiber, along with lots of protein. So yes, you can thank me later.
Since fiber is so essential to a healthy gut, I thought this was the perfect opportunity to add in Terra Origin's "Healthy Gut (mint)" which contains vitamins and herbs proven to support the digestive system and improve gut lining. It also contains an antioxidant mix to calm free radicals while supplying your body with copper, potassium, and aloe-vera leaf extract, all of which support and heal the gut. So so great for any of you who may be suffering from stomach pains and sensitivities. Since the serving is for two people, two scoops of "Healthy Gut" should be enough.
Here's a little shot of all the ingredients you need: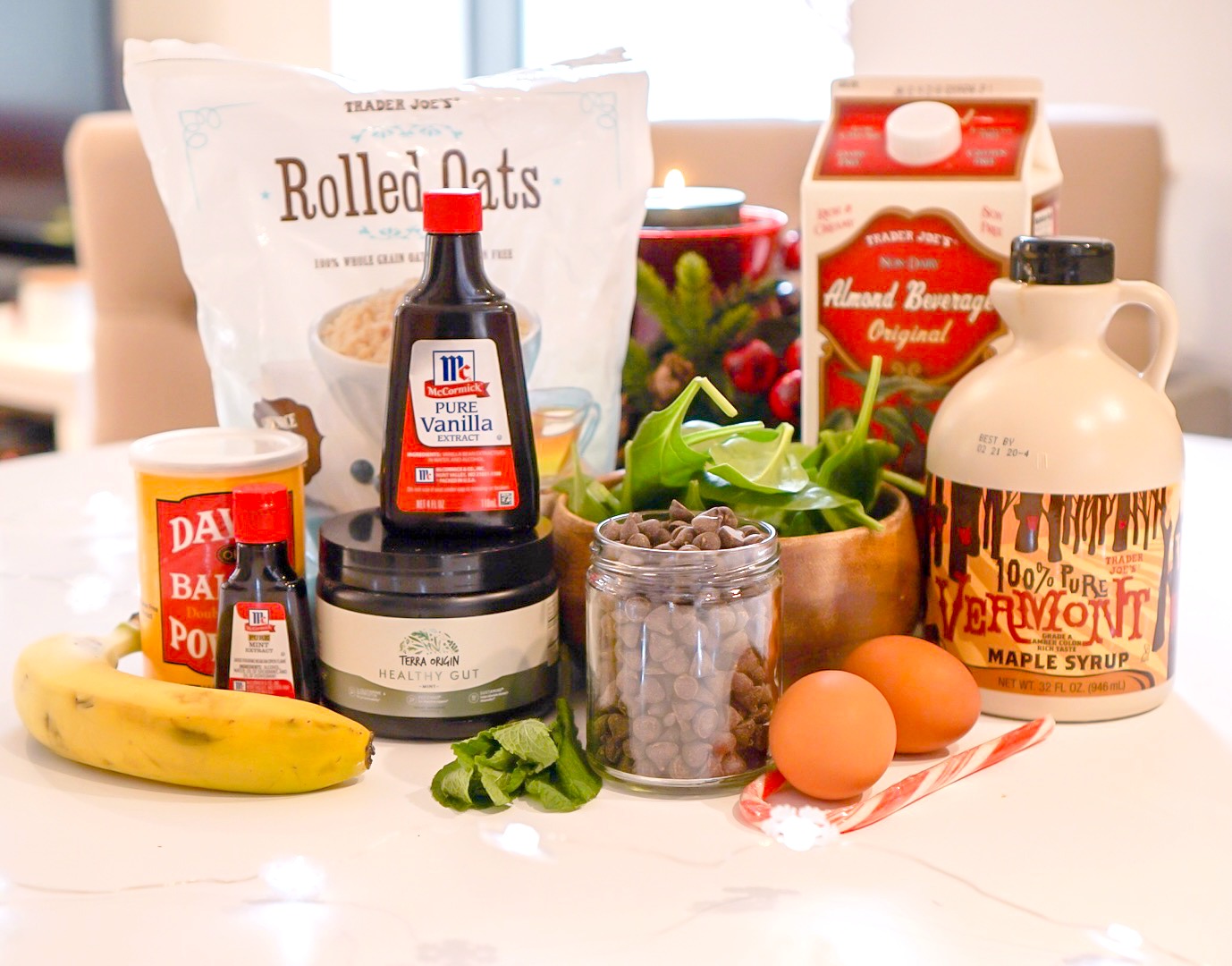 The best part about prepping these pancakes is that it should take no more than 5 minutes. And that's because you literally throw everything except for the chocolate chips into a blender. Yep, that's it. Blend, pour, flip, serve. Done!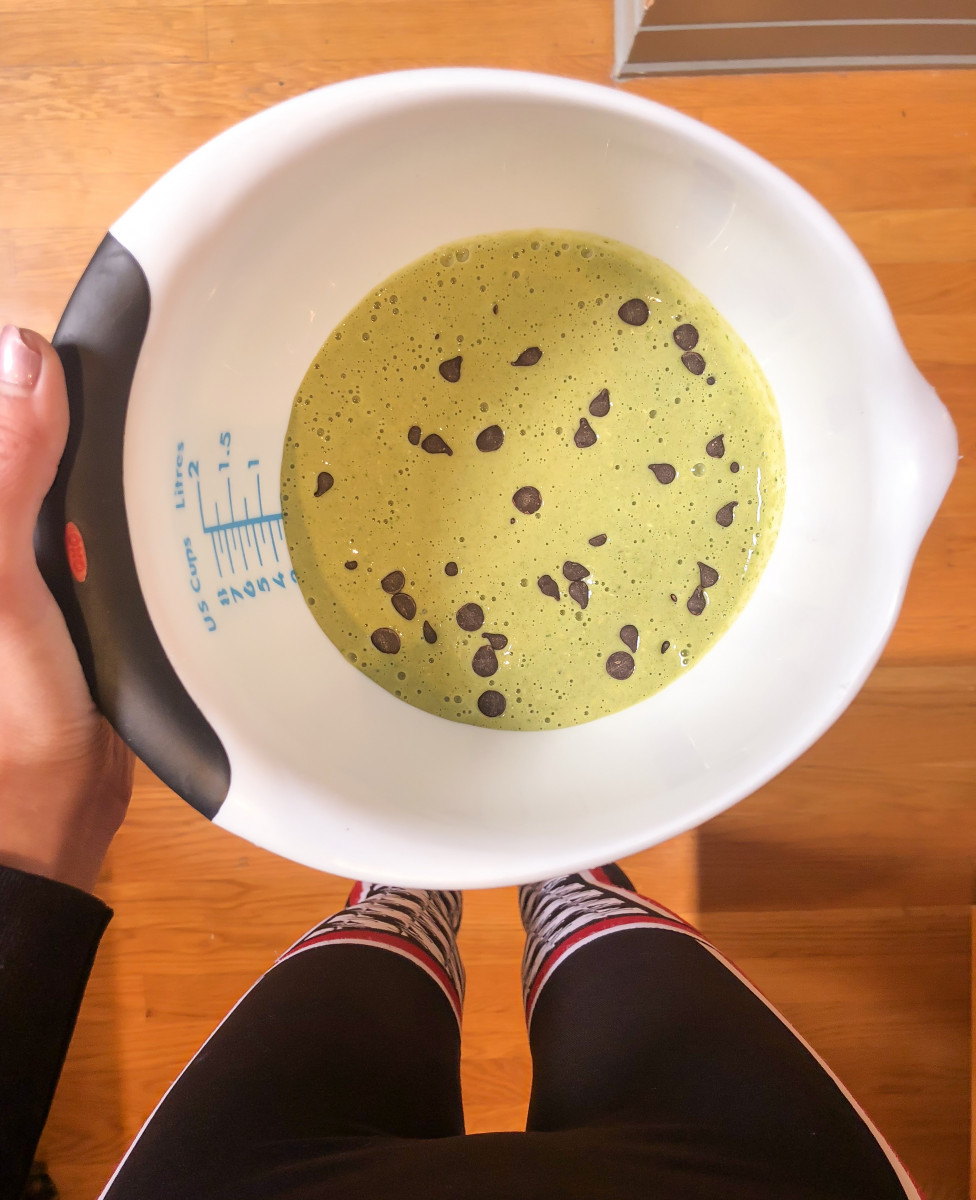 I garnished mine with some crushed peppermints to make them extra festive but if that's not your jam, you can totally opt out of that. They do taste rather good with fresh strawberries and syrup though so be sure to have those on hand. See below for the full recipe.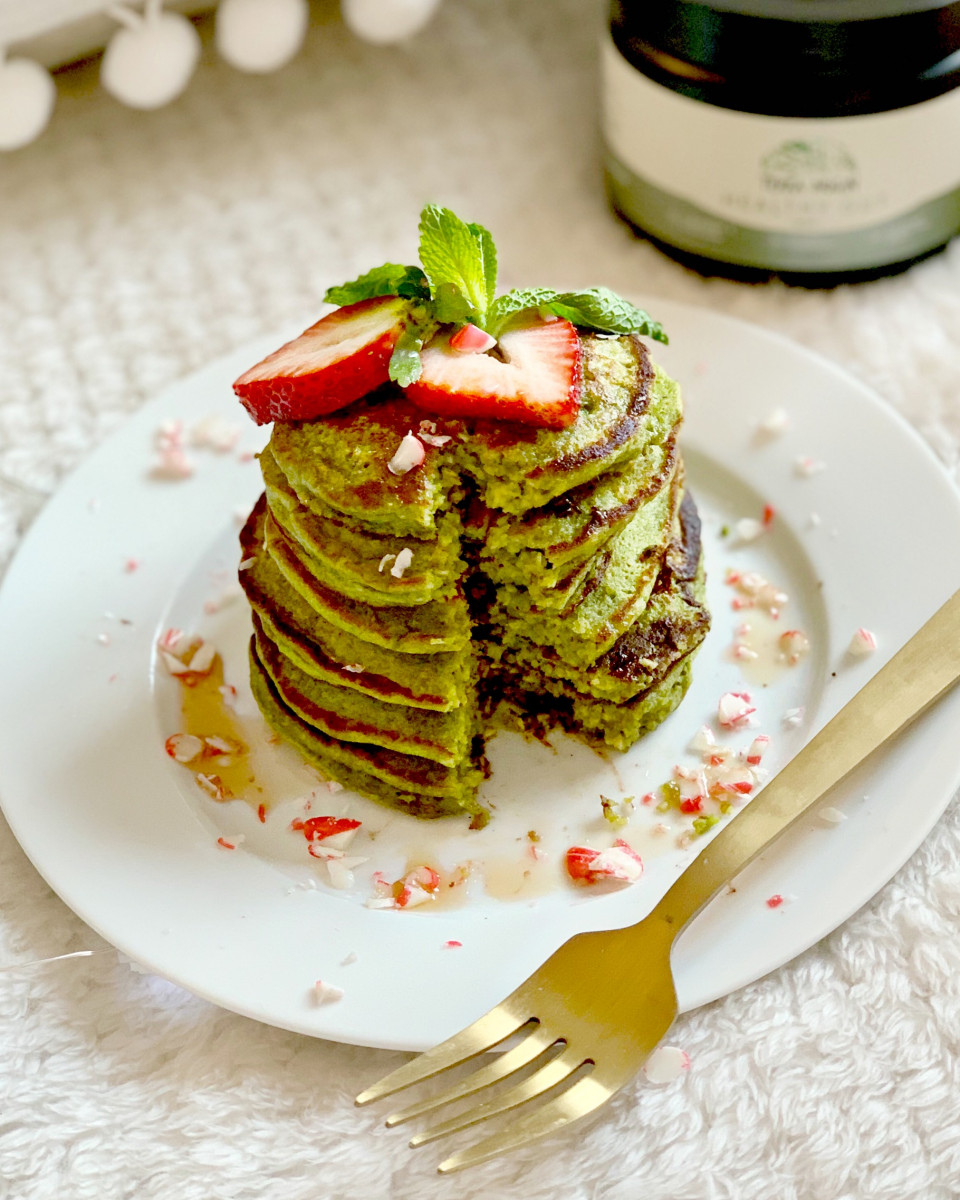 Healthy Mint Chocolate Chip Pancakes
2018-12-09 23:44:11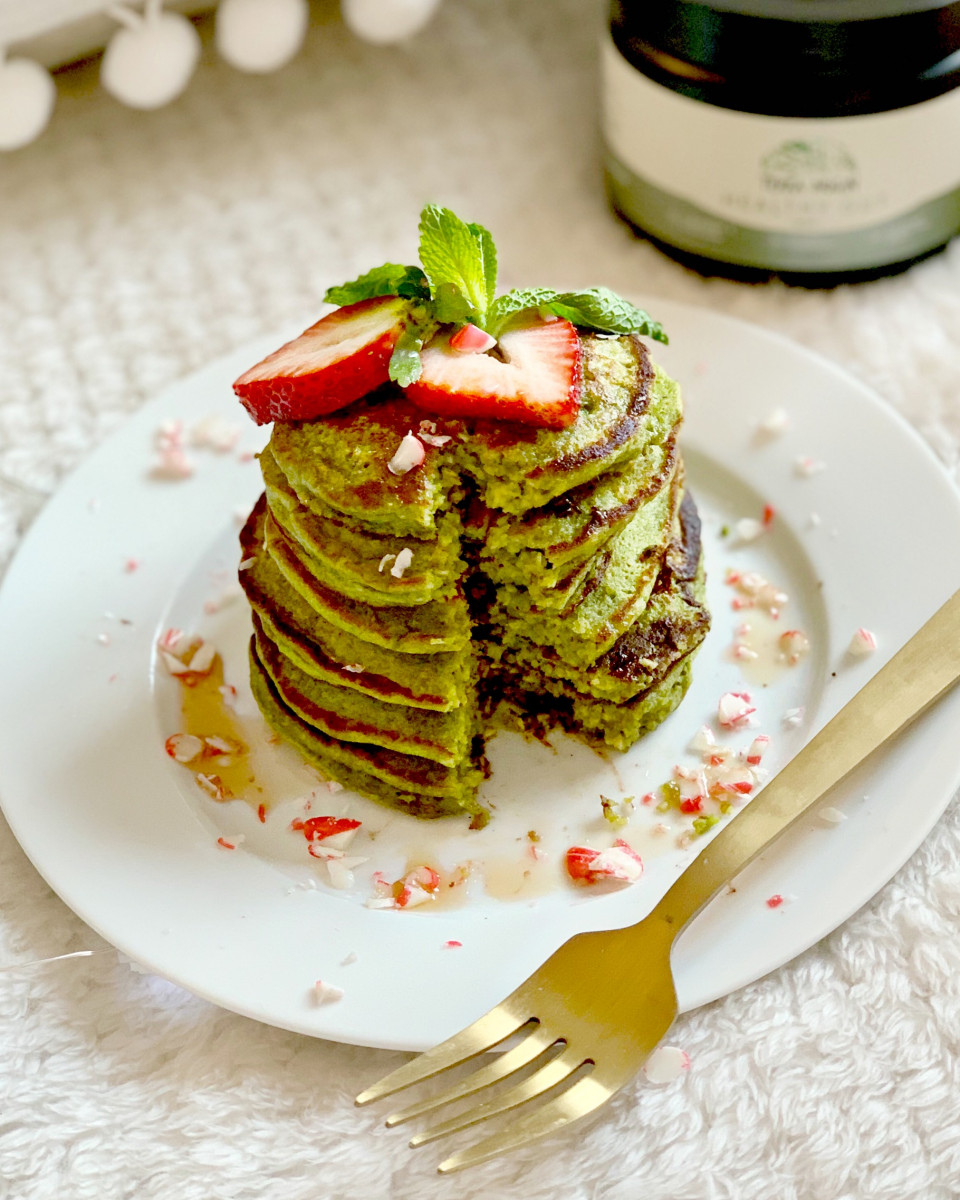 Serves 2
These healthy mint chocolate chip pancakes are gluten-free, full of fiber, and pack a few surprising ingredients!
Ingredients
1 1/2 cup gluten free rolled oats
2 eggs
1/2 cup almond milk
1 cup spinach
1 banana
2 tbsp maple syrup
2 tsp baking powder
1/2 tsp salt
1/2 tsp vanilla extract
1/4 tsp mint extract
2 scoops Terra Origin "Healthy Gut" mint supplement powder (optional)
1/4 cup organic dark chocolate chips
Instructions
Blend all ingredients except for chocolate chips for 1 minute in a high speed blender until smooth.
Spray non-stick pan with coconut oil over medium heat.
Pour batter onto pan forming small pancakes, sprinkle in chocolate chips, and cook both sides until heated through and browned on the outside.
Garnish with mint, strawberries and if you're feeling extra festive -- crushed peppermints!
Serve with maple syrup and enjoy.
Headstands and Heels https://www.headstandsandheels.com/
If you decide to make these festive pancakes for yourself please tag me (
@headstandsandheels
) and use #WhatsYourOrigin. PS – if you don't want your pancakes to be green in color, all you have to do is remove the spinach. 🙂
I hope you enjoy them!!

---
This post was sponsored by Terra Origin. As always, all thoughts and opinions are completely my own. Thank you for supporting the brands I love! ~ Mel