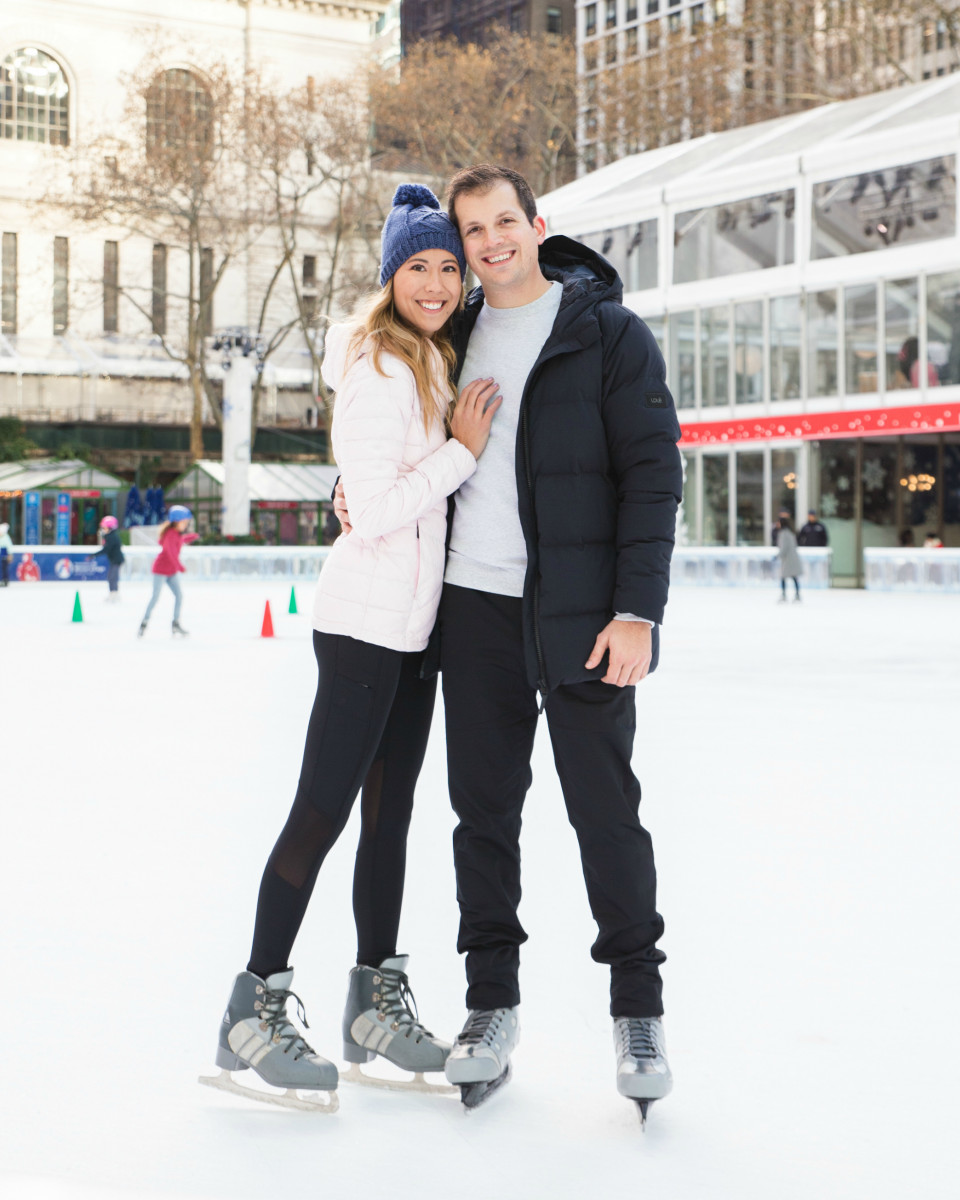 It's the holiday season and I have officially kicked things off with a bang! Bay and I hosted our little holiday party on December 1st, watched the movie "Elf" immediately following, and even took a little trip to Bryant Park to go ice skating.
Since the Winter months tend to last way too long here in the northeast, I wanted to share a few fun date ideas that can give you and your S.O. some quality time (mostly) outside of your home. And seeing as budgets tend to be a bit thin in December thanks to gifting, holiday parties and, wedding planning (well the latter is what we're focused on), I thought I'd share some date ideas that won't break the bank. Enjoy!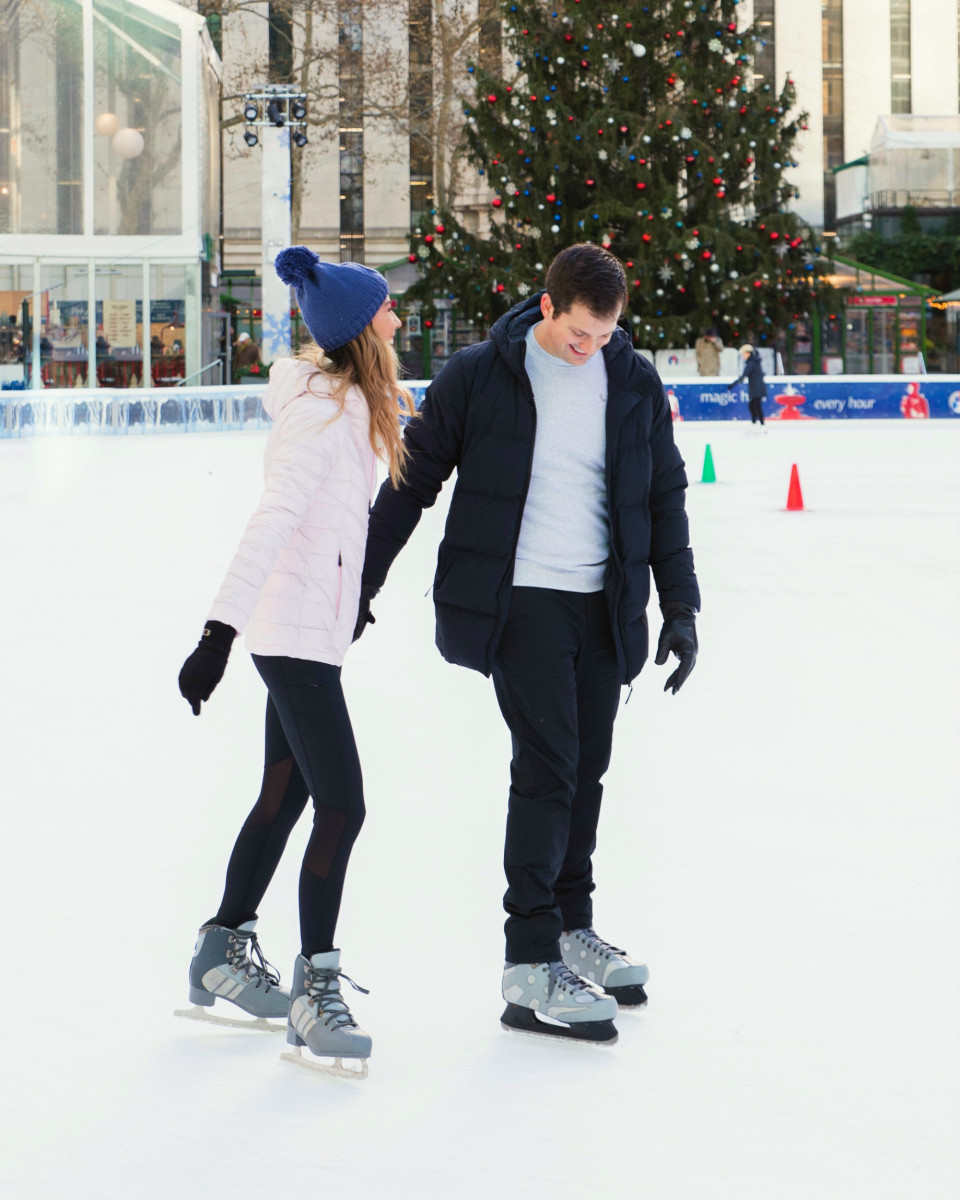 Go Ice Skating
The ultimate winter date activity, ice skating is an absolute must! Not only is it fun but it's also an amazing workout, especially if you plan on doing laps for a few hours. If you're in NYC, I recommend Bryant Park since the admission itself is free and you only need to pay for skates. If you have a Bank of America card there's an additional discount as well.
Pro Tip: Go on a weekday morning before heading to the office or in the afternoon if you can leave the office early. They open at 8:00am.
Of course, if you're doing anything out in the cold it's SUPER important to dress appropriately. Bay and I are sporting our cozy outfits from Lolë and they were absolutely perfect for hitting the ice! This isn't my first time partnering with Lolë (remember THIS post last year?) and it's because I genuinely love what they stand for and the quality of their clothing. They're based in Montreal so it's no surprise that their winter wear is some of the best on the market.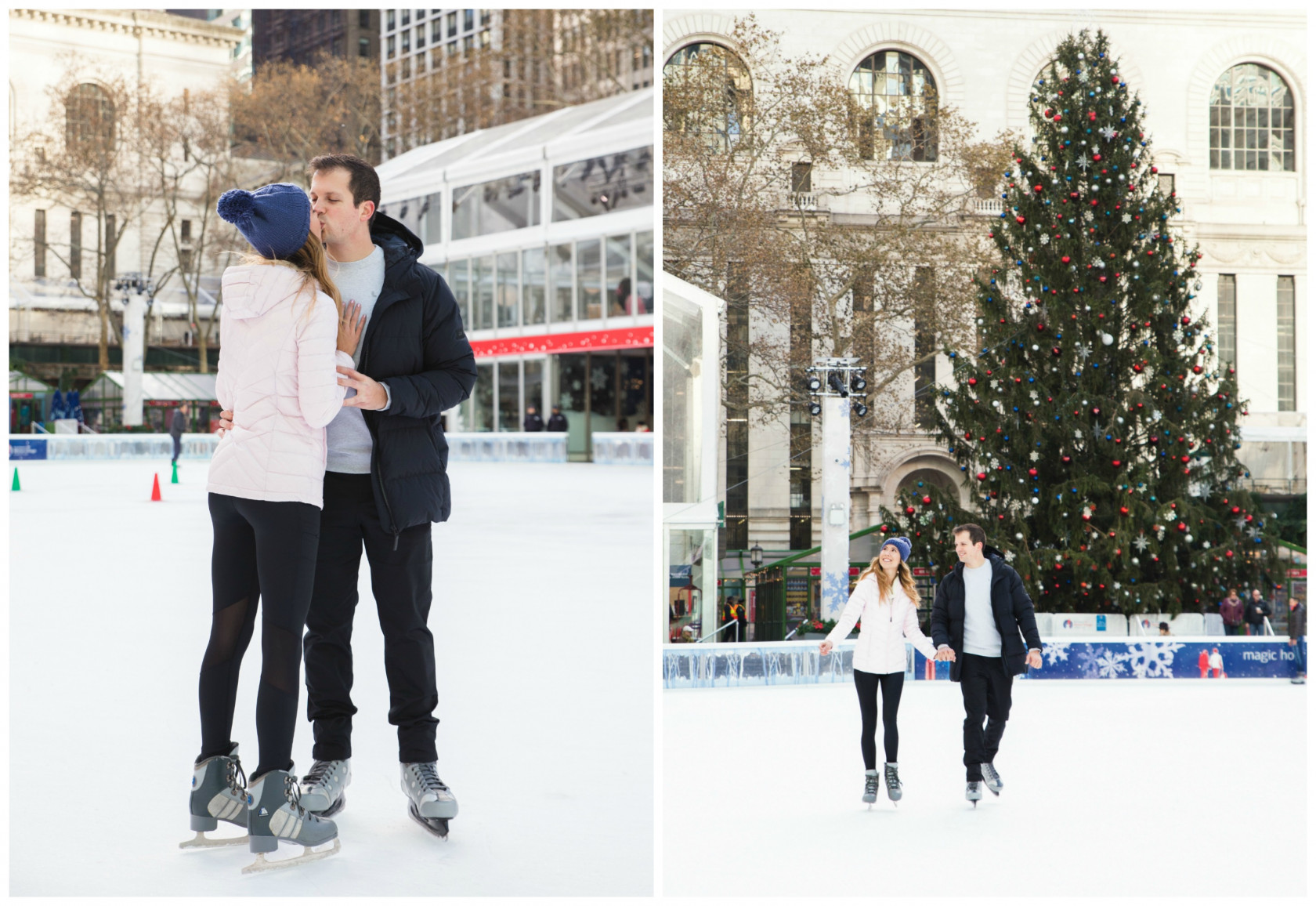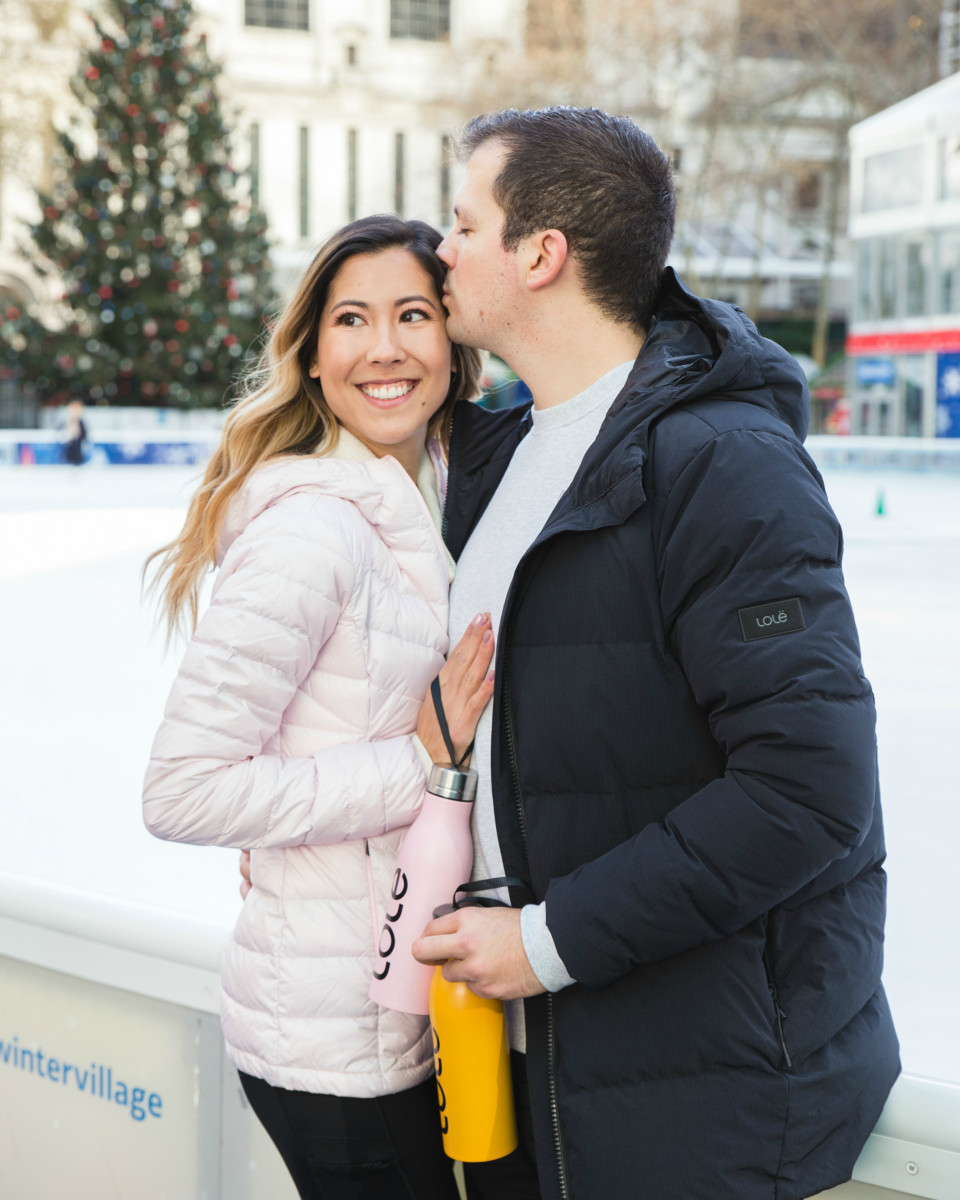 My favorite pieces have to be this light and packable pink jacket and my black burst leggings. I was a little worried the jacket wouldn't be warm enough but turns out it's such a great windbreaker and surprisingly insulating! And the best part has to be that the insulation is made from cruelty-free down! The leggings have a compression feel but still stretchy, are UPF 50+ and moisture-wicking. They're also super eco-friendly as they are OEKO-TEX® certified.*
Speaking of eco-friendly, my ivory sweater is not only cute and cozy but I was so excited to find out it was made from recycled plastic bottles! How cool is that?
Bay opted for the Classon Long Jacket and I'm SO happy he has a nice winter coat. It's the warmest jacket in Lolë's new Men's collection and is insulated with cruelty-free down. The exterior is made of Japanese Ripstop Nylon which is tear and rip-resistant and so reliable it's used by the military for parachutes! He used to wear this huge bulky thing that he's owned since college but we have since purged that now that he has this warm and fashionable number.
You can save 30% OFF Regular Priced Merchandise on www.lolelife.com from 12/12/18 to 12/14/18 with my promo code: MEL30
Despite being newbie ice skaters, we had such a great time together and I most definitely want to go back again before the winter is over.
Scope Out the Holiday Lights
Even if it's just in your neighborhood, take some time to enjoy the impressive light displays that your neighbors and local businesses put up. It's one of the things that make this season so magical and it's even better when it's just the two of you. Pack a thermos of hot cocoa, bundle up and go for a long festive stroll.
Hot Cocoa Contest
There are so many cafes and restaurants claiming to have the best hot cocoa, but which one is the true winner? Narrow it down to a few places with the best reviews and go put them to the test! The best part is, if you don't want to go into a chocolate coma this can easily turn into multiple date night adventures. 😉
Heat Up in an Indoor Salt Cave or Infrared Sauna
Okay, spa days may traditionally be super expensive but thanks to sites like Groupon and Fever Up, you can find some awesome deals on saunas and spas. NYC has a few places to get cozy, like the Montauk Salt Cave ($30 group rate!) or a single session in Higher Dose's infrared sauna for $40.
Merry Movie Night
It wouldn't be Christmas time without some Christmas movies! Get cozy and festive with a date night in! Whip up some delicious snacks and throw on your favorite holiday movie. Some of my favorites include: Elf, The Grinch, The Holiday, and Love Actually.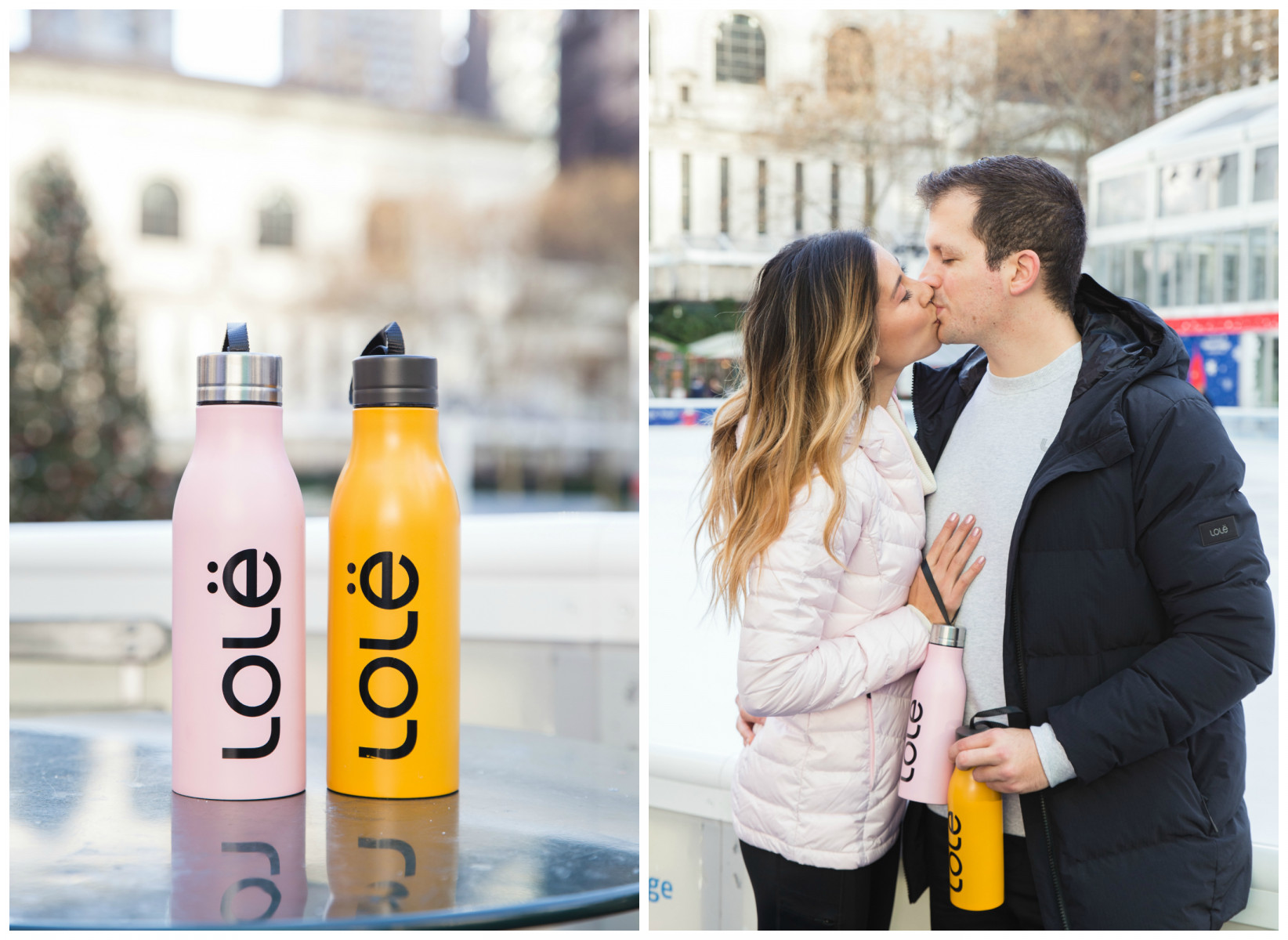 Go See a Show
You may not be able to see Frozen on Broadway if you're trying to save money but luckily there are plenty of free performances throughout the season! Do a quick google search for free local performances and if you're in NYC, be sure to check out Time Out for a listing of some free and other affordable shows.
Build a Snowman
Do like Elsa & Anna and go build a snowman! Of course this only applies to those of you who live where it snows. If you're in Florida or somewhere warm and tropical, you can always build a "sandman" on the beach instead.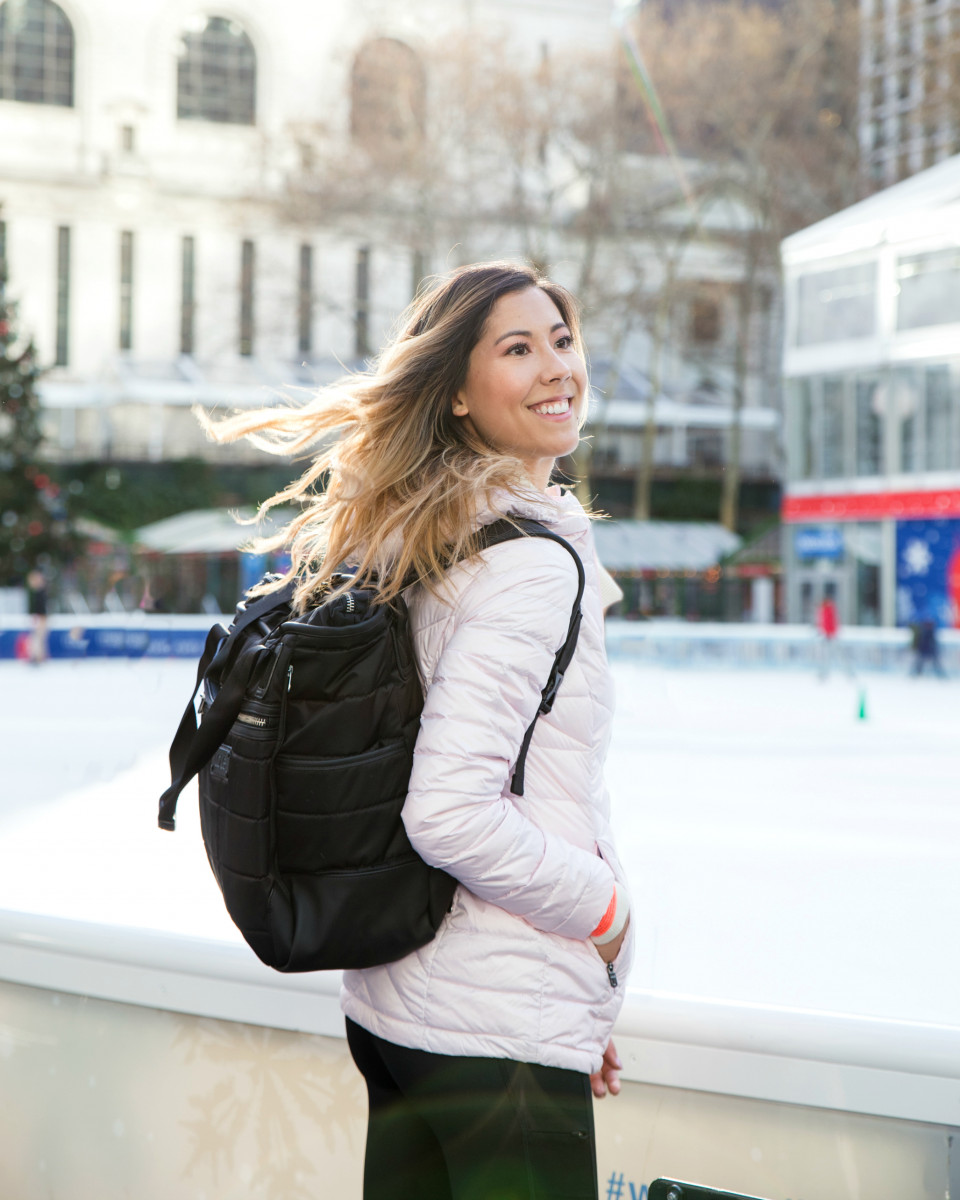 Rent a Tiny Cabin
If you're in NYC, take a little train ride upstate and stay in a Tiny Home Resort for a night! It's a great way to unplug and chill (while staying warm) with your S.O. The cabins are so adorable, offer up great views of the woods — which will look extra magical if it happens to snow, and cost about $150 a night.
Make your own Ugly Sweaters
Heading to an ugly sweater holiday party? Instead of buying your sweaters at Target like everyone else, why not get crafty and make your own? Turn it into a fun date activity by heading to your local Goodwill and craft store. All you need is a hot glue gun and some bows, pom poms, and tinsel to make some really wacky but fun "his and hers" sweaters.
Head to a Museum
Stay warm and cozy by checking out the latest exhibits at your local art museum! Bay and I are big fans of the MET and every year they display their famous Neapolitan Christmas Tree in the Medieval Sculpture Hall. We're planning to go check it out before we head to Florida.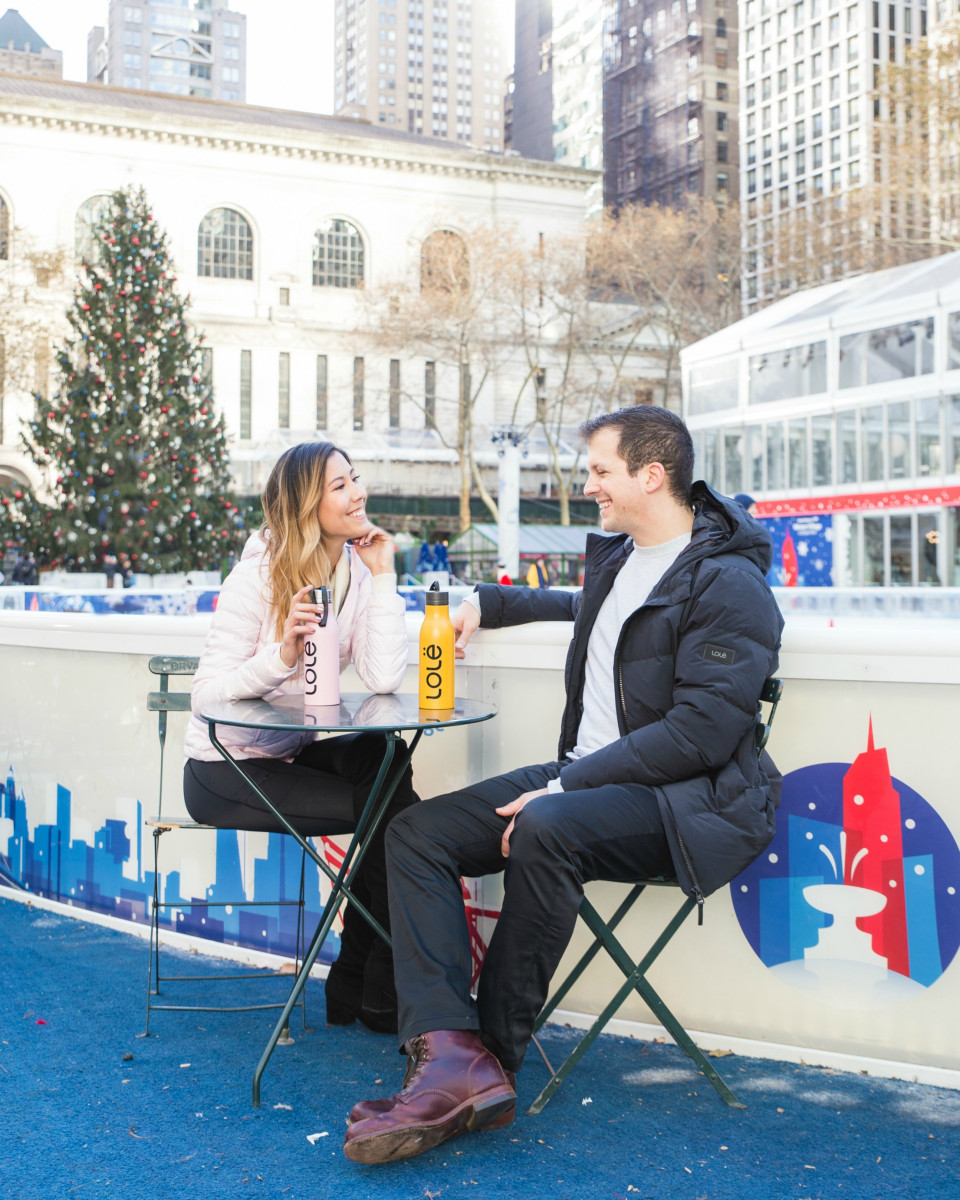 I hope you enjoyed this roundup of fun and festive winter date ideas! If you're loving Bay and my ice skating outfits be sure to check them out below! FYI – the black quilted bag I featured is vegan for all my animal loving, plant eating friends. 🙂

Sending so much love and holiday cheer your way!

---
This post was sponsored by Lolë and contains affiliate links. As always, all opinions are strictly my own. Thank you for supporting the brands I love! ~ Mel