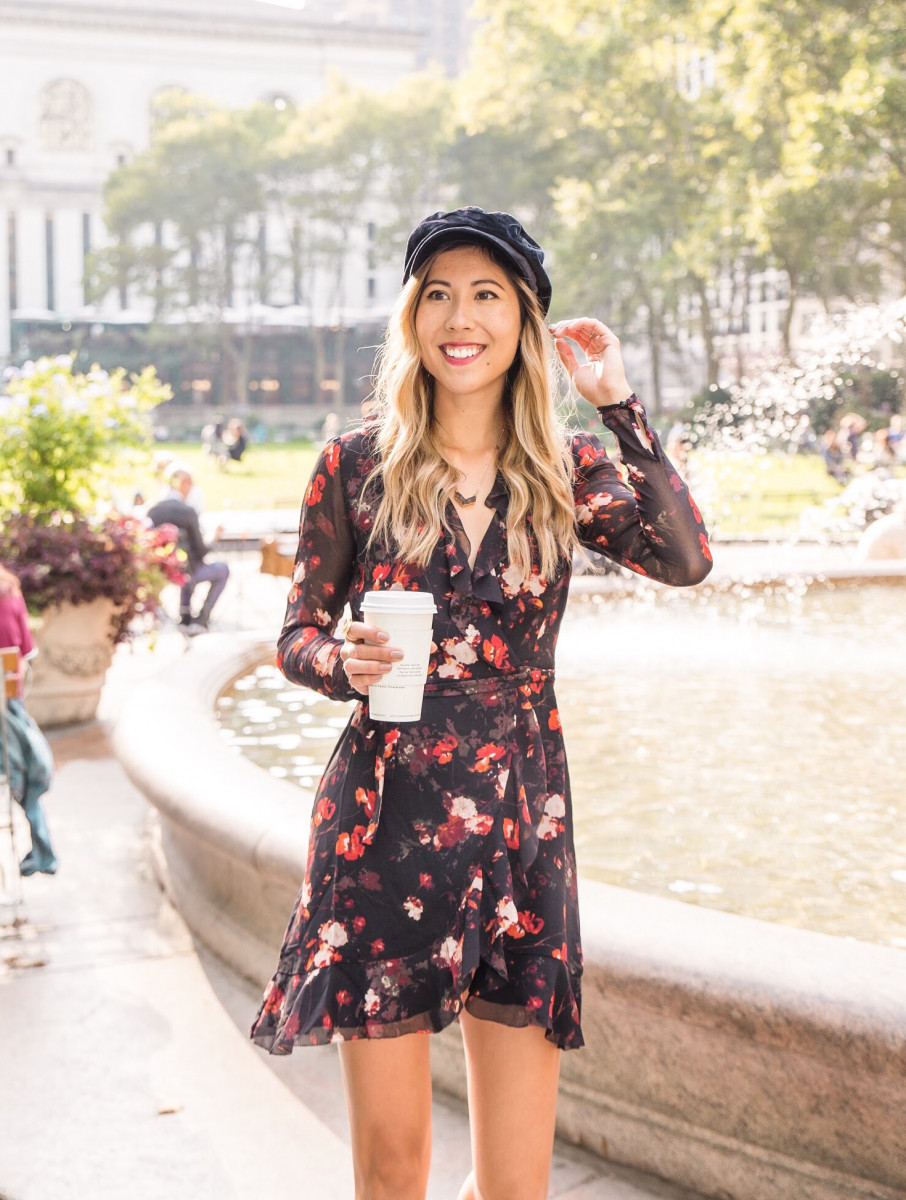 Happy Friday, friends! It's been a hot minute since I've done a Friday Favorites roundup and I felt the change of seasons warranted a special Fall edition. As you all know, I have the opportunity to test out various beauty products, activewear and food each week thanks to very generous brands. Some of them I end up loving. Some I could do without. And some are SO cool, fun, or practical that I feel the need to share it with the world! The following are a few of my favorite things that I'll be rocking all season long and I hope you end up enjoying!
This Rose Gold Set From Calia By Carrie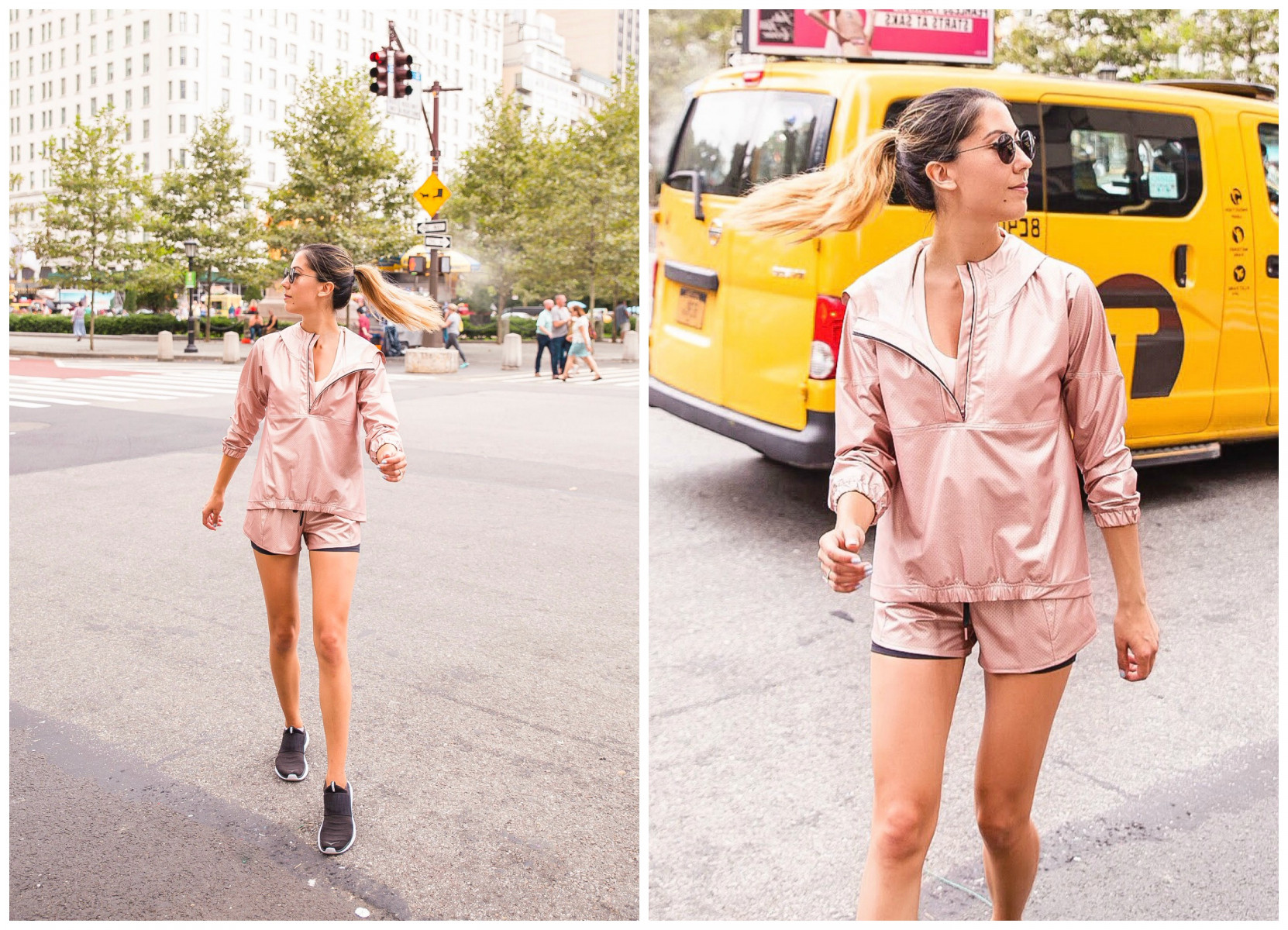 There are so many amazing sets I'll be wearing this season, but so far none have received as many compliments as this one. Is it beautiful? Yes. Is an all rose gold outfit super extra? Of course. But that shouldn't stop you. 😉
The top does not zip all the way so you do have to pull it over your head, which can be slightly annoying after a sweaty workout but works great on the way to the studio. I love that the shorts have a tight black spandex inside layer. They're great for boxing, hot yoga and HIIT classes (I've worn them to all three) and thanks to the bottom layer I never have to worry about flashing anyone.
The best part is that this whole look is SO affordable! I just checked the site and they're on sale now for $25 (shorts) and $45 (jacket). Get on that!
My Black "Dance" Bag From Caraa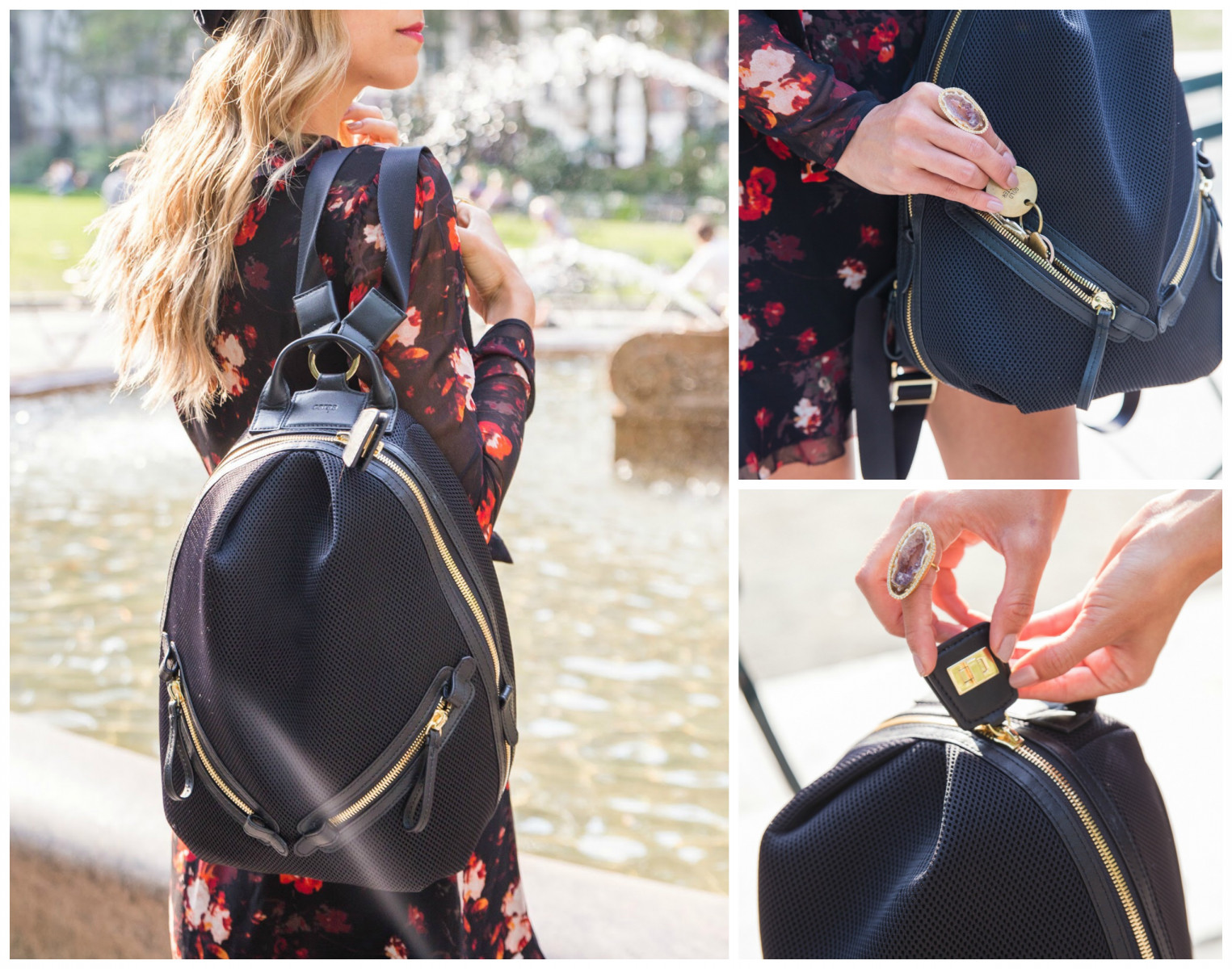 This is seriously my new go-to bag for EVERYTHING! It's so chic and fits my laptop, multiple books, wallet, keys, snacks, shower wipes and more. I brought it to the airport on my most recent trip to Florida but also use it frequently here in the city.
The material is a mix of mesh, nylon and leather. Gold zipper details and lock mechanisms add a beautiful touch to the otherwise classic backbag. The straps are wide and thankfully don't cut into your skin, even when I've loaded way too much into the bag.
It is on the pricier side at $225 but I honestly can say, I would buy one myself. It's such a great investment piece and something you'll get guaranteed use out of. It's also a great holiday gift! Feel free to use my code: MELANIET10 for an extra 10% off.
Pumpkin Spice EVERYTHING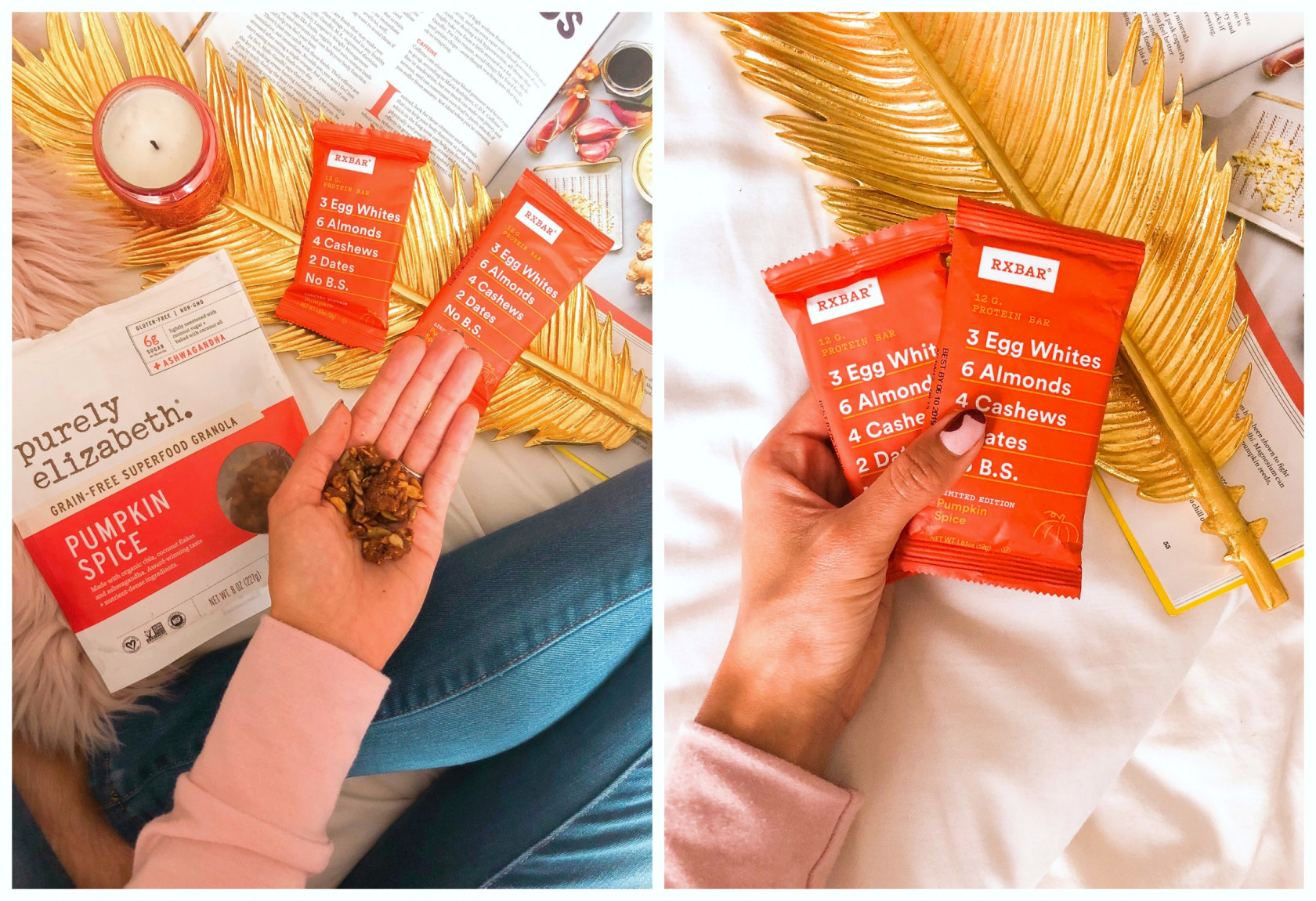 At the risk of sounding super basic, pumpkin spice is one of my favorite things about Fall. Of course I love them in latte form but if those aren't your jam and you're craving something a little healthier, I've got two new favorites for ya:
Purely Elizabeth Pumpkin Spice Grain Free Granola: This granola blends nuts, organic chia, pumpkin seeds, nutmeg, and ginger for a super tasty pumpkin spice treat. The secret ingredient is Ashwagandha, a powerful adaptogen and ancient medicinal herb that helps the body manage stress. I love eating the granola straight out of the bag as a snack but it also tastes really good over greek yogurt. You can try it as a topper on smoothies and protein shakes for a satisfying crunch.
RxBar Pumpkin Spice bars: Featuring eight clean ingredients and 12 grams of protein, these are such a great post-workout snack that you can throw in your bag. This flavor is reminiscent of pumpkin pie but not quite as sweet as the real deal. They're also free of preservatives, fillers, dairy, and soy.
Pairing Floral Dresses with Edgy Accessories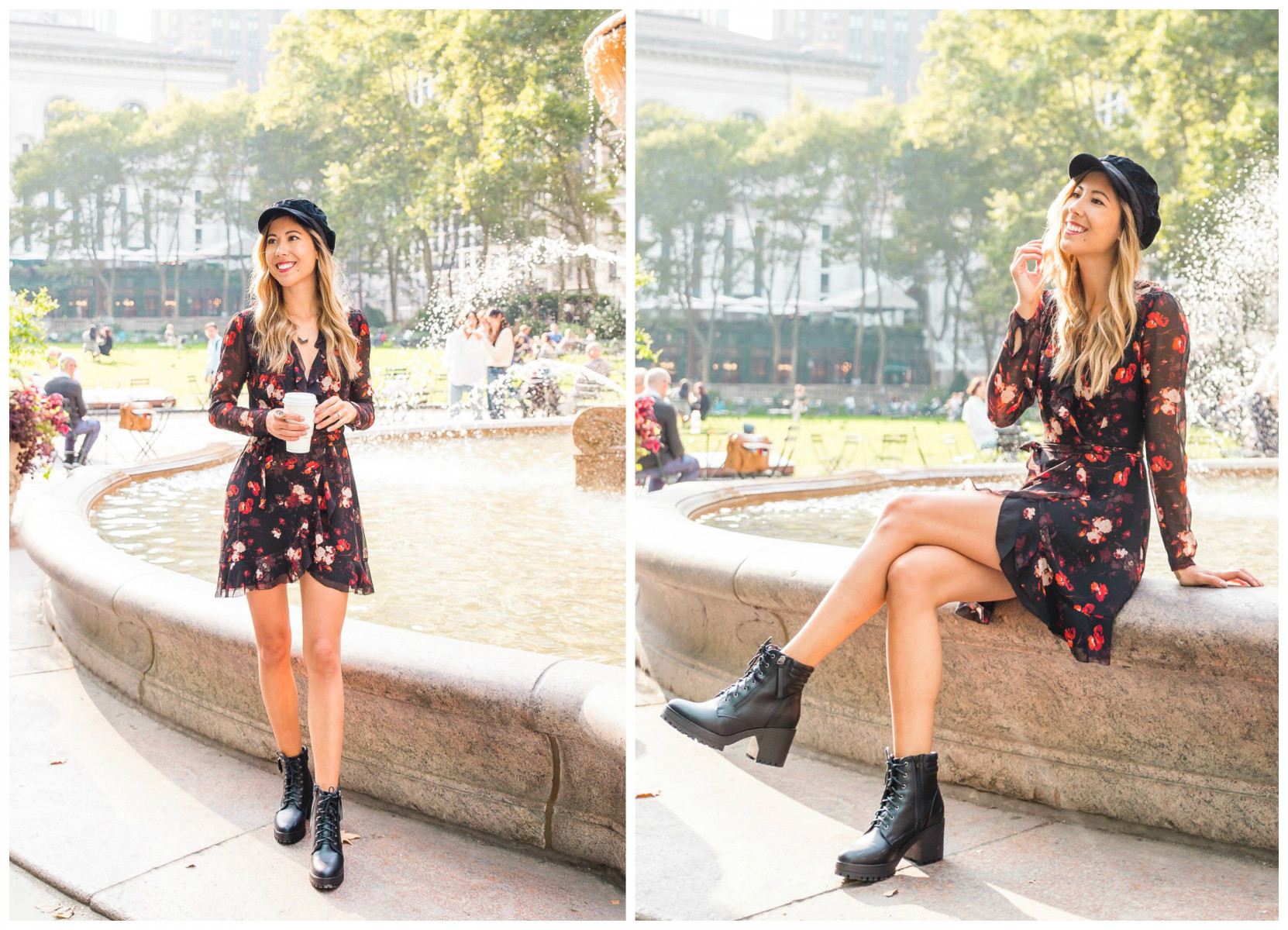 This is hands down my favorite non-activewear look this Fall. There's something about mixing feminine pieces with tough details like leather jackets and combat boots that manage to look fun and chic.
I bought the heeled combat boots on Nasty Gal and to be honest, they were the only purchase from that company that I actually liked. They're surprisingly comfortable, super affordable and look great with a variety of outfits.
The dress is from Aritzia and is a universally flattering wrap style. It's pretty short so I try to wear black boy shorts underneath to avoid any Marilyn Monroe moments while walking on the street. When the weather cools down a bit I'll be rocking this with black tights or my go-to OTK (over-the-knee) boots.
Function Of Beauty Shampoo and Conditioner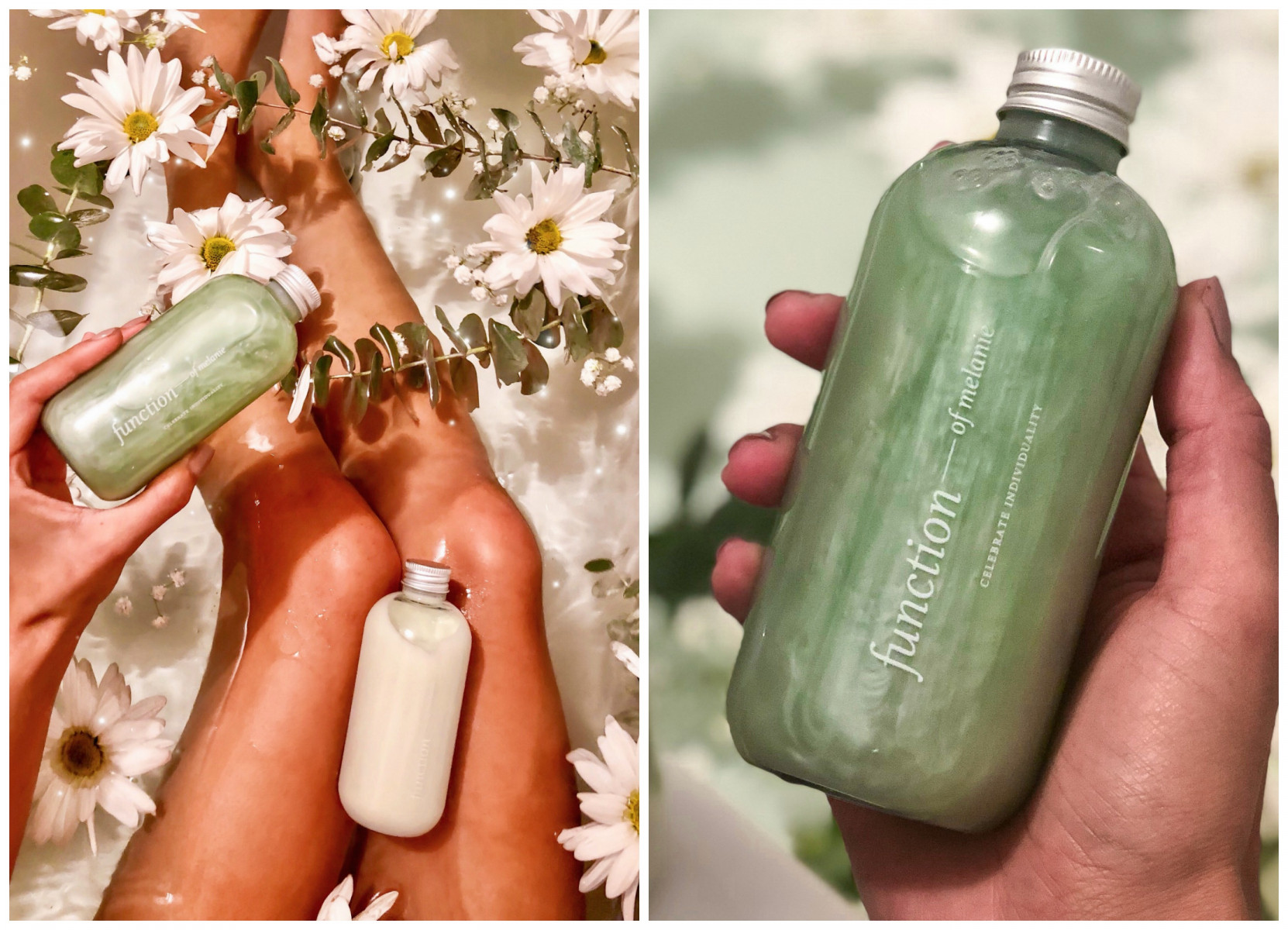 I'll admit, when I first saw these customizable vegan hair care products on Instagram I thought it was all hype. Sure they come in multiple colors and look absolutely stunning… but was it worth the price? When I worked in PR I used to get all my hair care for free so paying anything over $10 for shampoo and conditioner has been a struggle for me.
Thankfully I was given the opportunity to try out the new pistachio scent and fell head over heels in love. I'm actually ordering a refill soon because we're sadly almost out! I blame Bay for stealing dollops whenever he showers.
Before they sent me the two bottles, I had to fill out a personal hair quiz on the Function of Beauty site. This covered everything from my hair length and texture to what hair goals I was looking for (shine, deep condition, thermal protection, color protection, and hydrate). What I ended up with is a personal elixir of hair care goodness that literally smells like a French pastry shop. I'm OBSESSED.
~
I hope you all enjoyed this roundup! Have a lovely weekend and I'll be back with another post very soon.