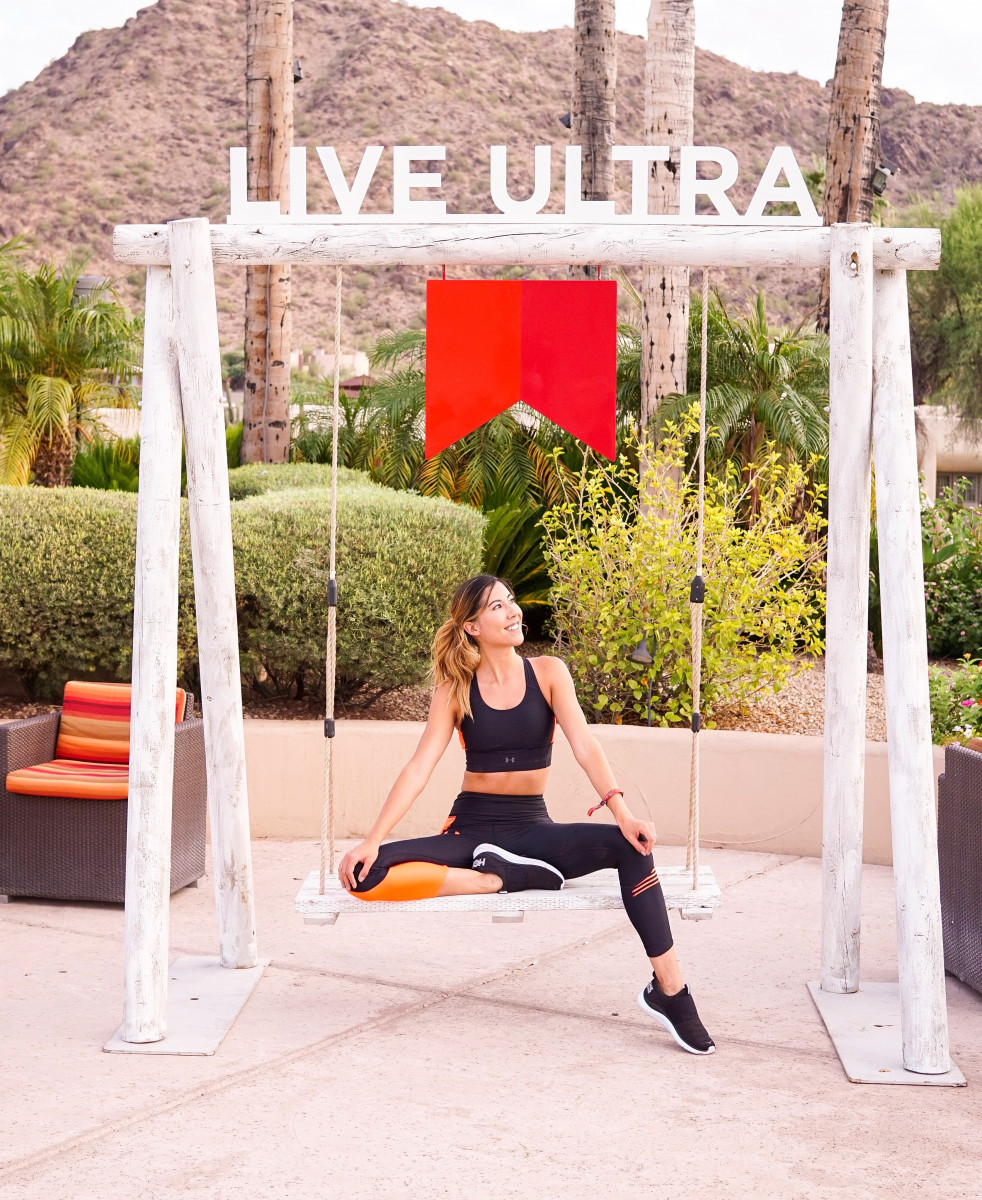 Oh my goodness, where do I even begin? If you've been following along on my Instagram I'm sure you're well aware that I spent the past weekend in Scottsdale, Arizona participating in Michelob Ultra's first ULTRA Fit Fest event. This festival (think Adult summer camp meets wellness retreat) took place at the most beautiful resort, the JW Marriott Camelback Inn. The grounds were immaculately kept with various types of cacti, flowers, trees and even little babbling brooks peppered throughout. Instead of a traditional hotel style, the rooms were scattered about in these beautiful, adobe-esque houses. Mountains could be seen from every direction of the resort and Native American inspired decor, teepees, and statues were placed in various areas of the complex. Oh and the pool!! Let's just say it was my favorite part, especially because of the giant pool party that was held on Saturday.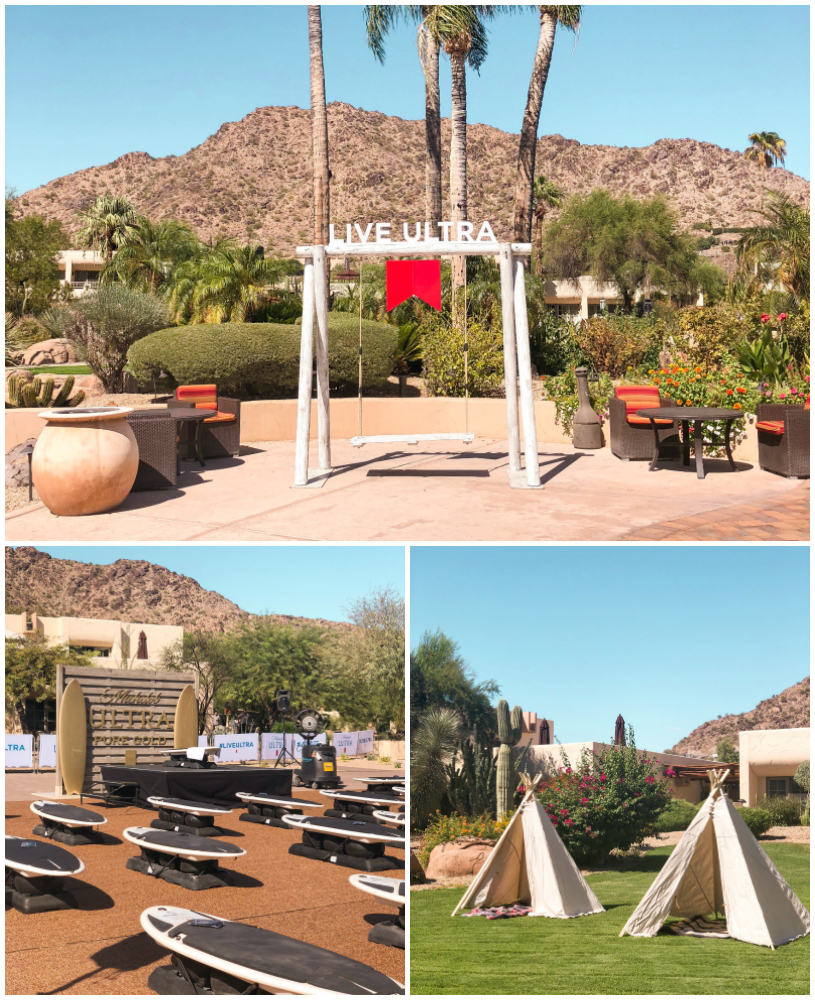 I think I'm getting ahead of myself…
Let's get down to the good stuff. A little breakdown of what I did each day and hopefully what you all can expect during next year's ULTRA Fit Fest!
DAY 1
Arrival: My flight landed around 1pm PST and after checking in, I changed into my workout clothes and explored the resort. Most of the workouts were located within the main conference center within various ballrooms but City Surf was set up with all their surfboards outside and the ULTRA Oasis (a little recovery area with a braid bar + facials) was in a separate small building. It wasn't long after exploring that I was able to bring my things to my room and head to the first workout.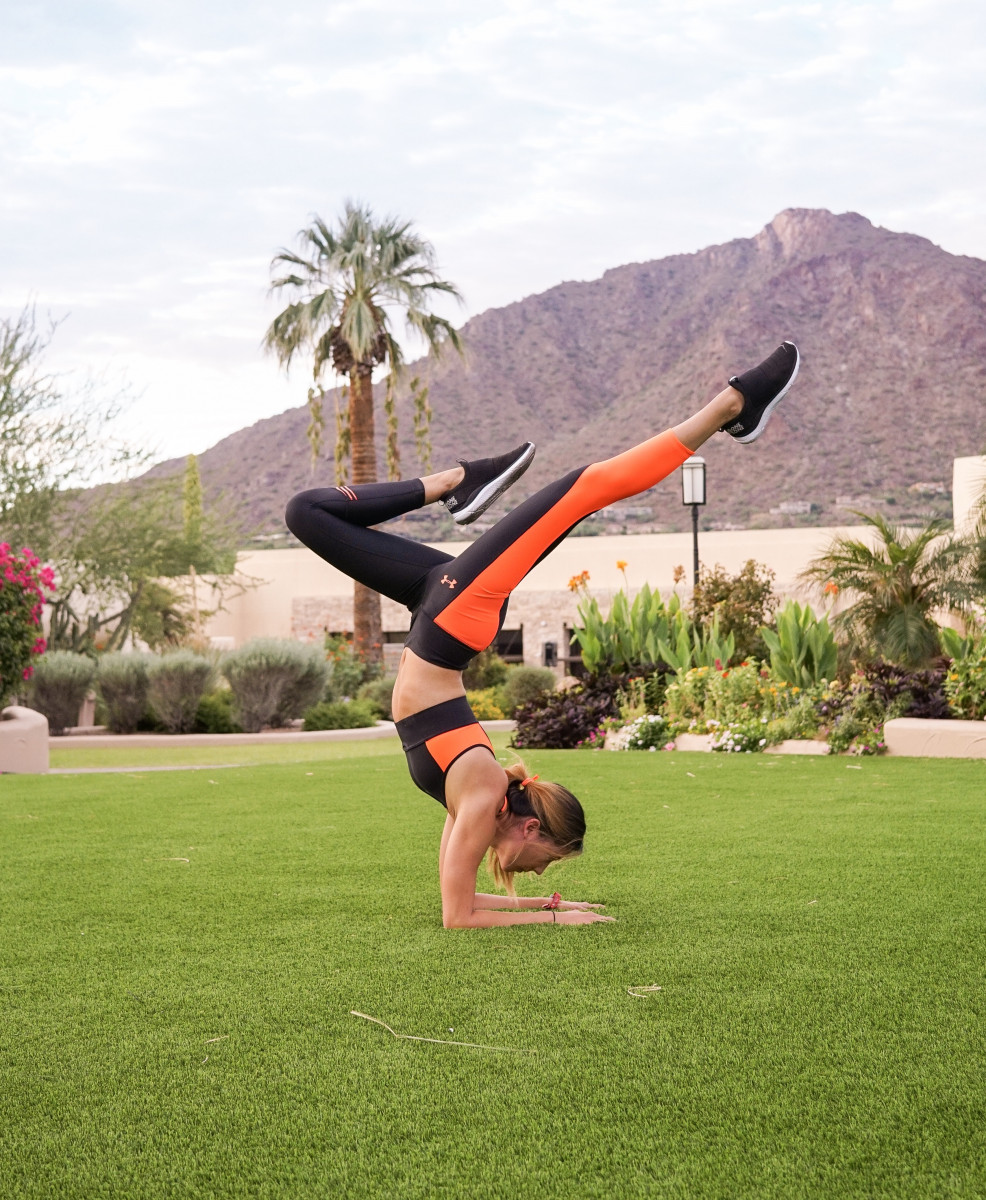 Workout: Dogpound. Admittedly, I only stayed for half of this HIIT workout that consisted mostly of planks, squats, lunges, burpees, high knees, and the like. I was trying to conserve some energy for what I knew would be an exhausting Saturday. If you're in NYC and looking for a super tough workout I definitely recommend checking out their studio. I went once for an event with Dressbarn and Ashley Graham (strange combo I know) and it really kicked my ass.
Dinner: As a way to kick off the festivities they served up a huge barbecue and salad bar with lots of complimentary beers. I loaded up on veggies and some cornbread and treated myself to a delicious peach cobbler a la mode for dessert. I think everyone went a little easy on the drinking since the first workouts started at 8am the next morning. After dinner, a few friends and I went to the pool to chat for a bit and then in true grandma fashion, I was in bed by 9:30pm.
DAY 2
Sunrise Shoot: Since my body was still pleasantly on New York time, I woke up bright eyed and ready for the day at 5:30am. This was perfect because a few of us wanted to get together prior to breakfast and snap some pics in the beautiful morning light. As you can see, the Arizona sunrise was quite breathtaking.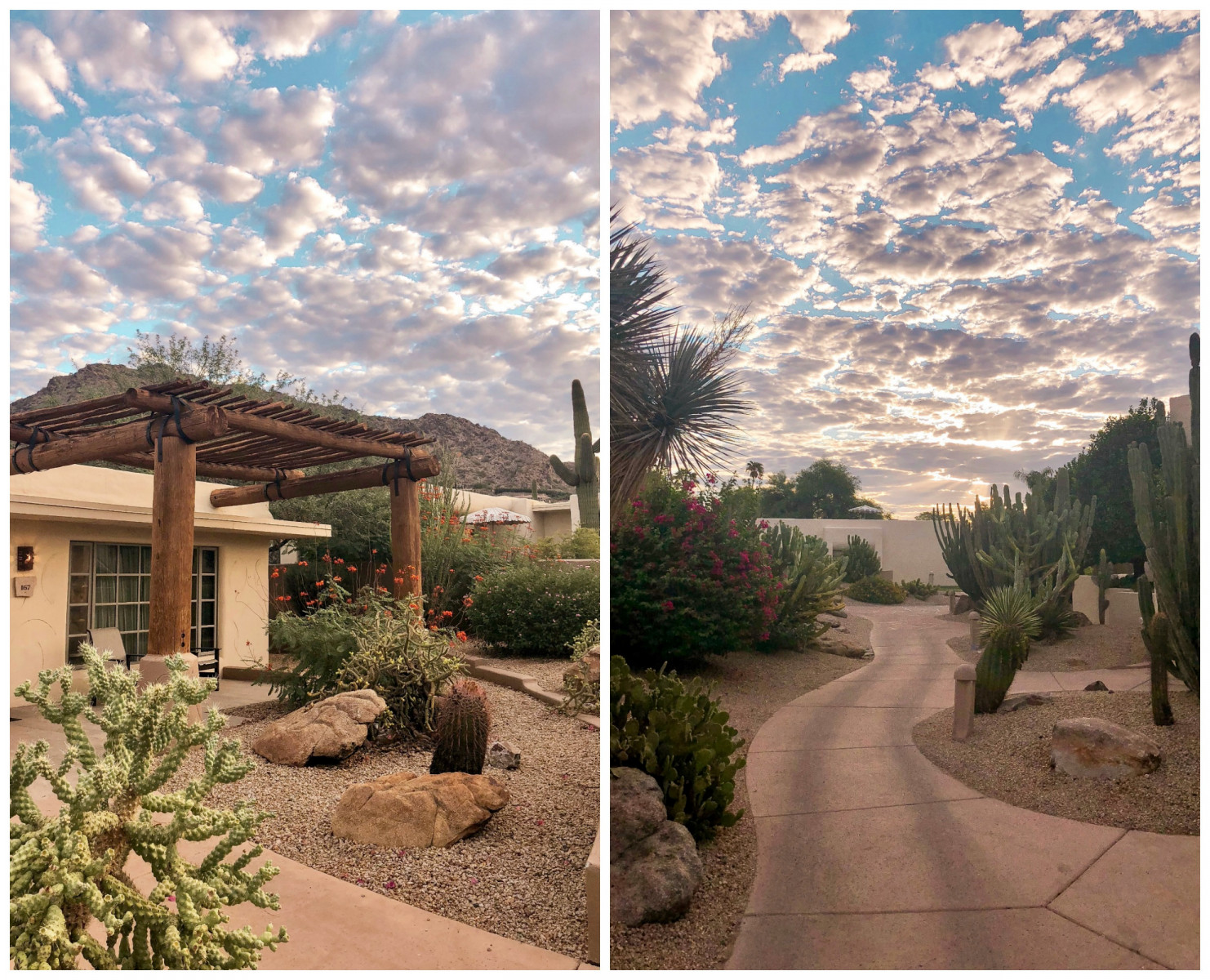 Breakfast: Since breakfast started at 7am and I had signed up for two back to back workouts from 8-10am I knew I couldn't fill my belly too much and risk getting sick. Thankfully, Michelob Ultra came through with the perfect light breakfast buffet complete with mini avocado toasts, various fruit, coffee, yogurt and little protein pancakes. It was the perfect way to kick off the day!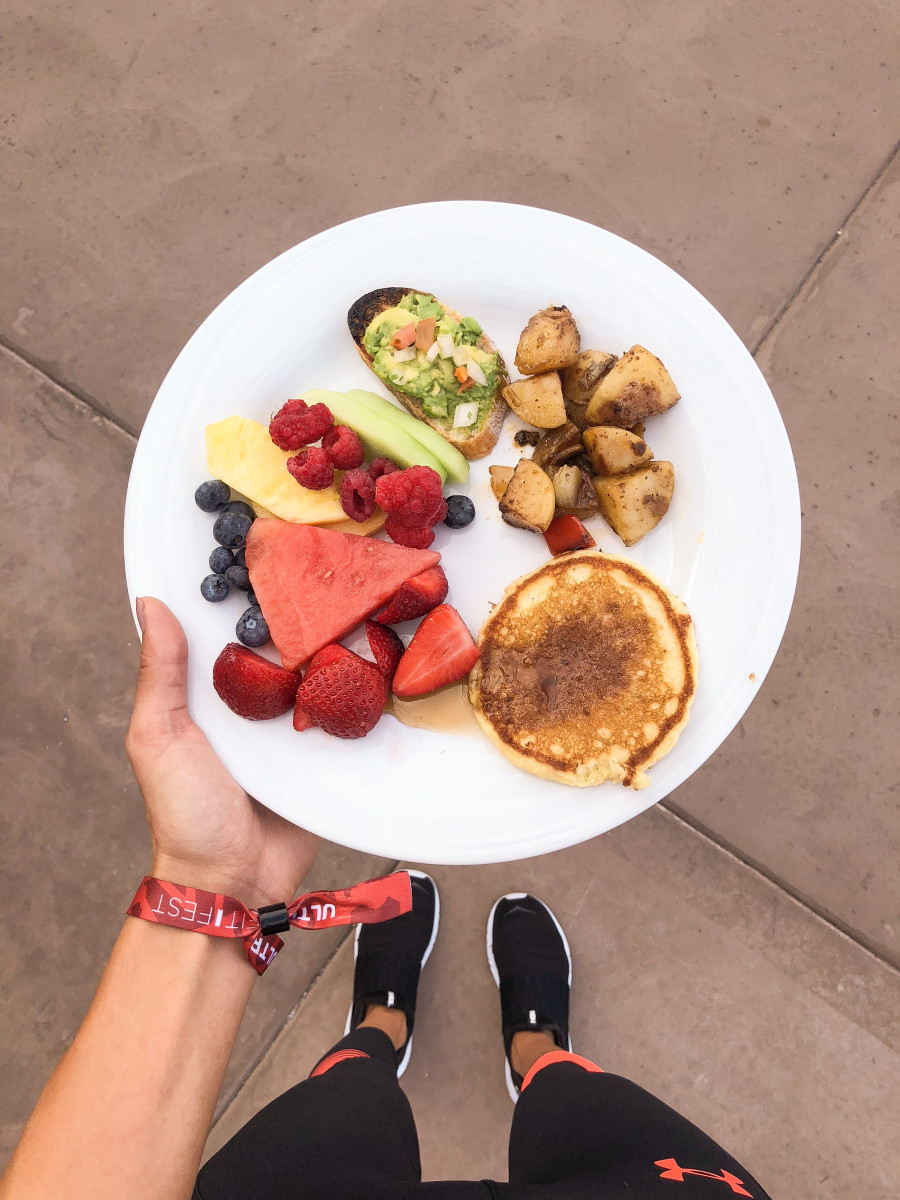 Workouts: The first workout was Meagan Roup's Sculpt Society class — a mix of cardio and, well, "sculpting" work that really targets the glutes and legs. I've taken her class before at Bandier's Studio B and definitely recommend it if you're looking for a low intensity workout with big results. This class included sliders and lots of repetitive leg lifts that had me dying but in the best way.
Immediately following was Vixen Workout, a cardio dance style class. I'm a huge fan of 305 Fitness so I figured I would like this one… and I let me tell you, I was right. Led by Vixen's founder, Janet Jones (a former Miami Heats dancer), it was probably one of the most fun classes I've ever taken! She had such an amazing presence and everyone had huge smiles on their faces as we pop, locked, dropped, twerked, shimmied, and shook our way around the room. I was feeling so energized by the end of the double workout that I was actually kind of sad my next workout wasn't until later.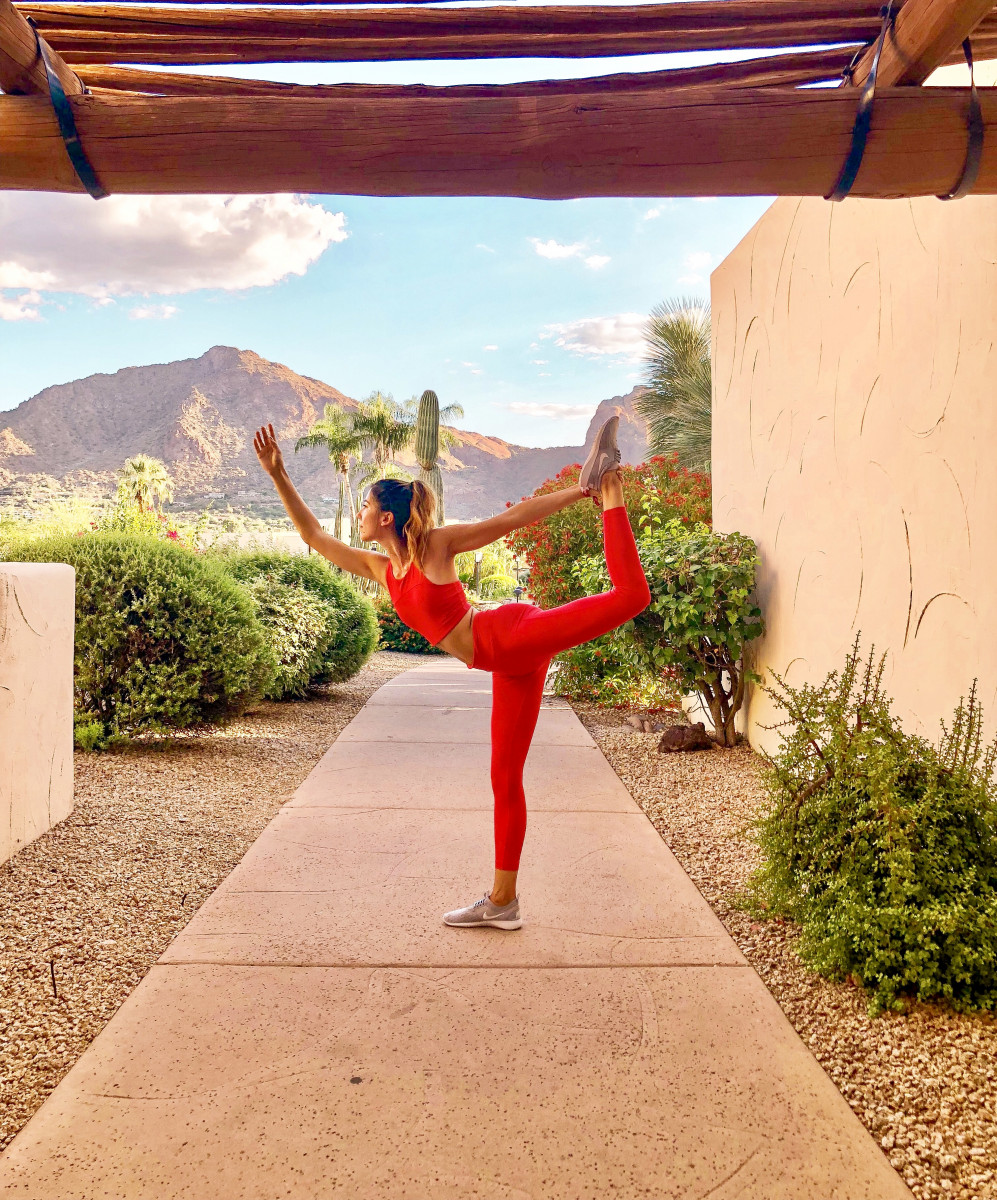 Pool Party: Since I had a nice break until the next activity, I decided to head to the pool before lunch was served. It was such a brutally hot day so hanging out in the cool water, sipping on a beer, and following that up with a light middle eastern inspired lunch (lots of hummus, pita and tabbouleh), felt SO amazing. There were even giant gold swans and other pool floaties for our use, which you know I had to take advantage of.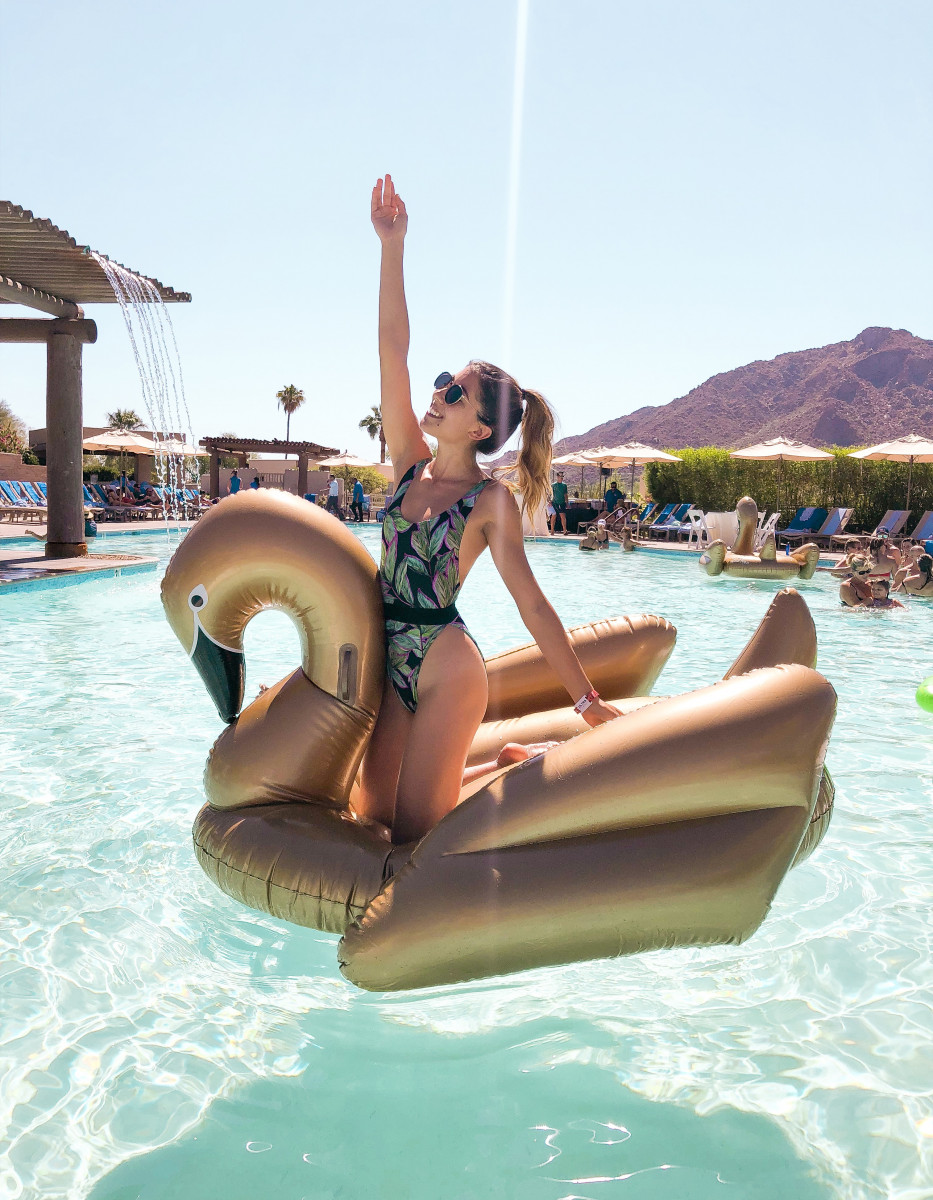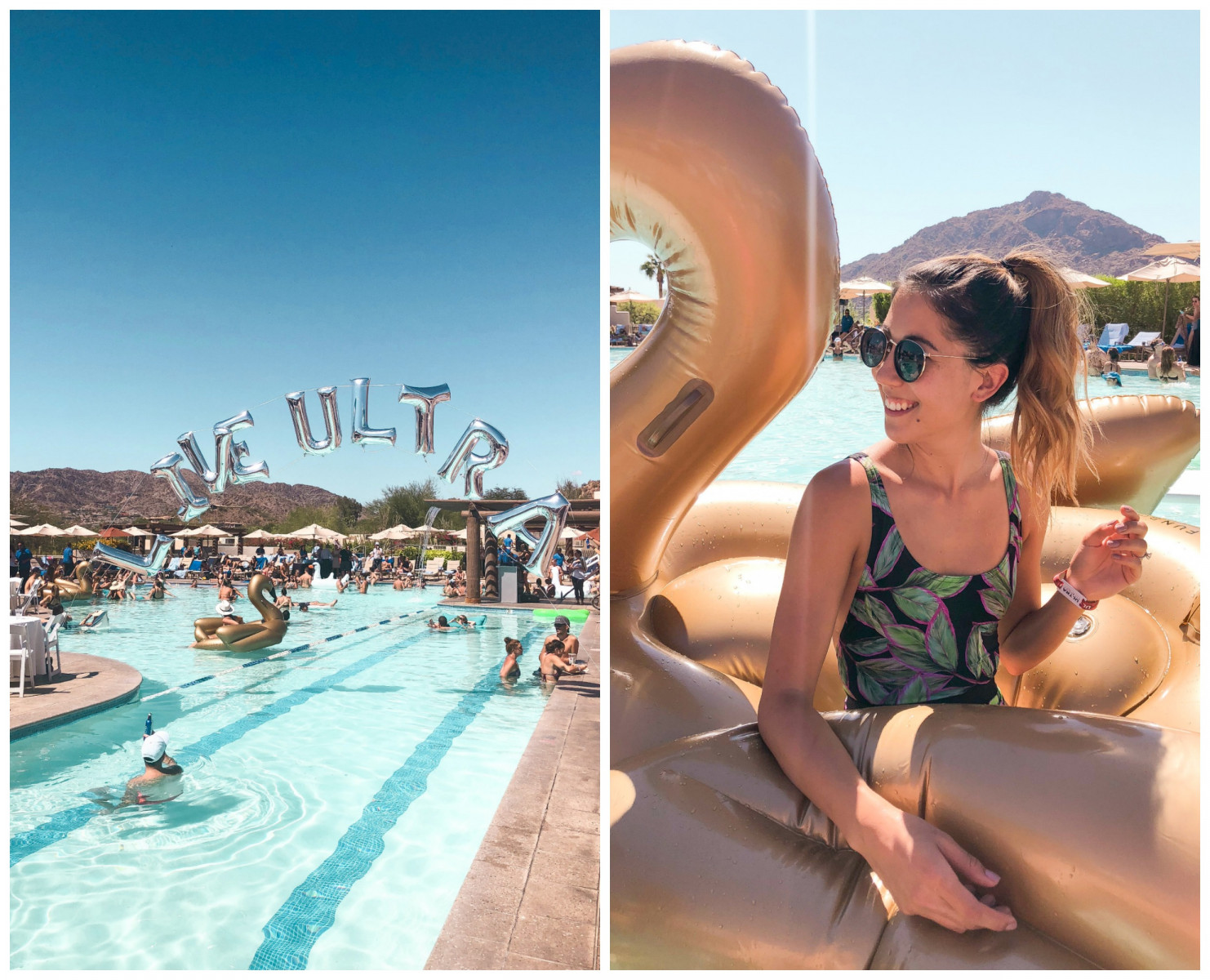 Meditation + Yoga: Once the pool party wrapped up it was time to change back into a fresh workout outfit and head to a 30 minute meditation with MNDFL. If you're based in NYC and are looking for a meditation studio, MNDFL has multiple locations with over 40 teachers who all come from different meditation backgrounds. The one we happened to practice at the fit fest was mindfulness and kindness meditation. Two types that I think go really well together and had me feeling super zen by the end.
Shortly after I went to a y7 yoga class. If you're new to y7 they're a cult favorite and have 9 studios in the city. The real deal offers up yoga in a dark, heated room with plenty of candles and no mirrors. Each sequence is taught 3 times, once slowly, then one breath one movement, and finally a "flow on your own" period where they crank up music from Drake, Lil Wayne, etc. and you're free to do the sequence at your own pace and in your own style. After such a long day ending the workouts with yoga was exactly what I needed. It felt amazing.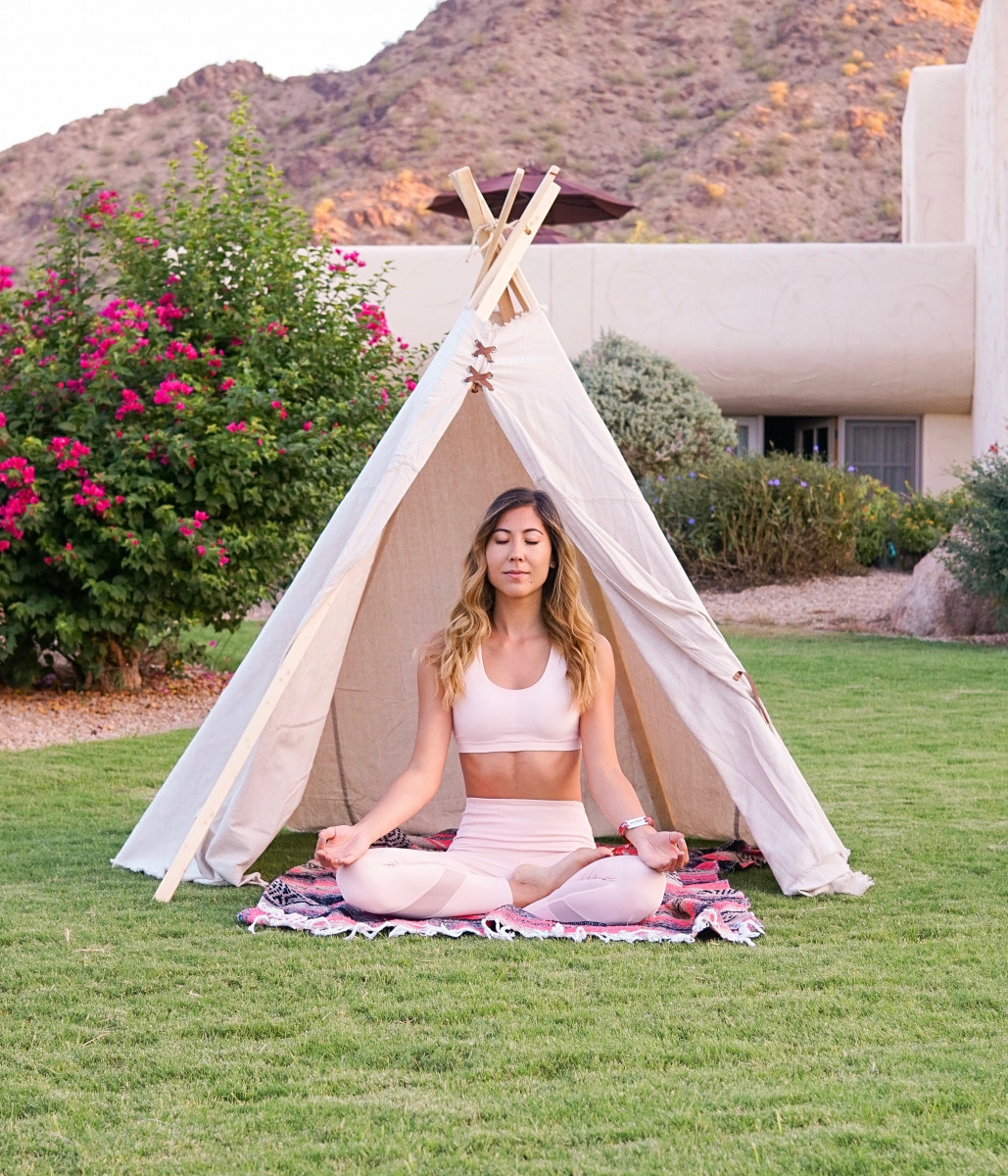 Evening Entertainment + Dinner: I had about an hour to quickly shower, change and head to the happy hour. We were all ushered into a room for a quick performance by Kali Uchis (don't worry, I didn't know who she was either) before being ushered back out for dinner. At this point we were all starvin' so I loaded up my plate with every pescetarian friendly option I could find.
There were definitely so many people partying it up afterwards! I even heard some people went out to Old Town and didn't get back until 5am, but I was exhausted and was back in my room with a face mask and sweatpants on at 9pm.
DAY 3
Closing Ceremony: I woke up to watch the sunrise one last time and then headed to breakfast where "grab n go" style grub was waiting. I decided to skip the yoga class I originally signed up for and just savor my breakfast for awhile. Around 9am I met up with everyone on the big lawn for a beautiful sound bath (a healing meditation experience involving singing bowls, drums, small gongs, etc.). Once that was over there was a brief closing ceremony with prizes, last announcements and even a beautiful Navajo blessing. Then it was time to pack up and head home! Although I did have a few hours to spare and sit by the pool before going to the airport. 🙂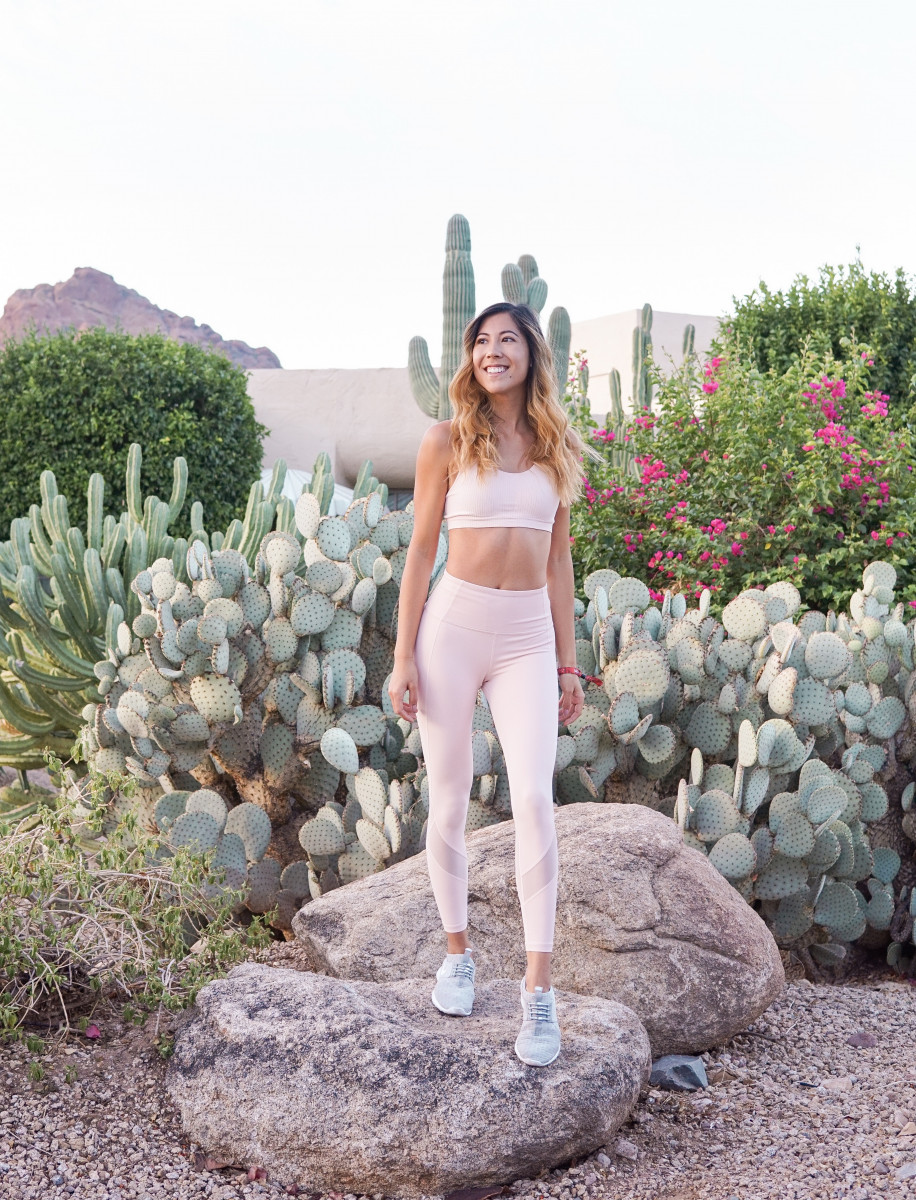 Overall, this was such a fun experience and it has me itching to sign up for a full week long wellness retreat. Obviously with the wedding coming up I should be good and not do something crazy like that but I'm making it a goal to go on one before the end of 2019. Maybe it'll be a fun way to celebrate my 30th birthday?
Anyway, I should say bye for now because I have another post I'm writing up for ya'll that I'll be releasing this week. Stay tuned!