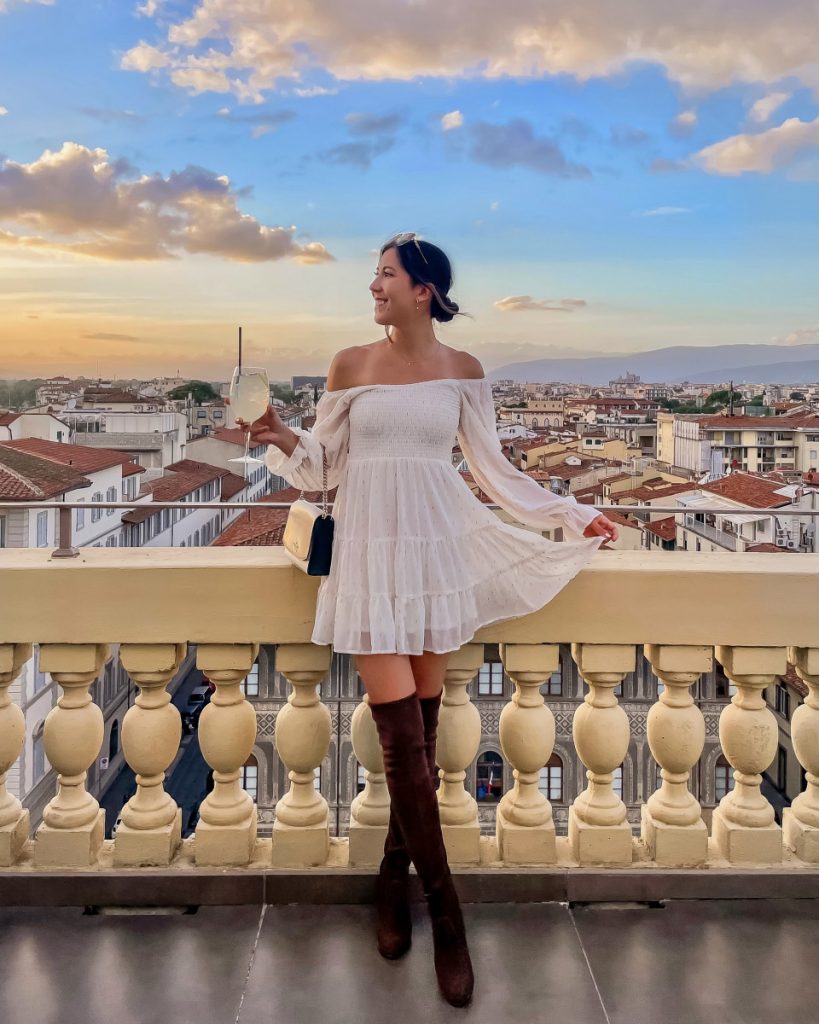 Hello traveler friends! After spending 10 magical days in Italy last month I am finally getting around to sharing the itinerary that I promised you. I hope that you find it to be helpful as you plan your own Italian vacation and maybe even spark your curiosity to explore a few hidden gems that you may never have heard of before.
But first, a little backstory.
I've been craving a European getaway ever since my husband and I got engaged in London and traveled to Paris immediately afterwards back in 2018. After several years of significant life and world events like getting married, being locked down in NYC through 2020 and making the cross country move to Denver last year, 2022 finally felt like the right time to travel internationally again. And what better country to experience than the mecca of delicious food, wine and culture that is Italy!
The last time I visited Italy was right after high school with a group of students. Since we were exploring multiple countries in just a few weeks, we only had time to stop in two cities in Italy: Venice and Verona. Truthfully, I wasn't as impressed as I thought I'd be… maybe due to my age and the fact that Switzerland outshined every other country during that trip. Whatever the case may be, flash forward 15 years later and Italy had made its way back to the top of my travel bucket list.
Since we decided to vacation at the end of season (mid September through early October), we chose to forego the Amalfi Coast and explore northern Italy. As we were planning out our dream vacation, I spent a lot of time perusing Instagram and Pinterest for travel destination inspo. One evening, I saw a post of a girl swimming in an infinity pool that overlooked the most beautiful rolling hills, a medieval castle and some vineyards in the distance. I was immediately drawn in and went through a deep dive discovery into a region known as South Tyrol.
This beautiful area of northern Italy is home to the Dolomites, an incredible mountain range that connect to the Alps, and it's also super unique in that it used to belong to Austria pre-WW1 and thus has maintained a blend of cultures. From the photos and videos I found, it looked so much like what fairytales are made of (there are 800 castles in this region alone) that I felt like we just HAD to go visit. We decided to start our adventure in South Tyrol and then venture to Tuscany to visit Florence and the countryside before ending our journey in Rome.
It was a bit tricky getting there but if you're interested in a "DIY" style adventure, I've got you covered with where we stayed, how we got there and what we did at each stop along the way. Without further ado, please grab yourself a cappuccino and let me take you through our 10 day Italian Vacation itinerary.
SOUTH TYROL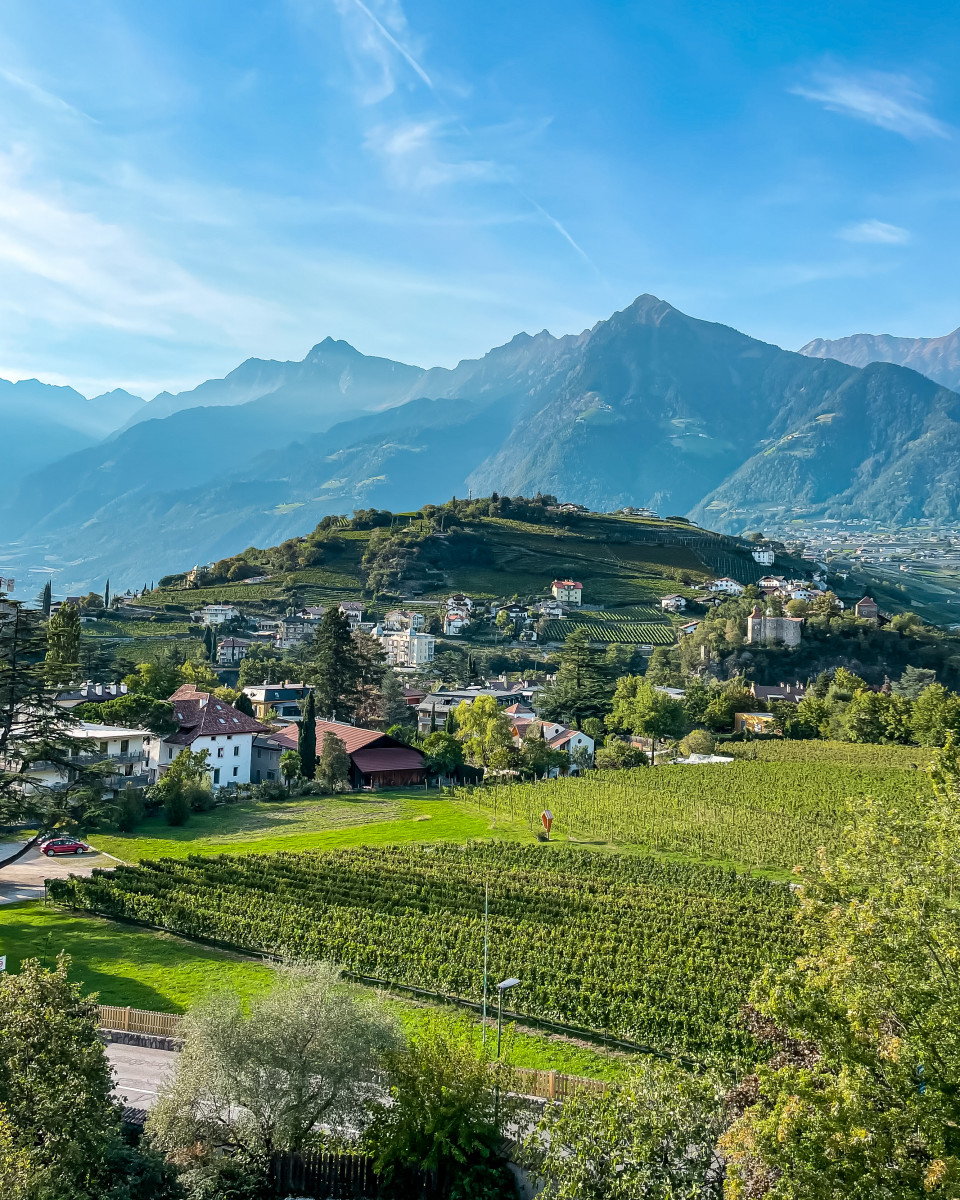 How We Got There: 9 hour flight from Atlanta to Munich, Germany. 4 hour train from Munich to Bolzano, Italy. 45 min drive via rental car from Bolzano to Merano.
Traveler tip: I recommend staying at least one night in Munich to decompress. We went straight from our flight to the train station. By the time we arrived in Merano we had been awake for over 20 hours and actively traveling for 15+ of them. We were exhausted.
Merano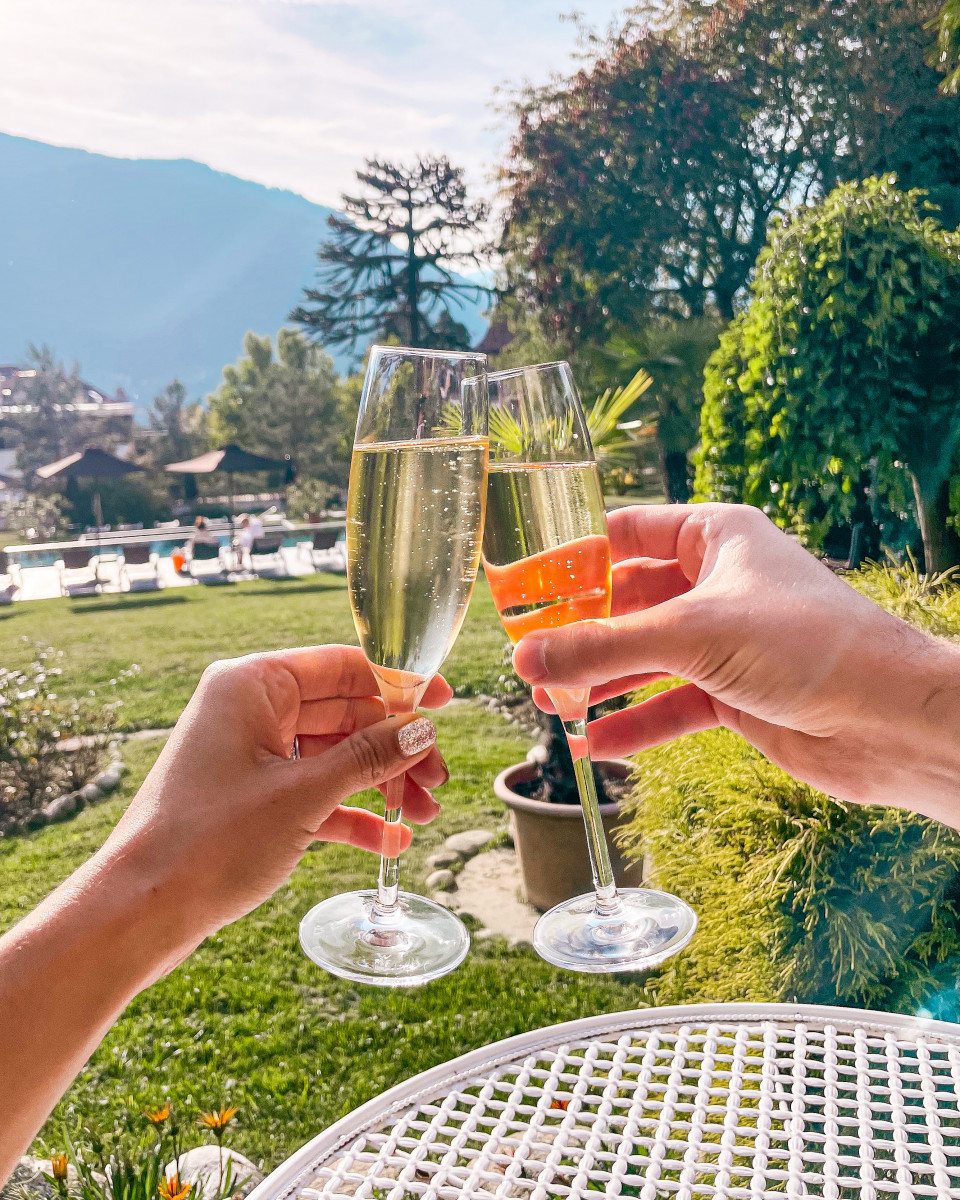 We spent two lovely nights in the charming town of Merano, Italy. This beautiful walkable city is just north of Bolzano and was such an idyllic way to kick off our trip. One of my favorite things about Merano is that it really isn't touristy, at least not for Americans. In fact, we were the only English speaking couple that we heard during our entire stay! Which is pretty wild. Be prepared to learn a little German as the menus are only written in German and Italian, and the waiters will also greet you in both languages.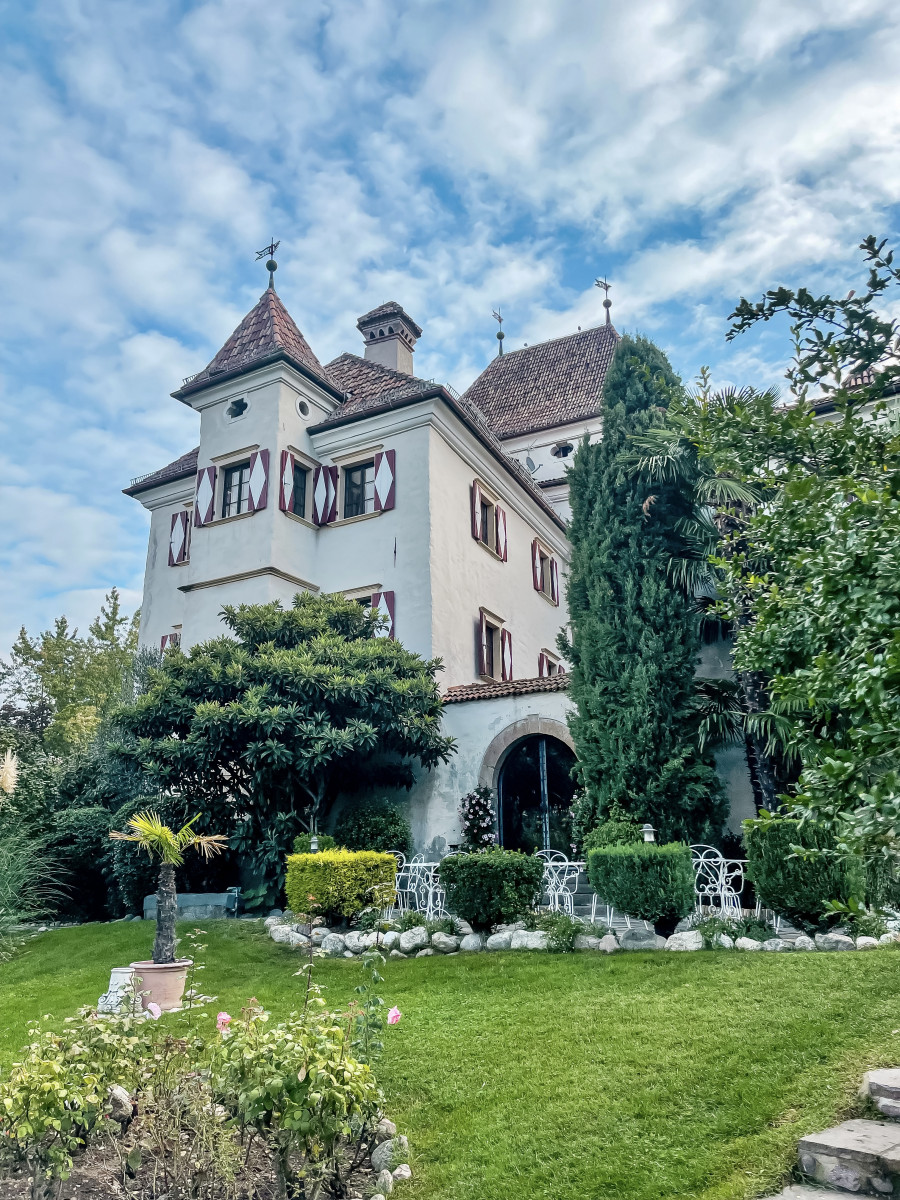 We stayed in a beautiful medieval castle that was transformed into a hotel. Castel Rundegg offered jaw dropping views from our room in the upper tower (complete with a princess style spiral staircase), two swimming pools, a bar where they served us complimentary champagne upon our arrival, and a dining room for dinner reservations. You really can't beat the location as it's just a short walk over the river and into the main part of town.
Start your morning with a cappuccino at one of the cafes along the river. Yes, they're probably the most touristy thing there, especially Cafe Sissi, but honestly our beverages were amazing and we loved people watching. Afterwards be sure to walk along the Tappeinerweg Promenade and climb the Powder Tower for a stunning view of the city. For lunch, Saxifraga Restaurant serves Austrian fare like knodels and pasta dishes. The only way to get to it is via walking on the promenade so you can treat it as a nice reward.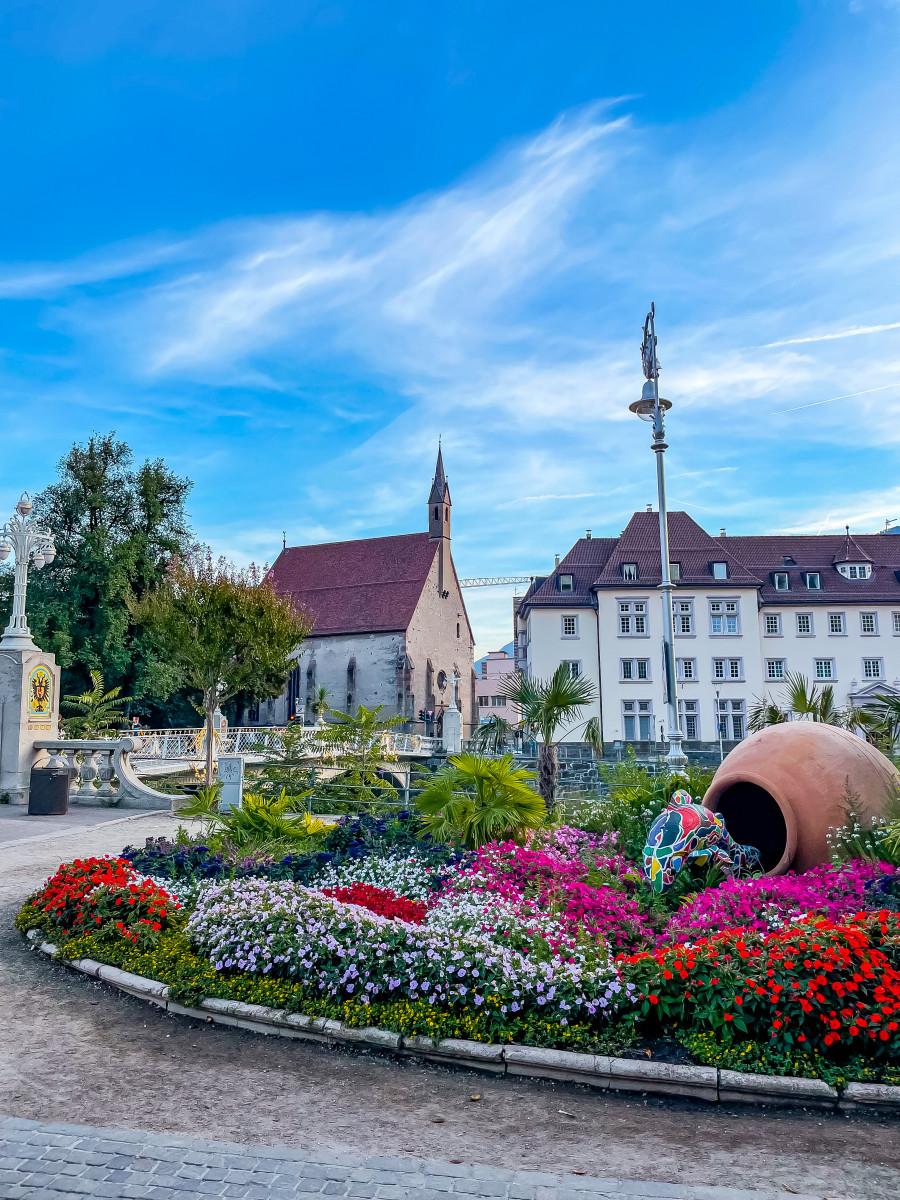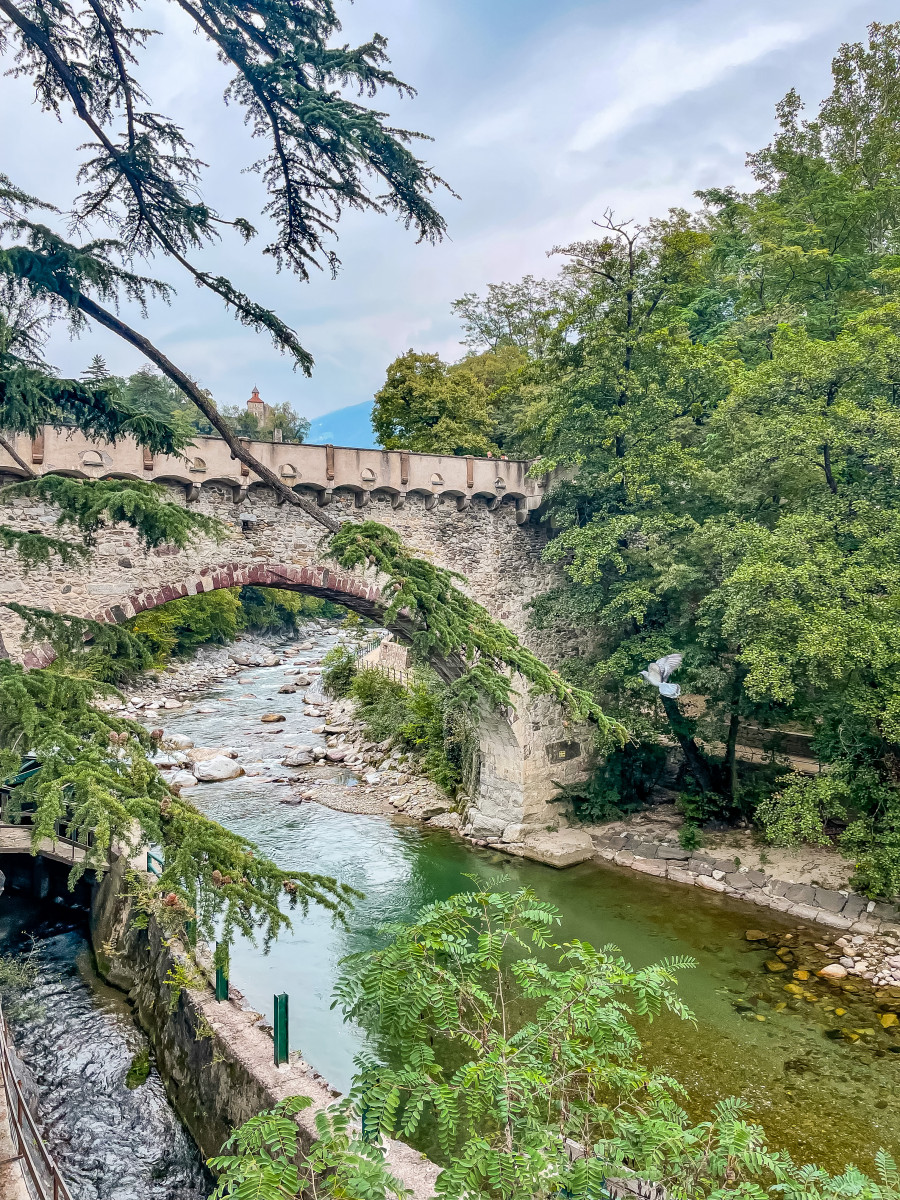 We tried out the thermal baths because it was raining outside but honestly didn't love them. It was a bit too crowded in our opinion so I'd recommend skipping that and go to the famous Gardens of Trauttsmandorff Castle. If the weather had cooperated we would have absolutely gone there because it's supposedly the most beautiful gardens in the entire region! Aside from that, you can have a super enjoyable time simply exploring the towns bars, restaurants and shops. Forst beer is brewed in Merano so if you're a beer fan, head to Forsterbrau Meran for an authentic German beer hall experience.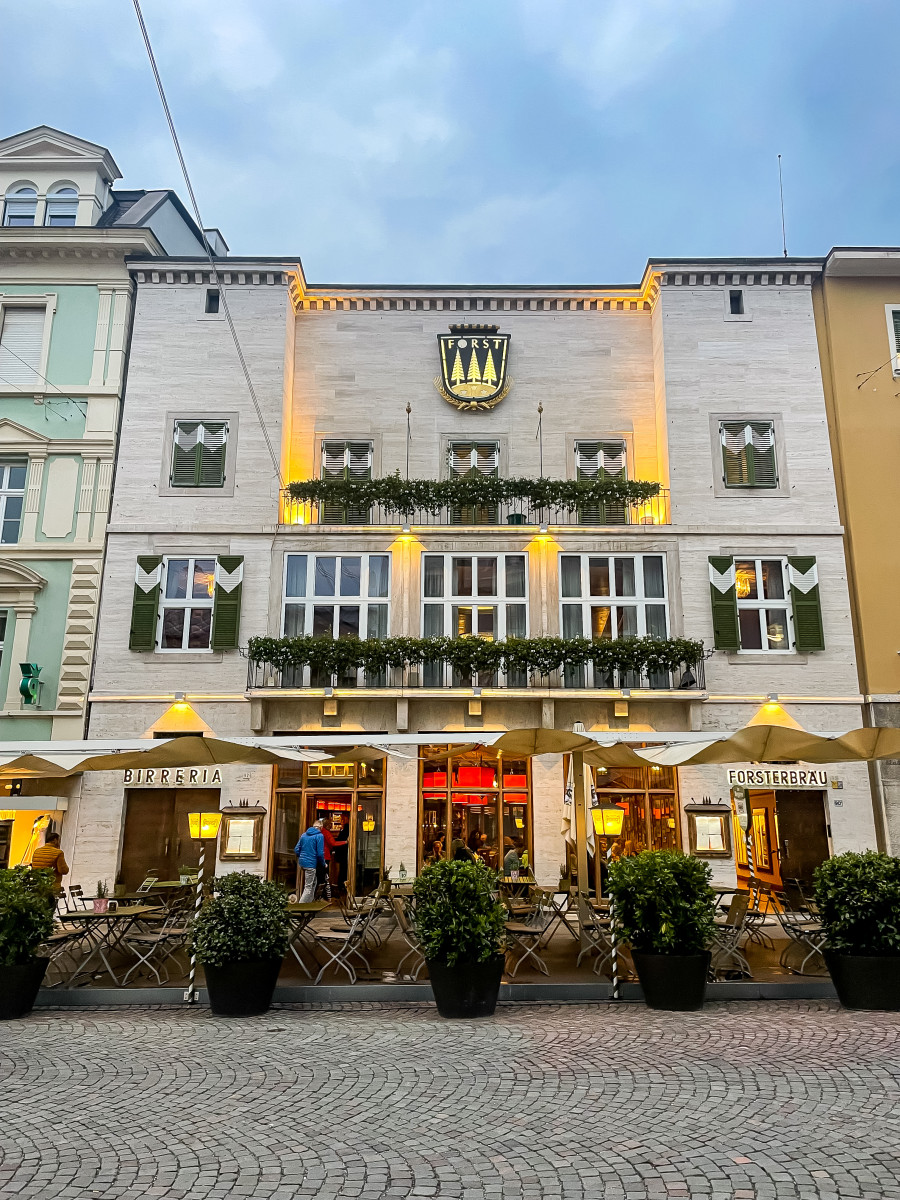 I'd treat Merano as a good launching point for other South Tyrol destinations. It's small and quite beautiful but you wouldn't want to spend too many days in this spot.
Lago di Braies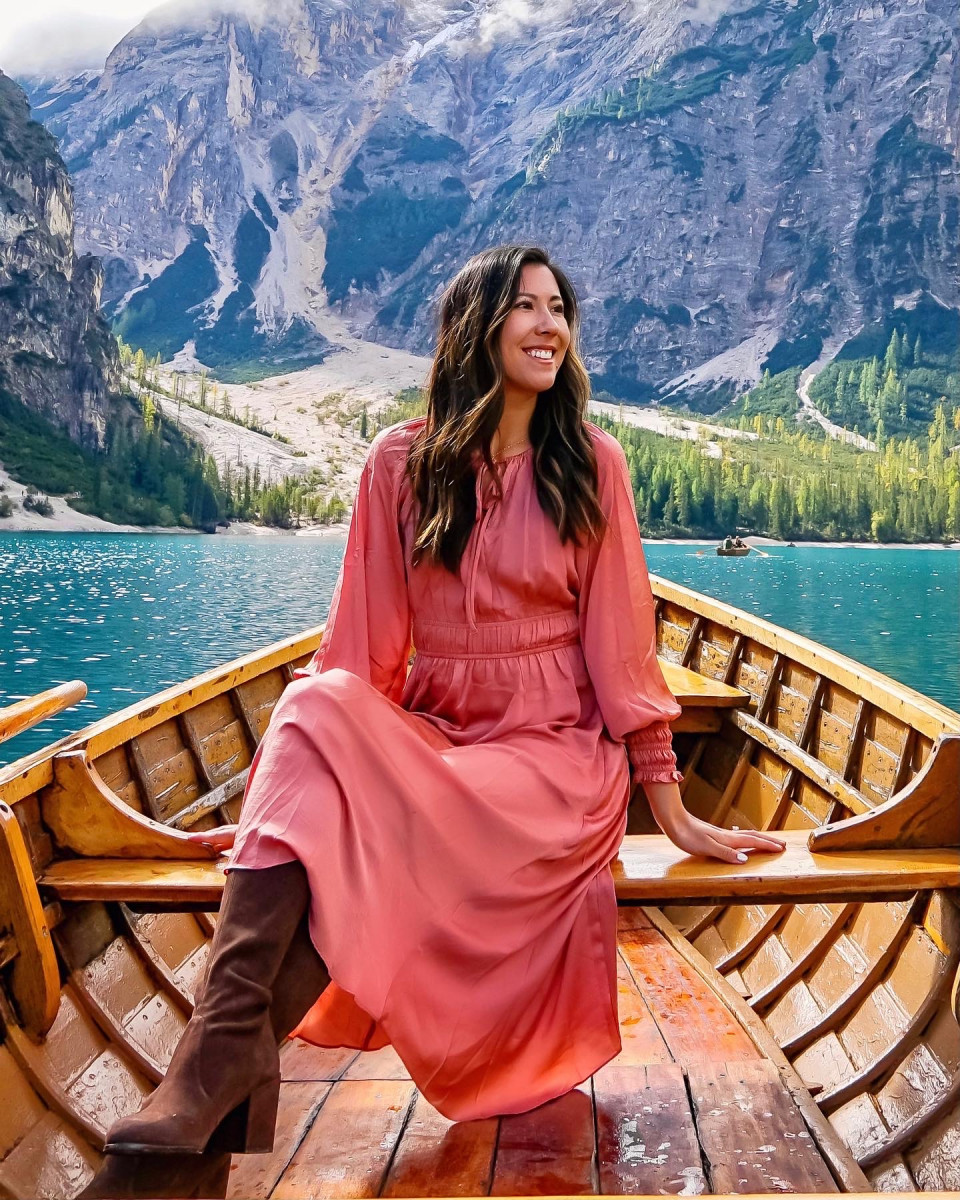 After two nights in Merano it was time to get into our rental car and make the 2 hour drive to Lago di Braies, also known as Pragser Wildsee. This emerald alpine lake is situated in the heart of the Dolomites and near some of the best hikes in the region! The drive was so scenic, I'm pretty sure my jaw was on the floor the entire duration of the ride.
Before you get to Lago di Braies, we HIGHLY recommend making a lunch reservation and stopping at Alpinn. This glass restaurant is located on top of a mountain so you have to take a cable car to get there. Yes, the cable car is a bit hard to find and on the pricey side but wow was it worth it. Be sure to wear comfortable shoes as you have to walk down a pretty steep hill after you get off the cable car to get to the restaurant itself. Once you're inside it's truly like dining in the clouds. You'll have a view of the entire valley below and you're so high up it almost feels like you're in a very large, very fancy airplane. That view has become a core memory, I don't think I'll ever forget it.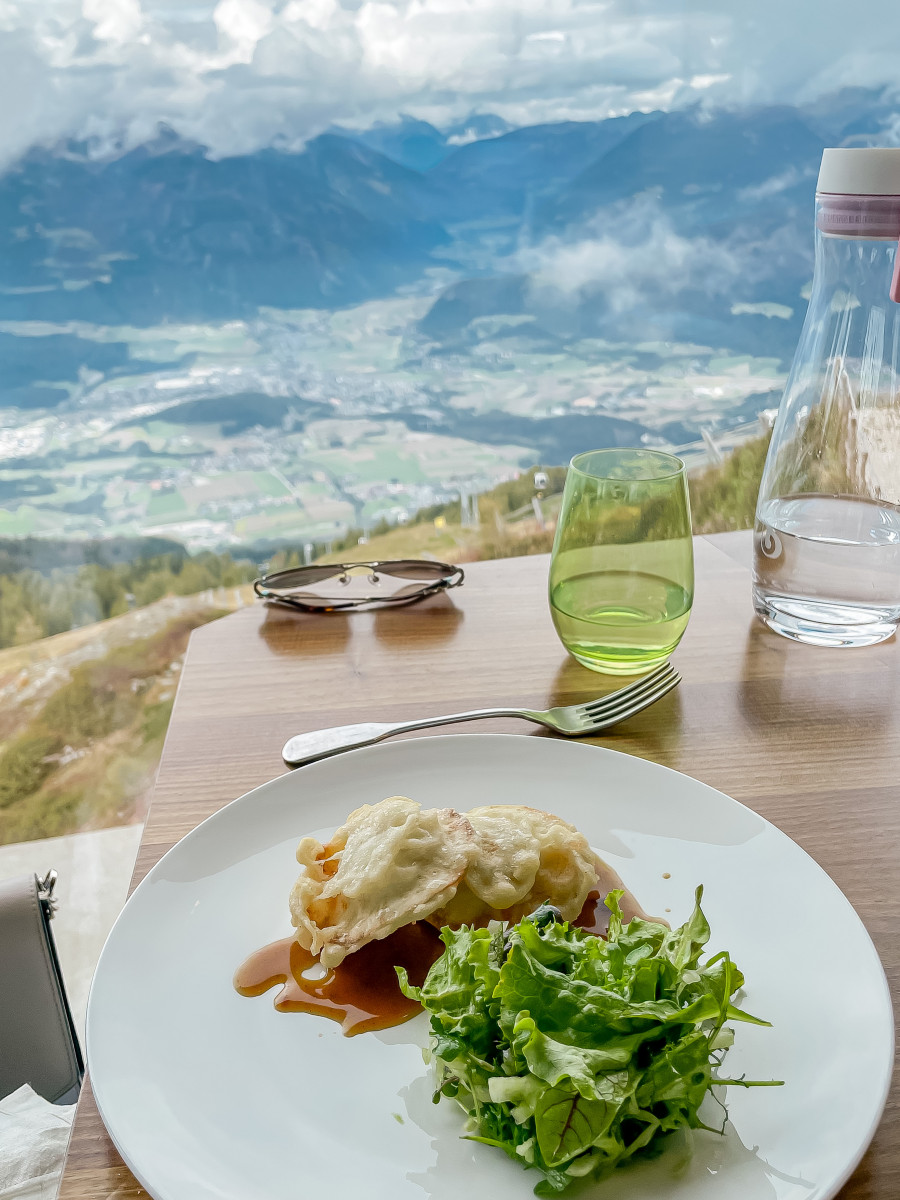 We stayed at Hotel Lago di Braies which is right on the lake. Like literally it's the ONLY hotel right on the lake and the view from your room will take your breath away. We had all our meals in the hotel and honestly everything we ate was absolutely incredible.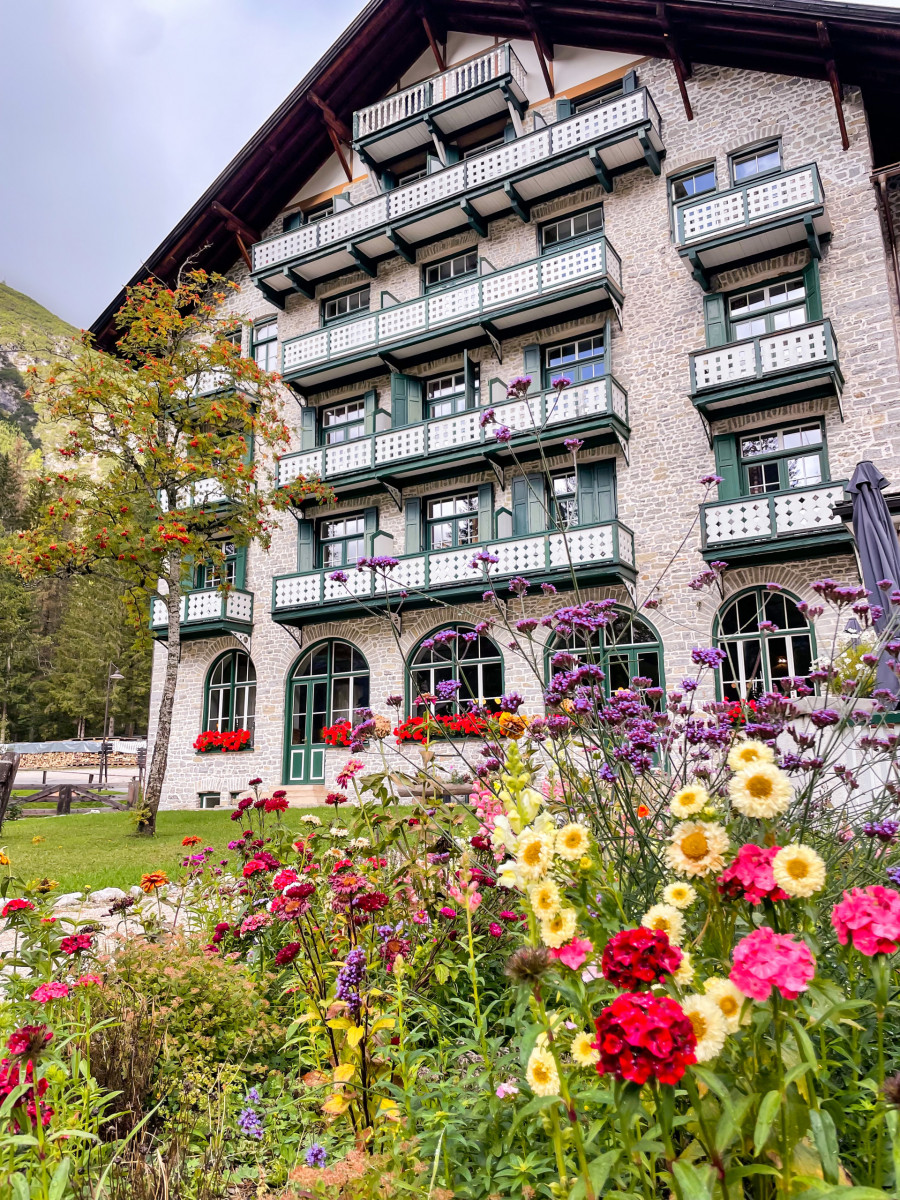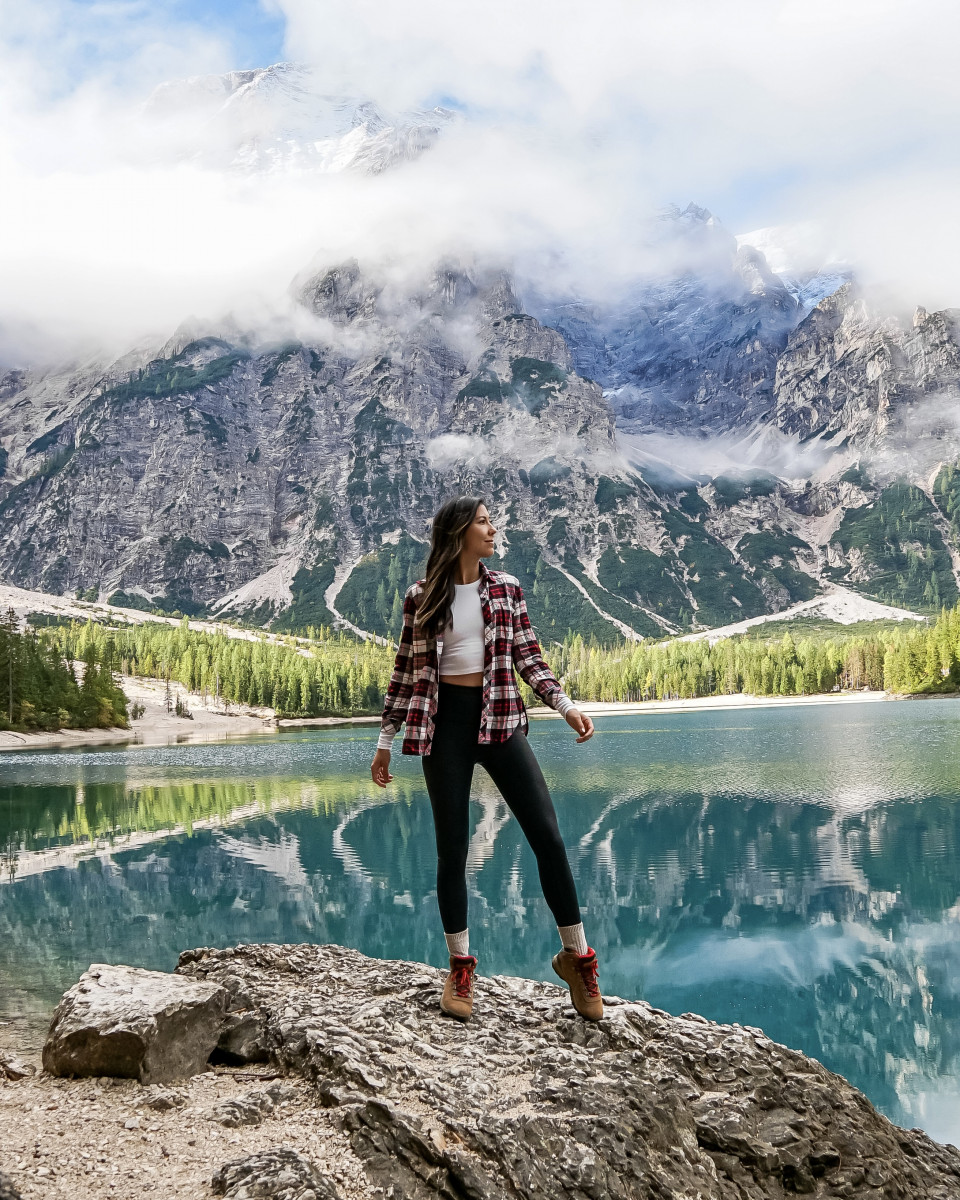 There is a pretty easy hike that goes around the entire lake which I recommend walking after breakfast. That way you can get a spot in line for the row boats before the rush of tourists that come. By noon the lake was incredibly busy so it's good to get in the hike and boats early.
We spent the rest of the afternoon hiking on a nearby trail called Strudelkopf via Platzweise. This trail does require you to take a bus from the Brückele / Ponticello station but it was very worth it! The views throughout are majestic and it wasn't very strenuous. Durrensteunhutte sits at the top of the trail serving beer and food, just make sure to look up the operating hours ahead of time so you don't get there too late.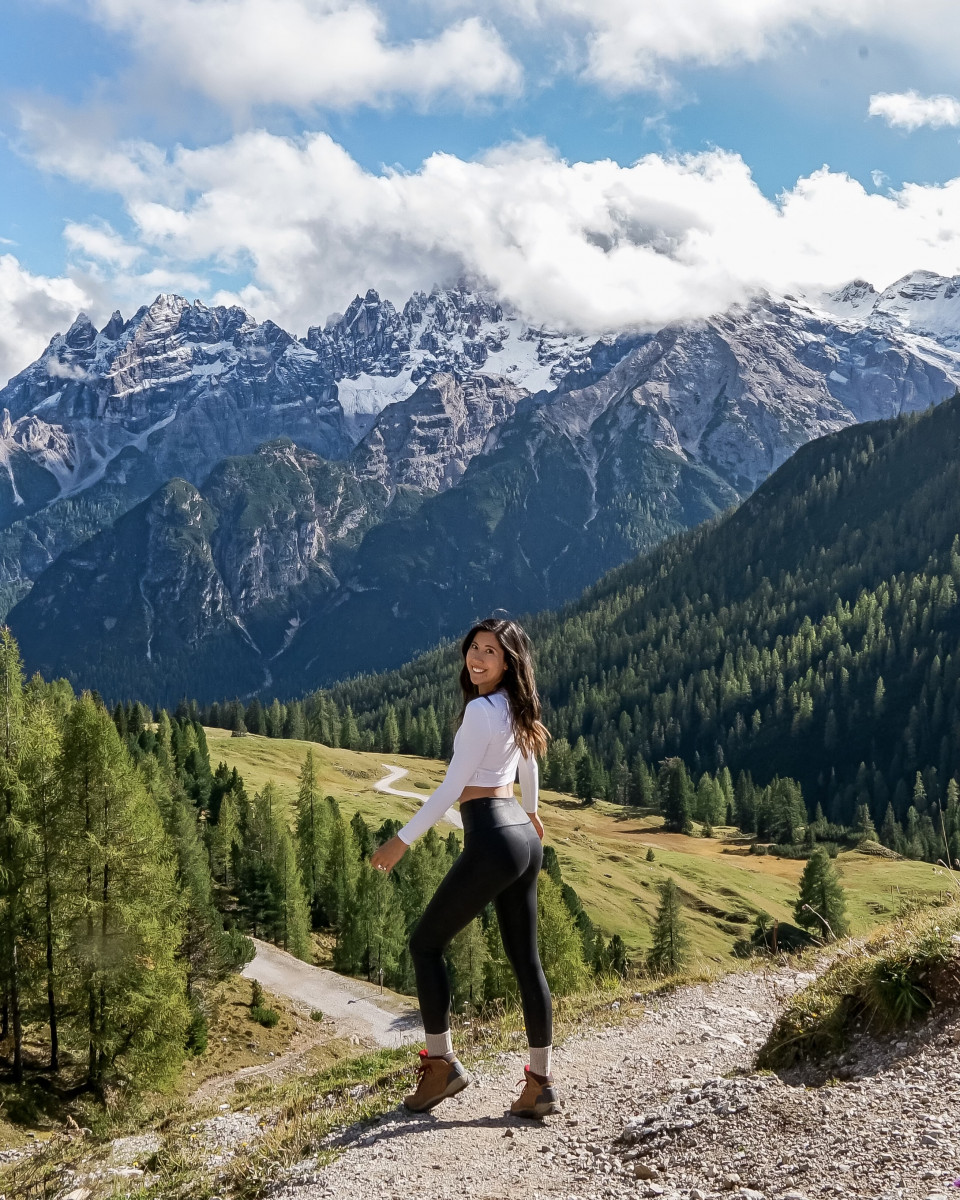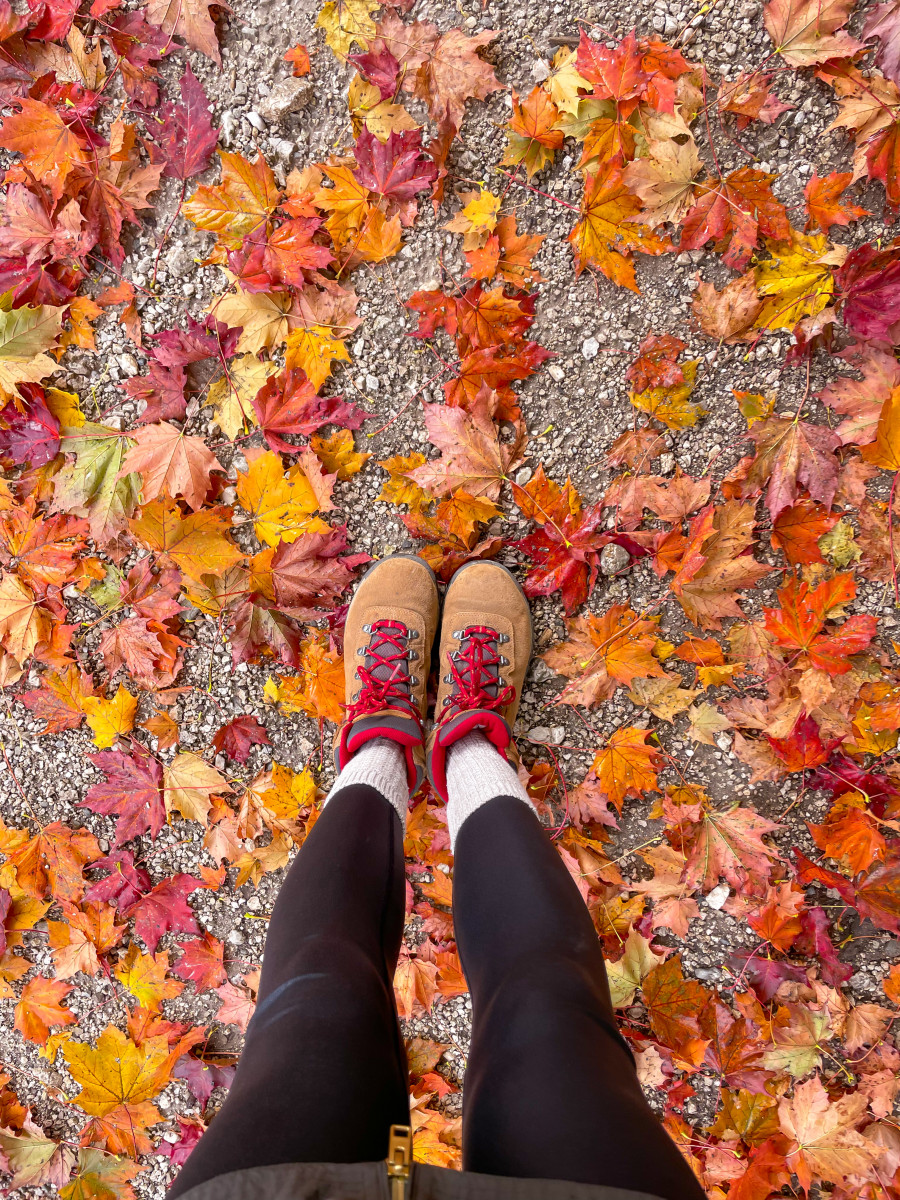 After two nights at Lago di Braies it was time to head back to Bolzano to drop off the rental car and head to our next destination.
TUSCANY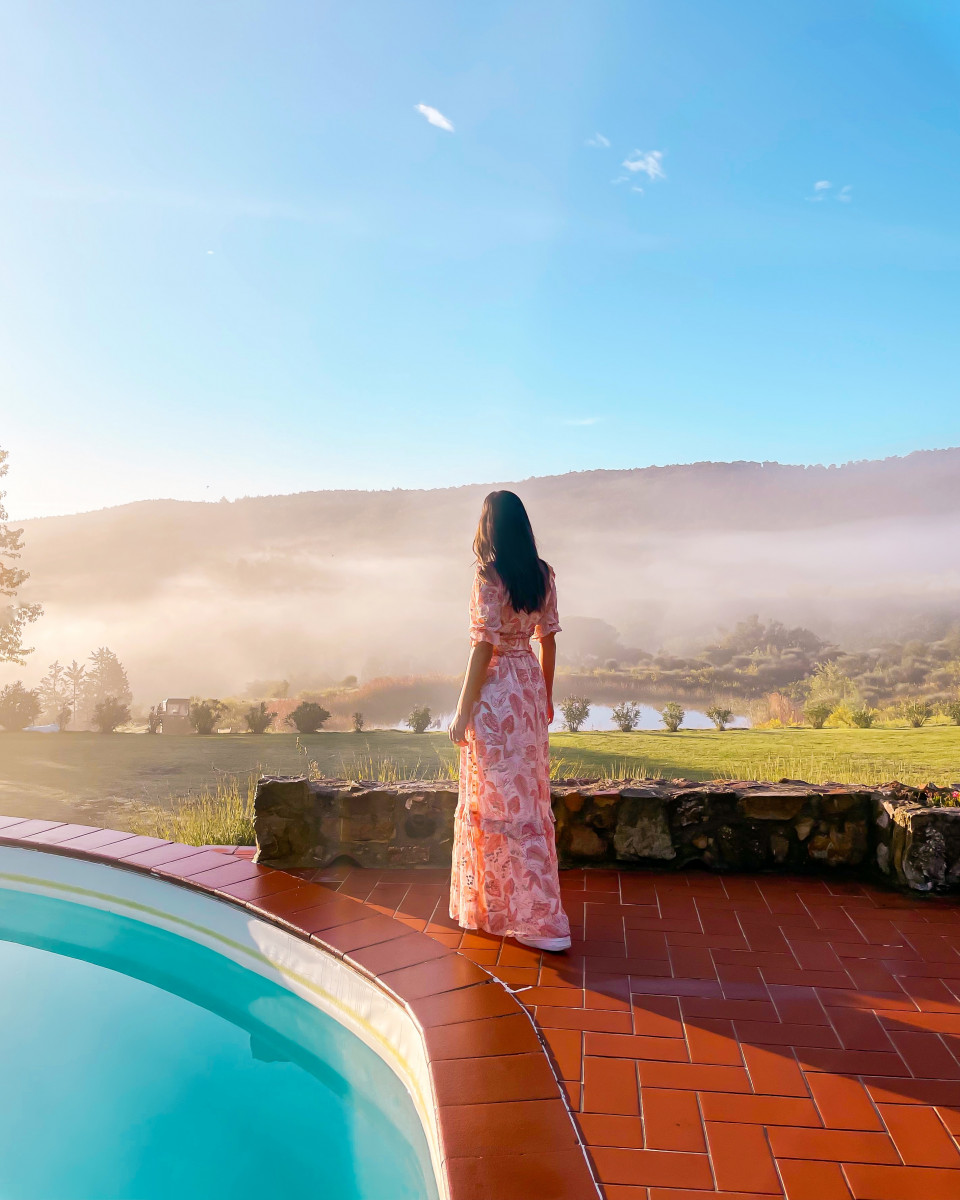 How We Got There: 3 hour train from Bolzano to Florence. Walking + Ubers in Florence. New rental car from Florence to Murlo.
Florence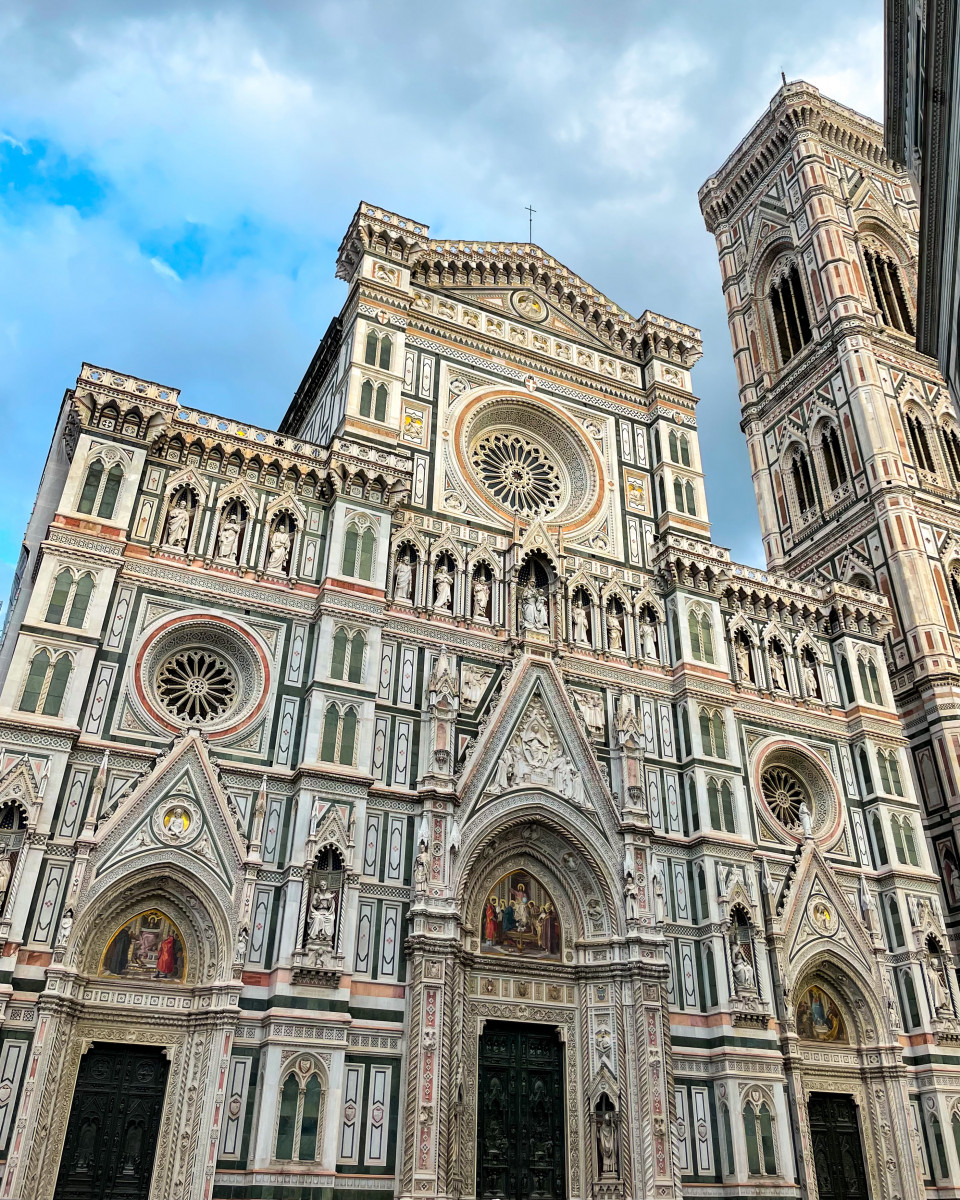 Oh Firenze, you stole my heart pretty quick. The Duomo, the cobblestone streets, the delicious food and art… my goodness, there's a reason why people hype it up so much. We decided to airbnb it for our two nights there and truthfully, I wouldn't recommend our spot so I'm not gonna link it for you. The only perk was that it was located about a 10 min walk from the Duomo so it was super close to everything we wanted to experience.
After getting settled into whatever space you decide to book, go for a walk and head to Sesto on Arno for cocktails and light bites before dinner. Highly recommend making a reservation for around sunset timing to witness all the magic. The drinks were delicious, the service was fantastic, and the views obviously were breathtaking. After our sunset drinks we went to Pensavo Peggio for dinner and had the best cacio e pepe! It was a small restaurant with local vibes and felt really authentic. To end the evening, be sure to treat yourself to some gelato on your walk home. There are literally gelato shops everywhere in Florence and I really don't think you can't go wrong with any of them.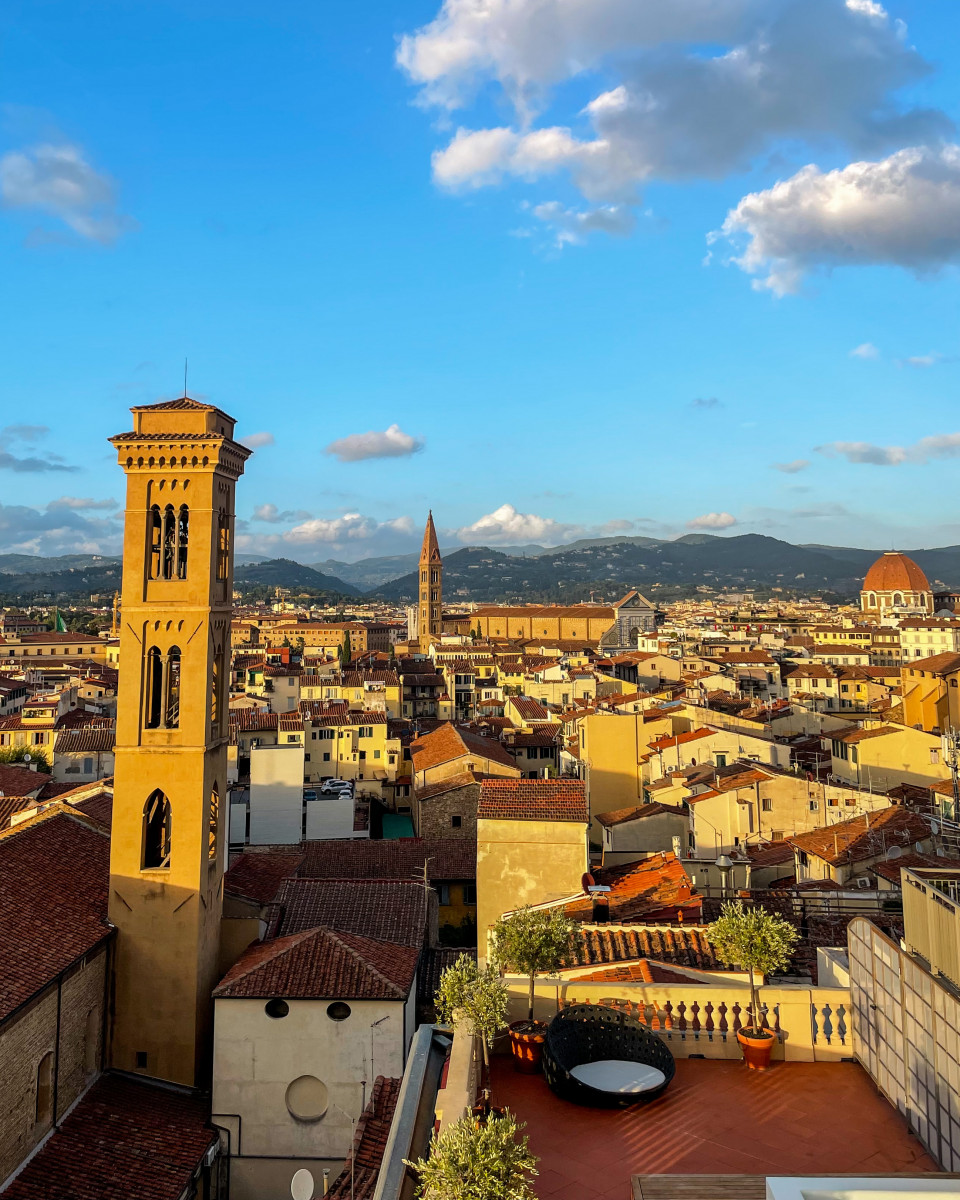 The following day we woke up early and headed to breakfast at the very Instagrammable restaurant, La Menagere. It's such a cute space and there's a little plant shop inside with other small artisan goods that were fun to window shop after our meal. Afterwards we headed across the river, passing the famous Ponte Vecchio bridge to get to the Pitti Palace and Boboli Gardens. This palace was the home of the Medici Family (Italian royalty) and houses some of Raphael's most famous paintings alongside other Renaissance and Baroque works. After wondering through the galleries of the palace, head outside to the Boboli Gardens. This 11 acre lush outdoor space was impressive even on a rainy, cloudy late September day but I'd love to see it in full bloom sometime in the Spring!
If you're craving good pizza definitely stop at Gusta Pizza after you leave the gardens. We had to wait in a little line but it went by quickly and the pizza was so worth it! The personal style pizzas come out fresh from their coal fire oven and it was hands down the best pizza I've ever had. Which means it beat out every single pizza in NYC and that is saying something.
Once back in the city center, it was time for our tour of Galleria dell'Accademia to see one of the most famous pieces of art in the world — the Statue of David. This entire museum is built for David and there is a LONG line to get in at all times of day so booking a guided tour is the best thing you can do if you want to skip the line and also learn some of the history behind Michelangelo, the commissioning of the statue and more. Our tour guide was an awesome story teller and this quickly became one of our favorite things that we did during our trip!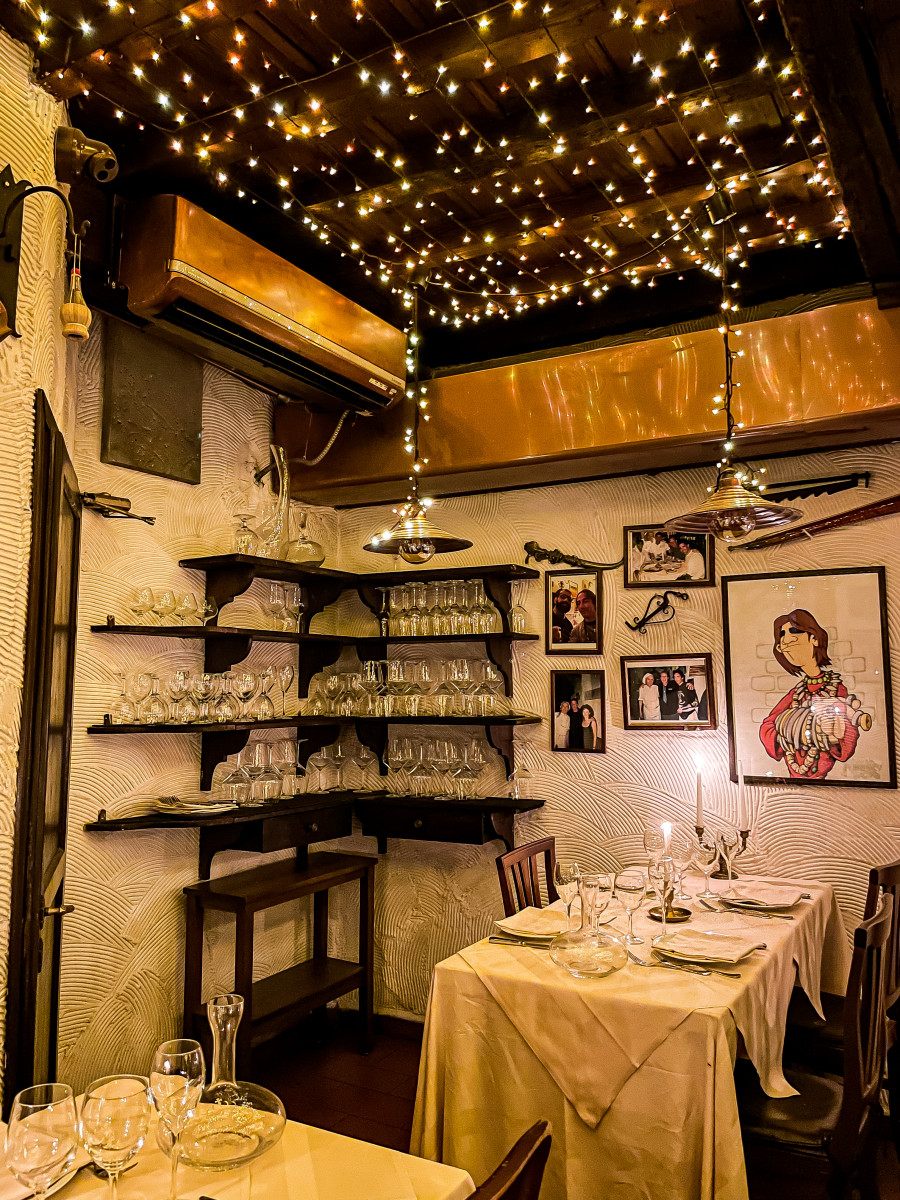 We tried to squeeze in a little exploration of the Duomo but unfortunately ran out of time (and energy) so just got to see it from the outside. For dinner we booked a reservation at one of the best restaurants in Firenze, La Giostra. The pasta was divine and the ambience was so romantic with all the string lights on the ceiling and candles on every table. It was definitely fully booked that evening with quite a few people waiting in a line outside to come in so I recommend booking far in advance to ensure you get in.
On our last morning in Florence we got a cappuccino at Cafe Gilli and stopped at Venci for some gelato and boxes of chocolates to bring home as a souvenir. Then it was time to get the rental car and drive out to Murlo, a tiny town in the middle of the Tuscan countryside.
Countryside Farmhouse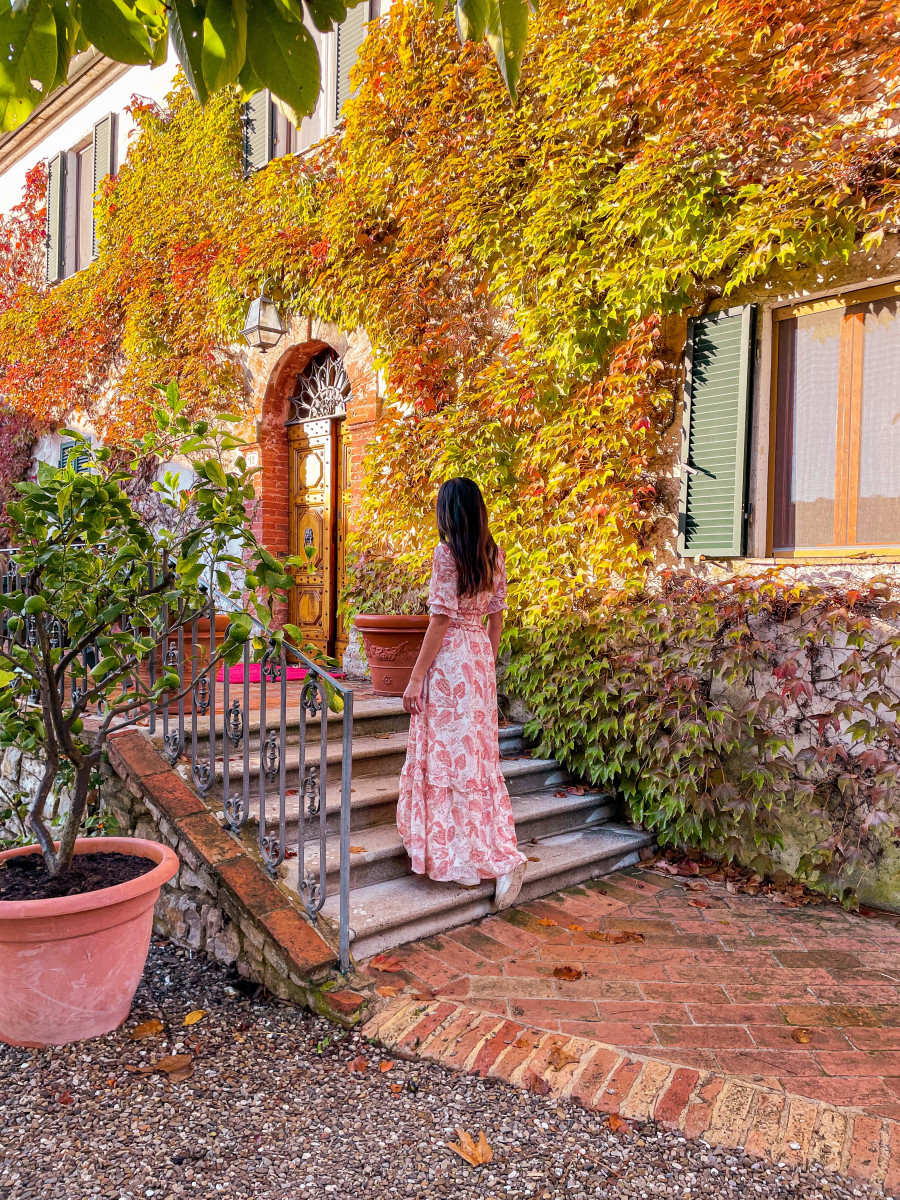 Our first stop before arriving at the airbnb was at a vineyard in Chianti. We really lucked out because it happened to be a random find and when I called they were nice enough to sneak us into a quick seating at 2pm despite being fully booked! Turns out Antinori nel Chianti Classico is a very popular spot and it was no surprise why. The view from the restaurant was lovely, we enjoyed a few glasses of chianti classico wine and we had a delicious lunch.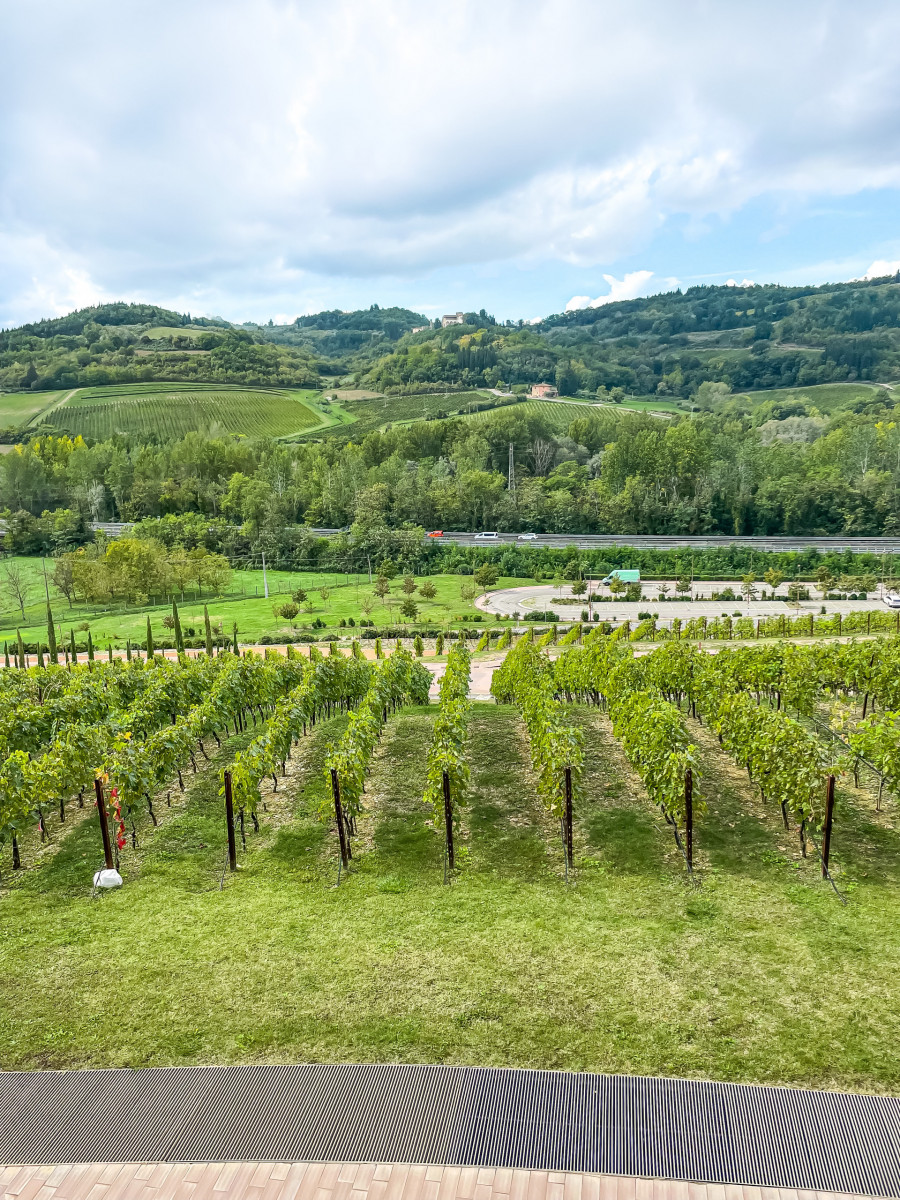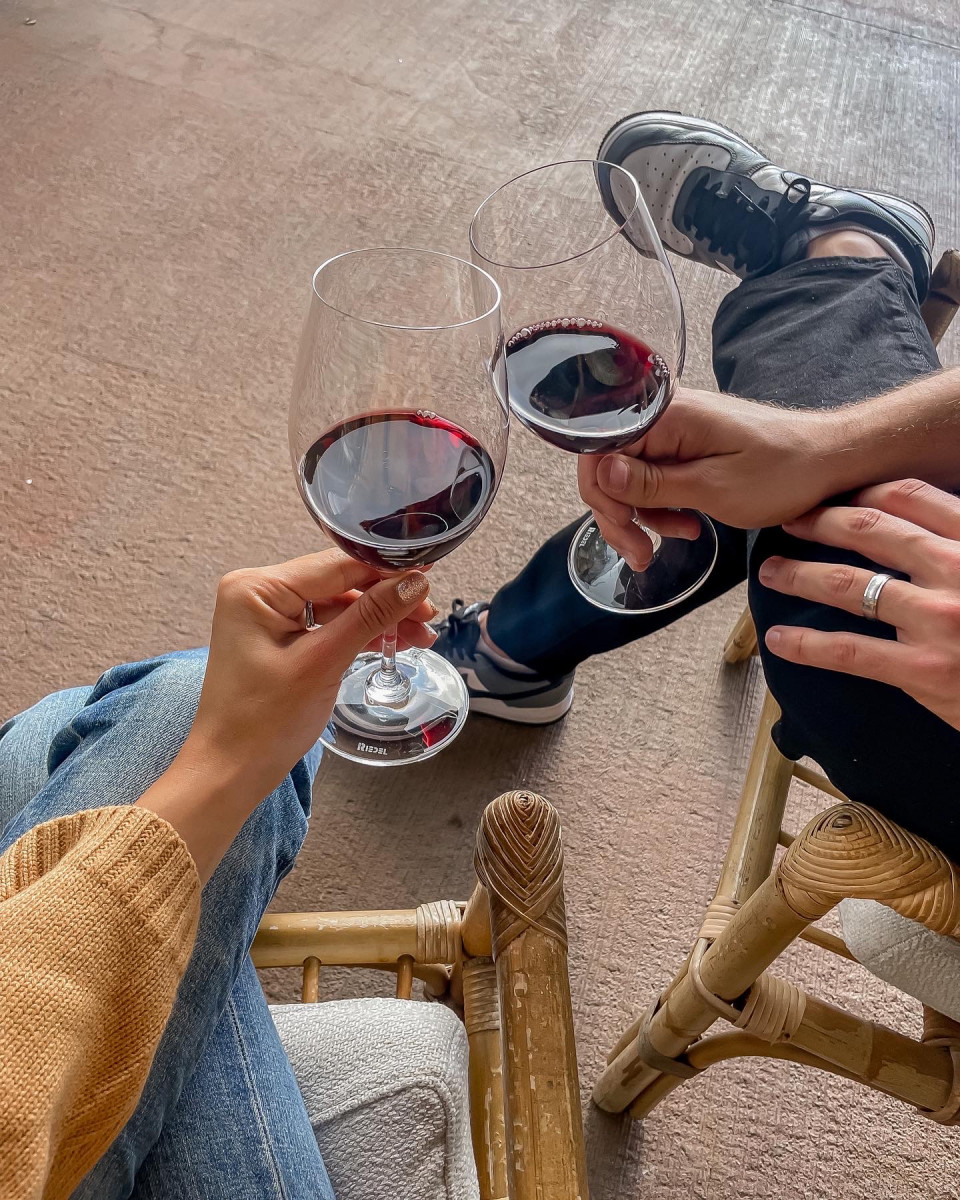 We arrived at a charming countryside farmhouse where we were greeted by the owner, Eloise. If you're going to do one thing on this entire itinerary I highly recommend staying here. I don't know if I can really find the proper words to do it justice but I'll do my best. Eloise and her husband own and operate this farm on the Tuscan countryside, complete with 8 individual "apartments", a small community dining area, and pool. She was SO kind and hospitable, and even cooked us a 4 course dinner that she brought individually, course by course, to our private suite. All of the food was sourced straight from her garden and farm, from the salad to the sheep cheese, homemade pasta and even the homemade bottle of wine! It was absolutely fantastic.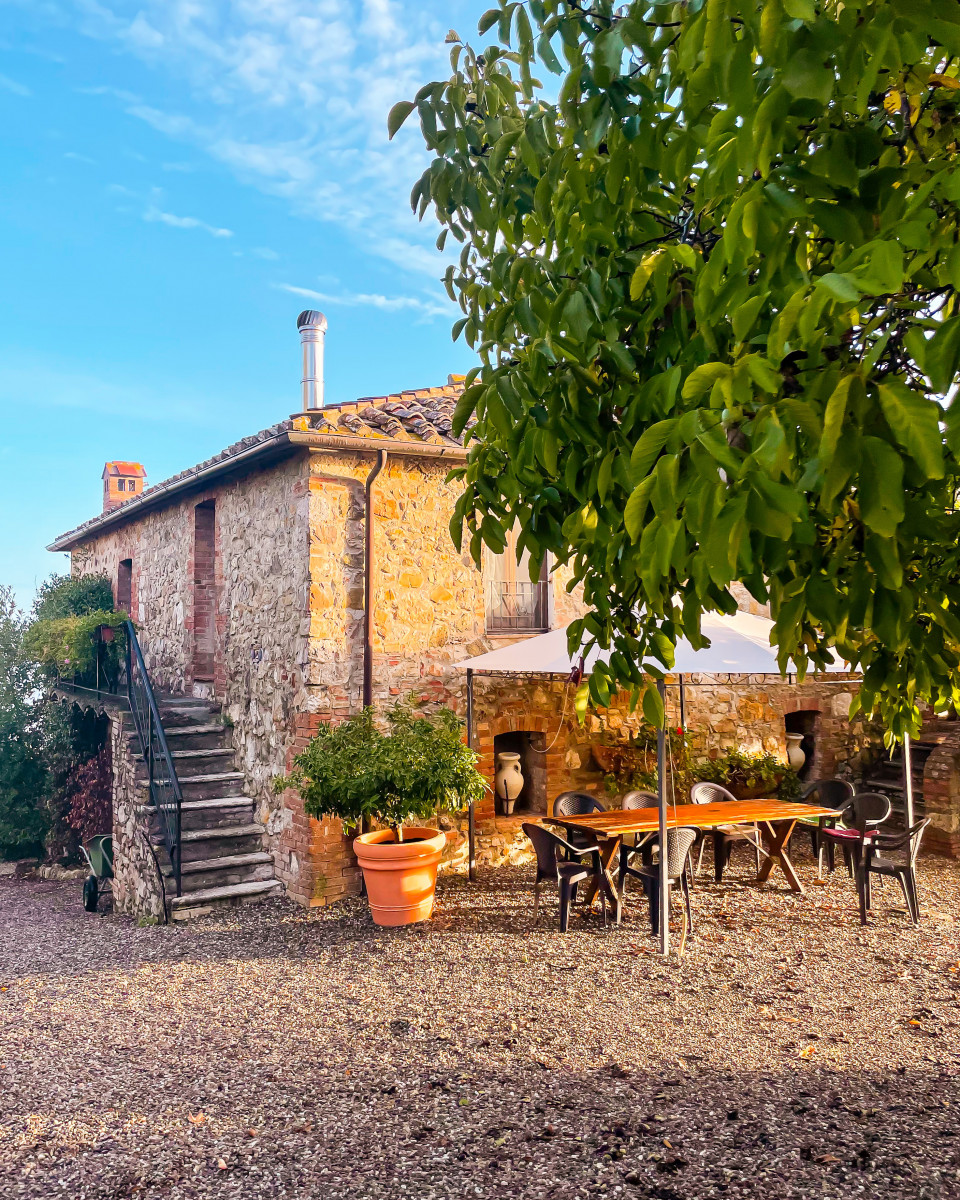 Inside the suite itself there was a small kitchenette, dining table, wood burning fireplace, large bathroom with tub and king size bed overlooking the garden. It's peaceful and only a short drive from Montepulciano, Siena, San Gimignano, and Pisa. You can choose to book wine tours or cooking classes in Siena (which in hindsight we should have done) but you can also totally wing it and just drive around to the different cities. We only made it to San Gimignano and Montepulciano, both on different days for lunch, and both were lovely! Very touristy for sure but the food is fantastic, the medieval architecture is super cool to see and both offer lots of great wine tastings.
If you go to San Gimignano we recommend stopping at La Mangiatoia for lunch (get the ribollita soup!) and be sure to try the wine they're known for, a white varietal called Vernaccia di San Gimignano. Afterwards get some gelato as you wander through the city and be sure to make a stop at Leoncini Ceramiche to buy hand-painted Italian pottery. It's where we bought the majority of our souvenirs for friends and family.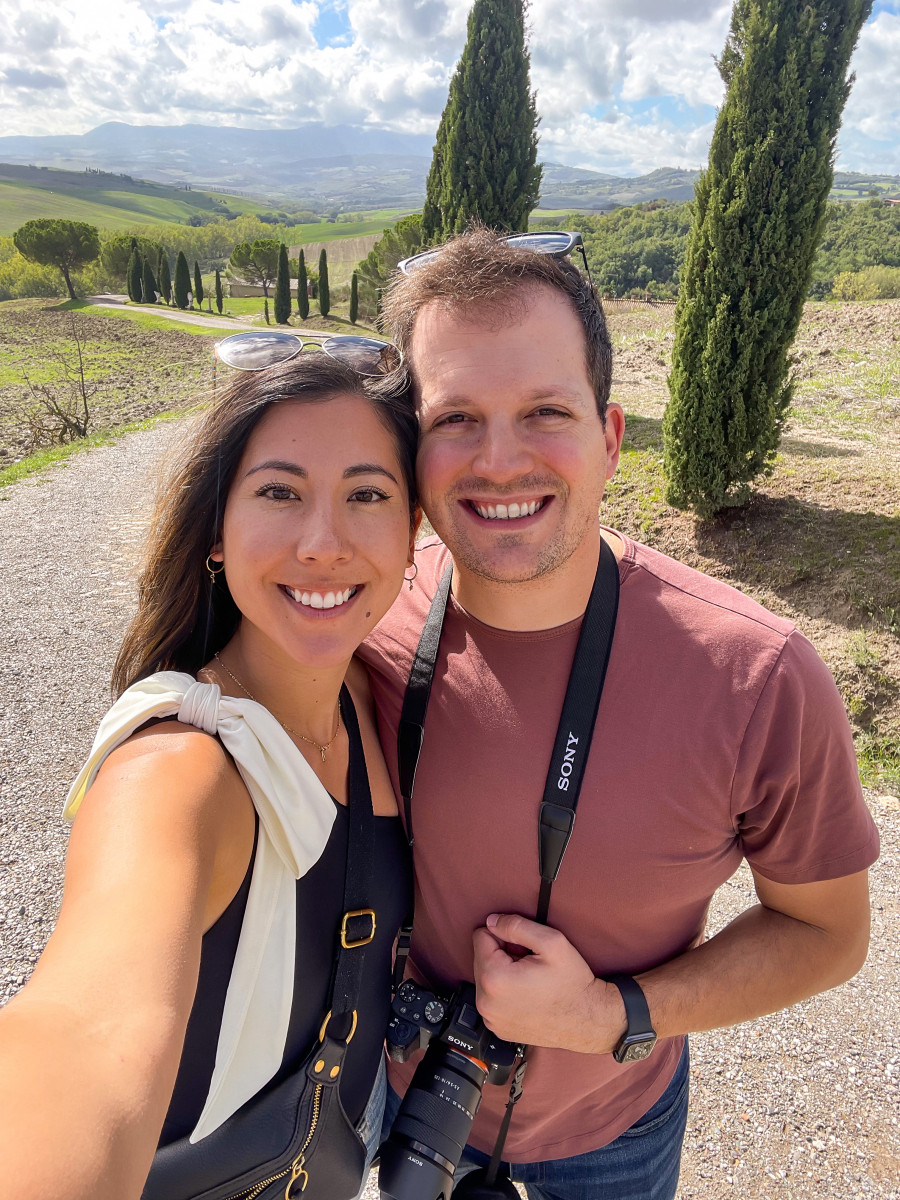 The beauty of having a rental car in Tuscany is simply driving through the countryside between destinations. The rolling hills and vineyards are absolutely stunning and straight out of a movie. Tuscany is truly a place where you can experience the dolce far niente (sweetness of doing nothing) that you hope to experience while on vacation in Italy.
After a two night stay at the farmhouse we had a quick lunch and wine tasting in Montepulciano before heading to our final stop, Rome.
Rome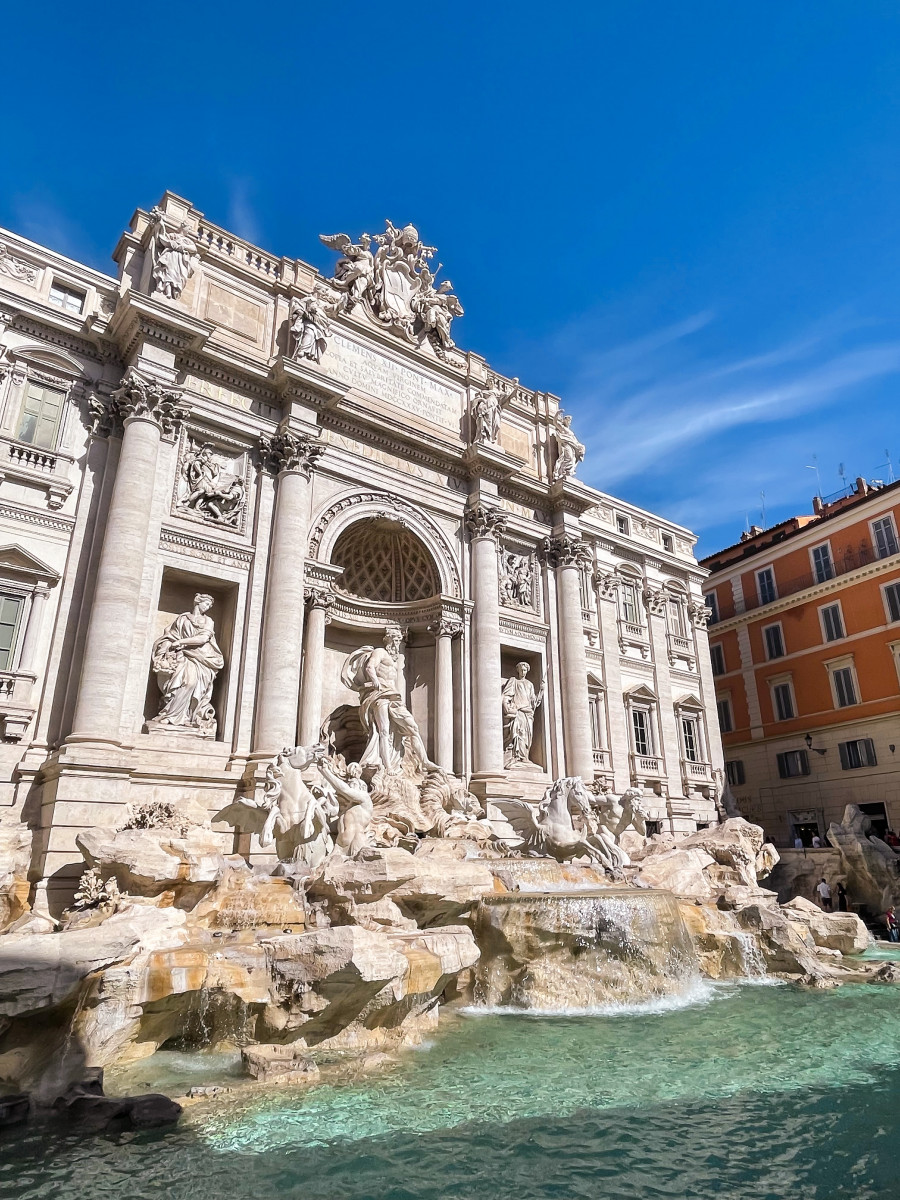 How We Got There: 2 hour drive from Tuscany. Walking once in city. Uber to airport
Okay, so let me preface this by saying we absolutely did not include enough time in our agenda to truly experience Rome. I think we spent so much time planning South Tyrol and Tuscany that we left our one day in Rome up in the air. As you can imagine, this wasn't the best approach. If you're traveling to the Eternal City, I do recommend booking some tours ahead of time so that you can really make the most of it.
Truthfully, I didn't love it as much as I thought I would. It was fascinating to see the historic sites like the Colosseum, Pantheon, Roman Forum and Trevi Fountain, and something I do think everyone should experience at least once, but the city was very very touristy. It felt a little as if we were wandering a very large Times Square. Which if you've lived in NYC, you know that no one actually likes Times Square. This being said, we did make the most of our time exploring and found some gems along the way.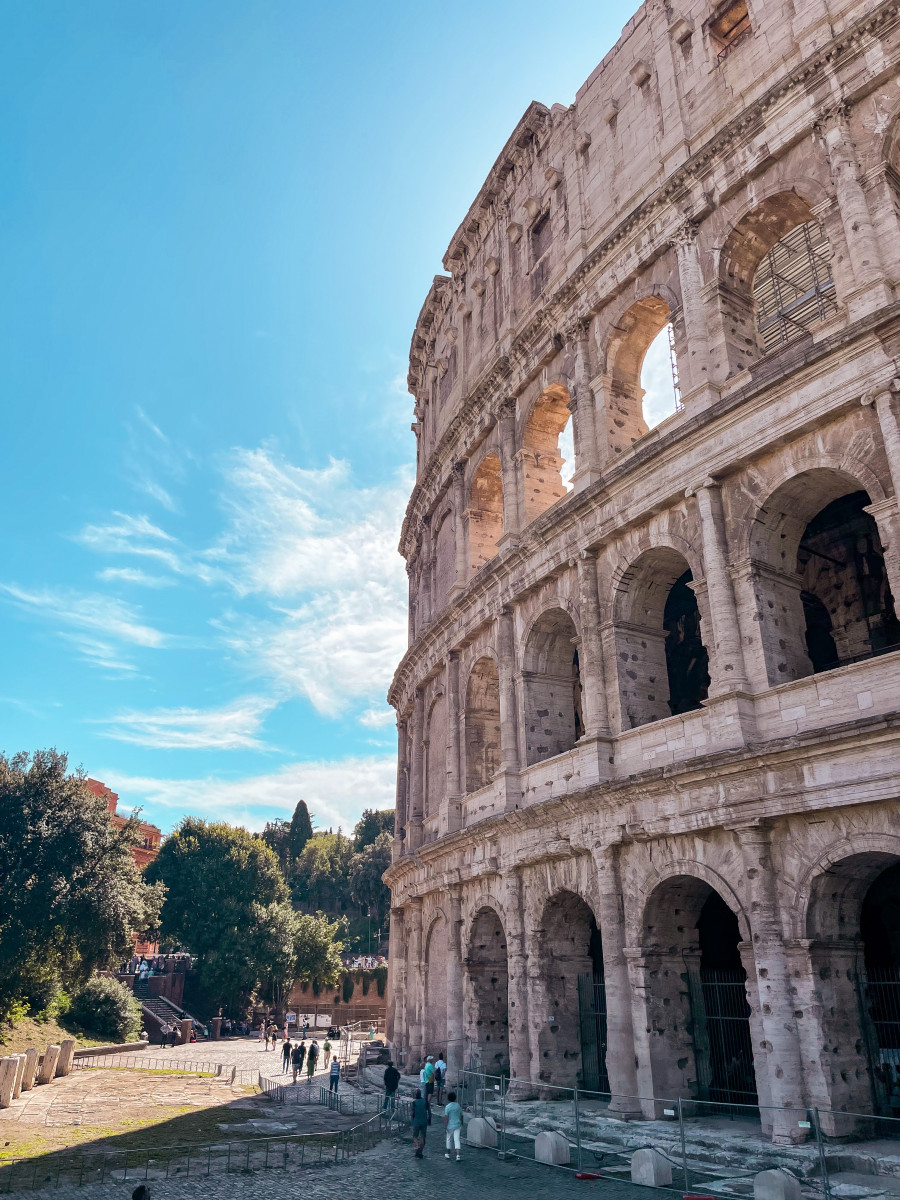 We had delicious pasta at Tonnerello which was absolutely worth the hour wait! And the rooftop views and cocktails at Terrazza Borromini overlooking Piazza Navona were incredible. In general we loved the Trastevere neighborhood and highly recommend staying there! We stayed in THIS airbnb which was a perfect location and easy walk into the city.
There's a beautiful fountain on the top of Janiculum Hill called The Fontana dell'Acqua Paola that is worth stopping at. It has gorgeous views of the city, perfect for sunset watching, and the fountain is a million times less crowded than the Trevi Fountain while still being super beautiful and a great photo spot. Major shout out to the sweet Italian ladies who took this photo of Bay and I in front of the fountain and encouraged us to *kiss kiss* to show that we loved each other.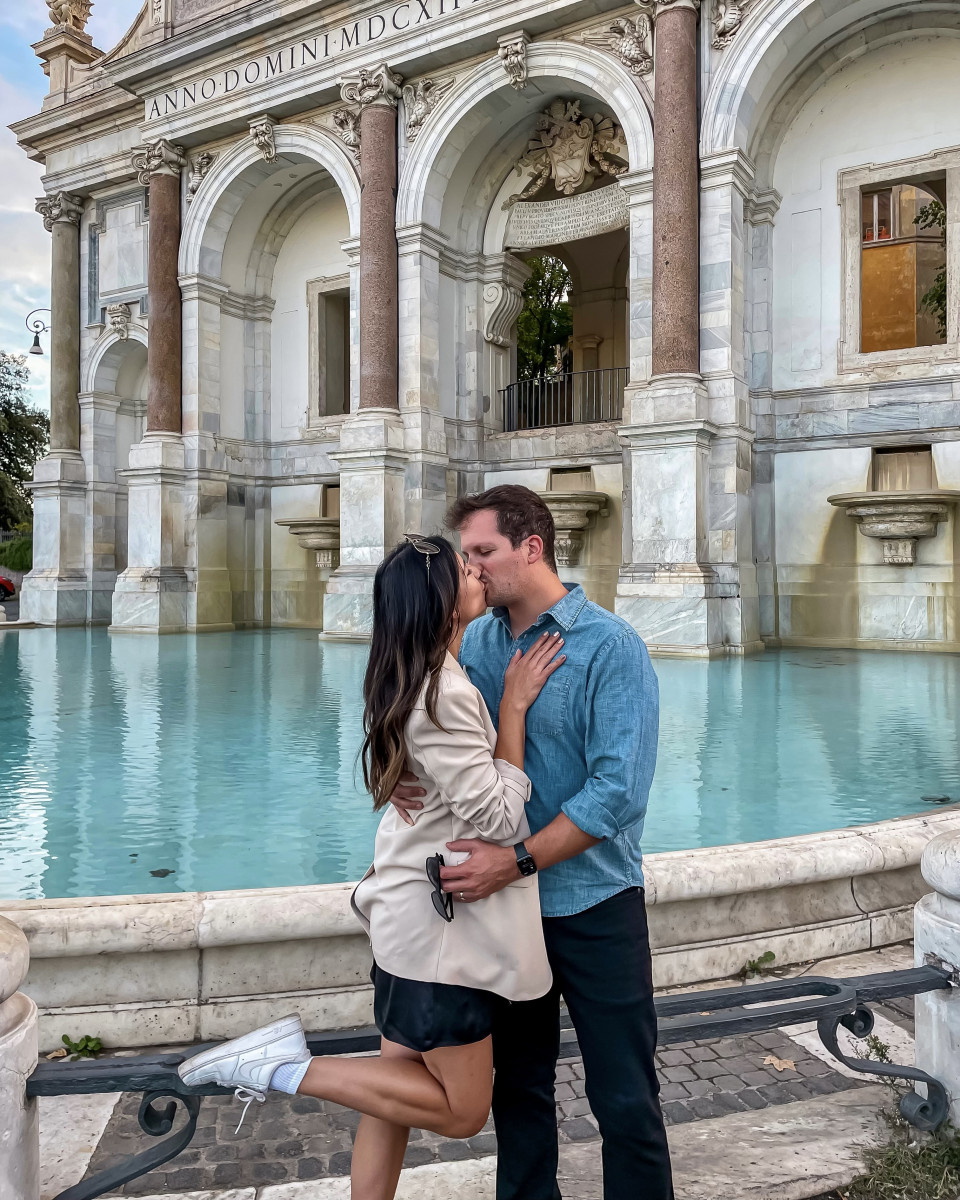 Overall I think we needed more time in Rome to really appreciate it. However, it felt like a great way to end our Italian adventure and before we knew it, it was time to head to the airport and board our flight back home!
We absolutely loved our time in Italy and it's truly impossible to pick a "favorite" place that we visited. If anything it really just has us itching to book another trip at some point and experience more of what Italy has to offer. I hope you enjoyed this recap! If you have any questions feel free to reach out to me on Instagram or leave a comment below.
Happy travels!