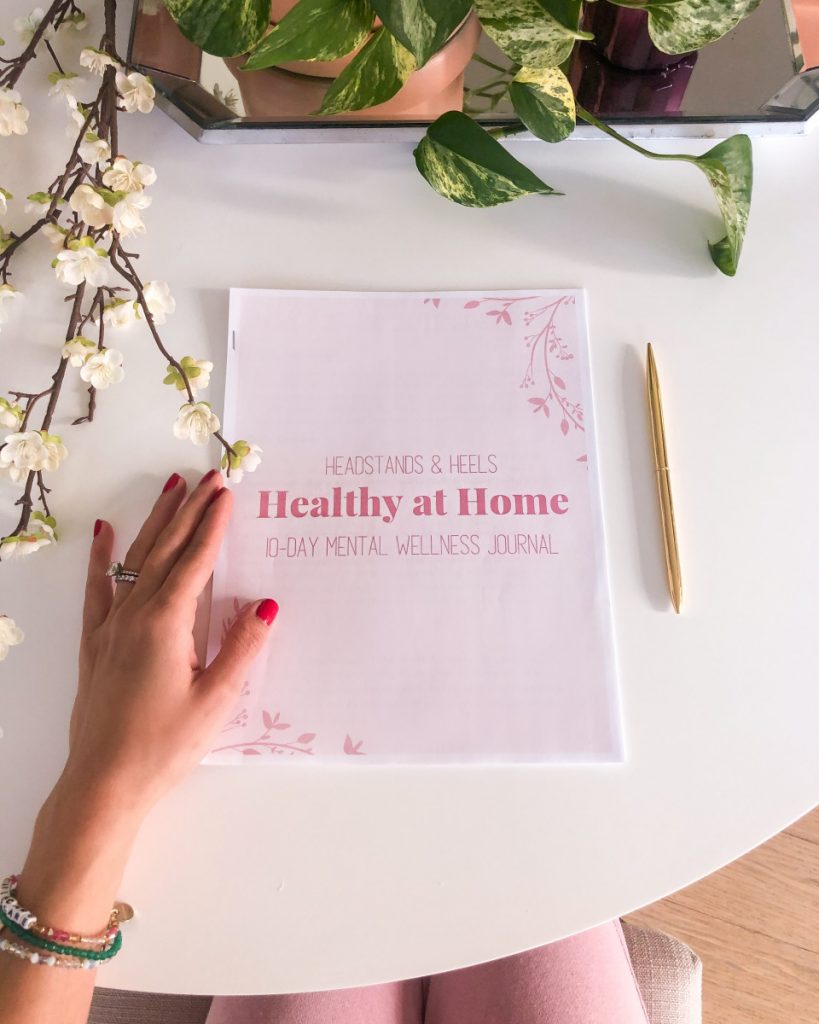 I know this may seem a bit extra, but I've been journaling since I was in 2nd grade. My closet here in NYC holds a stack of diaries that hold my thoughts, photos, precious momentos and items from various years throughout the past two decades and it's something that I treasure dearly.
As someone who knows the value of capturing your thoughts on paper, I'm really excited to kick off a 30 Day Journaling Challenge for my private Facebook Group members. Each day KellyAnne and I will be sharing a new prompt to encourage you to sit down and take a few moments for self reflection.
To get us all in the right mindset, KellyAnne is sharing a few ways she cultivated a consistent journaling practice as an adult. I hope you all find this helpful and that it encourages you to get out a notebook and record your thoughts, dreams, memories and everything in between.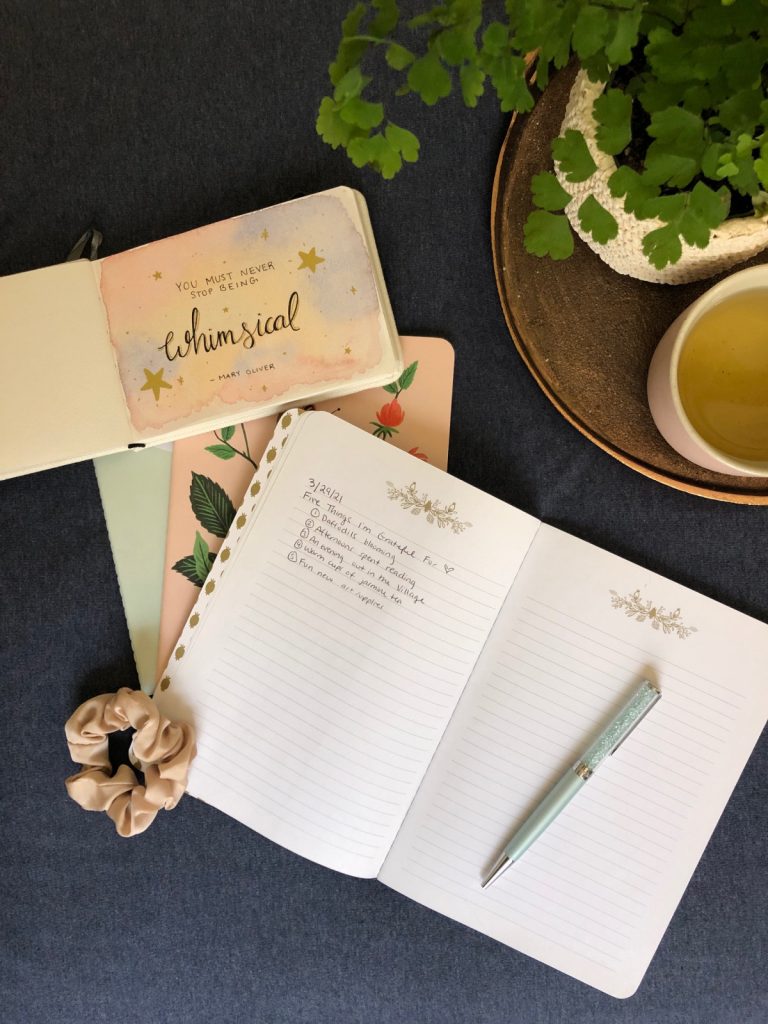 This post was written by H&H Marketing Assistant, KellyAnne Tang.
As a kid, I always wanted to keep a diary and I obsessively collected notebooks. Shout out to anyone else who owned an invisible ink diary! But no matter how impressive my notebook collection became, each one had roughly one page filled out. I could never get the habit to stick.
In recent years, I finally found a few practices that really clicked, and now journaling is one of my favorite ways to practice self care! It's something that I come back to again and again to revisit cherished memories and past selves, sort out my messy feelings, and take a little time to listen to myself.
Like any new habit, a journaling practice can be difficult to start, but I've learned that it's all about tailoring your practice to fit into your day and suit your personal goals. The possibilities are endless, but here are some ideas to help you get started!
Check in with yourself daily
One of the simplest ways to start is to just sit down for a couple minutes each day and ask yourself how you're doing. You don't have to write a lot, just jot down anything that comes up for you. This is a great way to acknowledge how you're feeling, both physically and mentally, and bring awareness to things that you might not have noticed otherwise. It's also a good gateway habit that will help you build consistency. Make it as easy as possible by doing this check in at the same time everyday and only committing to two minutes to start. You can always keep writing if you feel like it, but tiny habits are easier to establish.
Practice gratitude
Write down five things you're grateful for, big or small. If you can, take some extra time to really think about each thing and feel your appreciation. Practicing gratitude will help you re-focus on the abundance in your life and has been shown to have other health benefits such as reducing stress, improving sleep, and reducing depression symptoms.
Collect happy thoughts
In high school, I started a happy thoughts journal that I've kept on-and-off over the years, and it's probably now one of my most treasured possessions. It's similar to a gratitude journal, but you can just write down anything that brought you joy throughout the day. Try to be as specific as possible. We rarely need any help dwelling on negative parts of our day, but this practice will help you reflect on the good parts instead. I like to write the date each day and number my happy thoughts, so that it acts as a simple diary as well. I love to open to a random page and read what was making me happy that day in my life. As of today, I've collected over 3800 happy thoughts that span over a decade of my life!
Start your day with morning pages
I first learned about morning pages while reading Julia Cameron's The Artist's Way about a year ago, and it's one of the most consistent habits I've ever been able to keep. The idea is to start each day by filling three pages with stream-of-consciousness writing to unload your thoughts, worries, annoyances, dreams, whatever is buzzing around your head. I find this extremely helpful as someone whose mind always feels a little too busy. When you finish your three pages, resist the temptation to read them and put your notebook away until it's time to write three more pages the next morning. In the year that I've been writing morning pages, I've noticed that it helps me go into my day with more mental space and a better understanding of my feelings.
Use prompts
Sometimes a blank page is a little daunting, so if you'd like some guidance, try using prompts to get you started. You can find journal prompts online for pretty much any mood or any theme that you're interested in exploring.
Stay organized with bullet journaling
I know bullet journaling can seem a little intimidating when you see the artistic masterpieces all over social media, but you can keep it simple! Bullet journaling is a great tool to help you stay organized, track progress on your goals, keep you accountable, and collect memories. Here some examples of how I use my bullet journal:
Record favorite songs/movies/books/artists of the month
Write out my morning/evening routines
Brainstorm new ideas for a specific project
Plan weekly meals and grocery list
Write down things I'm curious about
Track my water intake, habits, time, and energy levels
Log expenses and income
Keep track of interesting journal prompts
The most important thing about bullet journaling is to customize it with layouts that are most helpful for you! And if you're looking for a creative outlet, you can definitely lean into the artistic aspect of it! Here are more ideas for bullet journal layouts and be sure to check out Amanda Rach Lee's YouTube channel for endless inspiration!
Get creative with art journaling
If you prefer to express yourself more visually, art journaling is a great alternative! This is your journal, so you have total creative freedom. You could make collages with souvenirs from your life, draw five highlights of your day, illustrate the song that's stuck in your head, or scribble with crayons. You can check out the Art Journal Community Instagram page for some examples and here's a list of 57 art journaling prompts to get your creative juices flowing!
Treat yourself to a journal that you love
I am always way more likely to stick with something if I get to use fun supplies. Pick out a journal that is going to make you smile and feel excited to do your daily practice. We have the perfect blog post right here to help you find the prettiest journals!
Whether you're looking to process your feelings, express yourself, or stay organized, there's a journaling practice for you! There's no wrong or right way; all that matters is that you find a practice that you find nourishing. Happy journaling!