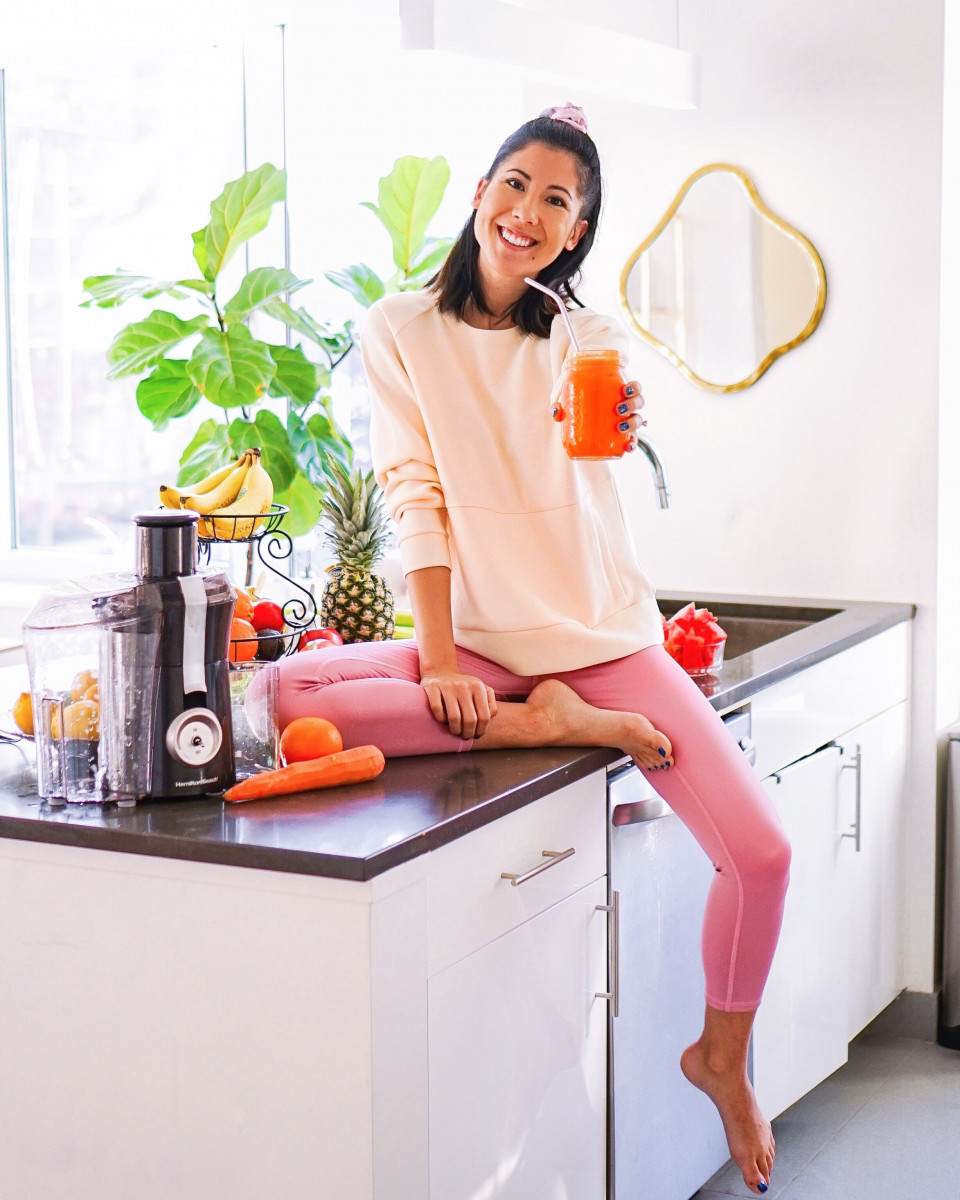 Hello friends! This is an exciting day because your girl finally got herself a juicer!! Not only does this mean I can have fresh juice whenever I please but it also means I'll be saving some major cha-ching down the line (all those $12 NYC juices add up). I picked up this Hamilton Beach Big Mouth Pro Juice Extractor at JCPenney, which always has always been a go-to of mine for various wellness items and comfy athleisure.
Case in point, these pink leggings and cozy sweater are also from JCPenney!
Since I couldn't wait to put my new juicer to work, I picked up all of my favorite fruits and veggies to experiment with different combinations. You all know I'm not a "recipe developer" so I'll keep this real with you. I kept these 3 juices simple for a reason:
First, they don't use up a ton of produce. Second, they can be made in less than 5 minutes. And finally… You can tailor the ratios of each ingredient to your own liking.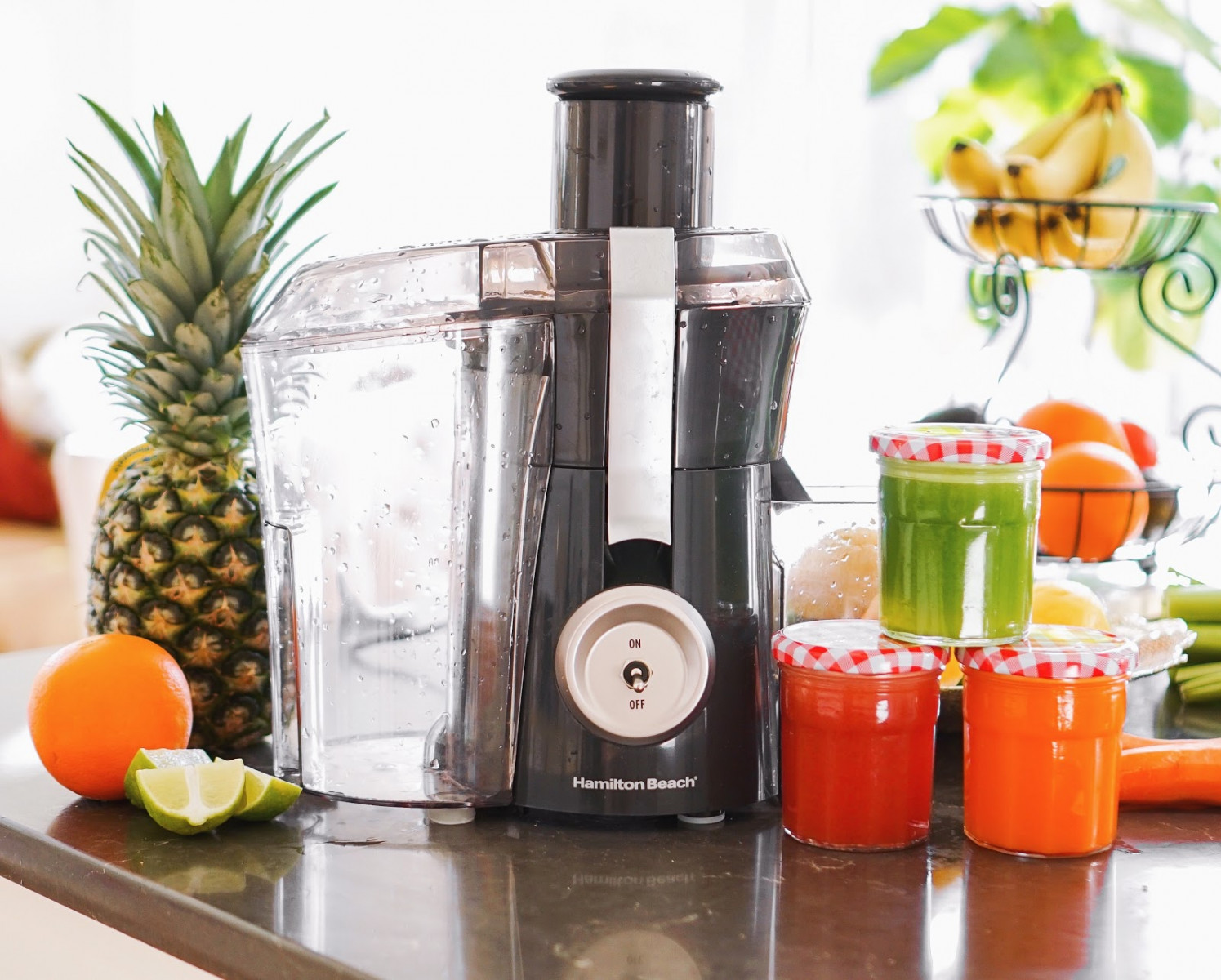 These are the items you'll need:
Carro

ts

Celery

Apples (I used granny smith)

Oranges

Watermelon

Limes

Basil

Kale

Ginger
Of course this list is just specific to the three juices I made so feel free to play around with other ingredients that you love!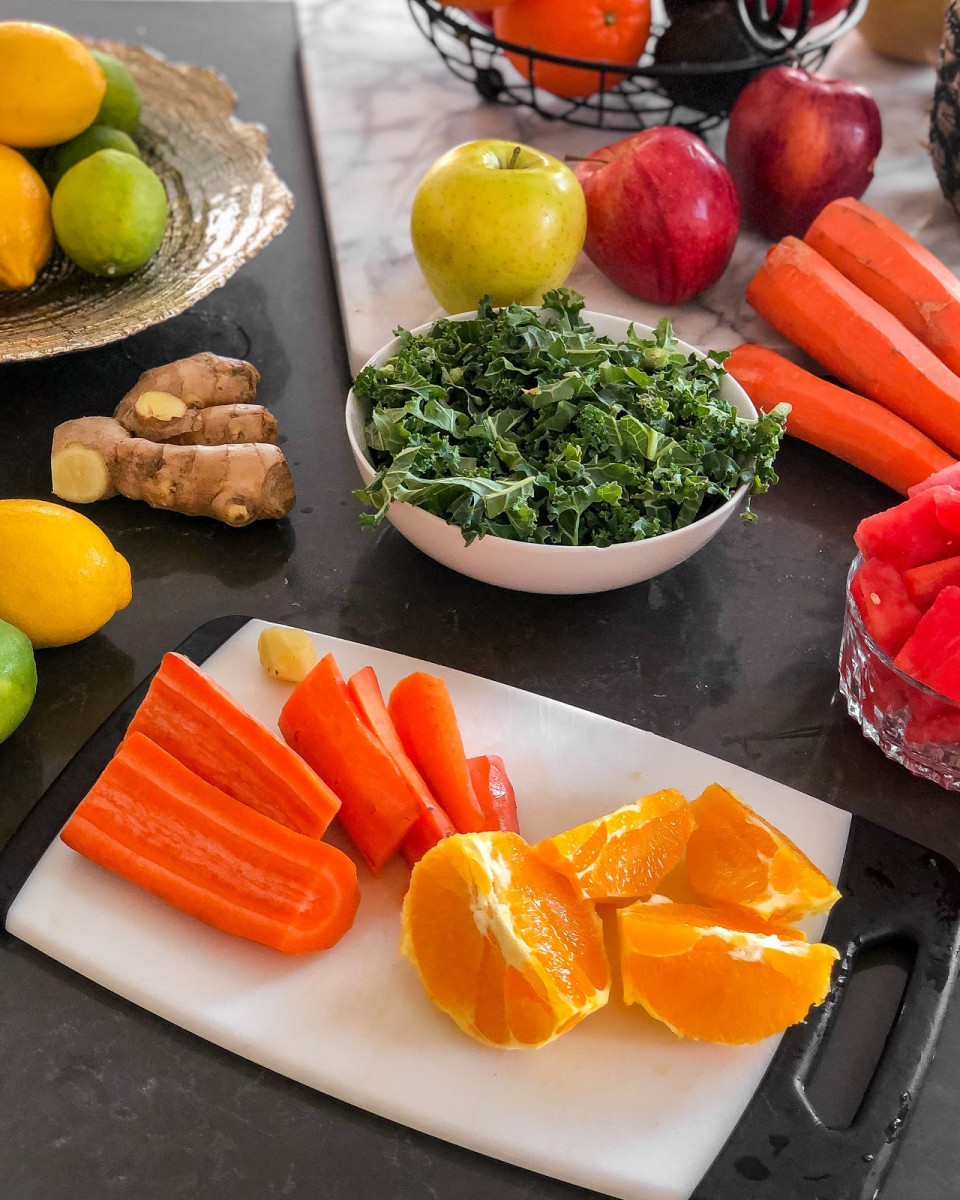 Once you have your ingredients, it's time to wash the produce and prep! Thankfully the juicer can handle very large pieces so you won't have to cut things down too much. I sliced nearly everything into quarters just to be safe but honestly, as long as it fits in the juicer "mouth" it should be fine.
Now for the part you've been waiting for… the three juices I love! Each one turned out so colorful and delicious, but the best part is that each only featured 3 ingredients.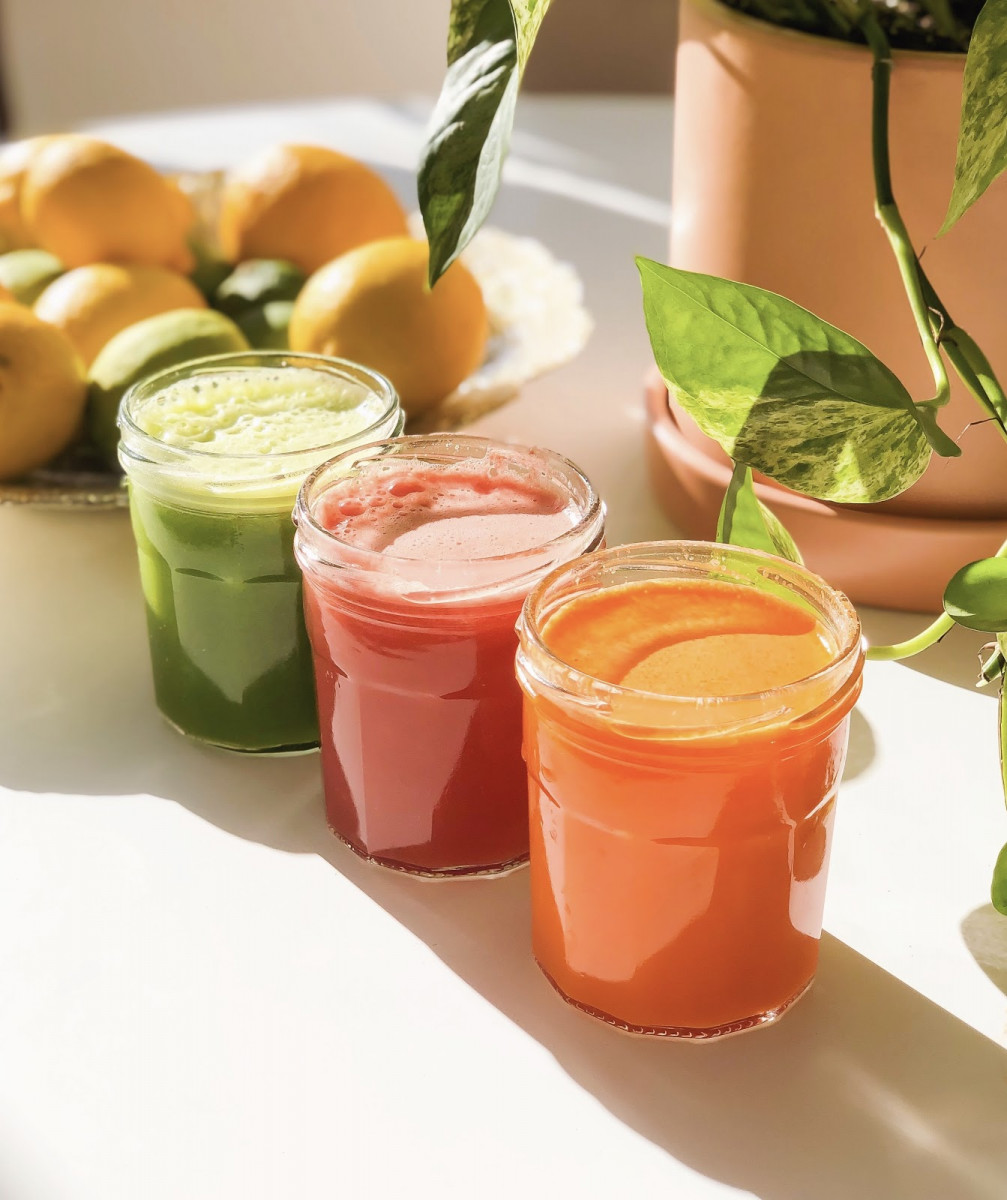 Green Juice
1 Large Handful

Kale

3 Stalks Celery

1 Apple
(Optional: add more apple for sweetness, spinach for extra greens, or lemon for a little tartness)
Red Juice
2 cups Watermelon

3 Basil Leaves

½ Ripe Lime
(Optional: add mint and raspberries for major summer vibes)
Orange
Juice
3-4 Large Carrots

1 Orange

1 inch

knob of Ginger
(Optional: if you want to kick up the spiciness, add more ginger. Mix in a tsp of turmeric powder into the finished juice for added anti-inflammatory properties)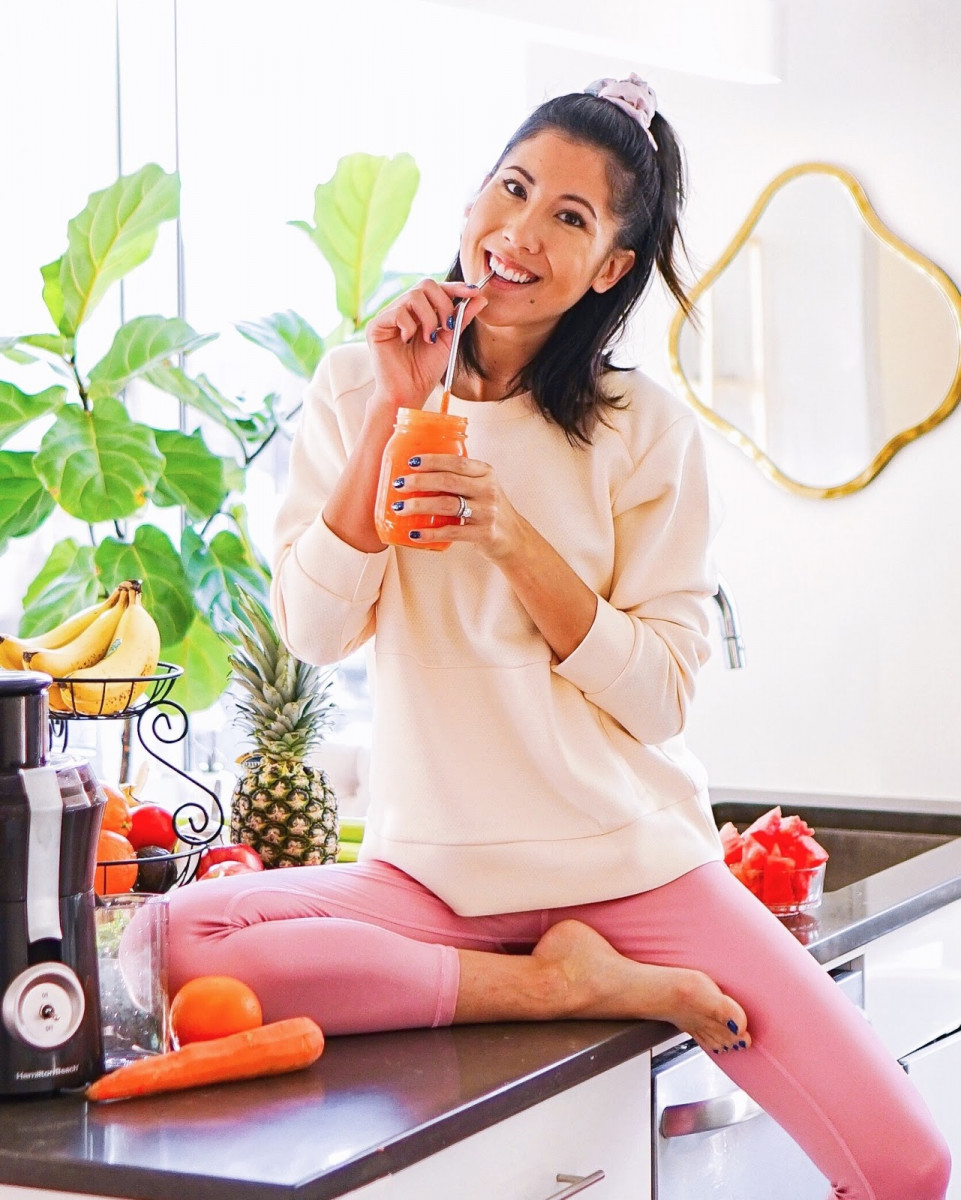 So there you have it! Keep in mind all the above ratios are for 1 serving, so you'll have to adjust based on taste preferences and how many people you're making these for.
I hope you enjoy them!

This post is sponsored by JCPenney. As always, all thoughts and opinions are strictly my own. Thank you for supporting the brands I love!