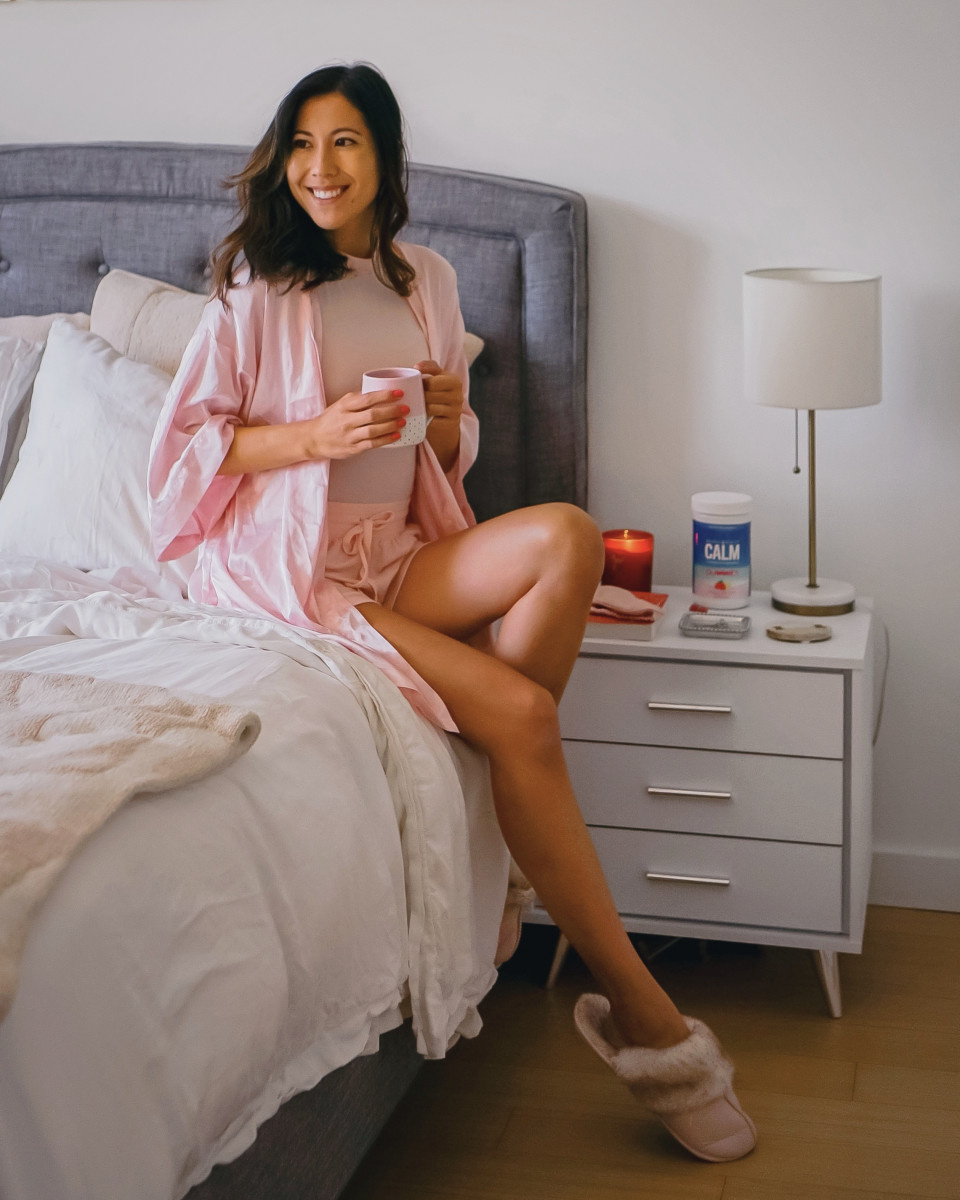 This blog post is sponsored by Natural Vitality CALM®. As always all opinions are my own.
Hi friends! I was just reading an article and one of the things that stood out to me was how much emphasis was placed on getting 8 hours of sleep each night. This is because without proper sleep, our body starts producing more stress hormones that keep us awake and alert, triggering survival mode.
I personally know that I'm a much happier, more productive person when I let myself get a full 8 hours of snooze time. But I'll admit, sometimes that's easier said than done! My mind is one that likes to race a lot before bed… and without taking some proper steps before my head hits the pillow, I risk laying awake for an hour just thinking.
This is why I'm so happy to be partnering with Natural Vitality CALM® to share how incorporating a mindful bedtime routine has helped me prepare for a good night's sleep.
If you've been following me for a while you know I'm a big fan of creating little moments of mindfulness that can help reduce stress and keep me focused in the present. I shared my mindful morning routine a few months back and felt like it was only natural to share how I take the same principles and make them work for the evening.
Keep in mind, I'm human — which means that not every evening has the luxury of being this blissful. However, I really do my best to incorporate these five little mindful moments into my evening routine as much as possible!
Create a comfortable environment
Your bedroom should feel like a sanctuary, which is why it's important to keep it as clutter free and comfortable as possible. Use lamps with soft lighting (dimmers are great!), invest in quality sheets and comforter/duvet and light a candle to help set the tone for bedtime. I also love lightly misting my pillows with a lavender essential oil spray to help promote relaxation.
Drink something warm
There's something kind of lovely about drinking a cup of herbal tea or hot lemon water before bed that's so soothing. There are obviously different benefits based on what you choose to drink but the act of drinking something warm is just very comforting. In the winter months I sometimes treat myself to a little hot cocoa before bed but other times, a cup of chamomile tea will do.
Get a little help from Magnesium
Healthy magnesium levels help keep stress in check and support heart and bone health*. Since nearly 66% of Americans don't have optimum levels of magnesium, it can be helpful to take a supplement as part of your bedtime routine.
I've been loving Natural Vitality's CALM Gummies because they are a super easy way to feel a little more relaxed* before it's time to hit the hay. The gummies have a Raspberry Lemon flavor and I prefer them over mixing anything into my drink. They have a relaxing effect on me, and I like to take them on nights when I'm feeling stressed and want a little dose of calm.
Resist scrolling social media
This is probably one of the most helpful things that have helped me to dose off a little faster. There's a lot of research around the effects of blue light emitted from your phone and how it can mess with your circadian rhythm.
I've noticed on nights when I allow myself to scroll through social media right before bed, I have a harder time falling asleep. But when I ditch the tech at least 30 min before, the results are night and day.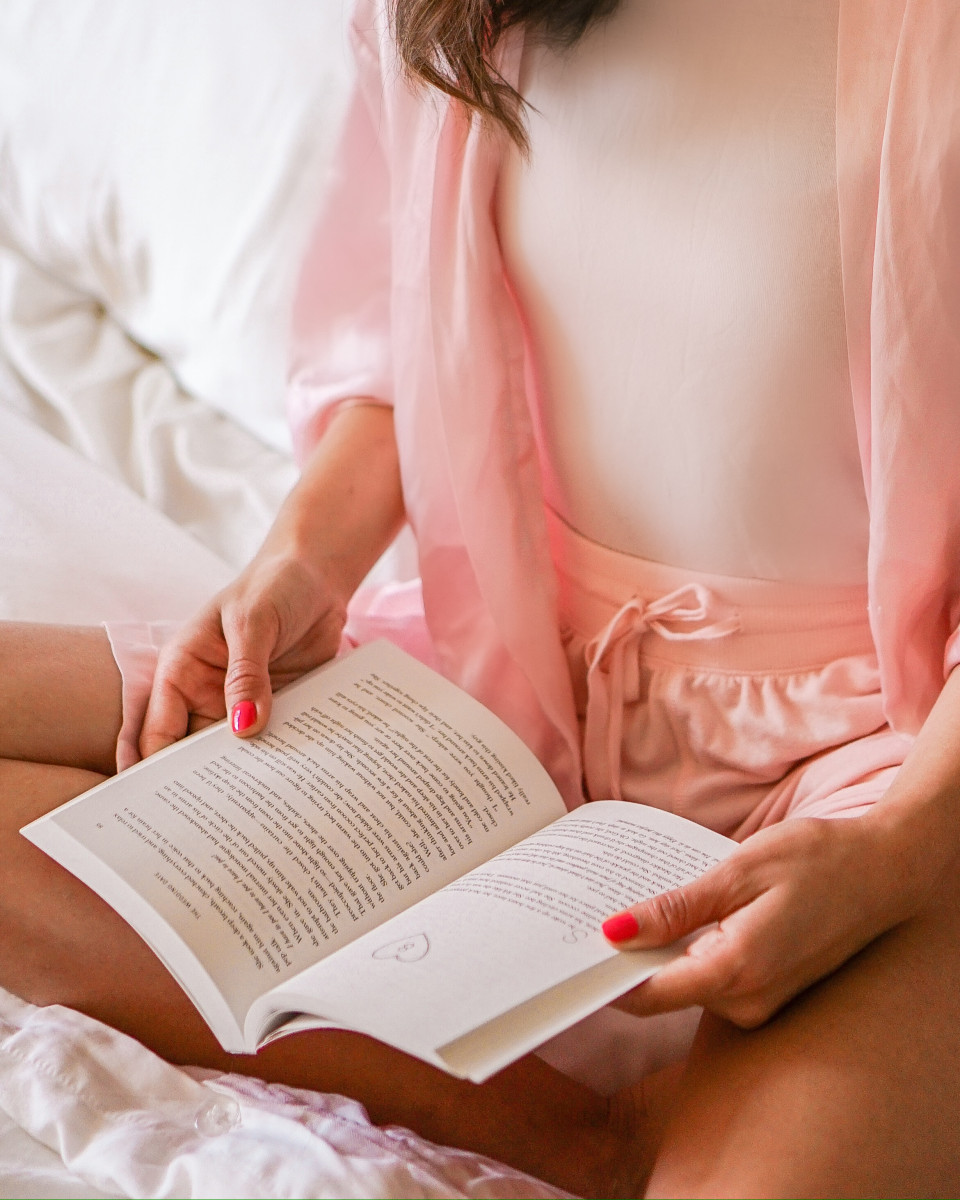 Read a book
I paid a visit to my local bookstore a couple weeks ago and picked up several "just for fun" novels. It's been such a great addition to my evening routine and a nice incentive to crawl into bed a little early to read for 30 min before it's time to sleep.
If you're having trouble winding down at night and getting some much needed R&R, I definitely encourage you to try some of the tips I shared above. Creating a mindful bedtime routine has helped me so much, especially during the more stressful times this year, and I hope it can do the same for you.
With love and light,

FDA Disclaimer: *These statements have not been evaluated by the Food and Drug Administration. These products are not intended to diagnose, treat, cure, or prevent any disease