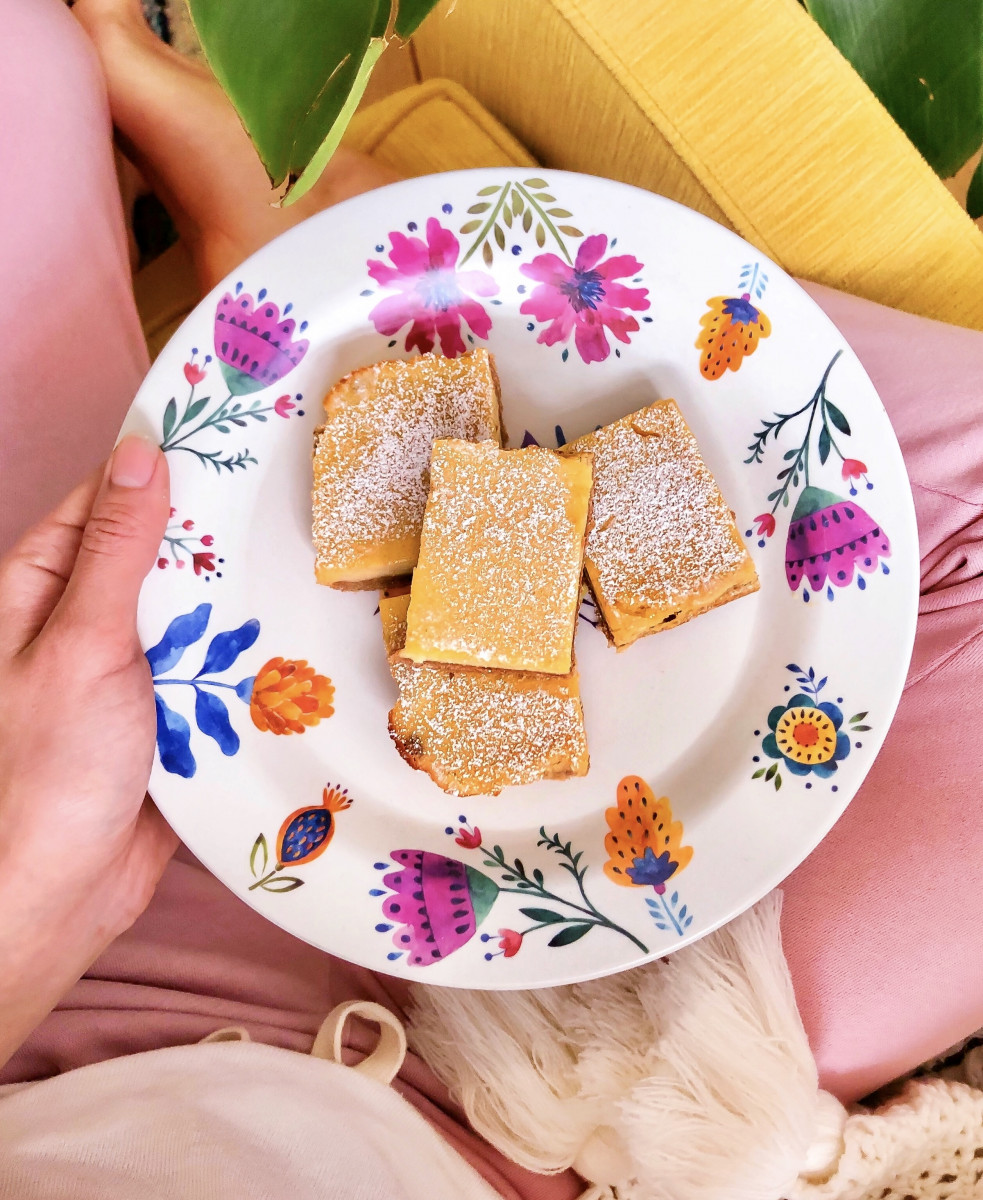 Hi friends! If you're doing your best to stay healthy at home while also indulging your sweet tooth, this post is for you. I'm currently going on one full month in self-isolation and with it has brought this new found love for baking. Maybe it's the stress of everything that is happening in the world but apart from my yoga practice, baking has been one of the best ways to keep myself sane. Most of you know I'm not a recipe developer, but I'll go ahead and preface that I do not take credit for the creation of these simple and healthy desserts. I found two of them in the Well & Good Cookbook and one is from food blogger, @FamilyFoodOnTheTable.
Nevertheless, I will take full credit for whipping these bad boys up! Let me know tell you, each of these are as tasty as they are simple. None require more than 8 ingredients and I'm sure you may already have them in your pantry right now.
So what makes these "healthy?" Mostly the fact that they're made from minimal, clean ingredients with no refined sugars or butter. They also pack a wallop of protein as well, so that's a major bonus. Ready to try baking these 3 healthy desserts for yourself? Let's get started!
Peanut Butter Chickpea Blondies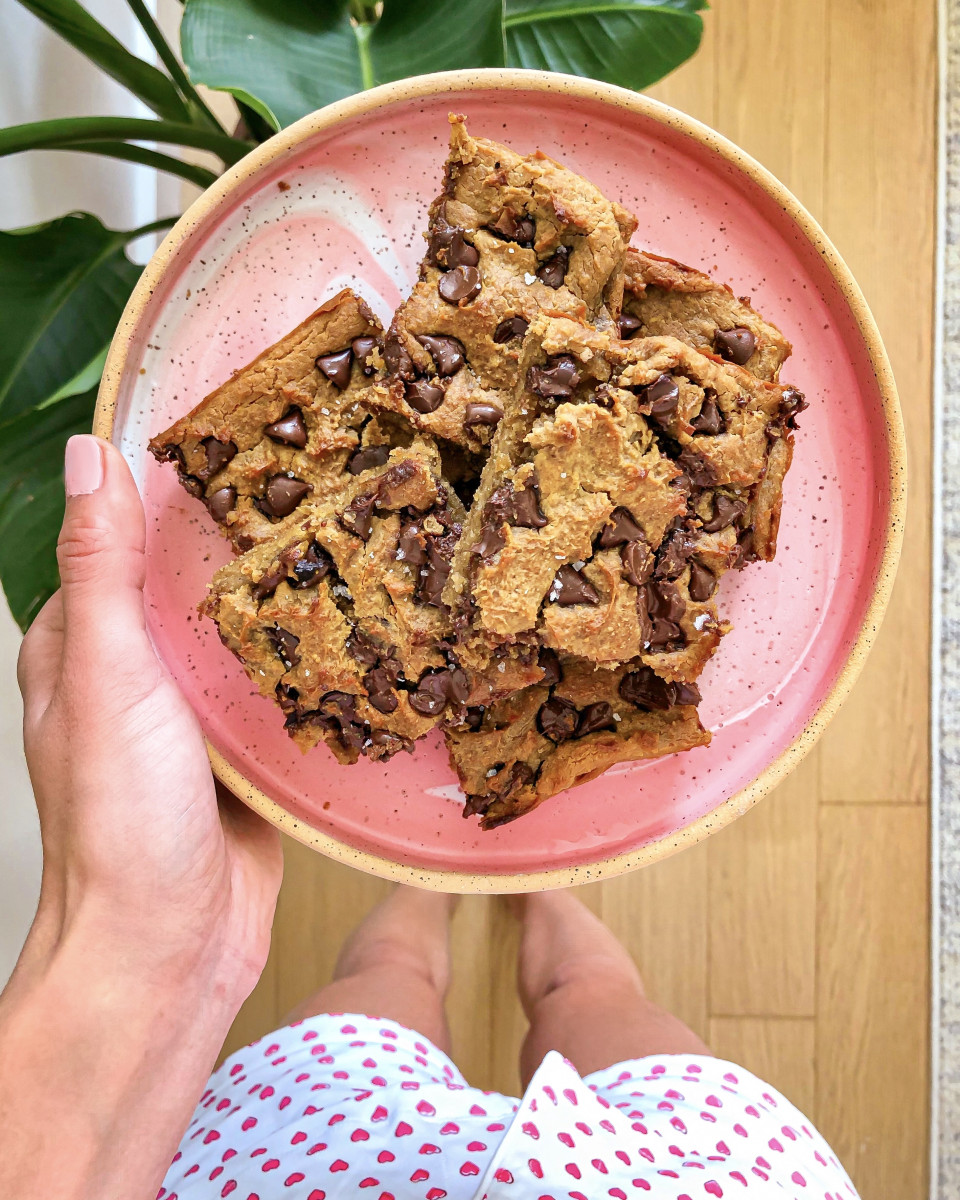 Stop what you're doing because if you haven't tried chickpea blondies yet you are seriously missing out! These PB blondies from WellandGood are easily my new favorite dessert ever. Not only do they have a great texture with a slightly sweet and salty taste, but the whole batch has 80 grams of protein.
Ingredients:
✨ 1 can chickpeas (rinsed & drained)⠀
✨ 1/2 cup peanut butter⠀
✨ 1/3 cup honey⠀
✨ 2 tsp vanilla extract⠀
✨ 1/2 tsp salt⠀
✨ 1/4 tsp baking powder⠀
✨ 1/4 tsp baking soda⠀
✨ 1/3 cup chocolate chips⠀
Directions:
⠀
1️⃣ Preheat oven to 350 and line 8in Square pan with parchment paper⠀
2️⃣ Combine all ingredients (except chocolate chips) into a food processor and process till smooth ⠀
3️⃣ Transfer to baking dish, add chocolate chips on top and bake for 25 min⠀
4️⃣ Remove from oven and sprinkle on sea salt. Let cool on wire rack for 15 min and serve! ⠀
Greek Yogurt Lemon Bars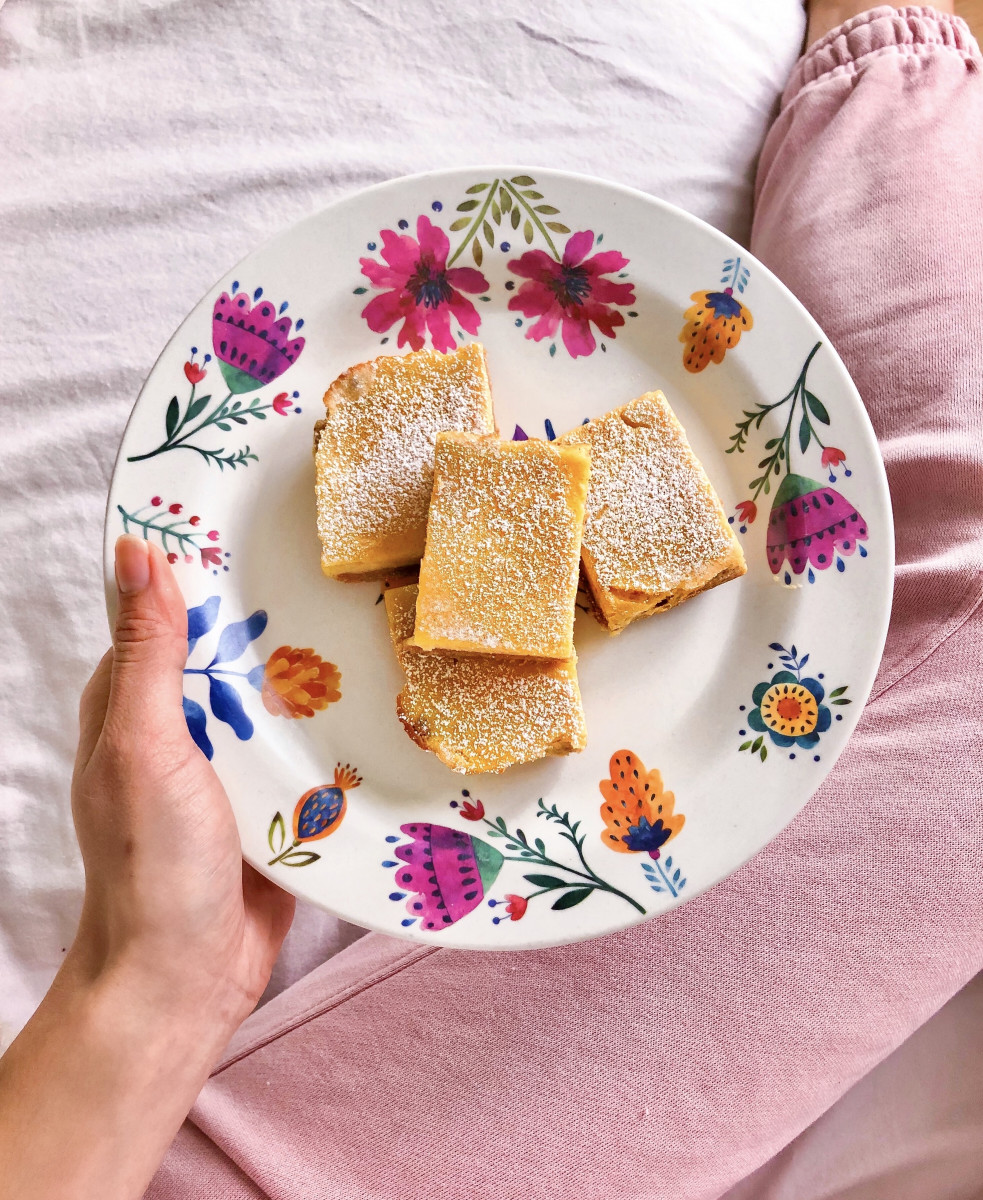 These delightful treats by @FamilyFoodOnTheTable are perfect for Spring and taste as heavenly as they look! The shortbread cookie style crust is a perfect base for the custard like lemon goodness on top. Dust with a little powdered sugar and garnish with a little lemon slice or fresh raspberries for extra pretty presentation.
What You'll Need
CRUST: ⠀
✨ 1 cup whole wheat flour⠀
✨ 1/3 cup melted coconut oil ⠀
✨ 1/3 cup maple syrup ⠀
FILLING:⠀
✨ 3 eggs⠀
✨ 1/2 cup nonfat Greek Yogurt⠀
✨ 1/3 cup maple syrup ⠀
✨ 1/3 cup lemon juice (2 lemons)⠀
✨ 2 tbsp whole wheat flour⠀
✨ 1/2 tsp vanilla extract⠀
✨ 1/4 tsp salt⠀
⠀
DIRECTIONS:
1️⃣ preheat oven to 350 and line 8×8 pan with aluminum foil. Spray with nonstick spray⠀
2️⃣ Combine crust ingredients in a bowl and then scoop into pan, pressing into a thin layer⠀
3️⃣ Bake crust for 20 min and let cool for 10 min⠀
4️⃣ Combine filling ingredients in bowl and spoon over the slightly cooled crust⠀
5️⃣ Bake for 30 min⠀
6️⃣ Let cool completely before cutting and dusting with powdered sugar ⠀
⠀
Store them in an airtight container in the fridge for up to 5 days.
Chocolate Peanut Butter Cups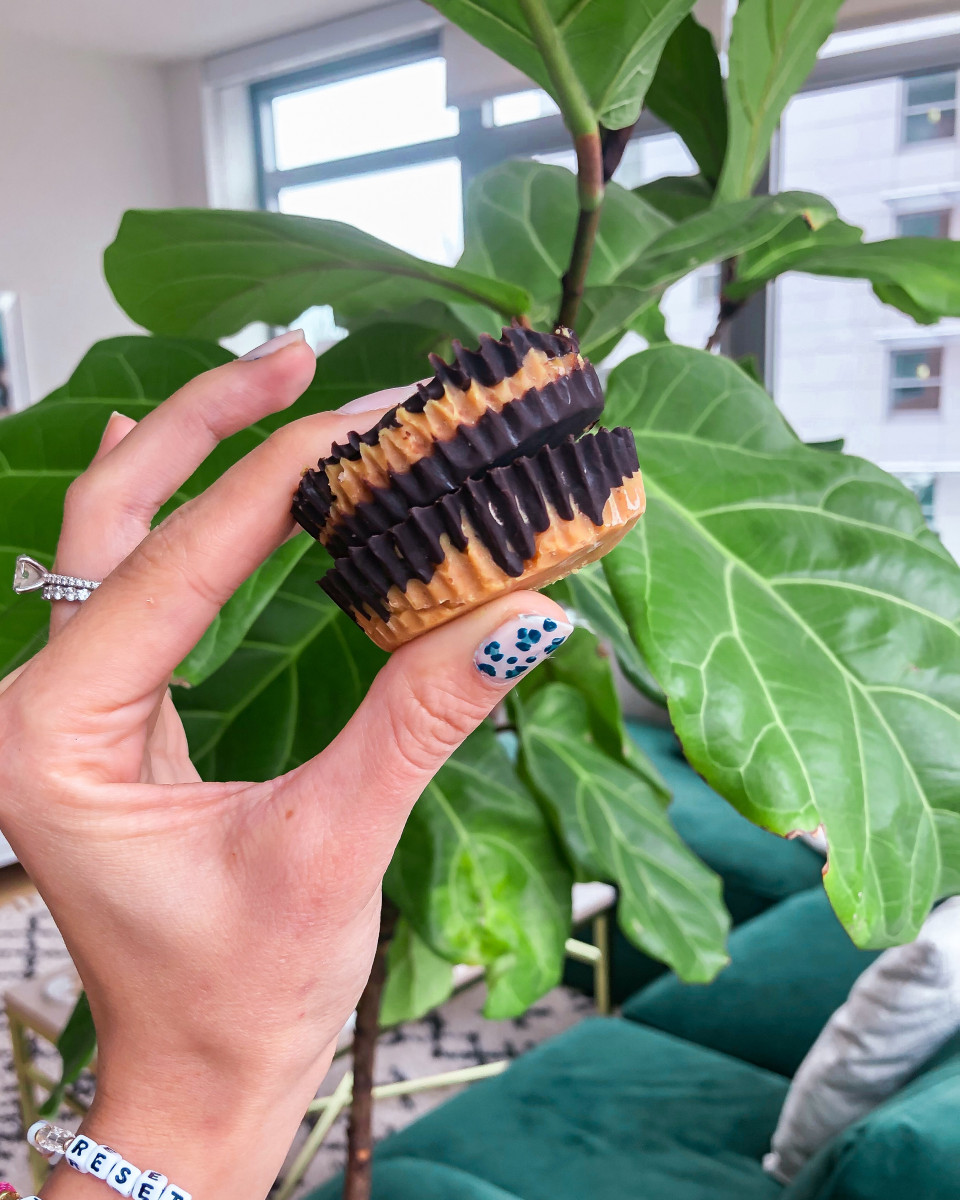 These no-bake healthy desserts from the Well & Good Cookbook are a snap to put together and are essentially a "better-for-you" Reeses cups. If you want to kick up the sweetness, just add more maple syrup and honey! But if you're like me and like them on the slightly sweet side, these are perfect as is.
Ingredients:
✨ 3/4 cup peanut butter
✨ 1 TBSP pure maple syrup
✨ 1/2 cup melted coconut oil
✨ 1/2 cup unsweetened cocoa powder
✨ 3 TBSP honey
✨ Course sea salt
Directions:
⠀
1️⃣ Line a muffin tin (or mini-muffin tin) with paper liners
2️⃣ Mix peanut butter and maple syrup in a small bowl. Place 1 tbsp in each muffin liner and freeze for 30 min ⠀
3️⃣ In another bowl, whisk together coconut oil, cocoa powder and honey until smooth and glossy
4️⃣ Pour 1 tbsp of chocolate glaze on top of each hardened peanut butter cup. Sprinkle with a teeny pinch of salt and freeze for 20 min
I like to add some finishing salt on top just for a prettier look (and extra salty bite) before serving! You can store these in an airtight container or stasher bag in the freezer for up to 2 weeks.
I hope you enjoy making these healthy desserts at home! Stay safe and be well.