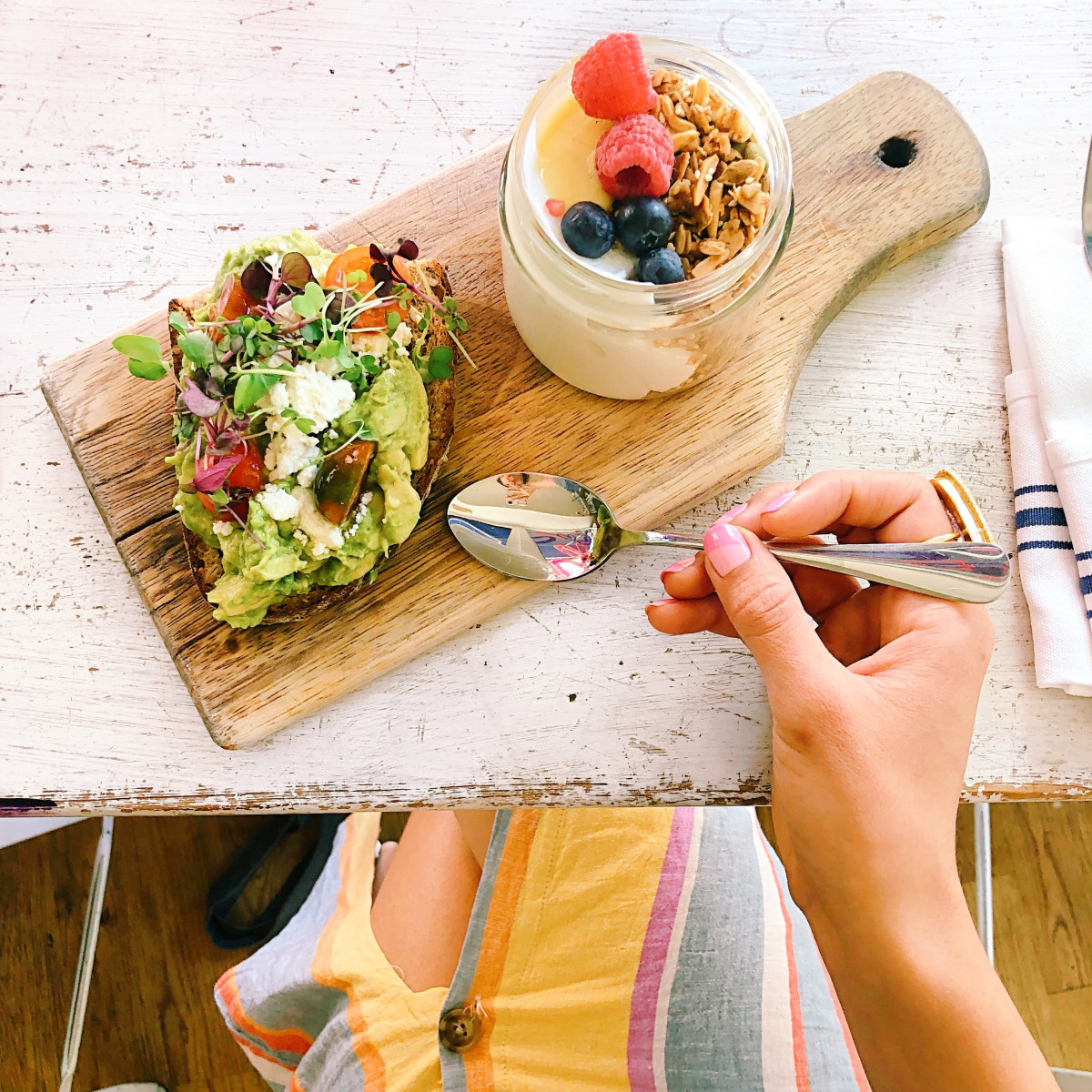 Hey, hey party people! I woke up with an itch to write something for you all and decided to give you a choice via an Instagram Story poll. A huge thanks to all of you who participated (you know who you are)! Most of the time I have my blog posts planned in a content calendar but sometimes I just wake up with extra inspiration and turn to you to help me pick the topic. 🙂
Since the majority of my Headstands & Heels friends chose the breakfast option, I'm here to deliver! I was actually inspired when one of my best friends reached out with a vegetarian recipe inquiry this morning. As I was texting back a massive list of options for breakfast, lunch and dinner, I thought "why not share it with all of you?"
So here we are! You'll probably recognize these 5 primarily plant-based breakfast options since they've made many appearances on my Instagram. Even though I'm vegetarian you can easily adapt any of these dishes to be vegan with simple swaps or omissions. None of these options are complex, in fact they're all really easy to make — which is why I love them! I wanted to share real food that I eat practically every day. I'm definitely not a recipe developer so if you want anything more fancy please feel free to search Google for other variations! I don't measure out most of my dishes so what you'll see below isn't very precise. I just go with my gut and encourage you to do the same!
Toast Two Ways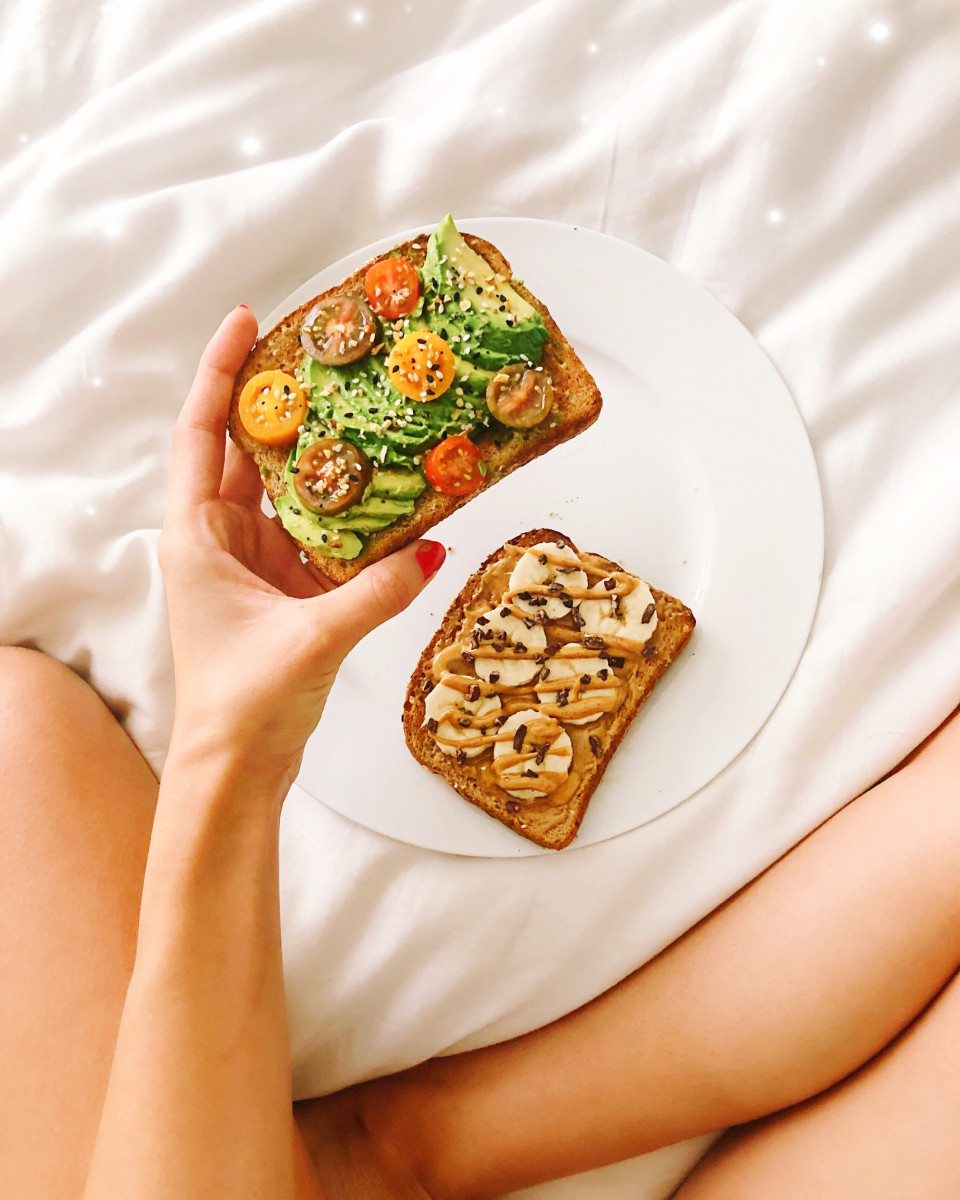 First up, a classic favorite: toast! I have two different options depending on whether you're in the mood for savory or sweet. Each one is satiating and provide lots of fiber and healthy fats that will get you through your morning.
Avocado Toast Ingredients:
1/2 ripe avocado
1 slice Ezekiel bread
Handful of cherry tomatoes (sliced in half)
"Everything But The Bagel Seasoning" from Trader Joes
Directions:
Toast the Ezekiel bread
Top with sliced avocado, cherry tomatoes and seasoning
Banana Almond Butter Toast Ingredients:
1 slice Ezekiel bread
1/2 ripe banana
Spoonful of almond butter (or peanut butter)
Cinnamon
Cacao nibs
Directions:
Toast the Ezekiel bread
Top with almond butter, banana, cinnamon and cacao nibs
Shakshouka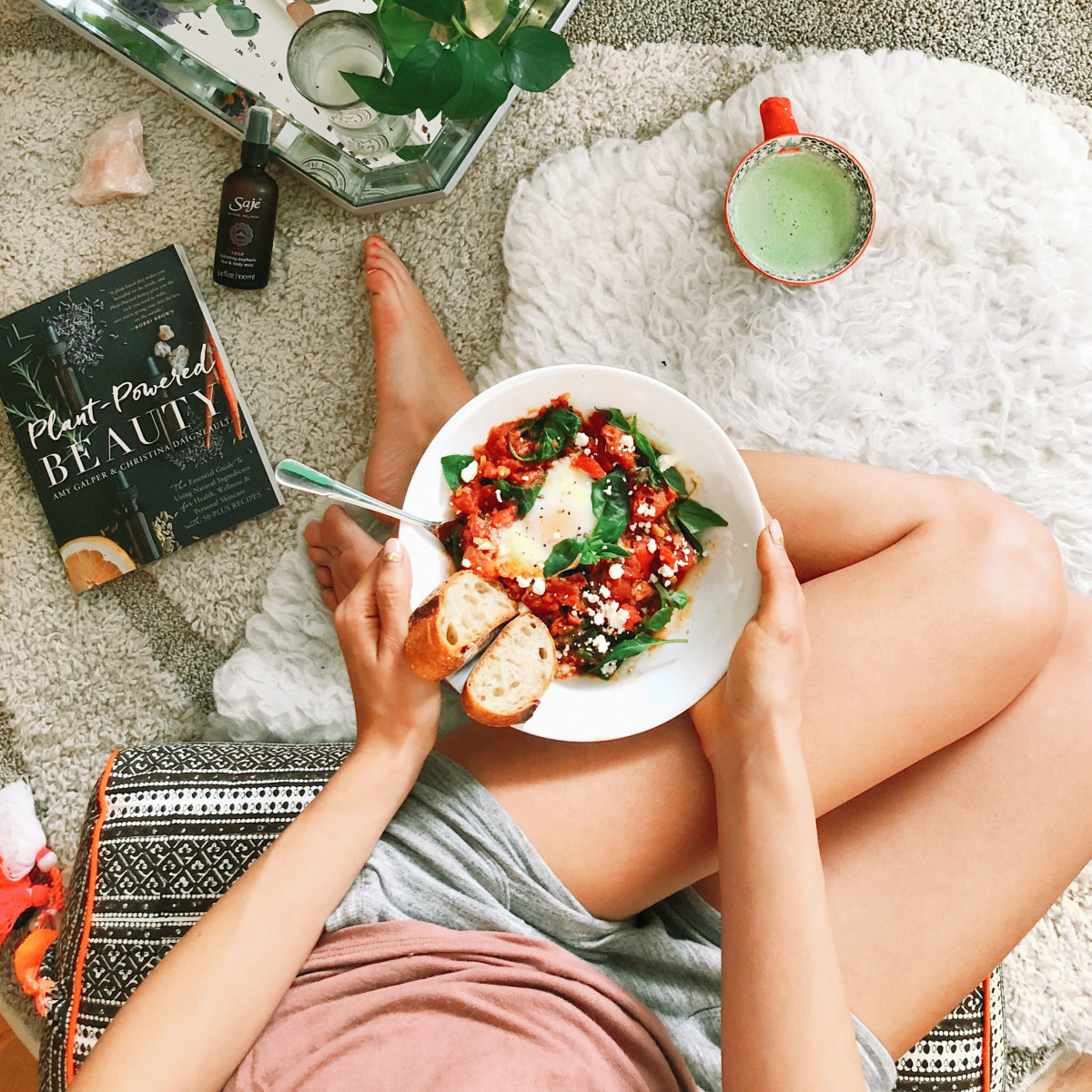 One of my favorite Mediterranean style dishes, Shakshouka is essentially eggs poached in tomato sauce with lots of yummy spices like cumin, turmeric and paprika. This variation is really easy to make and only requires one dish — preferably a cast iron skillet.
Ingredients:
Eggs
1/2 Red bell pepper (chopped)
1 Shallot (minced)
2 cloves garlic (minced)
1 large handful of kale
2 cans diced tomatoes
1 large handful spinach
Fresh basil
1 cup of crumbled Feta cheese
Spices: Garlic powder, onion powder, salt, pepper, turmeric, cumin, and paprika
Baguette
Directions:
Pre-heat oven to 375 degrees
Sauté red bell pepper and shallot in cast iron skillet over medium high heat until shallots are translucent
Add garlic and cook until fragrant (1-2 min)
Add kale and wait until they're slightly wilted before adding 2 cans of diced tomatoes
Throw in all the spices (honestly, I don't measure any of the ingredients. Just do it to taste)
Lower heat to medium and let flavors combine until sauce begins to thicken
Add spinach and make 4 "wells" in the sauce for the eggs with a wooden spoon
Crack eggs open into the wells and lower heat to simmer for 2 minutes
Transfer into oven and bake for 7-10 minutes
Sprinkle with feta cheese and fresh basil, serve with crusty bread
Peanut Butter Oats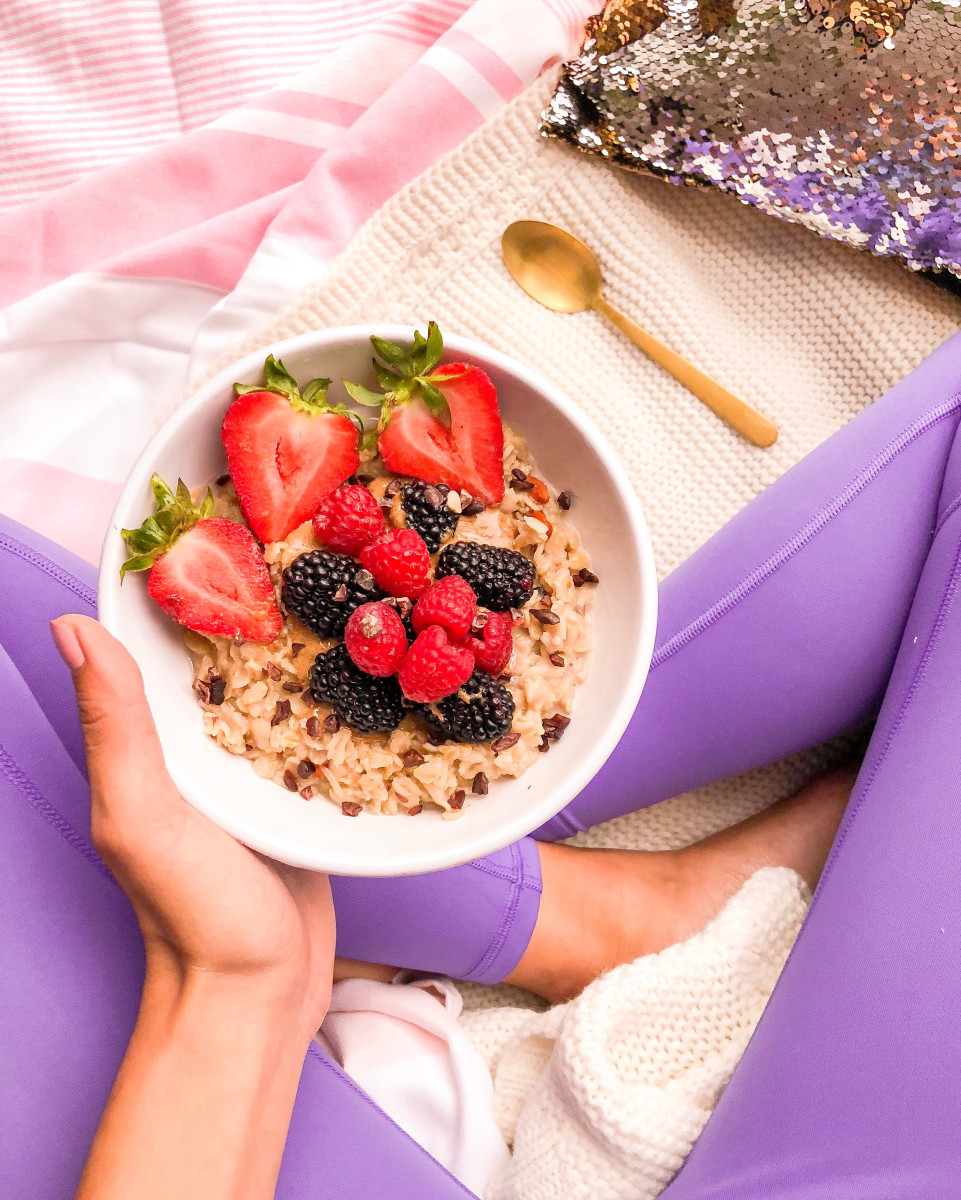 If you're in need of a quick, hearty breakfast full of carbs and healthy fats, look no further. The nice thing about using rolled oats instead of an instant oatmeal packet like Quakers is that you're able to control the amount of sugar.
Ingredients:
Old Fashioned Oats
Heaping spoonful of peanut butter
Cacao nibs
Fresh berries
Unsweetened almond milk
Brown sugar (optional)
Directions:
Prepare oats with almond milk over stove top as directed on packaging
Transfer hot oatmeal to bowl
Mix in tbsp of brown sugar (to taste)
Add peanut butter, cacao nibs and fresh berries on top
Berry Protein Smoothie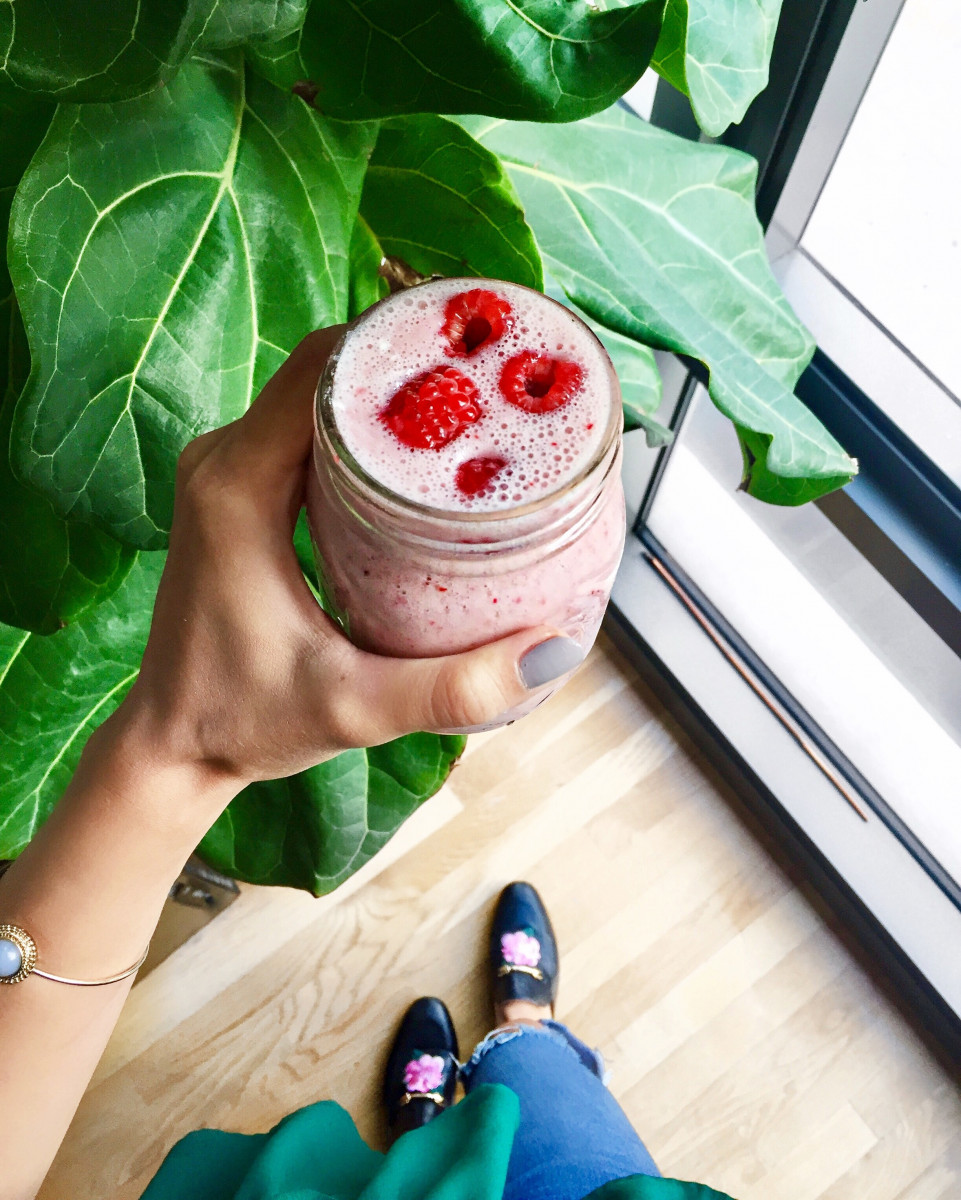 You know I'm a big fan of smoothies (see my Matcha Banana Smoothie recipe HERE). This berry option is one of my favorite high protein, antioxidant rich smoothies for when I'm on the go. It can be made with blueberries or raspberries depending on your preference!
Ingredients:
1 cup frozen berries (I love wild blueberries)
2 cups unsweetened almond milk
1 scoop plant-based protein powder (I'm a fan of Tone It Up Vanilla Protein Powder)
Handful of ice
Ripe banana
Optional add-ins: adaptogens (like Wylde One), collagen peptides, or maca powder
Directions:
I mean… do we even need this? haha Put everything in a blender and blend on high until fully mixed! YUM
Market Bowl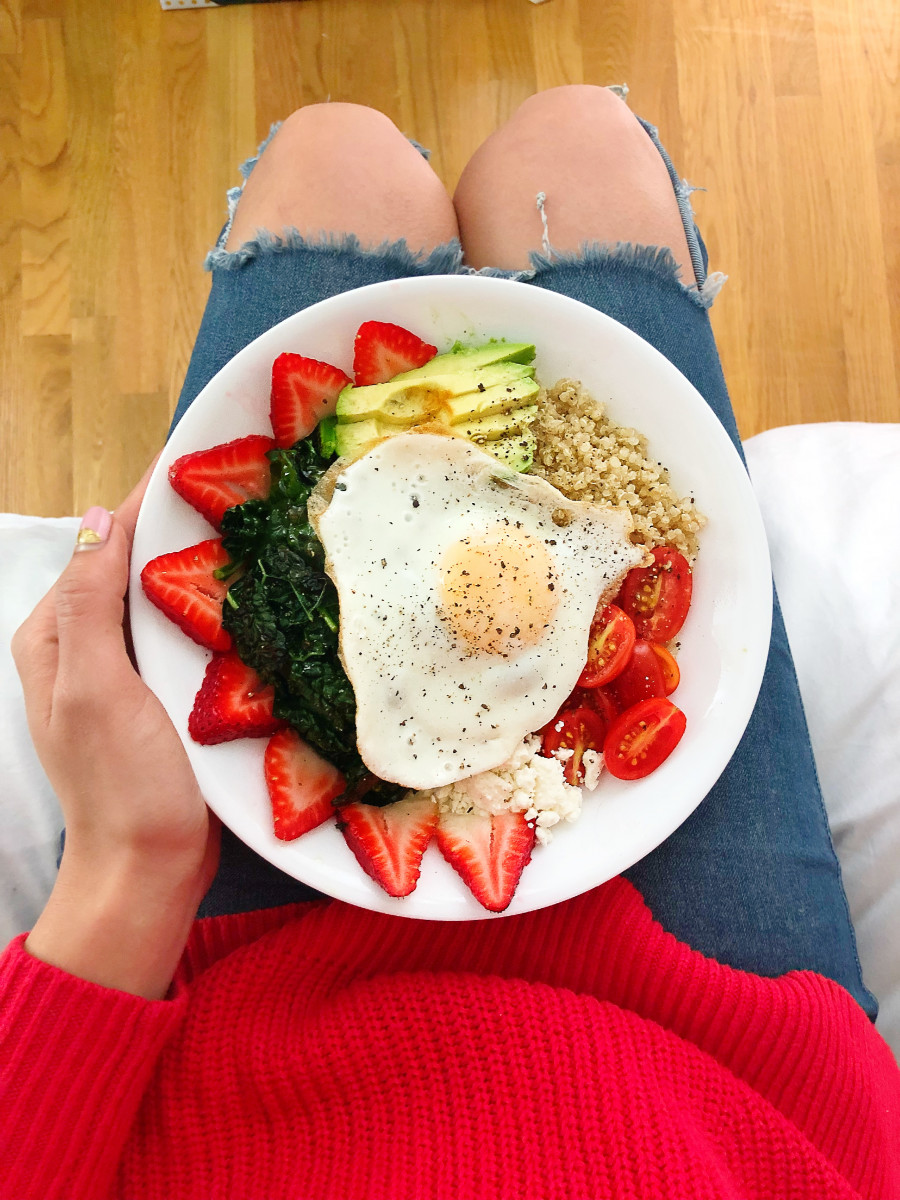 I started ordering this at Bluestone Lane and loved it so much that I decided to recreate it at home. What's nice is that once you have the kale and quinoa base you can swap out the other ingredients for whatever vegetables are in season at your local farmer's market.
Ingredients:
1/2 cup quinoa
1 egg
2 large handfuls of kale
1/2 an avocado
Handful of cherry tomatoes
1 cup of feta cheese
Whatever other roasted veggies or fruit you want to throw in
Salt and pepper to taste
Directions:
Prepare quinoa as directed
Sauté kale in olive oil over medium high heat until wilted, transfer to bowl with quinoa
Add sliced avocado, cherry tomatoes and veggies to bowl with quinoa and kale
Cook egg sunny side up (or over-easy) on non-stick pan
Add egg on top of bowl
Season with salt and pepper
I hope you all enjoy these healthy vegetarian breakfast dishes! If you have any questions about eating a primarily plant-based diet let me know in the comments or send me a message.
Happy eating!